Summary:
Roasting brings out the delicious flavor of poblano peppers, which are stuffed with a cheesy tomato meat sauce. With quick prep and few main ingredients, these stuffed poblanos are a simple weeknight meal that's also freezer friendly.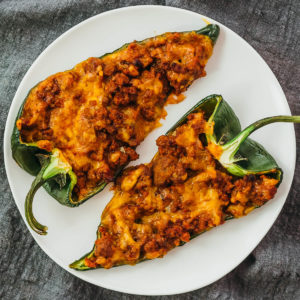 INGREDIENTS
INSTRUCTIONS
Cook Beef: Add beef to high-sided pan (Note 4) over medium-high heat. Crumbling beef with stiff utensil, cook until browned and released juices have evaporated, about 6 minutes.

Add Tomato Sauce: Reduce to medium heat, and stir in tomato sauce to coat beef, about 1 minute. Simmer until sauce is thickened and clings to meat, stirring frequently, about 5 minutes.

Add Seasonings: Stir in salt, oregano, cumin, and cayenne until well-mixed, about 1 minute. Turn off heat. Transfer tomato-meat sauce to large mixing bowl using slotted spoon, leaving behind any excess grease in pan. Set aside to cool while cutting poblanos in next step.

Stuff Poblanos: Preheat oven to 400 F. Slice each poblano pepper in half lengthwise, remove seeds (Note 5), and place on baking half sheet lined with parchment paper or foil. Add cheddar cheese to bowl with tomato-meat sauce, stirring until well-mixed. Stuff each halved pepper with mixture.
NUTRITION
Makes 4 Servings
Amount Per Serving (2 stuffed pepper halves):
| | |
| --- | --- |
| Calories 460 (58% from fat) |   |
| Total Fat 30g | 46% |
|    Saturated Fat 14g | 70% |
| Cholesterol 145mg | 48% |
| Sodium 1220mg | 51% |
| Net Carb 3.5g |   |
| Total Carb 5.5g | 2% |
|    Dietary Fiber 2g | 8% |
|    Sugars 3g |   |
| Protein 41g |   |
PHOTOS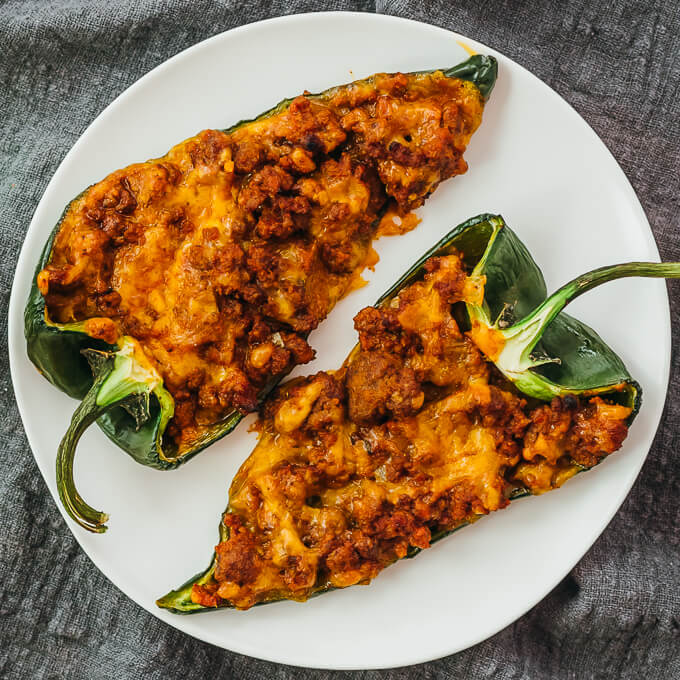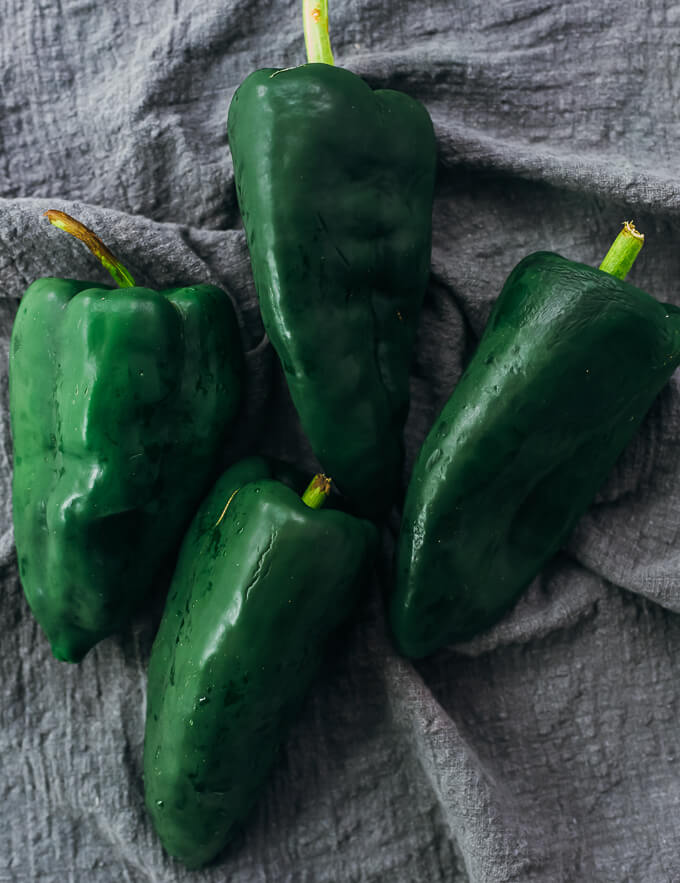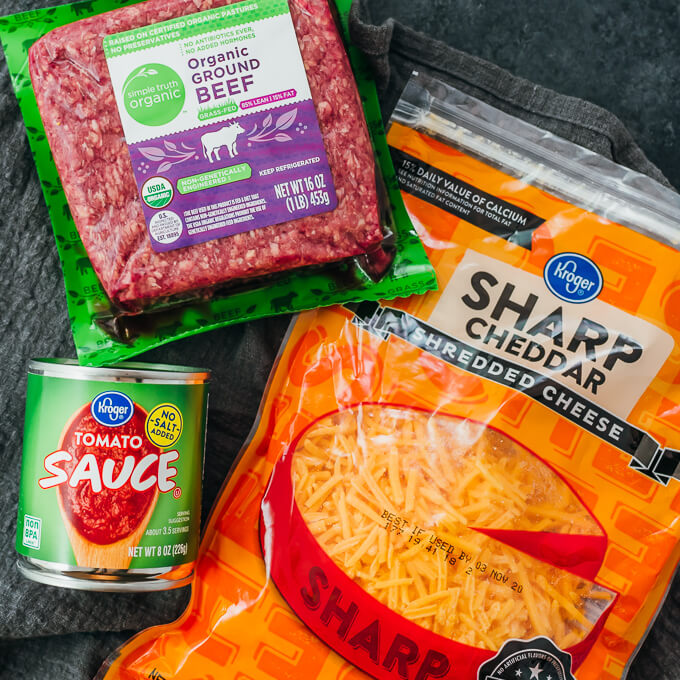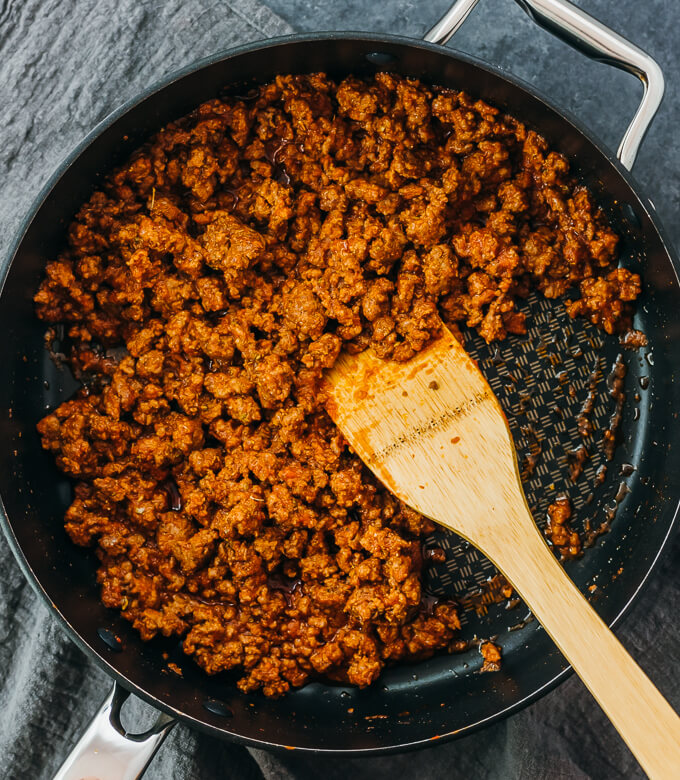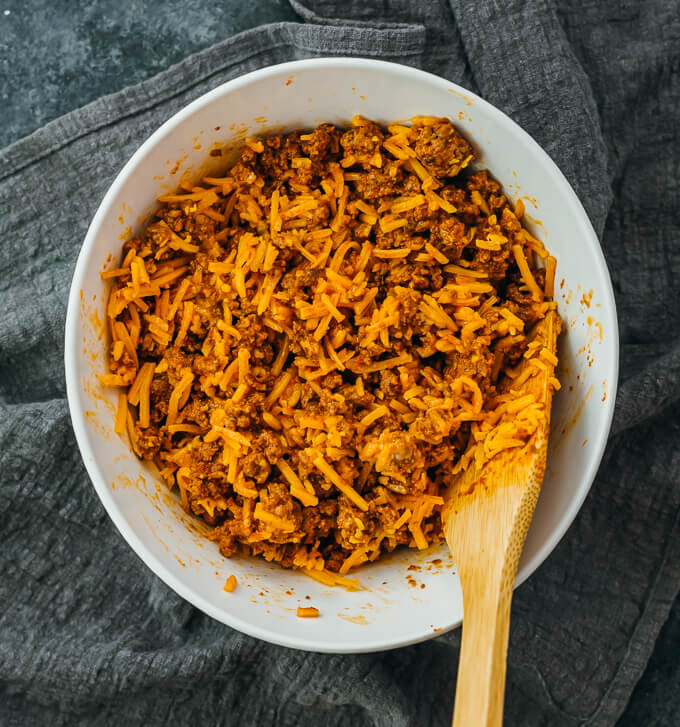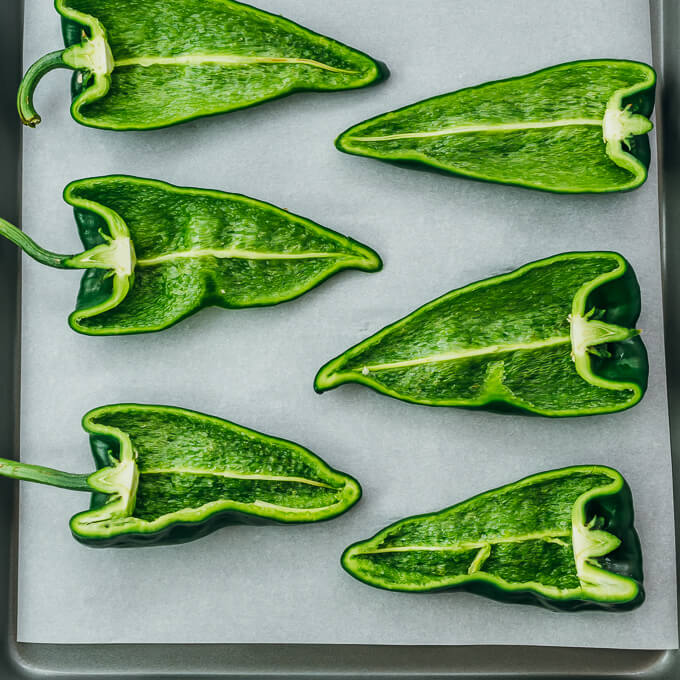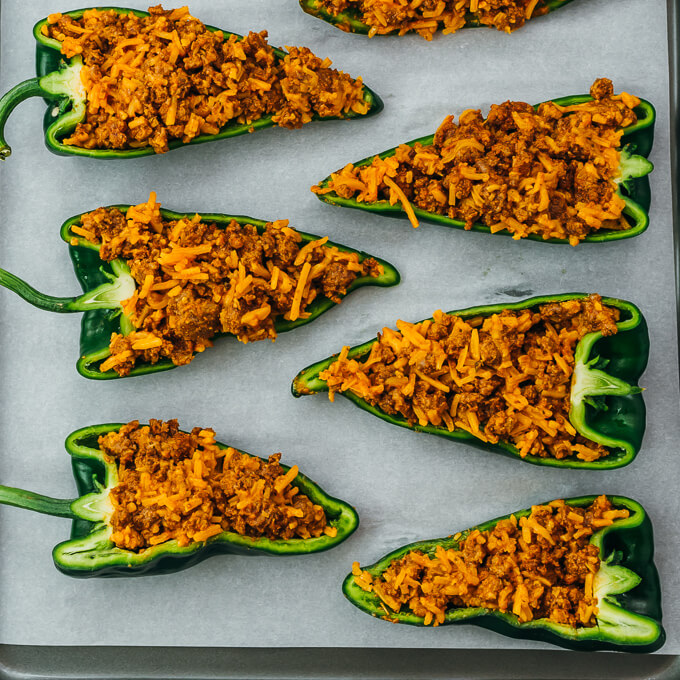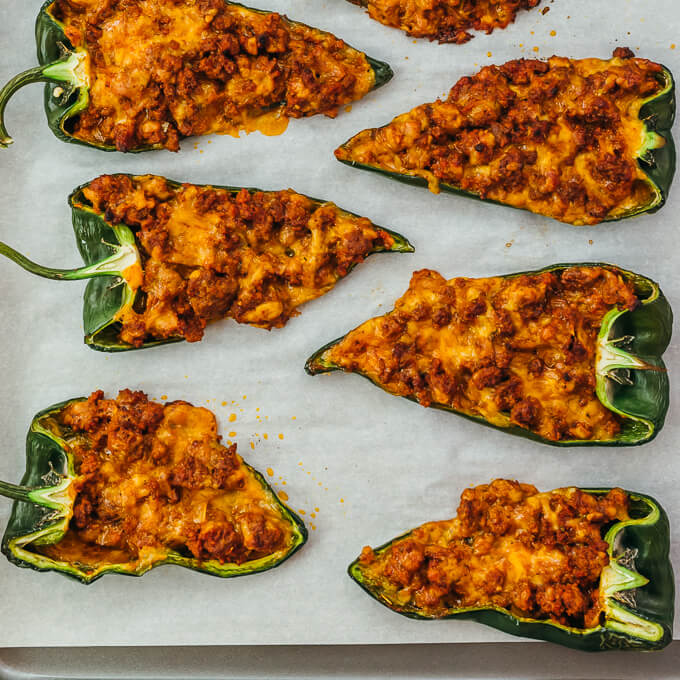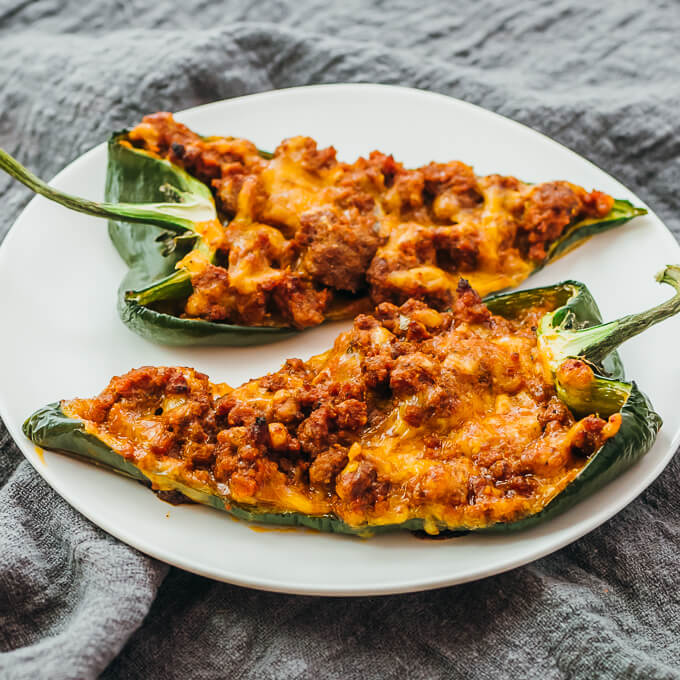 NOTES & TIPS
(1) Poblano Peppers. Available in the fresh produce section of grocery stores, they're one of the larger pepper varieties (5 to 6 inches long and 2 to 3 inches wide). For this recipe, you should be buying fresh ones, not dried (dried poblanos are called ancho peppers). In the U.S., producers and grocery stores often mislabel the poblano pepper as a pasilla pepper. I usually select poblanos that are rounder and easier to stuff, and ones that are generally the same size so that the baking time is consistent for all of them. I also try to find fresher ones with intact stems and non-wrinkly skins.
(2) Cheddar Cheese. I like the yellow color that cheddar brings to these stuffed poblanos, but you can substitute with any kind of shredded soft cheese that melts easily, like mozzarella or a Mexican blend. Cream cheese would also be a reasonable substitute; soften it in the microwave for 30 seconds so that it can easily combine with the other filling ingredients.
(3) Ground Beef. I use 85% lean. If you use less than 85%, you may want to drain off some of the grease after browning to avoid overly greasy stuffed poblanos.
(4) Pan. I use a nonstick, high-sided 10-inch pan. I don't preheat the pan before adding the beef, and I also don't add any oil.
(5) Cutting Poblanos. I recommend removing the seeds and any large membranes from the peppers; even though they're generally not very hot (1000 – 1500 Scoville units), they can be unpredictable in their heat and some peppers are significantly hotter than others — even from the same plant. If you have sensitive skin, wear gloves while removing the seeds to avoid getting capsaicin on your hands.
(6) Serving. These stuffed poblanos can be served with a dollop of sour cream, fresh tomato salsa, pico de gallo, or guacamole. They're very meaty, so anything fresh will provide a nice contrast.
(7) Storage. Leftovers can be stored in an airtight container in the refrigerator for up to 2 days. Reheat using the microwave. They also freeze well — after cooking and cooling, store in an airtight oven-safe container in the freezer. To reheat, directly bake the frozen peppers uncovered at 400 F until heated through, 25 to 30 minutes.