Summary:
One of the easiest low carb sauces and dips, this homemade and authentic Mexican salsa only uses 5 ingredients to make a spicy, fresh, and chunky tomato salsa.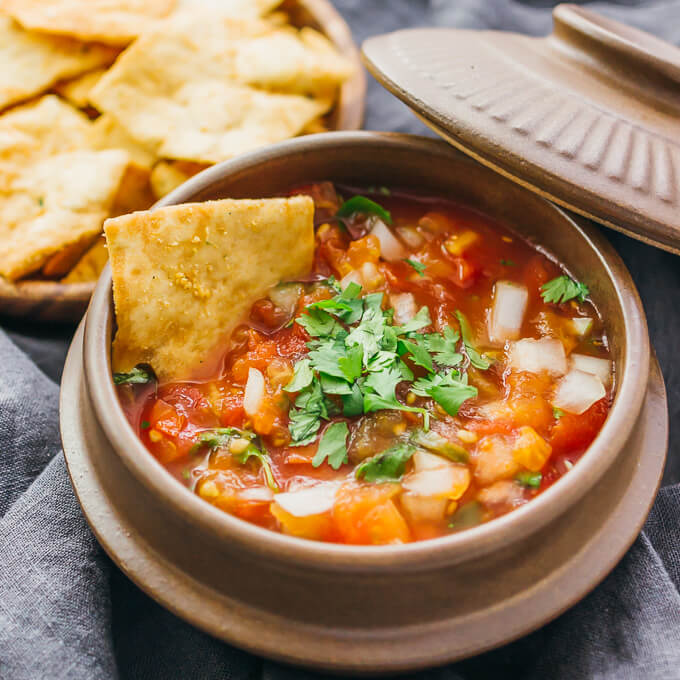 INGREDIENTS
5

tomatoes (20 ounces total)

diced

1/2

sweet onion

diced

1

jalapeño

finely diced

1/2

cup

chopped fresh cilantro leaves

about 1 bunch of cilantro

1/2

teaspoon

salt
INSTRUCTIONS
Add the diced tomatoes and salt to a medium-sized pot. Stir until mixed.

Place the pot over medium heat. Give it a few minutes to heat up until it starts to simmer. Simmer until the tomatoes are cooked and the liquid thickens, about 10 minutes, stirring occasionally. Remove from heat to cool.

Add diced onions, jalapeños, and cilantro to the cooled tomato mixture. Mix well. Refrigerate until ready to serve.
NUTRITION
Makes 4 Servings
Amount Per Serving:
| | |
| --- | --- |
| Calories 40 (1% from fat) | |
| Total Fat 0g | 0% |
| Saturated Fat 0g | 0% |
| Cholesterol 0mg | 0% |
| Sodium 320mg | 13% |
| Net Carb 6.5g | |
| Total Carb 8g | 3% |
| Dietary Fiber 1.5g | 6% |
| Sugars 1g | |
| Protein 2g | |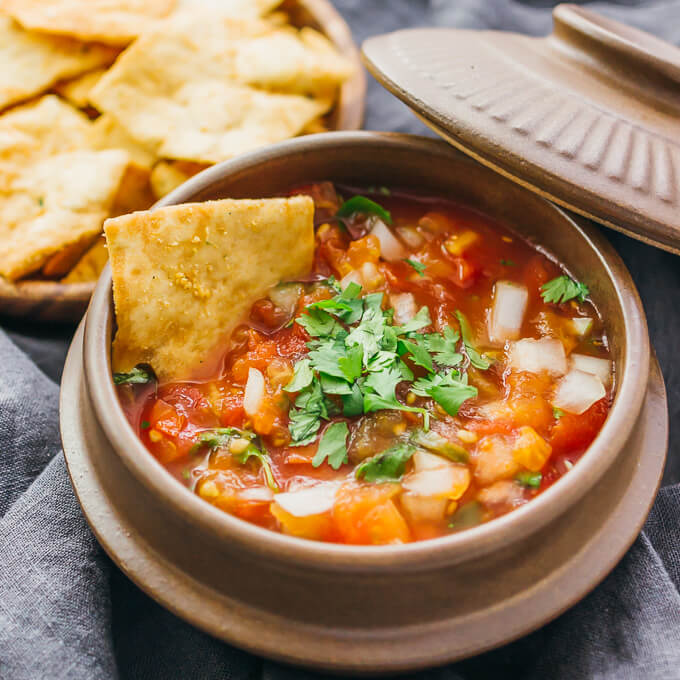 While I enjoy the occasional fun, creative, and over-the-top salsa dip, I always opt for a super simple and basic salsa when I'm making it at home for myself to enjoy. There's no need for anything complicated.
This easy salsa is made from scratch using only 5 ingredients — tomatoes, onion, jalapeño, cilantro, and salt — and tastes fresh and just as tasty as restaurant salsas. I first started making this salsa when I was a teenager living in California; my parents were good friends with one of our neighbors, who was from Mexico and taught us how she made her salsa.
How to make mexican salsa:
One of the unique parts of this recipe is how you cook the tomatoes and let them cool before adding the other ingredients. Most other salsa recipes use raw ingredients and require a food processor to combine them. Not here — I cook the tomatoes first, let them cool, and stir with the remaining ingredients.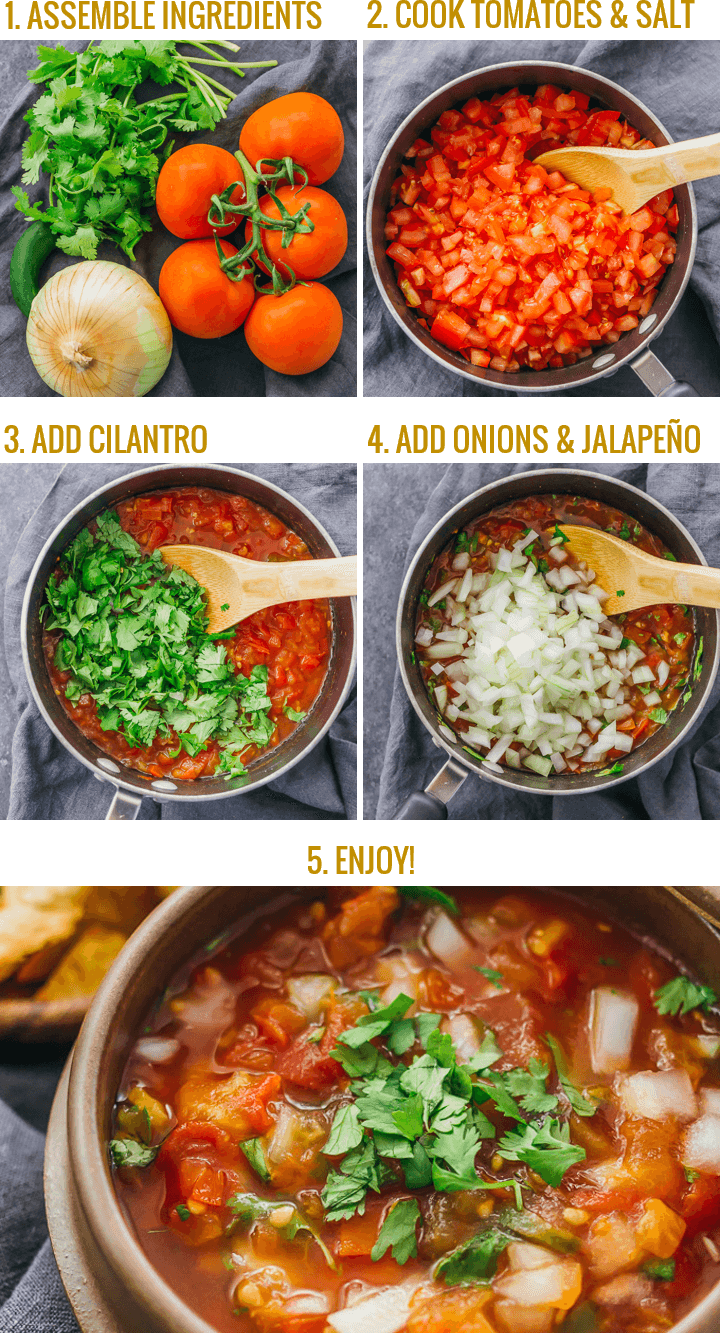 You might be wondering how spicy this is. I find it to be mild to moderately spicy, but since spiciness is very subjective, you'll have to try for yourself. During the last step of the recipe when all of the ingredients are combined, do a taste test so that you can add the diced jalapeños to taste. A few tips:
For more spiciness: Double or triple the number of jalapeños for more heat. Or, replace with a habanero (have a glass of milk handy).
For less spiciness: Remove the seeds and membranes of the jalapeño before adding it to the salsa. Most of the capsaicin is located in the seeds and membranes, so this will significantly reduce the heat.
When handling the jalapeños, be sure to wear gloves, especially if you haven't dealt with them before and don't know how your skin will react. I have experienced my share of "pepper hands" and even "pepper face" — so I'm always very careful with handling jalapeños. If you end up getting a hot pepper burn because you didn't use gloves, here are some helpful tips on how to reduce the burn. Personally, I found that the best solution was to soak my affected hands with mayonnaise.
This salsa works great when paired with tortilla chips or pita chips, or you can use it as a filling for a taco or burrito. I usually make this salsa ahead of time and refrigerate until ready to serve.
Need more appetizer ideas? Here are a few of my favorite spicy appetizers: