Summary:
This is a fast 20-minute recipe for making restaurant-style Mexican rice using riced cauliflower as a low carb substitute. Lightly pan-fried and flavored with tomato and lime, this is delicious whether eaten alone, as a side dish, or used as a filling.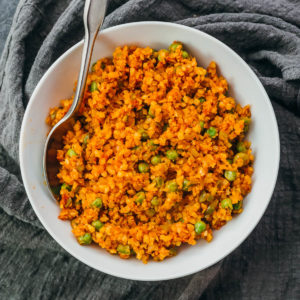 INGREDIENTS
INSTRUCTIONS
Prepare Ingredients: This recipe moves quickly, so all ingredients should be measured, chopped, and ready to go before cooking.

Fry Rice: Add olive oil, cauliflower rice, salt, and black pepper to high-sided pan (Note 4) over high heat. Stirring frequently, cook until pan looks dry and cauliflower rice is starting to brown, about 5 minutes.

Stir In Everything Else: Reduce to medium heat. Stir in garlic, serrano pepper, peas, tomato paste, and lime juice until well-mixed and fragrant, a few minutes. Turn off heat and serve (Notes 5-6).
NUTRITION
Makes 2 Servings
Amount Per Serving (3/4 cup):
| | |
| --- | --- |
| Calories 200 (68% from fat) |   |
| Total Fat 15g | 23% |
|    Saturated Fat 2g | 10% |
| Cholesterol 0mg | 0% |
| Sodium 460mg | 19% |
| Net Carb 9g |   |
| Total Carb 14g | 5% |
|    Dietary Fiber 5g | 20% |
|    Sugars 7g |   |
| Protein 5g |   |
PHOTOS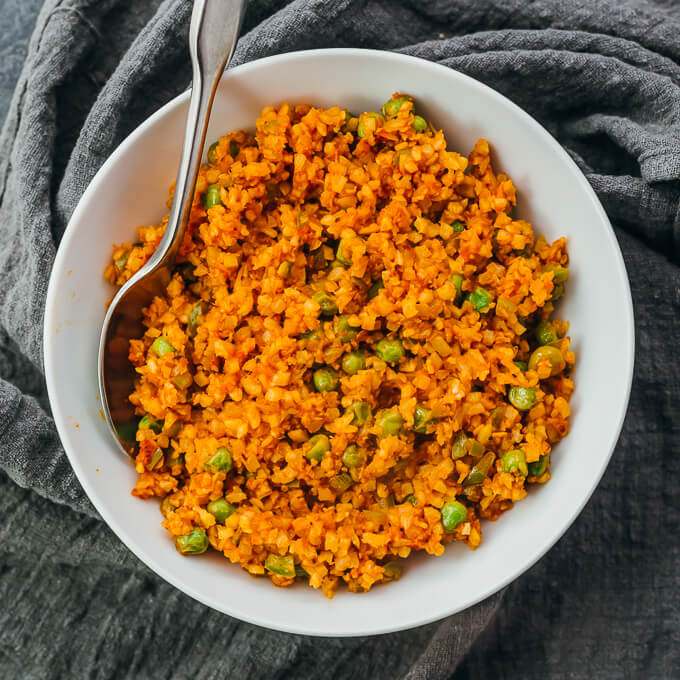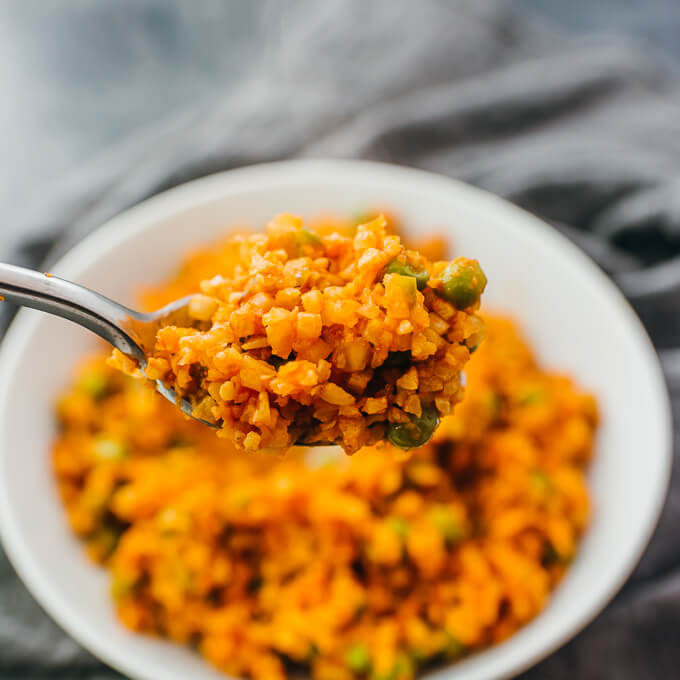 NOTES & TIPS
(1) Cauliflower Rice. You can use fresh or frozen. I recommend picking up a bag of pre-riced cauliflower in the produce section or freezer aisle of U.S. grocery stores — easier than grating cauliflower florets with a box grater or food processor. If you choose to grate your own cauliflower rice, you'll need about half of a large head of cauliflower.
(2) Serrano Pepper. I remove the seeds and membranes of the pepper, which results in a mildly spicy dish. It has a hint of spiciness but definitely doesn't overpower the dish. For spicier Mexican rice, include the seeds from the serrano pepper, or use more than one pepper. You can substitute with other peppers such as jalapeños. For a non-spicy version, use 1 mini sweet bell pepper.
(3) Lime Juice. One tablespoon results in a noticeable lime taste. If you only want a hint of lime flavor, use 1/2 tablespoon. This can be substituted with lemon juice.
(4) Pan. I use a 10-inch nonstick pan with 3-inch high sides. Smaller saucepans will also work well. I don't recommend pans with slanted sides (like skillets or frying pans) because it's harder to stir ingredients without going over the sides. I don't preheat the pan — the ingredients are added to the pan while it's cold.
(5) Serving. This Mexican rice is flavorful enough that you can eat it by itself, or you can use it as a filling for stuffed peppers, burrito bowls, or tacos using store-bought low carb tortillas by brands like Mission. Mexican rice can also be a side dish to accompany meaty mains like chicken fajitas or chili verde.
(6) Leftovers / Make Ahead. If you have leftovers or you're making this ahead of time, cover and refrigerate for up to 3 days. Before serving, reheat on a skillet over medium heat until warmed through.