Summary:
These lemon cheesecake fat bombs are snack-sized frozen treats made with cream cheese, butter, lemon juice, and a sugar-free sweetener -- one of the easiest keto and low carb desserts.
Lemon Cheesecake Fat Bombs With Cream Cheese
INGREDIENTS
6

ounces

cream cheese

(note that each standard brick is 8 ounces)

4

tbsp

salted butter

3

tbsp

granular swerve sweetener (1.5 ounces weight)

2

tbsp

fresh lemon juice

1

tbsp

finely grated lemon zest

(this is optional)
INSTRUCTIONS
Let the cream cheese and butter sit at room temperature until softened before continuing with the recipe.

In a bowl, combine sweetener, lemon juice, and lemon zest (if using), stirring until well-mixed.

In a separate bowl, microwave the cream cheese for about 10 seconds until very soft and pliable. This is an optional step, but it makes the cream cheese more easily combined with the other ingredients.

Add cream cheese and butter to the bowl with the lemon juice mixture. Use an electric hand mixer on low speed to beat until well-mixed.

Divide the batter into 16 round silicone molds. Freeze for several hours until completely solid, before serving. Store leftovers in the freezer.
NUTRITION
Makes 16 Servings
Amount Per Serving (1 fat bomb):
| | |
| --- | --- |
| Calories 60 (93% from fat) | |
| Total Fat 7g | 10% |
| Saturated Fat 4g | 20% |
| Cholesterol 19mg | 6% |
| Sodium 70mg | 3% |
| Net Carb 0.5g | |
| Total Carb 0.5g | 0% |
| Dietary Fiber 0g | 0% |
| Sugars 0g | |
| Protein 1g | |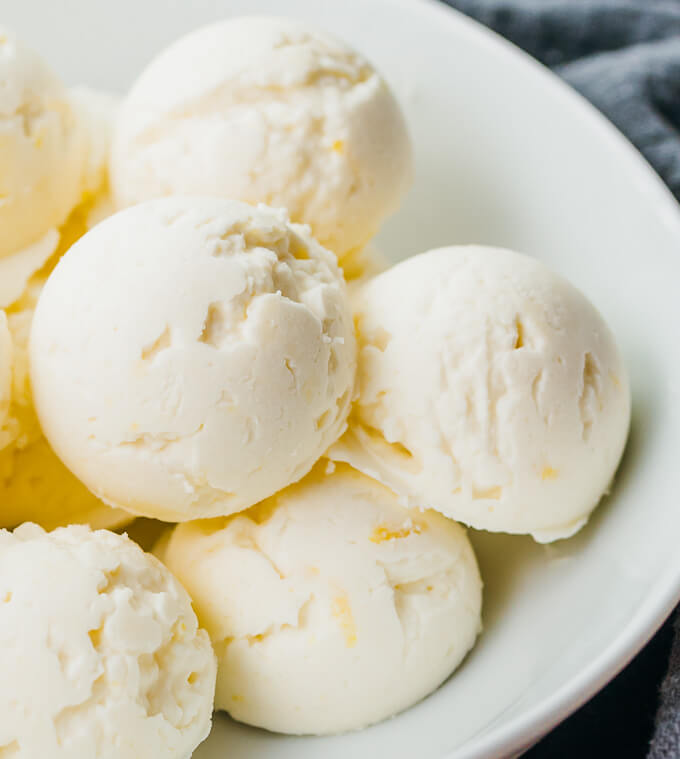 Recipe Overview
"Fat bombs" are bite-sized snacks popular among those who follow a keto diet. They're convenient, portable, easy-to-make treats that meet the diet's macronutrient recommendations — low in carbs, high in fat.
These fat bomb recipes are typically no-bake, frozen desserts (see Chocolate Chip Cookie Dough Fat Bombs or Peanut Butter Fat Bombs), but there are also other varieties that lean towards savory.
This recipe is all about lemon cheesecake fat bombs. You only need five ingredients to make these bright little treats, and they taste like frozen cheesecake bites. Their texture reminds me of ice cream!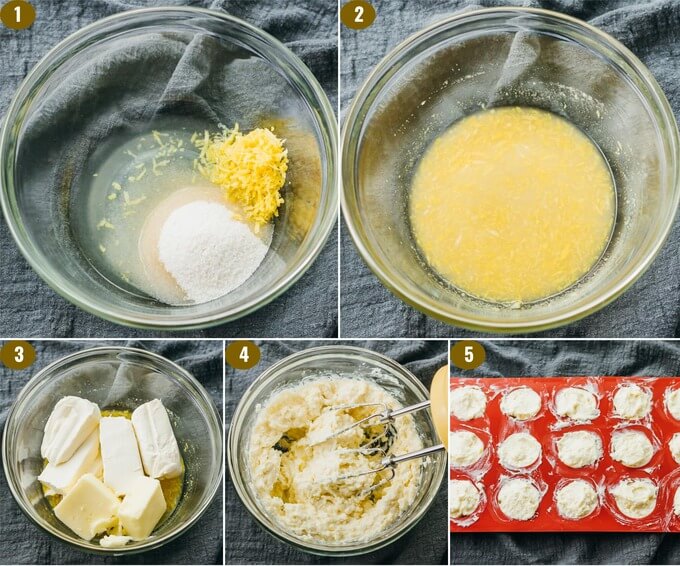 Recommended Equipment
I use these round silicone molds pictured above. Any kind of freezer-safe mold will work. This recipe makes about 16 fat bombs, so you'll need that many compartments if you want similarly sized fat bombs.
If you have a different sized mold, that's fine as well. You'll just end up with smaller or larger fat bombs. If you don't have a mold, you can either buy one or use anything you have lying around your kitchen, even ice cube trays.
I also recommend using an electric hand mixer to combine the cream cheese, butter, and lemon mixture. It may be possible to do it by hand, but you likely won't end up with a very smooth mixture.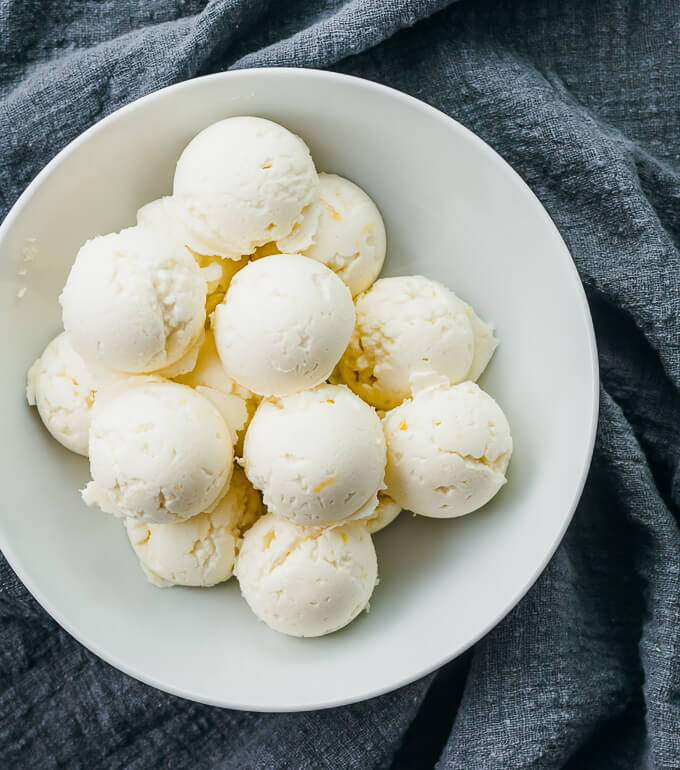 Ingredient Tips And Tweaks
Cream cheese. Use regular full-fat cream cheese, and avoid low fat or vegan varieties. Don't buy "cream cheese spreads." Note that the recipe calls for 6 ounces, which is not a full 8-ounce brick.
Sweetener. I use a natural sweetener called swerve. It measures the same as sugar. You can buy it online on Amazon and I've seen it sold at Whole Foods. If you replace it with another sweetener, you'll have to make the appropriate conversions so that the fat bombs end up with the same level of sweetness. For example, if you replace it with pure erythritol, you will need to use more because erythritol is only 70% as sweet as sugar. I also recommend powdering erythritol first, using a Nutribullet or similar personal blender, for best results. Stick with a dry sweetener so that you maintain a similar ratio of wet to dry ingredients.
Lemon juice. I use 2 tablespoons of lemon juice, which strikes a good balance between the lemon flavor and final texture. If you prefer a lime flavor, you can certainly replace it with lime juice. Avoid using more than 2 tablespoons or adding extra liquid (like vanilla extract) because the fat bombs will be too soft.
Lemon zest. I always add lemon zest because it adds a sprinkle of color to the fat bombs. The only downside is that you run the risk of using lemon zest that's bitter. It's an optional ingredient and it's up to you if you want to include it.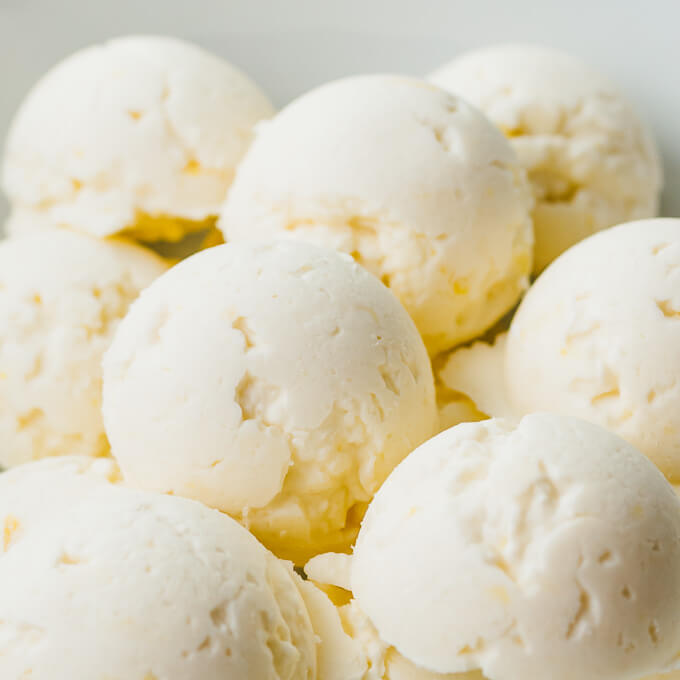 CHECK OUT THESE TASTY KETO DESSERTS: