Summary:
An easy oven recipe for Indian tandoori chicken marinated with greek yogurt and spices. Keto, low carb, and gluten free poultry dinner.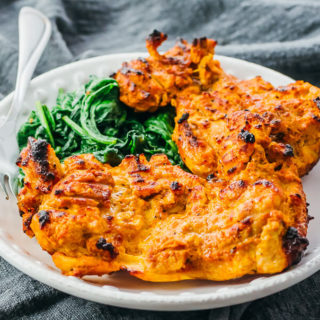 Tandoori Chicken (Easy Oven Recipe!)
(Ratings:
)
INGREDIENTS
1.5

pounds

boneless skinless chicken thighs
Rub:
1

lime

juiced (1-2 tablespoons)

3/4

teaspoon

salt

3/4

teaspoon

black pepper
Marinade:
1

(7-ounce)

container plain 2% greek yogurt

5

cloves

garlic

minced

1

tablespoon

fresh minced ginger

1

tablespoon

ground cumin

1

tablespoon

smoked paprika

1

teaspoon

ground turmeric

1/2

teaspoon

ground cayenne
INSTRUCTIONS
Rub salt and pepper over all surfaces of the chicken thighs. Drizzle with lime juice, spreading it on all parts.

In a large bowl, combine all marinade ingredients until well-mixed. Add chicken thighs one at a time, turning in the marinade until well-coated. Cover and refrigerate for 6 to 24 hours.

Position a rack in the center of the oven. Turn the broiler setting on high.

Prepare a broiler-safe pan and line with parchment paper or foil. Optionally, fit a wire rack on top of the pan and spray or brush with oil -- this allows the released juices to fall through.

Shaking off any liquid and discarding leftover marinade, use tongs to transfer the chicken to the pan, spreading out each piece to lay them flat and arranging all pieces in a single layer.

Broil until the chicken appears crisp and a bit blackened on top, with the marinade mostly dry and baked into the chicken, about 15 minutes. Flip the chicken pieces and repeat for the other side until the chicken is cooked through, another 10 to 15 minutes. Frequently monitor the chicken, as it can quickly burn.
NUTRITION
Makes 3 Servings
Amount Per Serving:
| | |
| --- | --- |
| Calories 340 (43% from fat) | |
| Total Fat 16g | 25% |
| Saturated Fat 1g | 4% |
| Cholesterol 189mg | 63% |
| Sodium 930mg | 39% |
| Net Carb 5g | |
| Total Carb 6.5g | 2% |
| Dietary Fiber 1.5g | 5% |
| Sugars 2.5g | |
| Protein 44g | |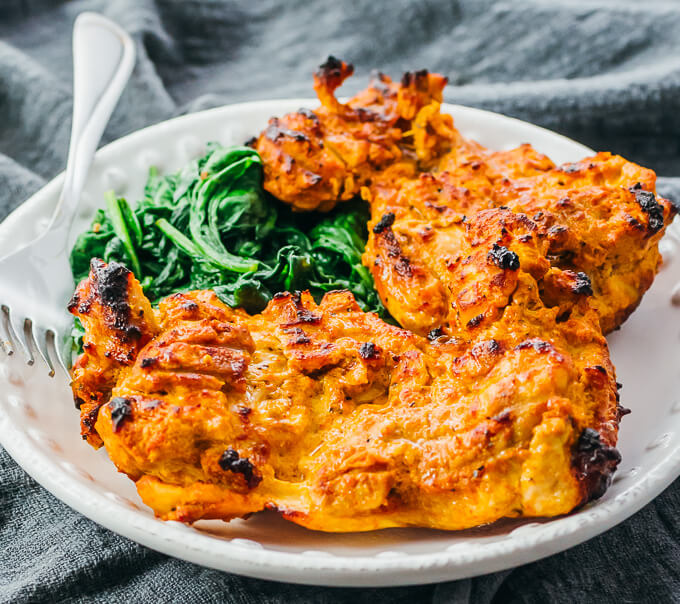 Recipe Overview
Tandoori chicken is an Indian dish originating from the Punjab region and traditionally made in a tandoor, which is a tall cylindrical clay oven. Heat is generated using a wood or charcoal fire inside the tandoor itself, so the food is cooked with both radiant and convective heat.
Outside of Asia, tandoori chicken is typically cooked on a grill or in the oven; I find it easiest to use the oven on the broiler setting, which produces delicious results.
This chicken dish is known for its vibrant red, orange, and yellow hues. This is due to the spices used in the yogurt marinade: cayenne and paprika add a touch of reddish orange, and turmeric has a distinctive yellow.
The chicken's resulting texture is crisp, as the marinade coating the chicken dries out as it cooks. There are also delicious blackened bits on the corners of the chicken pieces — the best parts! Overall, the chicken is very flavorful, thanks to the generous amount of spices.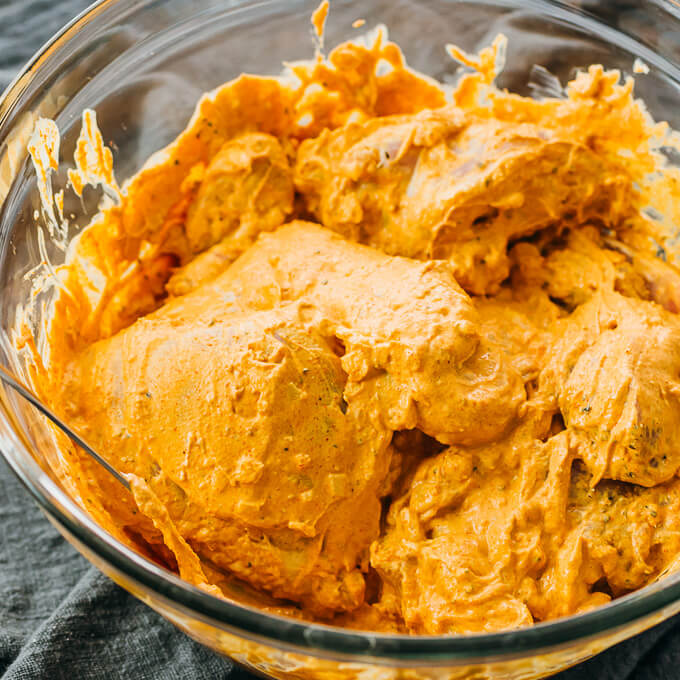 Marinating The Chicken
The marinade is a thick yogurt mixture filled with aromatic spices like cumin, paprika, and turmeric, reminding me of a chicken tikka masala marinade. The large quantity of seasonings — sometimes up to a tablespoon of a particular spice — aren't a typo! You really do need all of those spices to create an authentic- tasting tandoori chicken.
I recommend marinating for 24 hours, if possible. You can prepare the marinade the night before, and let the chicken marinate in the refrigerator until you're ready to cook it the next day.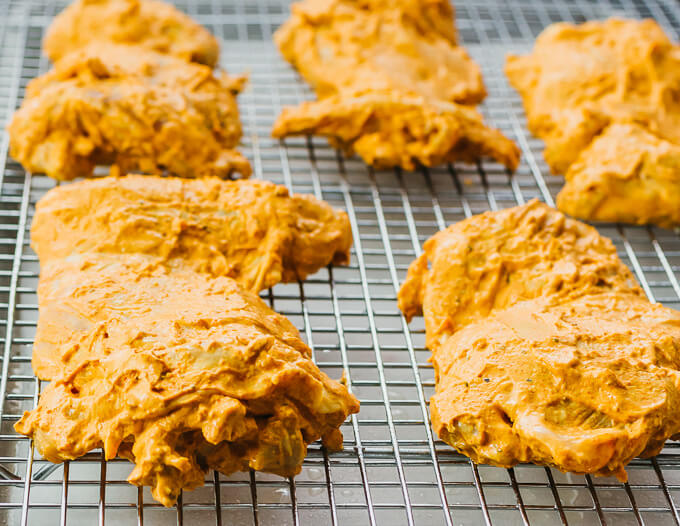 Tips For Broiling
You can broil the chicken directly on a baking pan, or on a wire rack fitted atop the baking pan. I've done it both ways, and the results are pretty similar. With a wire rack, the chicken juices fall through so the chicken isn't sitting in a puddle, but it also results in some indentations on the chicken and more cleanup work.
Broiler settings can vary substantially from oven to oven. They will vary in their heat distribution and intensity, and so cooking times listed in the recipe are simply estimates. It's best not to rely on time estimates while cooking; it's always better to use visual indicators to determine when something is done.
Keep a close watch on the chicken, monitoring every few minutes and then more frequently when it's almost done. It always pays to be vigilant when the broiler is running, as things can burn quickly!
You'll know the chicken is done on each side when it appears crisp, like the marinade has been baked into the chicken. You should also be getting some nice charred and blackened bits on parts of the chicken.
What To Serve With Tandoori Chicken
Tandoori chicken is very flavorful, so it's well-complemented by something mild, like a small serving of sauteed spinach, about 2 ounces per person. Sometimes I make plain spinach using only olive oil, salt, and pepper; other times I change it up by adding chopped garlic or red pepper flakes.
You can saute the spinach while waiting for the chicken to broil. I use fresh baby spinach leaves and add them to a medium-sized pot over medium heat. Stir them until wilted, or cover with a lid to encourage steaming so that they wilt faster. Stir in seasonings and keep warm on low heat until the chicken is done.
Other great ideas for vegetable-filled side dishes include creamed spinach, sauteed asparagus, pressure cooked green beans, and mashed cauliflower. Enjoy!
MORE DELICIOUS INDIAN & ASIAN CHICKEN DINNERS: