Summary:
One of the easiest low carb desserts, these keto fat bombs are no-bake frozen treats that you can make with only 5 ingredients. Tastes like frozen strawberry or raspberry cheesecake - almost like ice cream!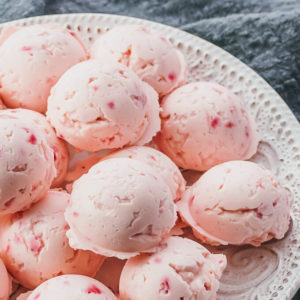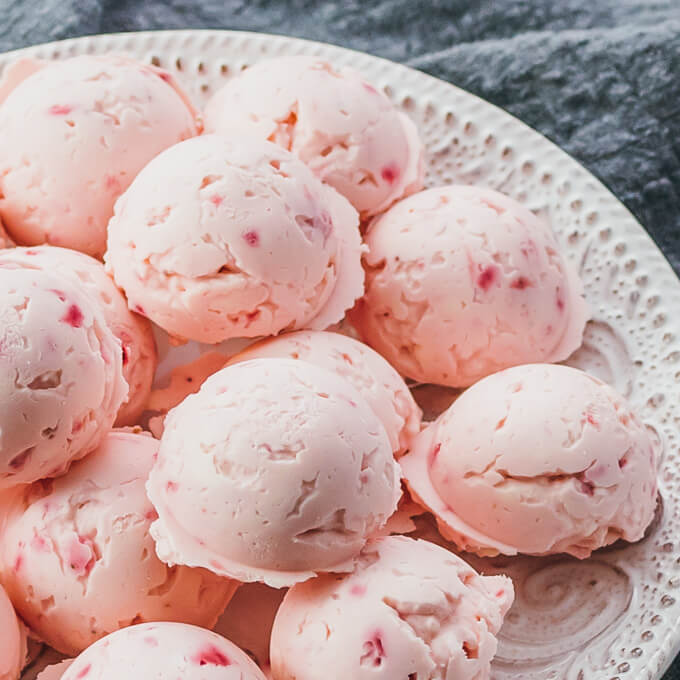 INGREDIENTS
6

ounces

cream cheese

2

ounces

strawberries or raspberries

(about 4 large or 10 small; can be fresh or frozen)

4

tbsp

salted butter

2

tbsp

granular swerve sweetener (1 ounce)

1

tsp

vanilla extract
INSTRUCTIONS
Let the cream cheese, strawberries, and butter sit at room temperature for about an hour to soften before continuing with the recipe.

Puree the strawberries using a small blender like the Nutribullet. Alternatively, you can mash them by hand, but the texture will be less smooth.

In a bowl, combine pureed strawberries, sweetener, and vanilla, stirring until well-mixed.

In a separate bowl, microwave the cream cheese for 10 seconds until very soft and pliable. This is an optional step, but it makes the cream cheese softer and more easily combined with other ingredients.

Add butter and cream cheese to the bowl with the strawberry mixture. Use an electric hand mixer and beat until well-mixed, ideally without any large cream cheese clumps remaining.

Divide the batter into 18 round silicone molds, smoothing the surface with a spatula. Freeze until solid, about 2 hours, before serving. Store leftovers in the freezer.
NUTRITION
Makes 18 Servings
Amount Per Serving (1 fat bomb):
| | |
| --- | --- |
| Calories 60 (92% from fat) | |
| Total Fat 6g | 9% |
| Saturated Fat 4g | 18% |
| Cholesterol 17mg | 6% |
| Sodium 60mg | 2% |
| Net Carb 0.5g | |
| Total Carb 0.5g | 0% |
| Dietary Fiber 0g | 0% |
| Sugars 0g | |
| Protein 1g | |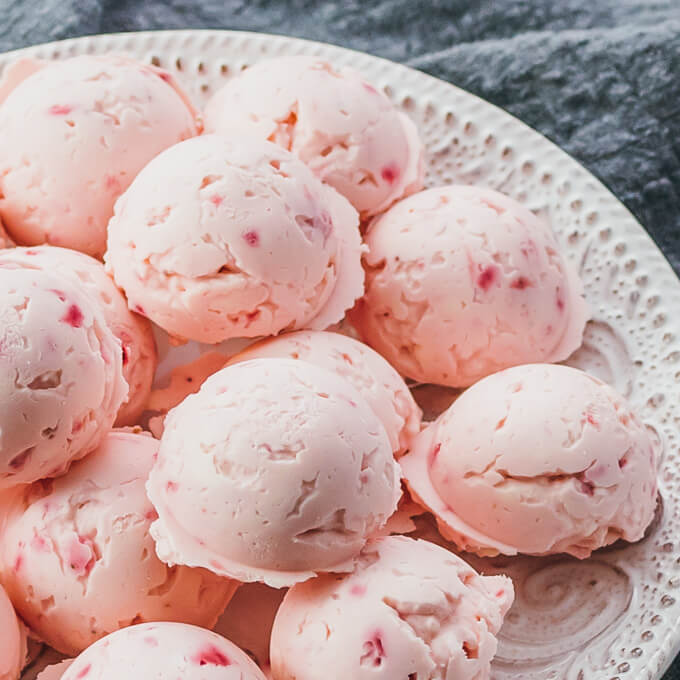 What is a keto fat bomb and why eat them?
A fat bomb is a bite-sized dessert or snack that's high in fat and low in carbs. They're usually made with few ingredients that include a source of fat (butter, coconut oil, cream cheese, etc.) and some flavoring (fruit, chocolate, nuts, seeds, coconut, mint, vanilla, lemon, etc.). No sugar is used.
Fat bombs and other low carb desserts (like keto chocolate chip cookies) are great for anyone on keto because they provide a convenient and delicious snack that meets their diet's macronutrient requirements — low in carbs, high in fat.
For more information, check out this guide on starting a keto diet, the science behind the keto diet, and a keto diet food list.
Tips for making cheesecake keto fat bombs
For best results, the strawberries should be room temperature and pureed using a small blender. You want them to be thoroughly mashed.
Measure out the appropriate amount of strawberries by weight. If you accidentally add too much, it can make the batter too watery and the texture will be off.
The cream cheese and butter should be room temperature, to avoid big clumps of cream cheese in the final batter. Use an electric mixer to get the batter as well-mixed as possible.
Use any kind of mold shape — ideally each fat bomb should be bite-sized, about 1.5 inches in length. You might have some candy molds lying around. I used round silicone molds.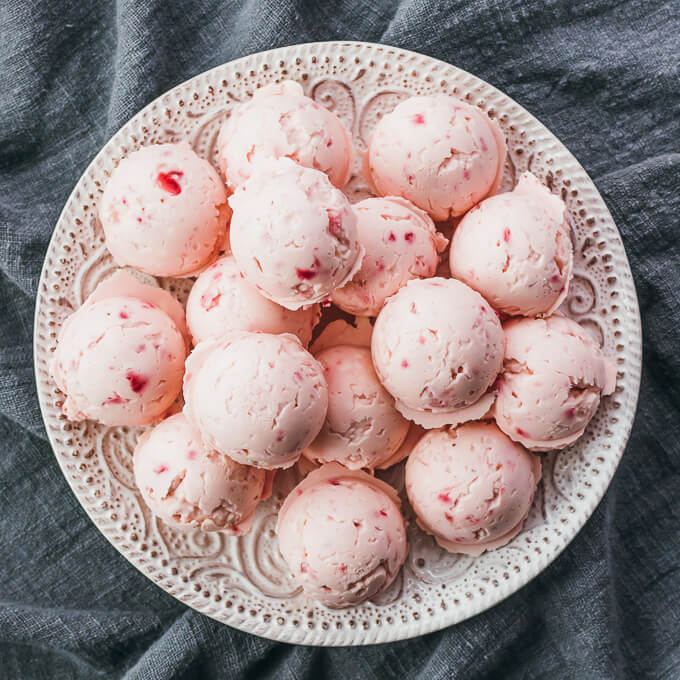 Sweeteners
For best results, measure out the amount of sweetener by weight and not volume.
I use granular swerve, and their confectioners version will also work. This is a dry sweetener that has a 1:1 substitution ratio for table sugar.
If you use pure erythritol, you'll want to use more sweetener (around 1.5 ounces), since erythritol is only about 70% as sweet as sugar.
Alternate Flavors
If it's your first time making this recipe, I suggest using strawberries (as shown here) or raspberries (my personal favorite). After that, you can try other fruits like blueberries, using the same weight. Stick with berries, as other fruits tend to have a lot more carbs.
If you're feeling bold, you can explore outside the fruit realm and try adding peanut butter or chocolate. If you do, let me know in the comments!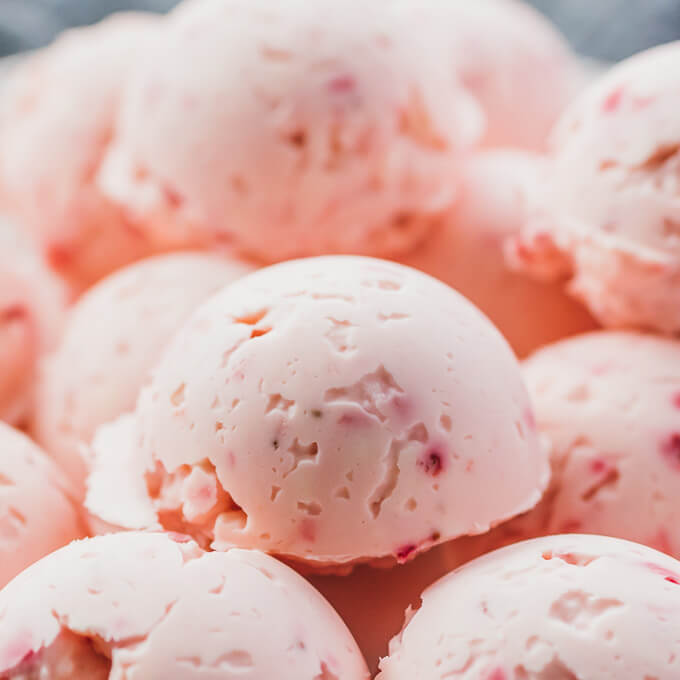 MORE DECADENT KETO DESSERTS: