Summary:
With just five ingredients, this Chocolate Avocado Smoothie is convenient and fast to whip up on busy mornings. Avocado adds a smooth creaminess, without actually tasting like avocado. It's great for a variety of diets, including keto, low carb, paleo, and vegan. Visit Keto Drinks for more smoothie ideas.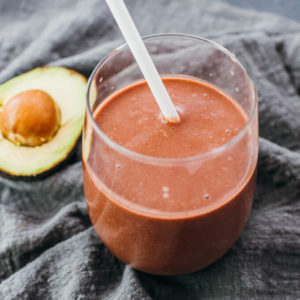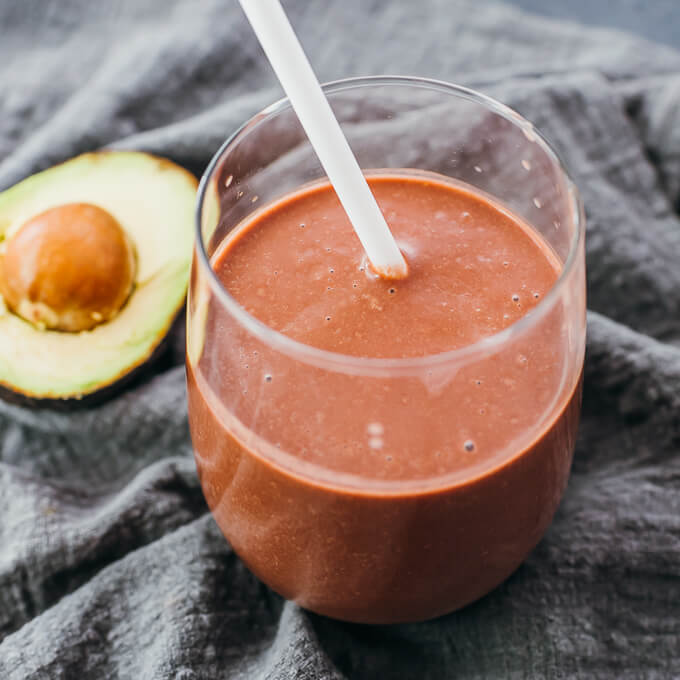 Chocolate Avocado Smoothie Recipe
INGREDIENTS
1.5

cups

unsweetened vanilla-flavored nut milk

(I use cashew milk, but other nut milks like almond milk can be used; find them in the refrigerated fresh milk section of a grocery store)

1/4

small ripe avocado

(after peeling and pitting, this amounts to 1 ounce weight of avocado; a ripe avocado is best because it combines more easily with other ingredients)

3

tablespoons

confectioners swerve sweetener

(swerve is a 1:1 sugar substitute; you can substitute your preferred dry or liquid sweetener by adding it to taste)

1

tablespoon

unsweetened cocoa powder

(I use Hersheys Special Dark)

<1/8 teaspoon table salt

(you only need to add a pinch of salt, which helps enhance the other flavors)

optional ice cubes, blended last
INSTRUCTIONS
Blend: Blend all ingredients except for ice cubes (ingredients may not smoothly combine when they're very cold) in a high-speed blender until very smooth; I use a Nutribullet. If you're using a sweetener other than specified above, adjust to taste by blending in small amounts at a time.

Taste & Adjust: Taste and adjust flavors accordingly. For a thicker version, blend in extra avocado and cocoa powder. For a thinner version, blend in extra nut milk. For a colder version, chill the drink by blending in ice cubes last, after other ingredients have blended together already.

Serve: Enjoy immediately.
NUTRITION
Makes 1 Serving
Amount Per Serving (1.75 cups):
| | |
| --- | --- |
| Calories 120 (72% from fat) | |
| Total Fat 9g | 14% |
| Saturated Fat 1g | 5% |
| Cholesterol 0mg | 0% |
| Sodium 500mg | 21% |
| Net Carb 3g | |
| Total Carb 8.5g | 3% |
| Dietary Fiber 5.5g | 22% |
| Sugars 0.5g | |
| Protein 3g | |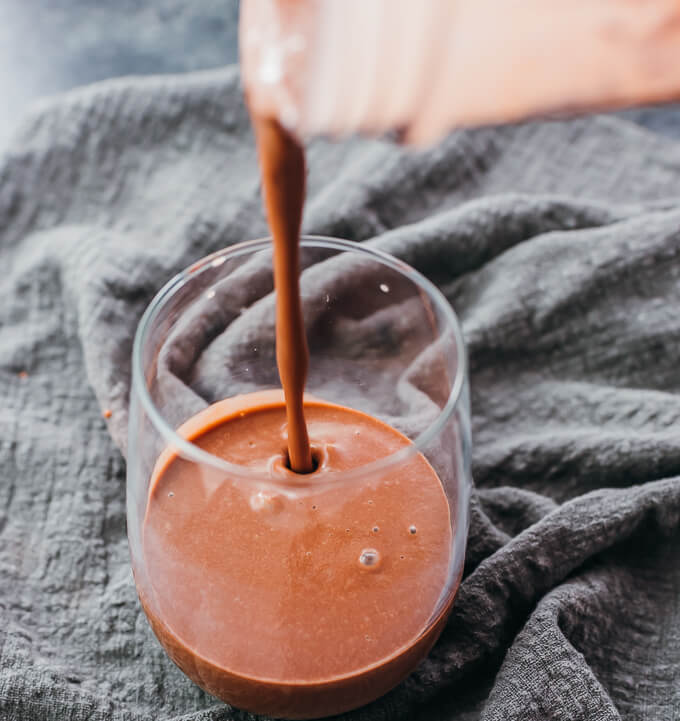 ❗ Tips For Success
Use nut milk that is unsweetened. The easiest way to tell is to look at the carton's nutrition facts, which should only have 1g of total carbs per 1 cup serving. Anything more than that, and it's likely sweetened with a lot of added sugars (meaning it's not low carb) and your smoothie will end up tasting too sweet.
Go easy on the avocado. I use one-quarter of a small avocado. If your avocado is on the larger side or you're not sure about its size, then start off by blending in 2 tablespoons of avocado, which corresponds to about 1 ounce in weight. It's always easy to add more after tasting the smoothie.
Serving more than one? You can scale up the recipe. Just increase the ingredient amounts proportionally — you can double, triple, or quadruple the ingredients to make more smoothies. Blend everything together, and portion them off into individual cups.
Sweeteners such as swerve use sugar alcohols (erythritol) that aren't digested by the body, so they're subtracted out (along with fiber) in the provided Net Carbs estimate.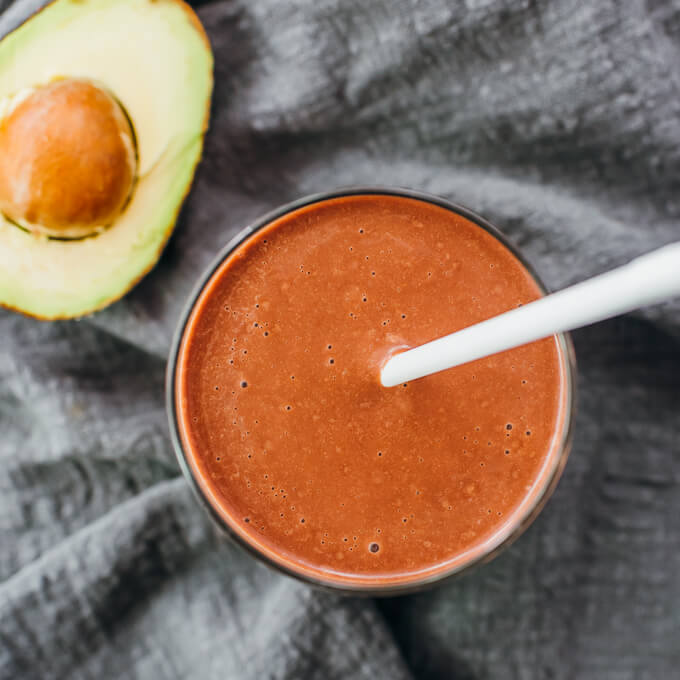 🔔 Why You Should Make This
Convenient, Fast Breakfast. With only five ingredients to prepare, you can make this low carb breakfast in minutes using a blender. Enjoy immediately, or sip on it while you're on the go.
Creamy Without Avocado Taste. Avocado contributes a smooth creaminess to this drink and increases its fat proportion (great for anyone on a keto diet), without actually tasting like it. Personally, I can't taste avocado in the final blended drink; the most prominent taste is chocolate. This is great for anyone who wants to incorporate more avocado into their diet, but doesn't like the taste.
Use Up Imperfect Avocados. Do you have an avocado with a blemish or discoloration, but is otherwise safe to eat? Then enjoy it in smoothie form. No one will care what the avocado looked like once it's blended in; the brown chocolate color of this drink dominates.
More Keto Drink Recipes