Summary:
Low carb and keto salmon patties, crispy on the outside and tender within. This 30 minute meal is served with a spicy dill-garlic dip, and can be enjoyed as a seafood main course or appetizer.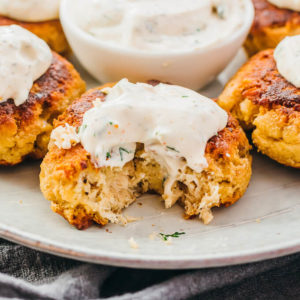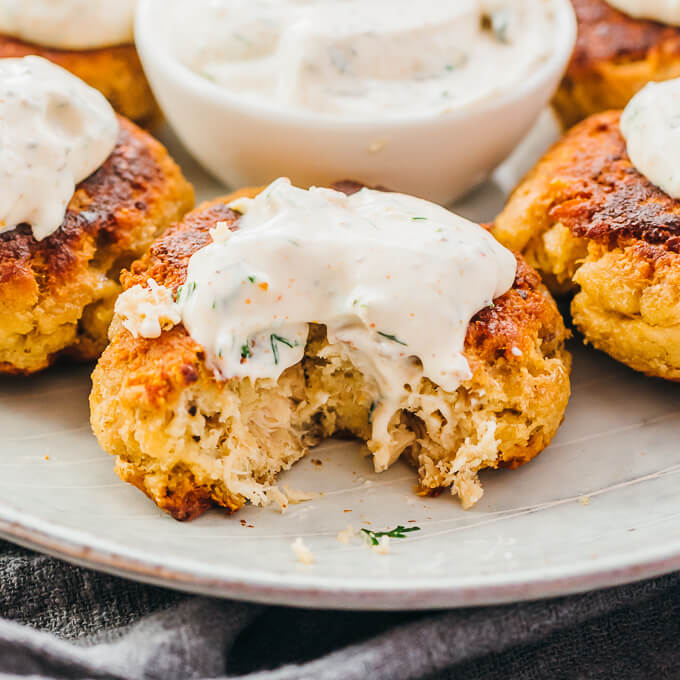 Crispy Keto Salmon Patties
INGREDIENTS
Salmon Patties:
6

ounces

(drained weight) canned salmon

(I like Costco's Kirkland Boneless & Skinless Wild Salmon)

1/2

cup

blanched almond flour

2

tablespoons

mayonnaise

1

large egg

1/2

teaspoon

salt

1/4

teaspoon

ground thyme

1/4

teaspoon

black pepper
Spicy Dill-Garlic Dip:
1/2

cup

sour cream

1

tablespoon

finely chopped fresh dill

4

cloves

garlic, minced

1/4

teaspoon

cayenne

1/4

teaspoon

salt

1/4

teaspoon

black pepper
INSTRUCTIONS
Combine all dill-garlic dip ingredients and stir together until well-mixed. Cover and refrigerate while you work on the salmon patties.

Drain the canned salmon, and discard any bones and skin. Pat the meat dry with paper towels. Use a digital food scale to measure out 6 ounces to use for this recipe (this is important if your can(s) did not list the drained weight, or if you removed a significant amount of bones and skin).

In a large mixing bowl, add all salmon patty ingredients and stir until well-mixed, breaking apart any large chunks of salmon. Divide the mixture into 5 equal-sized balls and use a turner spatula to flatten them into 2-3 inch patties (a nonstick working surface like parchment paper or baking mat is useful).

Heat olive oil in a large pan (wide enough to fit 5 patties without touching each other) over medium heat until hot.

Use a turner spatula to carefully lower patties, one at a time, evenly spaced out in the hot oil. Tilt the pan to ensure good oil coverage around all of the patties.

Fry until they're browned and crispy on the bottom, 5 to 6 minutes. Flip the patties and repeat for the other side, 3 to 4 minutes. Transfer them onto a paper towel to drain a bit.

Transfer the salmon patties onto serving plates, depositing a dollop of dill-garlic dip on top of each cake with the remainder on the side. Enjoy while hot and crispy.
NUTRITION
Makes 5 Servings
Amount Per Serving (1 salmon patty):
| | |
| --- | --- |
| Calories 290 | |
| Total Fat 26g | 41% |
| Saturated Fat 5g | 27% |
| Cholesterol 74mg | 25% |
| Sodium 420mg | 18% |
| Net Carb 2g | |
| Total Carb 3.5g | 1% |
| Dietary Fiber 1.5g | 5% |
| Sugars 1.5g | |
| Protein 11g | |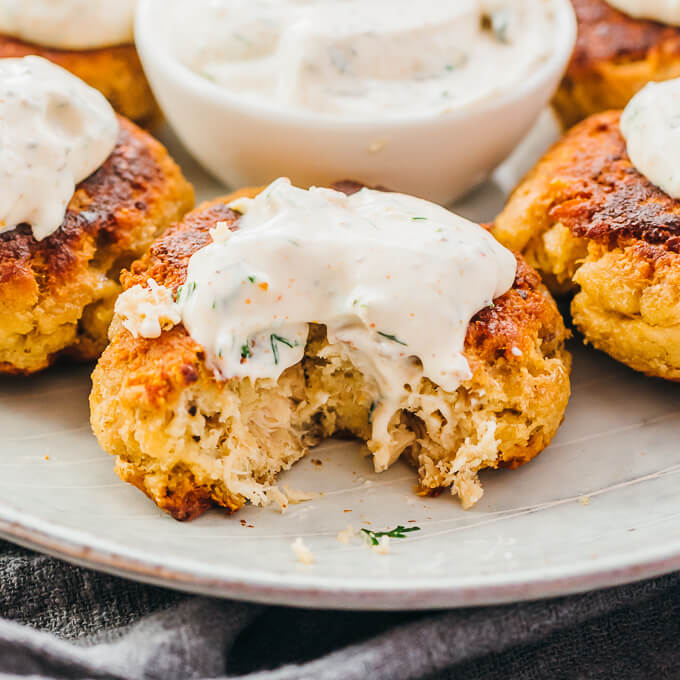 Making Low Carb Salmon Patties
Whether you call them salmon patties, salmon cakes, or salmon croquettes, these little crispy treats are formed using a mixture of salmon, almond flour, mayonnaise, egg, and seasonings. I use canned salmon because it's conveniently cooked, but fresh cooked salmon will also work. Instead of traditional bread crumbs, I use almond flour as a low carb ingredient to add bulk and act as a binder for the patties.
Once these patties are formed, a quick frying session will easily brown them, yielding a gorgeous crispy crust. This is shallow pan frying, not deep frying, so you only need 2 tablespoons of oil.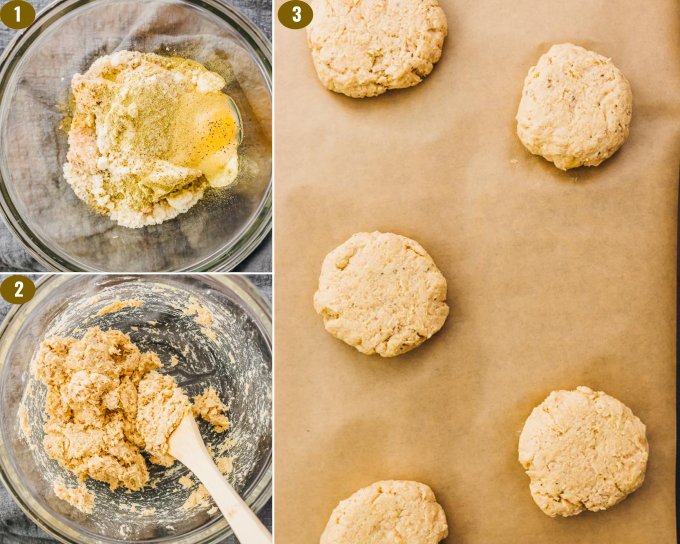 About The Dill-Garlic Dip
The salmon patties are fantastic by themselves, but are even better when served with a complementary dip. I thought that the tartness and flavors in a sour cream dip (mixed with minced garlic, dill, and cayenne) contributed a wonderfully refreshing taste.
This dip can be made up to one day in advance, covered and stored in the refrigerator. Before using, give it a stir and serve cold. You can enjoy it as a dip or as a topping to the salmon patties.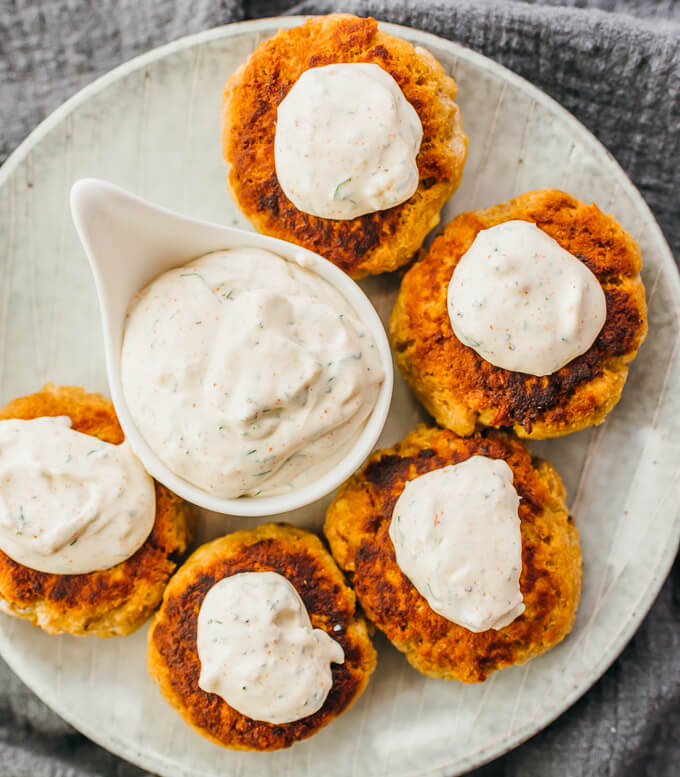 More Low Carb Seafood Recipes