Summary:
This quick and easy Chinese Chicken dish has unbelievably tender meat, coated with a rich and flavorful sauce. It's my low carb and pressure cooker take on the popular dish Three Cup Chicken.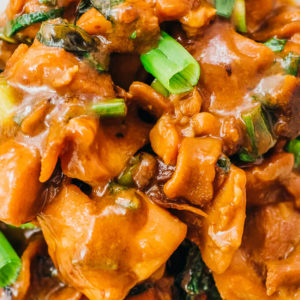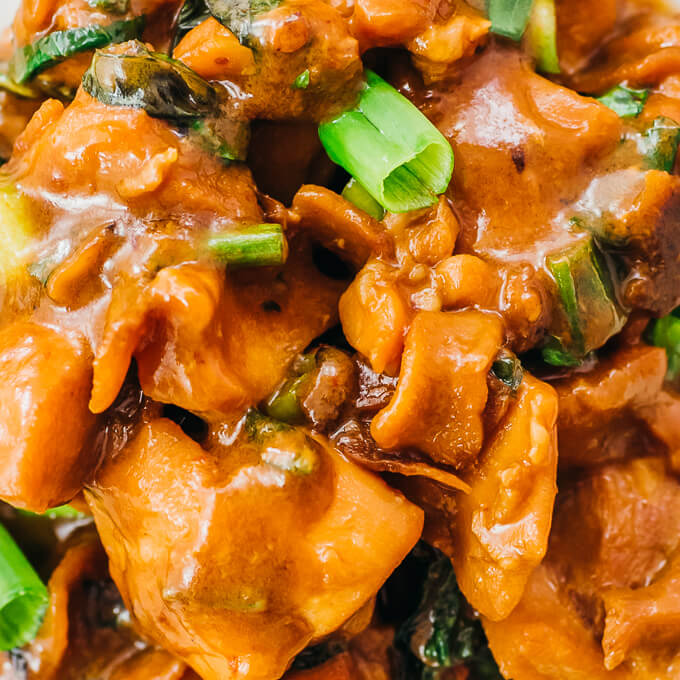 INGREDIENTS
1.5

pounds

boneless skinless fresh chicken thighs

10

cloves

garlic, halved lengthwise

2-inch piece

fresh ginger, thinly sliced widthwise

1/4

teaspoon

crushed red pepper flakes

1

tablespoon

sesame oil or other cooking oil
Flavorings Added At End:
5

scallions, sliced

1/2

cup

fresh basil leaves, halved lengthwise (Note 2)
INSTRUCTIONS
Prepare Marinade: Whisk soy sauce, dry sherry, and corn starch in large mixing bowl until dissolved.

Cut Chicken: Pat chicken thighs dry with paper towels. Trim off excess fat with kitchen shears. Cut chicken into 2-inch chunks.

Marinate Chicken: Add chicken chunks to mixing bowl with marinade, stirring together until chicken is well-coated. Arrange chicken until mostly submerged. Set aside on countertop to marinate for about 10 minutes; meanwhile, proceed to next step.

Cook Aromatics: Add oil, ginger, garlic, and red pepper flakes to pressure cooker pot (Note 3). Turn on sauté setting for medium heat. Stirring occasionally, cook until garlic is browned and softening, about 10 minutes. Turn off sauté setting.

Pressure Cook: Carefully pour all contents of mixing bowl (both chicken and marinade) into pressure cooker pot, and briefly stir everything together. Cover and seal lid. Cook at high pressure for 10 minutes, followed by quick pressure release.

Thicken Sauce: Uncover. Turn on sauté setting for medium heat. Boil until liquid starts to develop sauce-like consistency, 5 to 10 minutes, stirring frequently to prevent sticking. Turn off sauté setting. Briefly stir in scallions and basil, and serve (Note 4).
NUTRITION
Makes 3 Servings
Amount Per Serving:
| | |
| --- | --- |
| Calories 360 (48% from fat) |   |
| Total Fat 19g | 29% |
|    Saturated Fat 1g | 3% |
| Cholesterol 182mg | 61% |
| Sodium 940mg | 39% |
| Net Carb 7.5g |   |
| Total Carb 8.5g | 3% |
|    Dietary Fiber 1g | 4% |
|    Sugars 4g |   |
| Protein 37g |   |
PHOTOS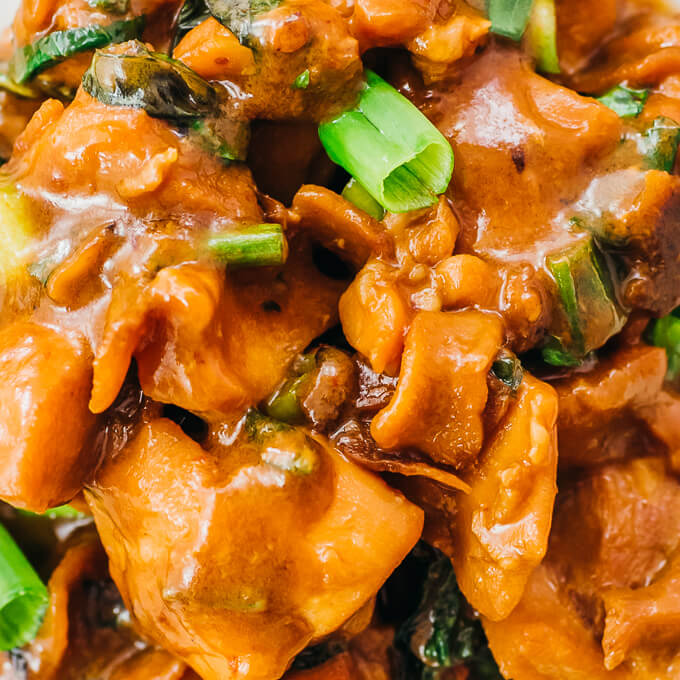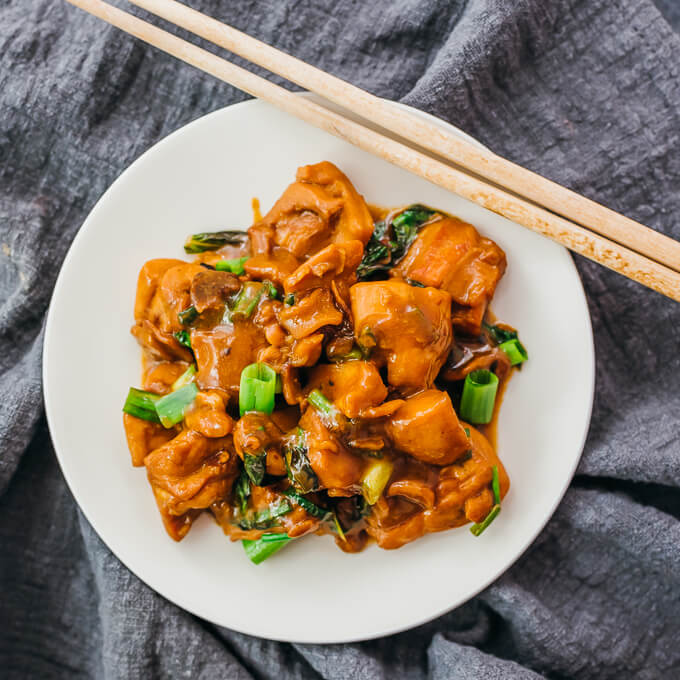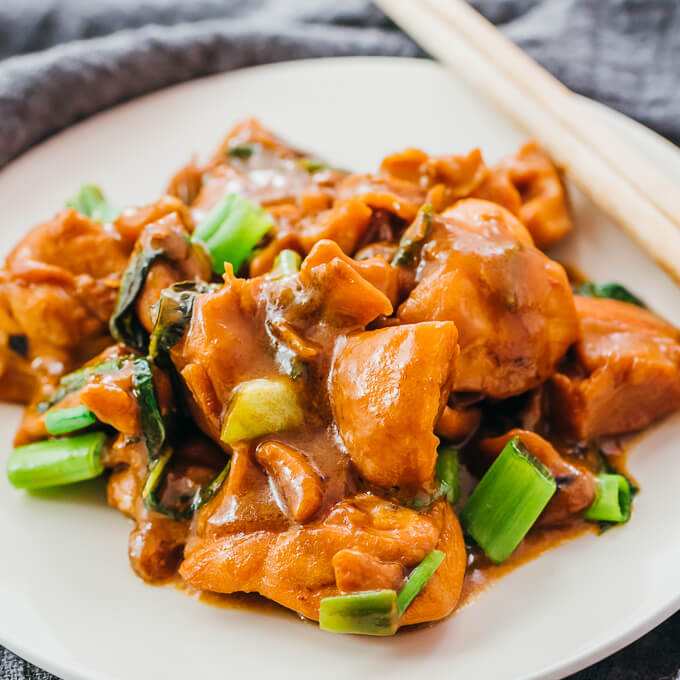 NOTES & TIPS
(1) Soy Sauce. I use low sodium soy sauce by brands like Kikkoman or Trader Joe's. Avoid regular soy sauce, which will be too salty. "Light soy sauce" refers to color and is not the same as "low sodium soy sauce." If you follow a paleo, whole30, or gluten-free diet, substitute with coconut aminos.
(2) Basil. About 1/2 ounce weight. Use fresh Thai or Italian basil leaves.
(3) Pressure Cooker Equipment. I use a 6-quart Instant Pot. You can use a different size of electric pressure cooker as long as all ingredients fit within the maximum capacity line.
(4) Serving. Serve with low carb side dishes like fried riced cauliflower, roasted mushrooms, or mashed turnips.