Summary:
This is an easy, low carb recipe for making a cold salad featuring raw broccoli florets with crumbled bacon and crunchy nuts. The ingredients are tossed together with a creamy, slightly sweet dressing.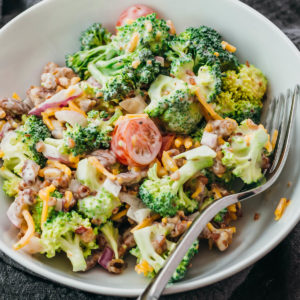 INSTRUCTIONS
Make Dressing: Whisk together dressing ingredients in small bowl or measuring glass until very smooth.

Mix Salad: Toss remaining salad ingredients and dressing together in large bowl until well-mixed. Serve (Note 6).
NUTRITION
Makes 4 Servings
Amount Per Serving (2 cups):
| | |
| --- | --- |
| Calories 730 (87% from fat) |   |
| Total Fat 70g | 108% |
|    Saturated Fat 9g | 44% |
| Cholesterol 63mg | 21% |
| Sodium 600mg | 25% |
| Net Carb 5.5g |   |
| Total Carb 10g (Note 7) | 3% |
|    Dietary Fiber 4.5g | 19% |
|    Sugars 4.5g |   |
| Protein 12g |   |
PHOTOS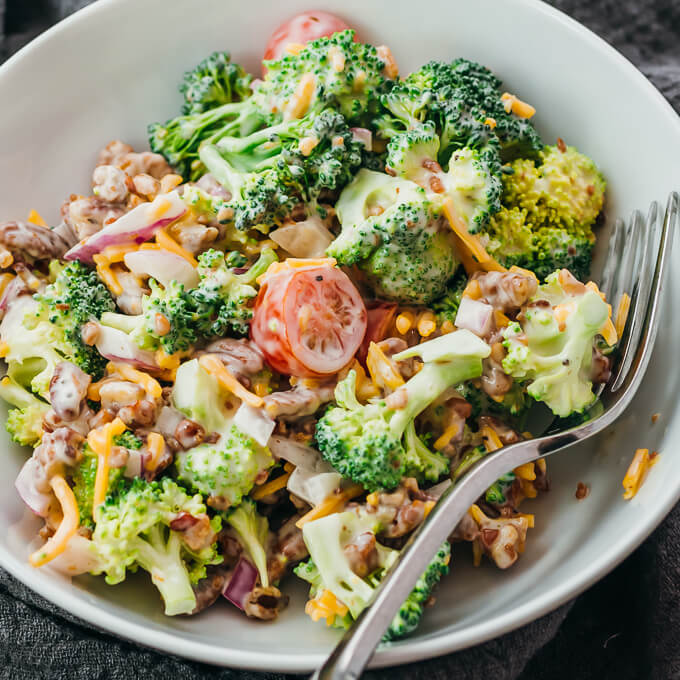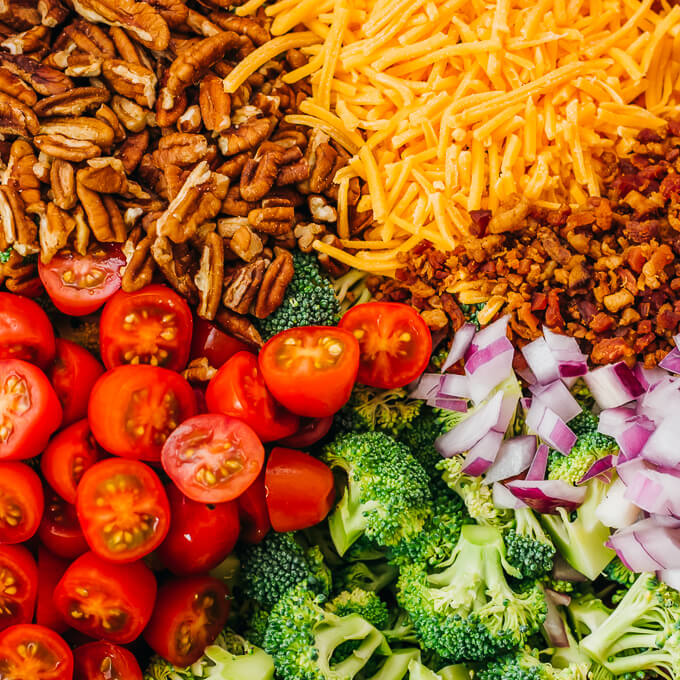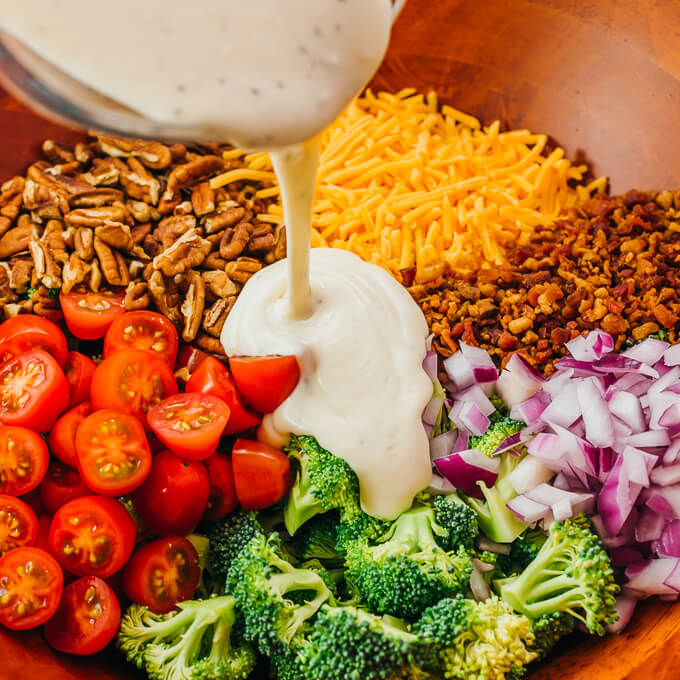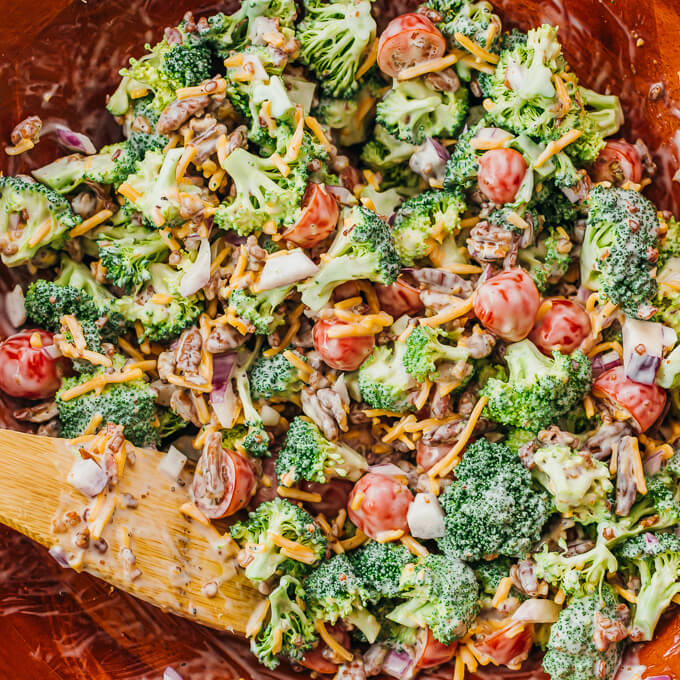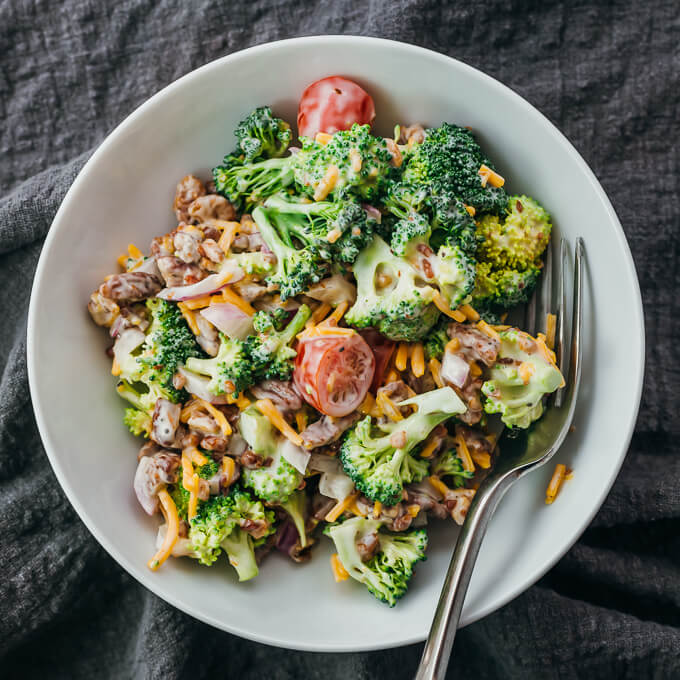 NOTES & TIPS
(1) Nuts. You can substitute with any chopped nuts or a mix of them, such as chopped pecans, walnuts, or slivered almonds, adding a nice crunch to the salad. I normally use pecan pieces.
(2) Cheddar Cheese. I like the bright yellow color that cheddar brings to this salad, but you can substitute with your favorite shredded or crumbled cheese.
(3) Red Onion. This can be substituted with an equal amount of diced shallot.
(4) Bacon. You can cook bacon in the microwave, in the oven (see How To Bake Bacon), or on the stovetop by frying slices on a pan until crispy, turning them occasionally. After cooking, transfer bacon to paper towels to absorb the grease. Once the bacon is cool, crumble it into small pieces. Don't want to cook bacon? Substitute with 1/2 cup bacon bits.
(5) Sweetener. Confectioners Swerve is a dry sweetener that measures the same as regular powdered sugar; it's not the same as pure erythritol, which is about 70% as sweet. You can substitute with your preferred dry or liquid sweetener by adding it to taste. Without some kind of sweetener, the dressing doesn't taste anywhere near as good.
(6) Serving. This broccoli salad can be served right away, or stored in a covered container in the refrigerator for up to 2 days. One serving is filling enough for lunch or dinner, or you can have a half serving as a side dish (great for summer cookouts).
(7) Carbs. The nutrition calculation assumes you are using Swerve or a similar erythritol-based sweetener that uses sugar alcohols, whose carbs are non-impact and therefore not included in the nutrition estimate. Apps that count sugar alcohols will show a higher number of carbs.