Summary:
Making a salad, but don't know which toppings and dressings are low carb? Look no further than this ultimate keto salad, where every ingredient has been selected for its low carb impact. Just 3g net carbs per generous entree-sized serving. Even those who aren't specifically looking to eat low carb will love this salad.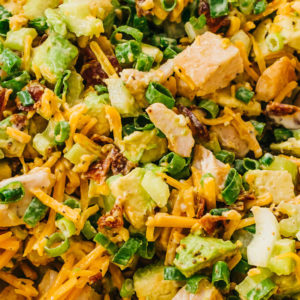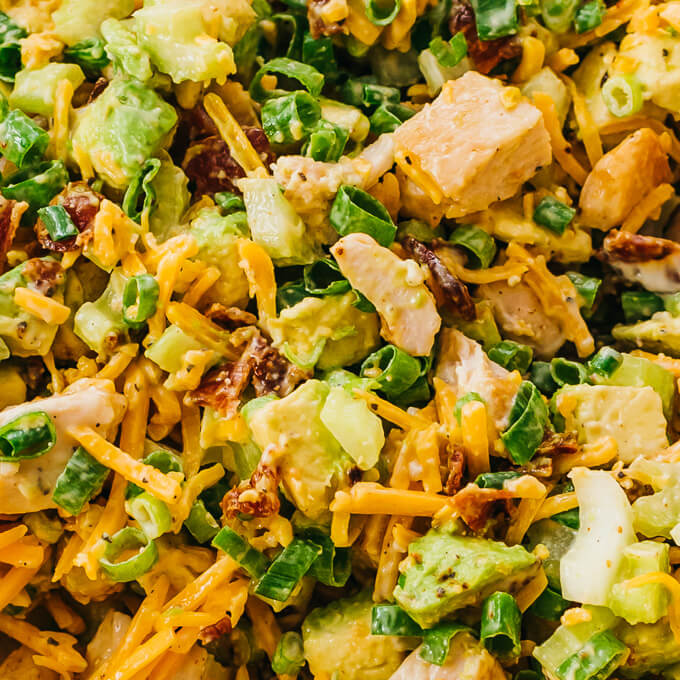 INGREDIENTS
INSTRUCTIONS
NUTRITION
Makes 2 Servings
Amount Per Serving:
| | |
| --- | --- |
| Calories 640 (54% from fat) |   |
| Total Fat 38g | 59% |
|    Saturated Fat 13g | 64% |
| Cholesterol 164mg | 55% |
| Sodium 990mg | 41% |
| Net Carb 3g |   |
| Total Carb 9g | 3% |
|    Dietary Fiber 6g | 23% |
|    Sugars 2.5g |   |
| Protein 57g |   |
PHOTOS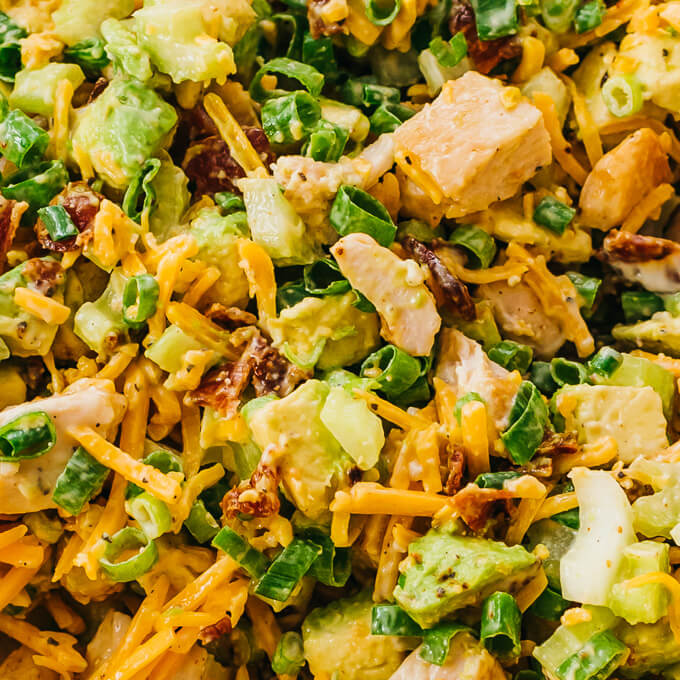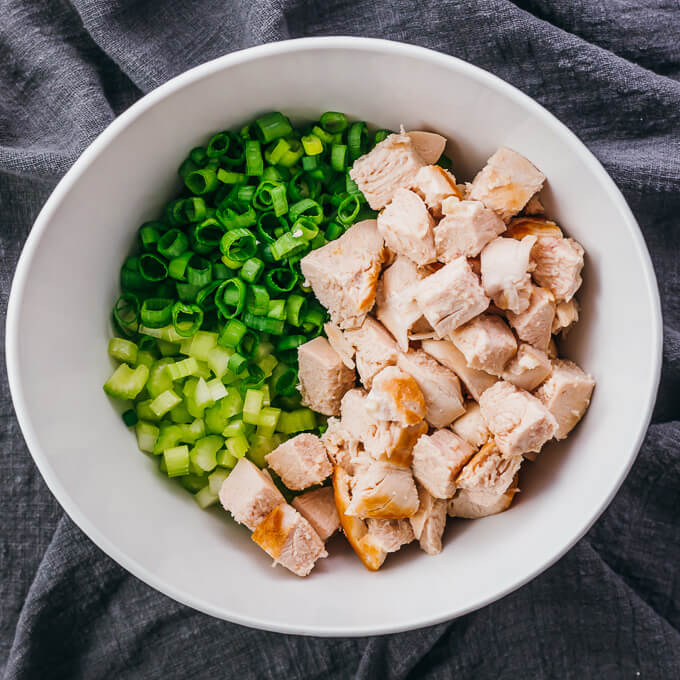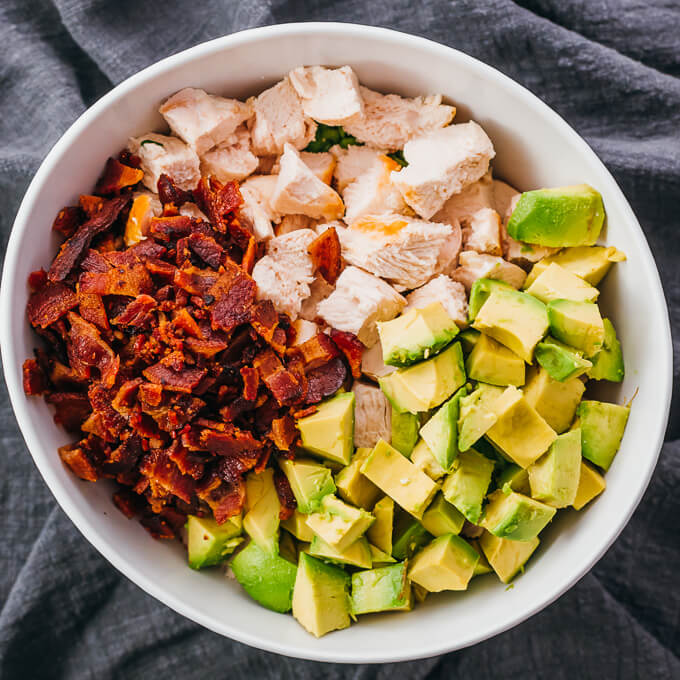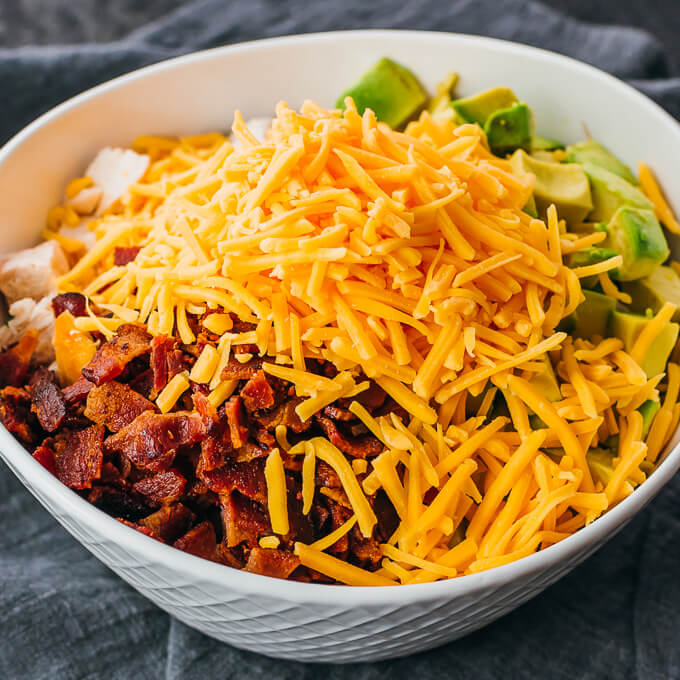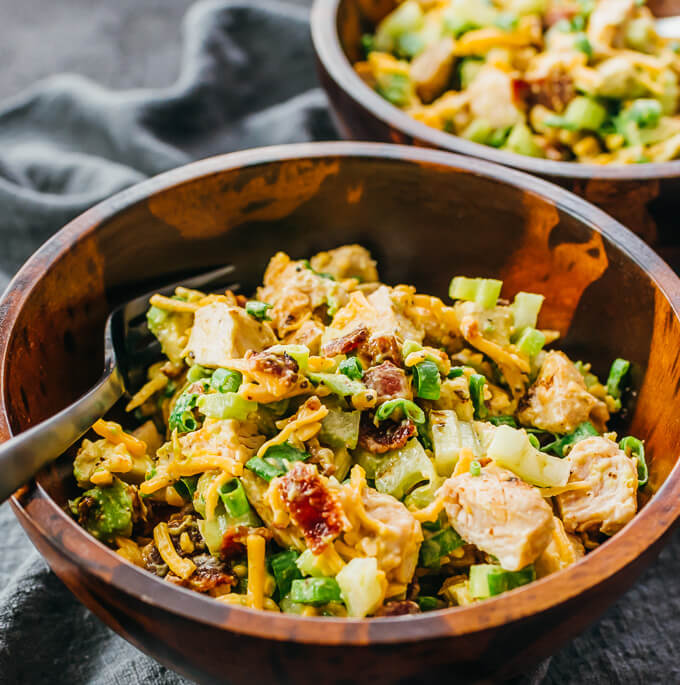 NOTES & TIPS
(1) Chicken. Use leftover cooked chicken from previous meals, rotisserie chicken, or store-bought cooked chicken strips. Using raw chicken? The amount listed is equivalent to 3/4 pound raw boneless skinless chicken breasts, which can be cooked any way you prefer — pan sear, slow cook, pressure cook, grill, or bake. Watch out for any cooked-out juices from the meat, which should be drained so that the salad doesn't end up watery.
(2) Bacon. Cook bacon in the microwave, in the oven (see How To Bake Bacon), or on the stovetop by frying them on a pan until crispy, turning occasionally. After cooking, transfer bacon to paper towels to absorb the grease. Once the bacon is cool, crumble it into small pieces. Alternatively, you can use 1/2 cup cooked bacon bits or add them to taste.
(3) Scallions. About 4 scallions. They're also known as green onions. I use both green and white parts.
(4) Celery. About 2 stalks.
(5) Caesar Dressing. I use caesar dressing because it's one of the lowest carb dressings out there, with just 0.5g net carbs per 2 tablespoon serving. You can substitute with your dressing of choice, such as homemade keto ranch dressing or buffalo dressing.
(6) Salt & Pepper. I usually add 1/4 teaspoon each.
(7) Serving. I enjoy this salad best when it's chilled, so if there's time, I usually cover and refrigerate the salad for 1 hour before serving. Pair this salad with parmesan crisps, in-season berries, or creamy vegetable soup.
(8) Leftovers. Cover and store leftovers for up to 2 days in the refrigerator. The avocado will start to brown, but the salad will still taste great. If you're intending to make this ahead of time for lunches, keep the avocado uncut until just prior to serving.
(9) Increasing Yield. To increase the number of servings, you can double or triple the ingredients proportionally. Make sure you have a large enough bowl to mix everything in!