Summary:
This recipe is an easy one-pan beef stroganoff with egg noodles, with all ingredients cooked in the same pan. Tender slices of flank steak are sautéed with juicy mushrooms and shallots, and served over a bed of buttery noodles.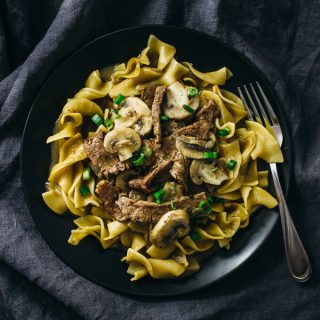 INSTRUCTIONS
Cook Meat & Veggies: Heat olive oil in 3-quart or larger pan over medium heat for a few minutes. Add sliced steak, salt, and pepper. Increase to medium-high heat and cook until browned, about 5 minutes, stirring occasionally. Add mushrooms and shallots to pan. Cook until mushrooms soften and shrink, about 5 minutes, stirring occasionally. Turn off heat. Transfer pan's contents to large bowl, and set aside.

Cook Noodles: Melt butter in now-empty pan over medium heat. Add flour and constantly stir for a few minutes. Add beef broth and Worcestershire sauce to pan, stirring until combined and sauce is thickened a bit, about 5 minutes. Add egg noodles to pan. Bring to boil over medium-high heat, stirring and gradually reducing to medium-low heat to maintain simmer. Simmer until noodles are cooked, about 10 minutes, stirring occasionally. Taste to test for doneness, adding more broth as needed.

Serve: Transfer steak and mushroom mixture back to pan. Cook until steak and mushrooms are heated through, a few minutes. Garnish with sliced scallions and serve (Note 2).
NUTRITION
Makes 4 Servings
Amount Per Serving:
| | |
| --- | --- |
| Calories 400 (39% from fat) |   |
| Total Fat 17g | 27% |
|    Saturated Fat 8g | 38% |
| Cholesterol 105mg | 35% |
| Sodium 1000mg | 42% |
| Net Carb 24g |   |
| Total Carb 26g | 9% |
|    Dietary Fiber 2g | 8% |
|    Sugars 4.5g |   |
| Protein 36g |   |
PHOTOS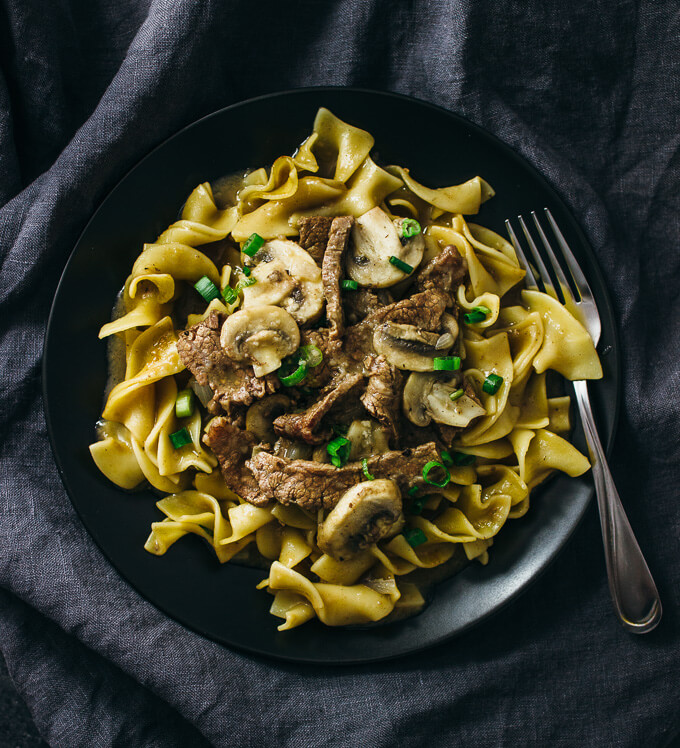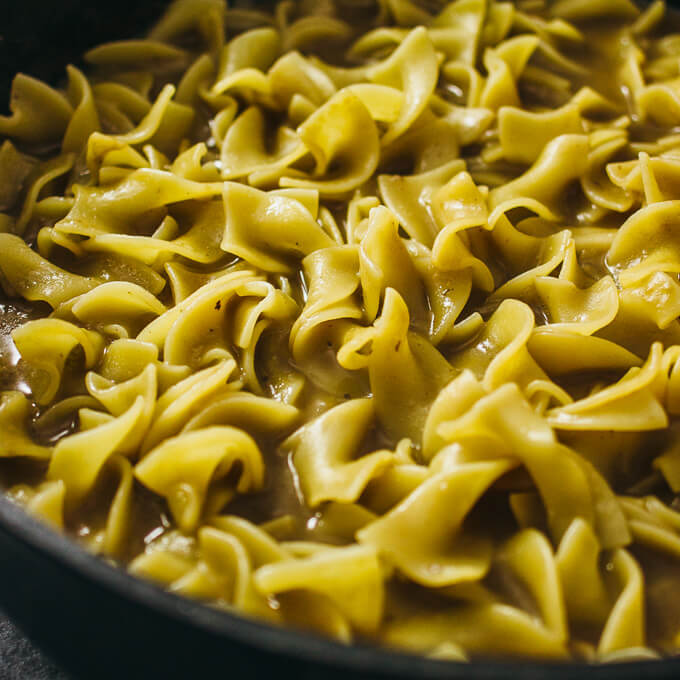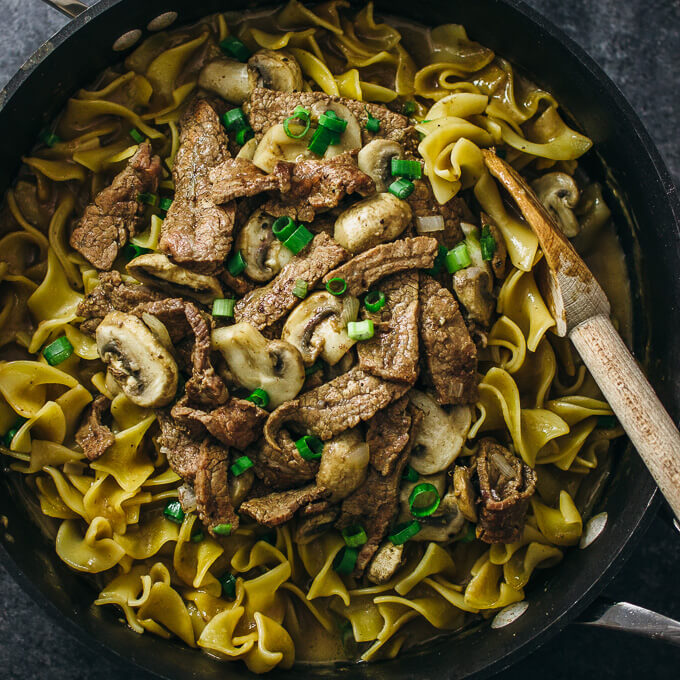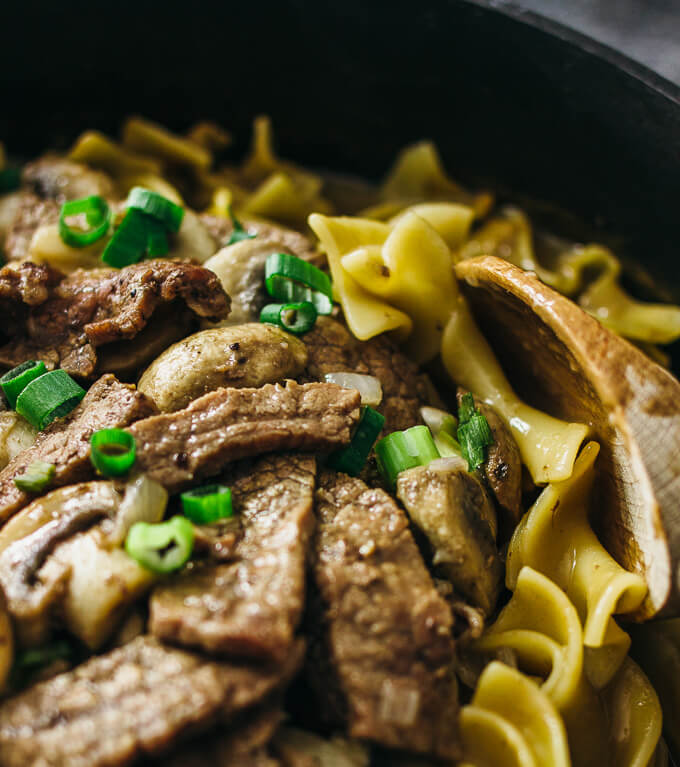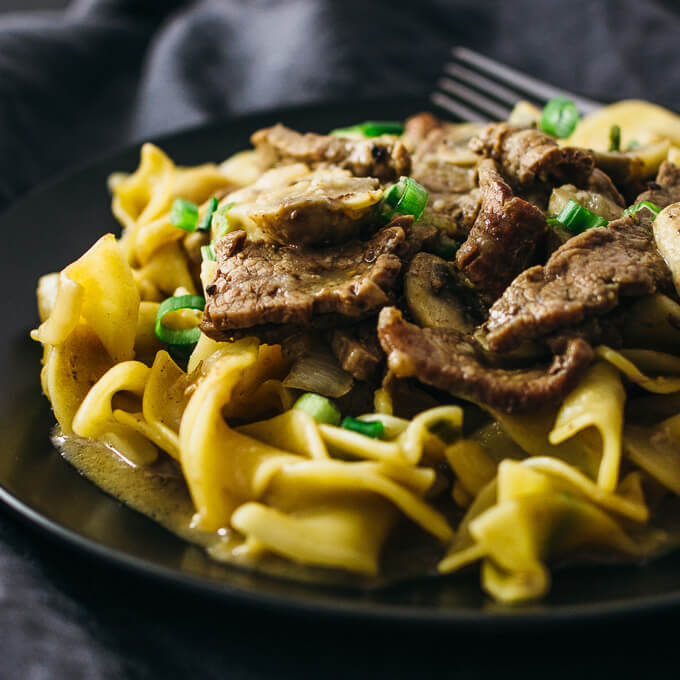 NOTES & TIPS
(1) Egg Noodles. I prefer using egg noodles that are twisted and extra wide. You can find extra wide egg noodles at large supermarkets including Whole Foods as well as online retailers such as Amazon. Since this is a one-pan version of beef stroganoff, the egg noodles are not boiled in a separate pot as in most pastas, but instead are simmered in a beef broth mixture until it is cooked through, using the same pan as the main ingredients.
(2) Serving. Serve beef stroganoff with a side of mashed cauliflower or parmesan crusted potatoes.