Summary:
These baby red potatoes are roasted until tender with a crunchy and crispy parmesan crust. Definitely a crowd pleasing appetizer dish that everyone will love.
Looking for low carb recipes instead? Visit the Savory Tooth Homepage.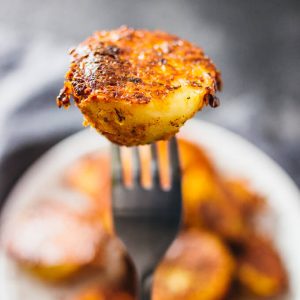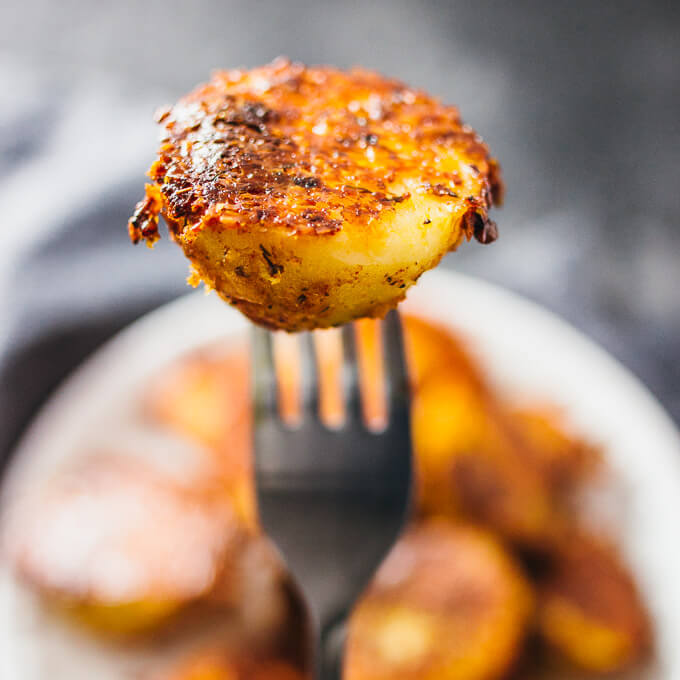 Extra crispy parmesan crusted potatoes
INSTRUCTIONS
Add halved potatoes and olive oil to a ziploc bag and toss.

Add parmesan cheese, paprika, garlic powder, thyme, salt, and pepper to the bag and toss again until well mixed.

Place the potatoes cut side down in a single layer on a silicone

baking mat

or other nonstick surface such as

parchment paper

.

Bake at 450 F until browned, about 25 minutes.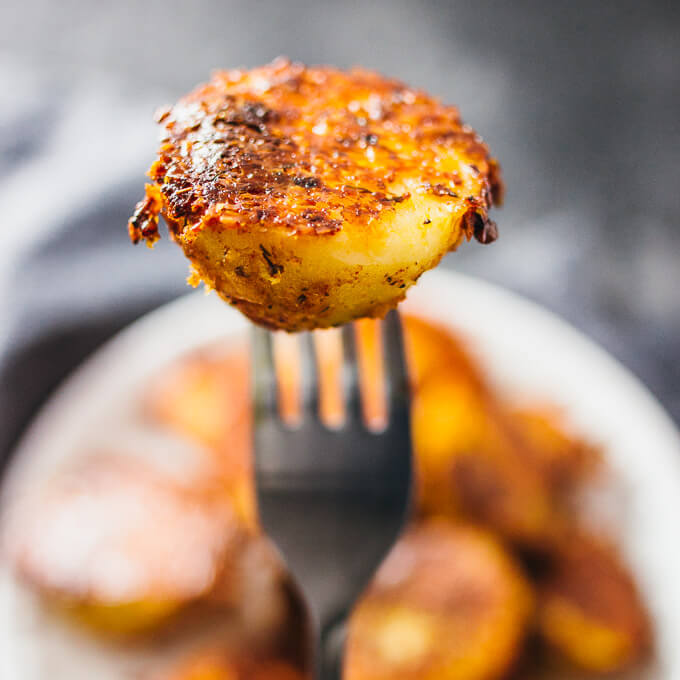 I'm always on the lookout for more ways to consume potatoes. Here's the latest: peeled and halved red potatoes tossed with olive oil, parmesan cheese, paprika, garlic powder, and thyme, and then roasted until fork-tender with a crunchy parmesan crust. YUM. They are really simple to make because I toss the potatoes in a ziploc bag in order to season them, which makes cleanup incredibly easy. Then a single roast in the oven (no need to flip them halfway through or any such nonsense) until they are golden brown, and they are DONE.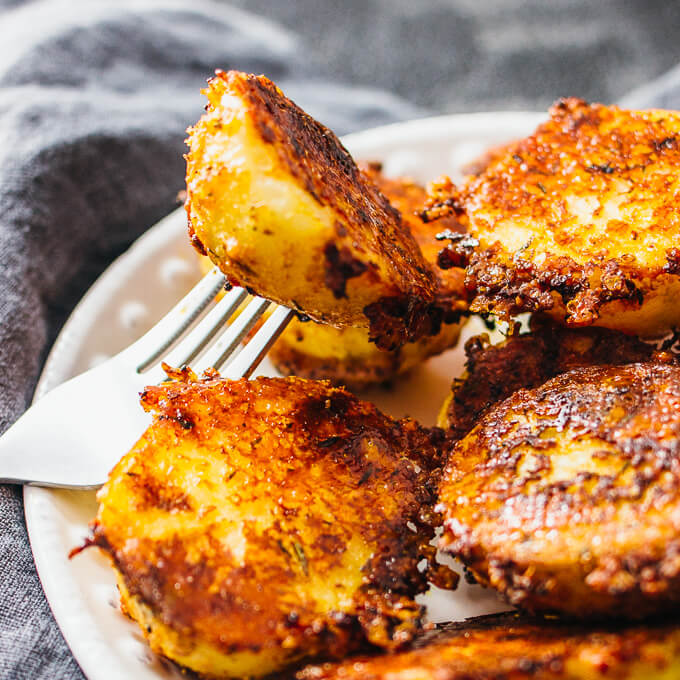 When I was tossing the potatoes with parmesan cheese and various seasonings prior to baking, they already looked so tasty that I wanted to eat them then and there. I had to forcibly remind myself that I'm not into raw potatoes and that while patience is not my strong suit, it would serve me better to wait. So I found myself licking some of the seasonings that didn't make it onto the potatoes, and they were delicious.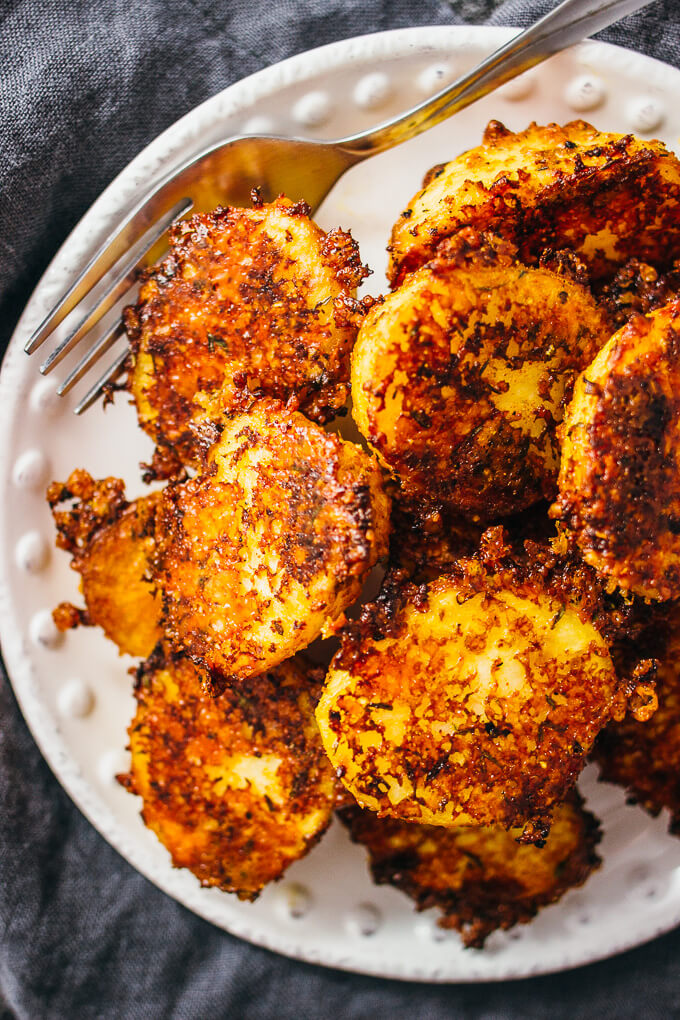 This recipe is so easy and fail-proof that I only have one thing to point out: use a nonstick surface for baking the potatoes. This can be parchment paper or a reusable option like a silicone baking mat. The potatoes won't stick to these surfaces and it will make your baking life so much easier.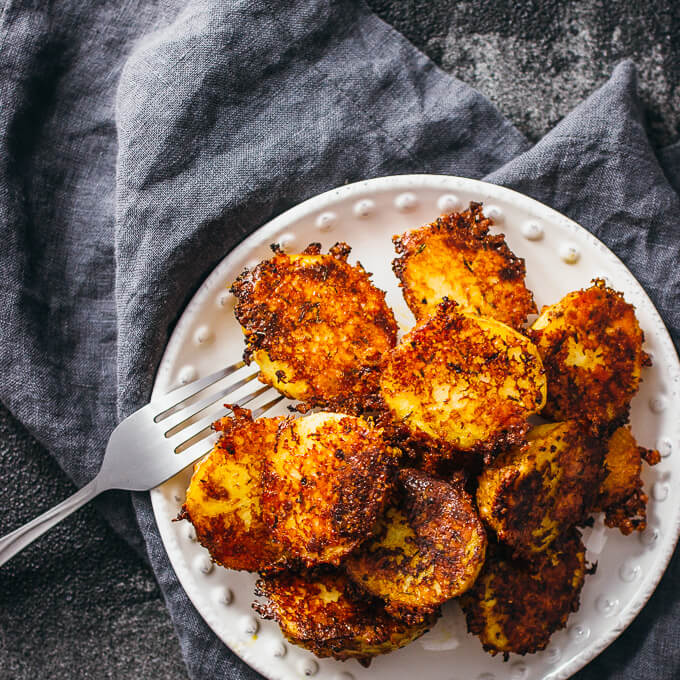 For another delicious potato recipe, check out this cozy creamy potato soup with bacon.