Summary:
Bibimbap is a Korean beef bowl with rice, marinated beef, an assortment of vegetables like mushrooms and zucchini, and sunny side up eggs. Everything is tossed in a deliciously spicy-sweet gochujang sauce.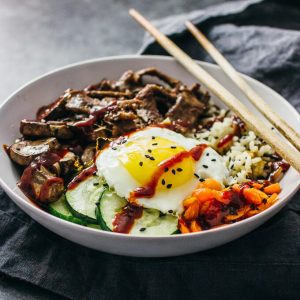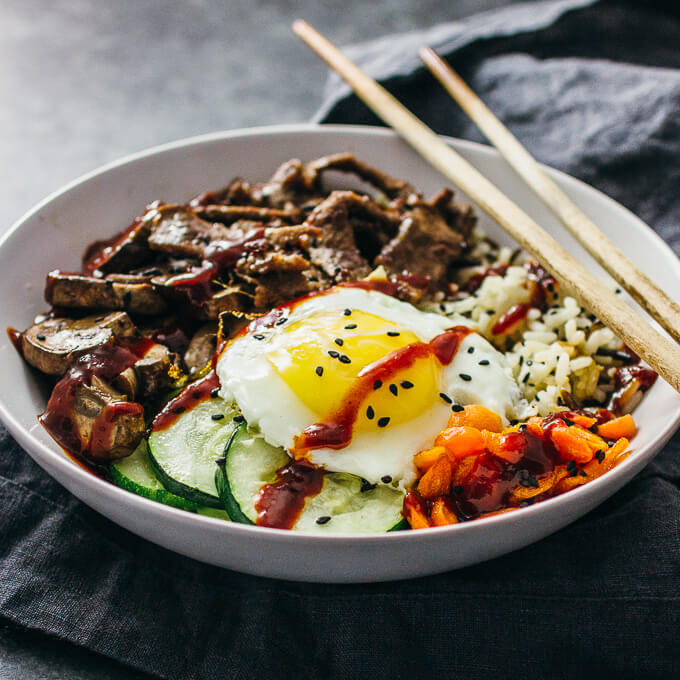 INSTRUCTIONS
Marinate Beef: Rub corn starch onto sliced flank steak in bowl. Drizzle soy sauce over steak. Let sit in refrigerator for at least 30 minutes.

Cook Rice: Cook rice according to package instructions. Distribute cooked rice among three serving bowls.

Cook Vegetables: Heat nonstick pan over medium heat until hot, a few minutes. Cook each vegetable topping in turn, until tender, about 8 minutes for carrots, 5 minutes for mushrooms, and 5 minutes for zucchini. Once cooked, distribute among serving bowls.

Cook Proteins: Sear steak on pan until no longer pink, about 3 minutes, then transfer to serving bowls. Fry eggs on one side until whites are firm but yolks are still liquid, then transfer to serving bowls.

Serve: Drizzle gochujang over serving bowls. Sprinkle with black sesame seeds. Serve (Note 5).
NUTRITION
Makes 3 Servings
Amount Per Serving:
| | |
| --- | --- |
| Calories 600 (19% from fat) |   |
| Total Fat 12g | 19% |
|    Saturated Fat 4g | 19% |
| Cholesterol 274mg | 91% |
| Sodium 1120mg | 47% |
| Net Carb 67.5g |   |
| Total Carb 72.5g | 24% |
|    Dietary Fiber 5g | 20% |
|    Sugars 11.5g |   |
| Protein 51g |   |
PHOTOS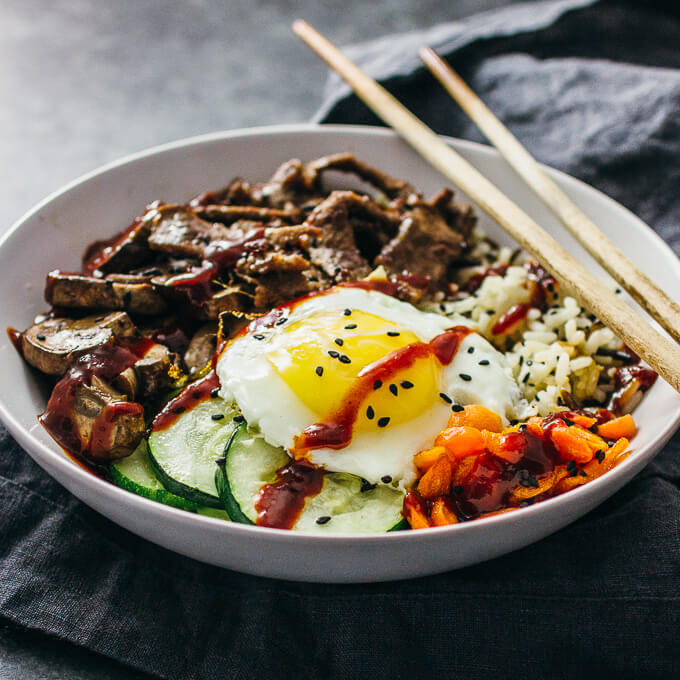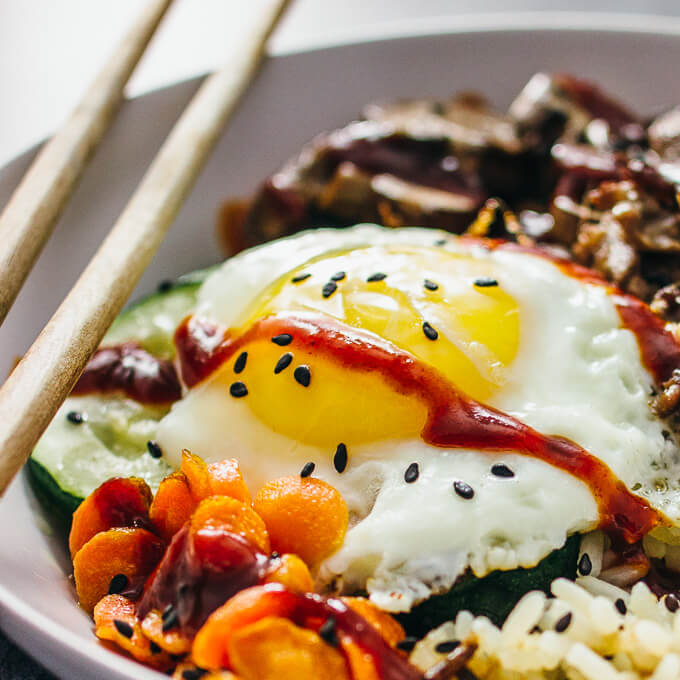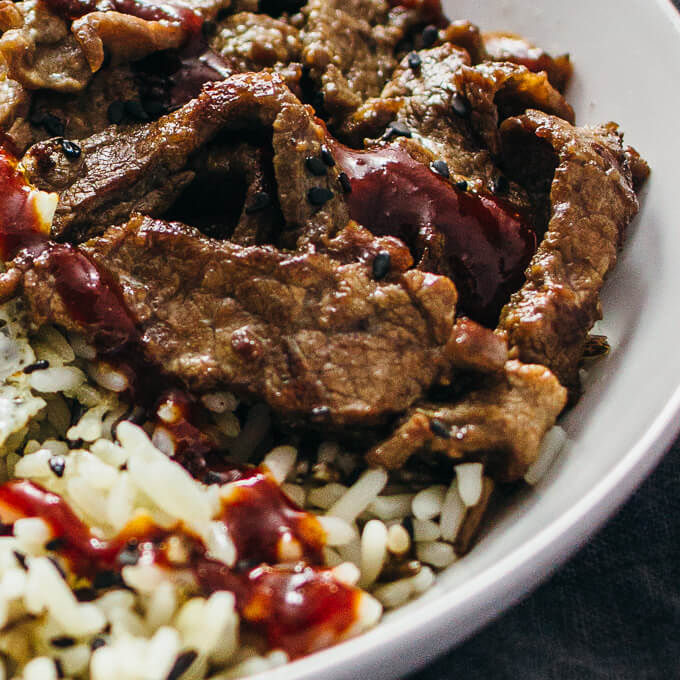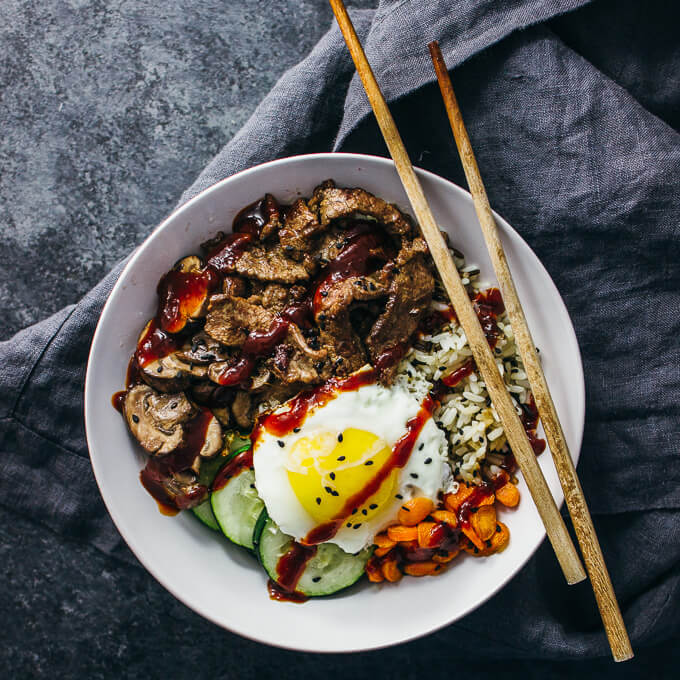 NOTES & TIPS
(1) White Rice. This can be substituted with 4 cups of uncooked riced cauliflower. Cook cauliflower with a bit of oil in a pan over high heat until tender, stirring frequently. This substitution reduces calories and carbs, resulting in about 420 calories and 23 grams of net carbs per serving.
(2) Carrots. About 2 to 3 medium carrots. Bibimbap goes well with almost any vegetable, so carrots can be substituted with your favorite vegetable such as cucumber, spinach, sprouts, or broccoli.
(3) Gochujang. Traditionally, bibimbap uses gochujang, which is a thick Korean chili sauce made using red chilis and fermented soybeans. You can find gochujang online or in specialty stores. If you're wondering what else you can use gochujang for, it can work splendidly as a meat marinade, a glaze for chicken wings, a spicy dipping sauce, or as a tofu stir-fry sauce. I use gochujang sauce, which is liquid, not gochujang paste. If you have the paste version, thin it into a sauce by whisking together the paste, vinegar, sesame oil, and maple syrup. If you don't have gochujang, the next best thing is to use a mixture of sriracha, soy sauce, and a sweetener.
(4) Flank Steak. Substitute with your favorite meat or other protein, such as ground beef, chicken, seafood, or tofu.
(5) Serving. Serve hot, with a side of Asian cucumber salad or garlic green beans. Leftovers can be stored in the refrigerator for up to 2 days, and reheated in the microwave.