Summary:
Pressure cooking is a faster method of cooking short ribs, which typically take 2 to 3 hours in the oven to break down connective tissues. This recipe has beautifully browned and ultra tender short ribs in a slightly sticky balsamic sauce, cooked with aromatic garlic, sweet carrots, and fresh thyme.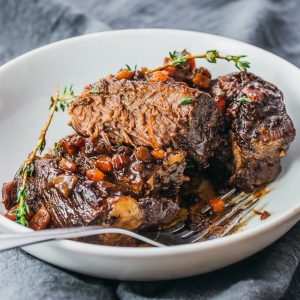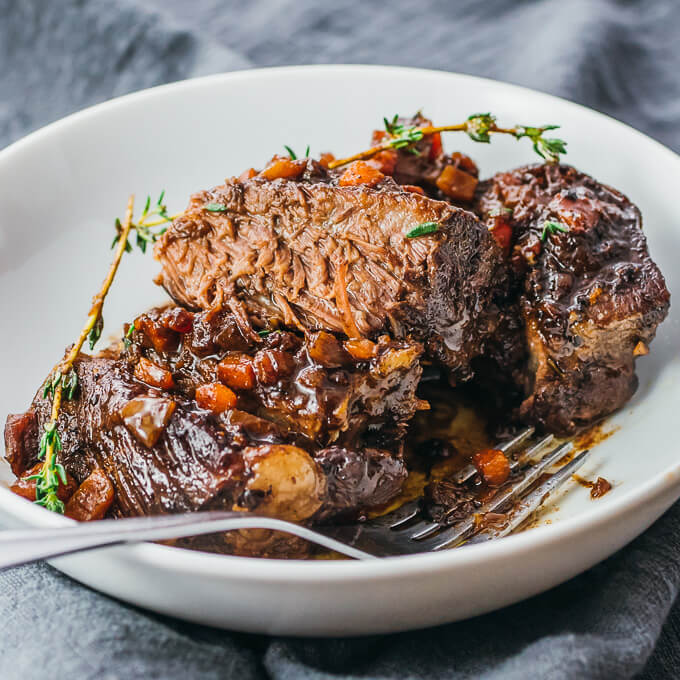 INGREDIENTS
2

pounds

boneless beef short ribs (Note 1)

1

medium carrot, diced

1

shallot, diced

3

cloves

garlic, minced

5

sprigs

fresh thyme

1/2

cup

red wine (Note 2)

2

tablespoons

balsamic vinegar

1

tablespoon

salted butter

1/2

tablespoon

olive oil
salt and pepper
INSTRUCTIONS
Prepare Short Ribs: Pat short ribs dry with paper towels. Generously season all sides with salt and pepper.

Brown Short Ribs: Select sauté mode on pressure cooker (Note 3) for medium heat. Add olive oil to coat bottom of pot. Add butter and stir until melted. Once pot has reached temperature (display says HOT), add short ribs in single layer. Without moving them, cook for about 7 minutes until bottom is nicely browned. Flip and cook other side for about 5 minutes. Transfer browned short ribs to plate.

Cook Aromatics: Add carrots, shallots, and garlic to pot. Cook for a few minutes until shallots start to brown, stirring frequently. Turn off sauté mode. Add red wine and stir, using wooden spoon to loosen flavorful brown bits stuck to bottom of pot. Add short ribs back to pot in single layer. Top with fresh thyme sprigs. Season with additional salt and pepper.

Pressure Cook: Secure and seal lid. Cook for 45 minutes at high pressure, followed by natural release for 15 minutes. Manually release any remaining pressure. Uncover, and transfer only ribs to serving plates. Optionally, skim off fat in remaining liquid and discard; this will reduce amount of oil in final sauce.

Thicken Sauce: Turn on sauté mode and add balsamic vinegar. Boil liquid until it reduces to slightly sticky sauce, 10 to 15 minutes, stirring occasionally. Turn off sauté mode. Spoon sauce onto short ribs and serve (Note 4).
NUTRITION
Makes 6 Servings
Amount Per Serving:
| | |
| --- | --- |
| Calories 860 (53% from fat) |   |
| Total Fat 51g | 79% |
|    Saturated Fat 15g | 77% |
| Cholesterol 318mg | 106% |
| Sodium 470mg | 20% |
| Net Carb 6g |   |
| Total Carb 7g | 2% |
|    Dietary Fiber 1g | 4% |
|    Sugars 3.5g |   |
| Protein 88g |   |
PHOTOS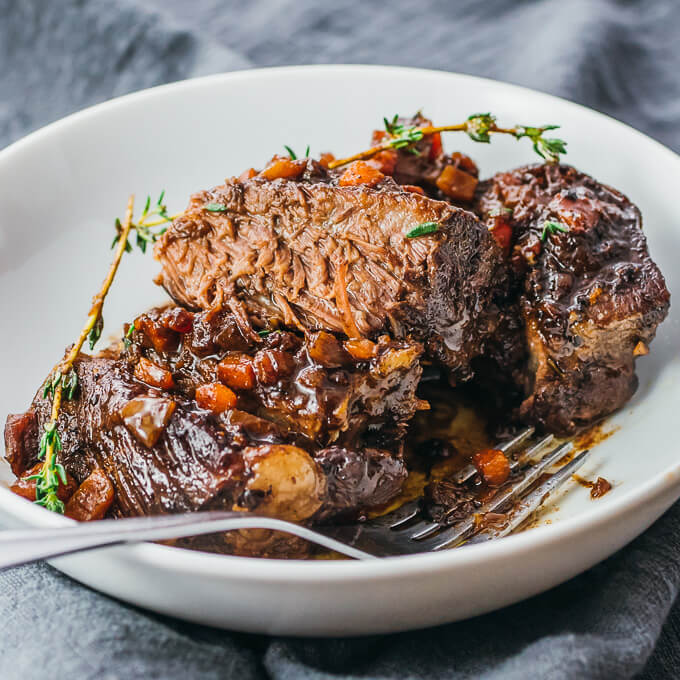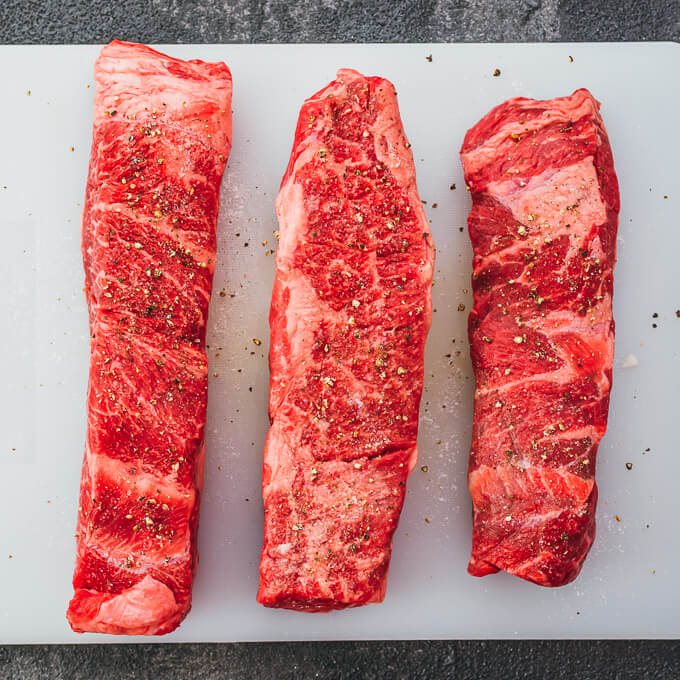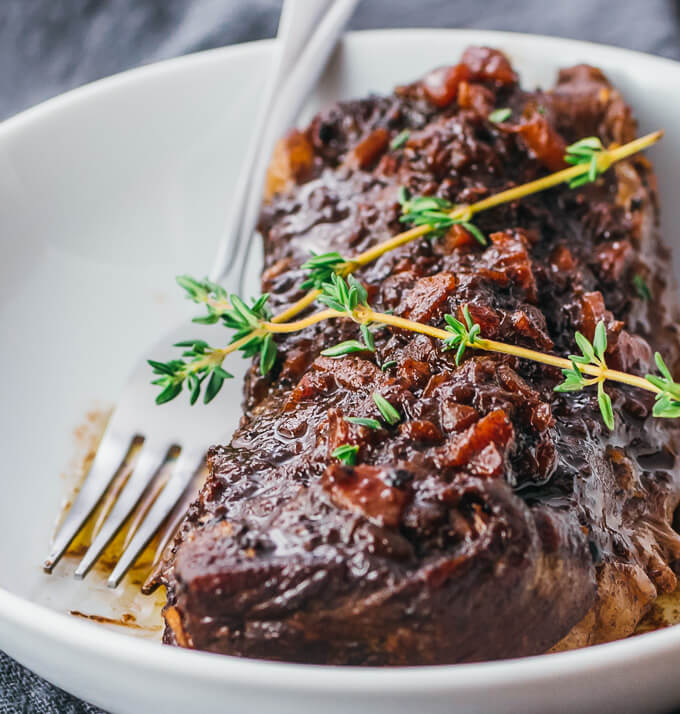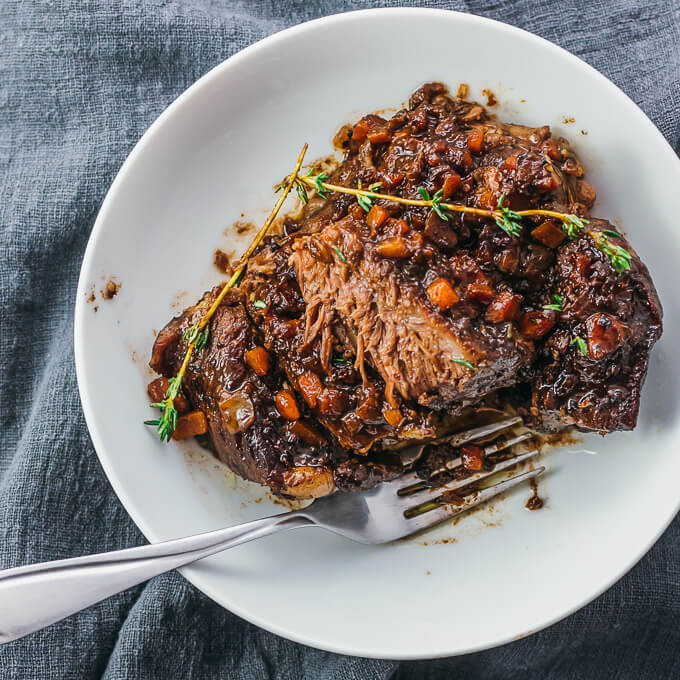 NOTES & TIPS
(1) Short Ribs. Two pounds of boneless beef short ribs is about 3 individual short ribs. This is the ideal amount so that the meat can lay side-by-side in a single layer while it browns in the Instant Pot. This recipe has not been tested with bone-in cuts.
(2) Red Wine. Any dry red wine will work for this recipe, and in this case "dry" means not sweet. I typically use Pinot Noir or Cabernet Sauvignon; other dry reds include Merlot and Zinfandel.
(3) Pressure Cooker Equipment. I use a 6-quart Instant Pot. You can use a different size of electric pressure cooker as long as all ingredients fit within the maximum capacity line.
(4) Serving. Serve short ribs while warm, over a bed of cauliflower mash or with a side of roasted brussels sprouts.
(5) Increasing Yield. If you plan on doubling the ingredients, note that you'll have to brown the short ribs in batches since you can't fit more than 2 pounds in a single layer. Factor in that extra time. Even though you're increasing the ingredients, the pressure cooking time remains the same.