Summary:
Pressure cooking in the Instant Pot is a faster way to cook boneless beef short ribs with red wine and a balsamic sauce, great for anyone looking for low carb, keto friendly beef dinner mains.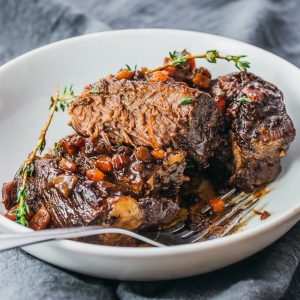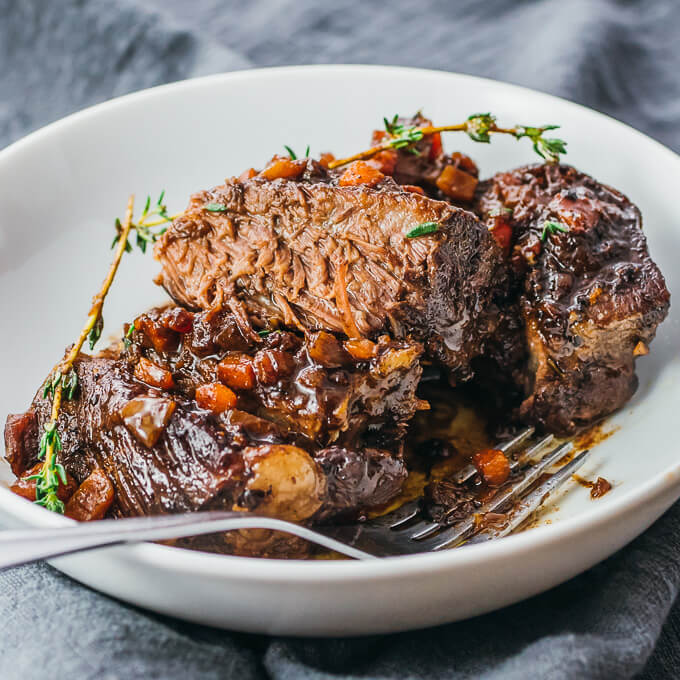 Instant Pot Short Ribs (Pressure Cooker)
INGREDIENTS
2

pounds

boneless beef short ribs

1

medium-sized carrot

diced

1

shallot

diced

3

cloves

garlic

minced

5

sprigs fresh thyme

1/2

cup

red wine

2

tablespoons

balsamic vinegar

1

tablespoon

salted butter

1/2

tablespoon

olive oil

salt and pepper
INSTRUCTIONS
Pat the short ribs dry with paper towels. Generously season all sides with salt and pepper.

Select the saute mode on the pressure cooker for medium heat. Add olive oil to coat the bottom of the pot. Add butter and stir until melted.

Once the pot has reached temperature (display says HOT), add short ribs in a single layer. Without moving them, let the short ribs cook for about 7 minutes until the bottom is nicely browned. Then flip and repeat the other side for about 5 minutes. Move the short ribs to a plate.

Add carrots, shallots, and garlic. Cook for a few minutes until shallots start to brown, stirring frequently. Turn off the saute mode.

Add red wine and stir, using a wooden spoon to scrape up the flavorful brown bits stuck to the bottom of the pot.

Add short ribs back to the pot in a single layer. Top with fresh thyme sprigs. Season with additional salt and pepper.

Secure and seal the lid. Cook for 45 minutes at high pressure. Once it's done, let it naturally release pressure for 15 minutes and then manually release any remaining pressure.

Uncover the pot and move only the ribs to a serving plate. Optionally, skim off some of the fat in the remaining liquid and discard; this will reduce the amount of oil in the final sauce.

Turn on the saute mode and add balsamic vinegar. Let the liquid boil for 10-15 minutes until it has reduced to a slightly sticky sauce, stirring occasionally. Turn off the saute mode. Immediately spoon the sauce onto the short ribs and serve.
NUTRITION
Makes 6 Servings
Amount Per Serving:
| | |
| --- | --- |
| Calories 860 (53% from fat) | |
| Total Fat 51g | 79% |
| Saturated Fat 15g | 77% |
| Cholesterol 318mg | 106% |
| Sodium 470mg | 20% |
| Net Carb 6g | |
| Total Carb 7g | 2% |
| Dietary Fiber 1g | 4% |
| Sugars 3.5g | |
| Protein 88g | |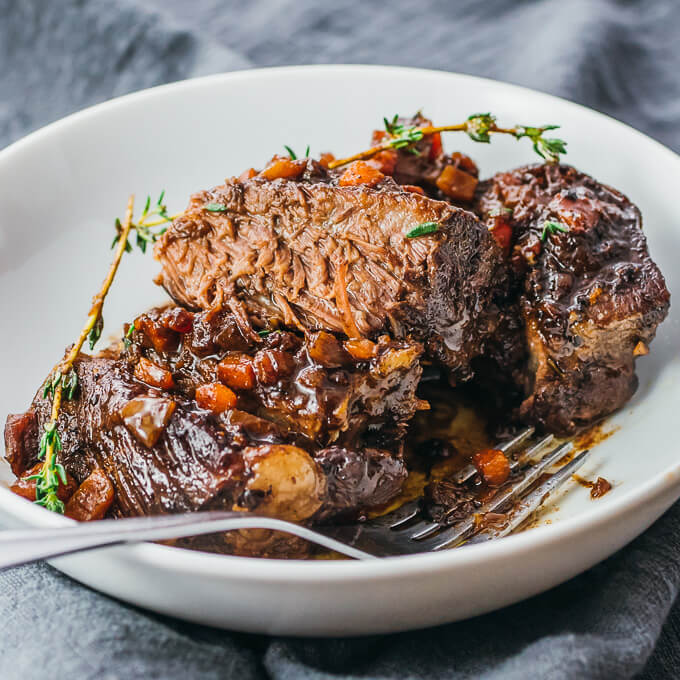 I love recipes that make my house smell amazing, and these Instant Pot short ribs don't disappoint. They have great aromatics — beautifully browned short ribs in hot butter, minced garlic sauteing with diced carrots and shallots, and a simmering balsamic sauce. Short ribs usually take 2-3 hours in the oven to break down their connective tissues, but in the Instant Pot it only takes 45 minutes of pressure cooking before they're meltingly tender.
These short ribs are pressure cooked with carrots and shallots as well as a dash of red wine, mainly for deglazing the pot and adding flavor. After pressure cooking, the remaining liquid is combined with balsamic vinegar and simmered until reduced. This turns into a glorious and slightly sweet sauce that you can spoon over the tender short ribs.
3 Boneless Beef Short Ribs: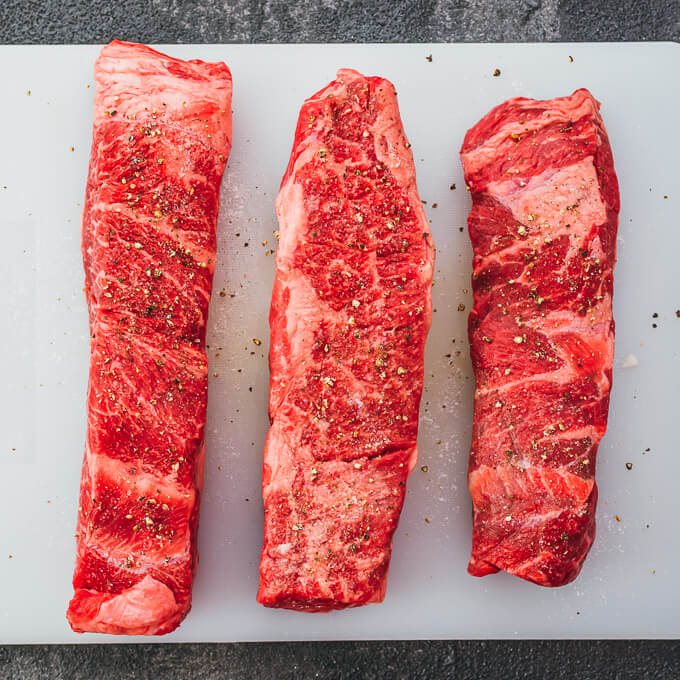 I've made ribs a number of times in the Instant Pot — pork and beef, different cuts, bone-in and boneless, and various sauces. So far this recipe has my favorite combination of flavor and texture.
Short ribs are a specific cut of beef, and boneless ones (as pictured above) are usually rib meat separated from the bone in the chuck or plate regions of the cow. I prefer eating boneless short ribs as they're easier to cut, and this recipe's pressure cooking time to designed for boneless ones. Don't buy bone-in short ribs because they will take longer to cook.
You should use 2 pounds of boneless beef short ribs, which is about 3 individual short ribs. It's just the right amount such that the meat can lay side-by-side in a single layer as it browns in the Instant Pot.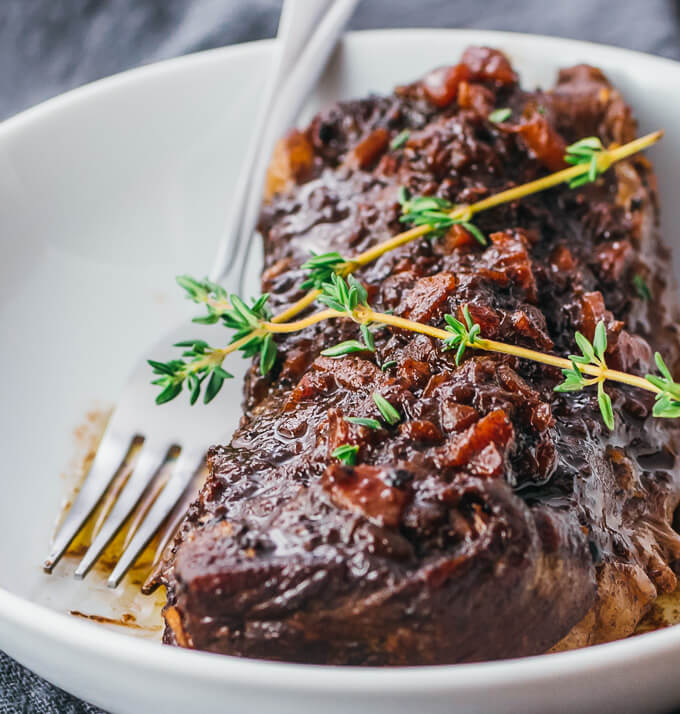 Tips on making boneless beef short ribs in the instant pot
Make sure that the short ribs are well seasoned with salt and pepper. I use a fine sea salt grinder and a coarse black pepper grinder to season all sides of the short ribs. This should happen before the searing process.
Don't sear the short ribs until the Instant Pot display reads HOT, which means that it has fully come to temperature. Once the ribs are nestled snugly next to each other in a single layer in the pot, don't move them until 7 minutes have passed. This browning is essential for flavor.
If you plan on doubling the ingredients, note that you'll have to brown the short ribs in batches since you can't fit more than 2 pounds in a single layer. Factor in that extra time. Note that when increasing the ingredients, you do not need to increase the pressure cooking time.
After the beef finishes pressure cooking, the remaining liquid in the pot will have a lot of fat content. It's optional, but you can try skimming off some of the fat and discarding it so that your resulting sauce will be less oily since the fat separates. I usually skip this step since I don't mind the extra oil.
You can serve these boneless beef short ribs by themselves (as I do), over a bed of mashed cauliflower, or with a side of green beans.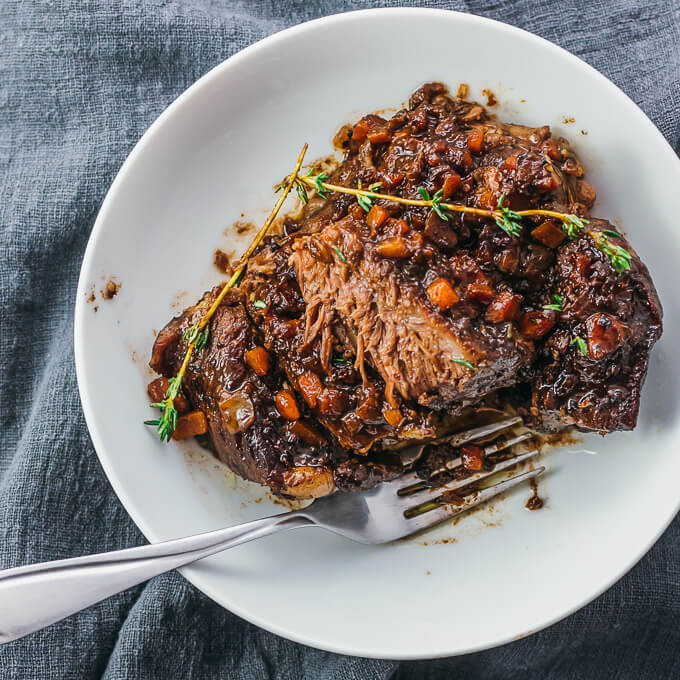 MORE DELICIOUS INSTANT POT RECIPES: