Summary:
These keto chocolate peanut butter balls are no-bake low carb treats that only require a handful of ingredients to make. Sweetened peanut butter is formed into balls and dipped in melted chocolate.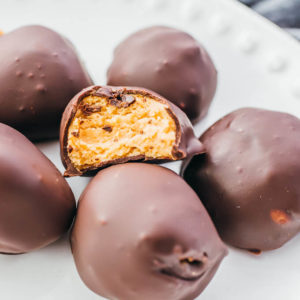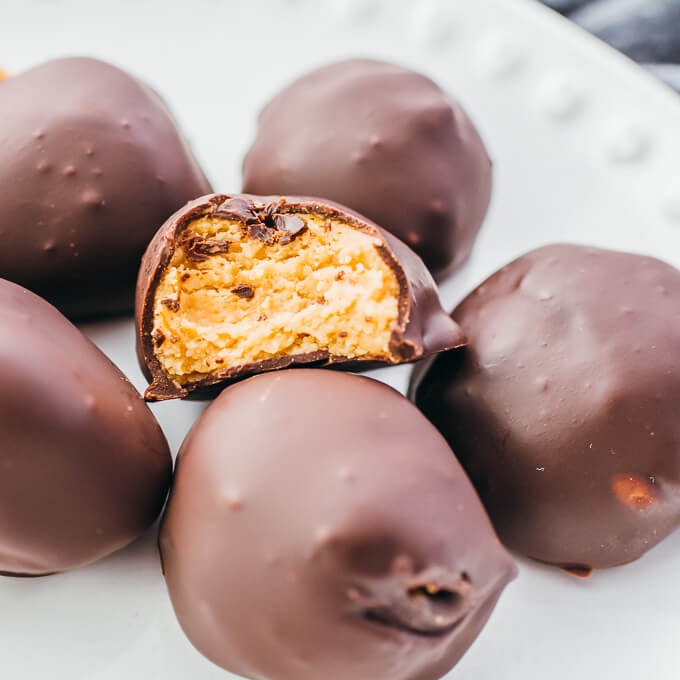 Keto Peanut Butter Truffles
INSTRUCTIONS
In a bowl, combine all peanut butter ball ingredients until well-mixed and a dough is formed. If the peanut butter is too stiff to easily stir, let it soften at room temperature until it becomes more manageable.

Prepare a baking sheet lined with parchment paper. Form twelve 1-inch balls from the peanut butter mixture and arrange them in a single layer on the parchment paper. Place in the freezer for at least 30 minutes to harden. The longer you let them freeze, the easier it will be to dip them into chocolate without becoming too soft and losing their shape.

In a bowl, add all chocolate coating ingredients. Microwave in 30-second intervals, thoroughly stirring in between, until melted and smooth. Make sure you don't overheat the chocolate.

Take the peanut butter balls out of the freezer. Using toothpicks to help transfer them, dip a peanut butter ball in chocolate until coated on all sides, letting the excess drip off. Place the coated ball back on the parchment paper. Repeat until all are coated.

Refrigerate until the chocolate shell is hardened, about an hour or longer. They can be made ahead of time, and stored in the refrigerator until you're ready to serve them.
NUTRITION
Makes 12 Servings
Amount Per Serving (1 ball):
| | |
| --- | --- |
| Calories 110 (71% from fat) | |
| Total Fat 9g | 13% |
| Saturated Fat 2g | 12% |
| Cholesterol 0mg | 0% |
| Sodium 10mg | 1% |
| Net Carb 2g | |
| Total Carb 4g | 1% |
| Dietary Fiber 2g | 8% |
| Sugars 1g | |
| Protein 4g | |
Nutrition information assumes that only 50% of the chocolate coating is used up during dipping.
Consisting of sweetened peanut butter formed into balls and dipped in melted chocolate, the filling has a strong peanut butter flavor and is quite sweet, nicely balanced by the dark chocolate outer shell.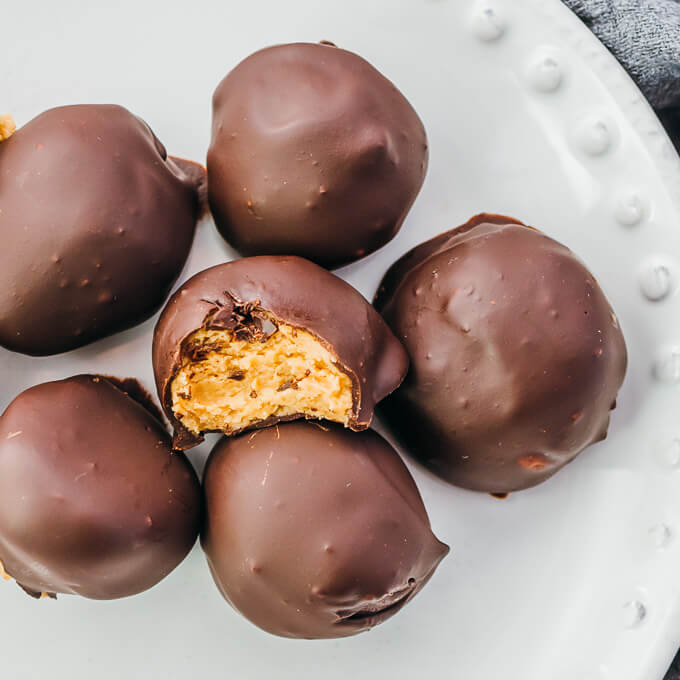 Selecting & Preparing Ingredients
There are five total ingredients in this recipe, and for convenience, I've included their measurements in both volume (U.S. cups) and weight (grams). I measure by weight for most of my recipes, since it's more precise and easier than dealing with various cup and spoon sizes.
The peanut butter should be an unsweetened and plain variety, which sometimes goes by the label "natural peanut butter." Check the ingredients label — the only ingredients should be peanuts and salt. Avoid anything with added sugars and other additives. I use creamy, but crunchy works just as well. Before using, make sure you stir it up since it might have separated.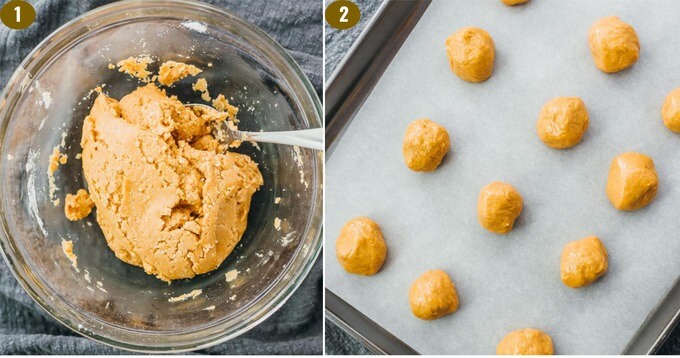 I use unsweetened baking chocolate by Bakers. They come in bar form, and I finely chop it to make it easier to melt. This means you'll spend less time melting the chocolate, reducing the chances of overheating it. Avoid semi-sweet or other sweetened types.
My sweetener is swerve confectioners, an erythritol blend that measures the same as sugar. It is not the same as pure erythritol, which is only 70% as sweet as sugar. You can replace this with your favorite dry sweetener as long as you calculate the appropriate conversion.
The remaining ingredients, almond flour and coconut oil, are straightforward.  I use almond flour by Costco's Kirkland brand, and I use a Kroger store brand for coconut oil. Other brands should work equally well.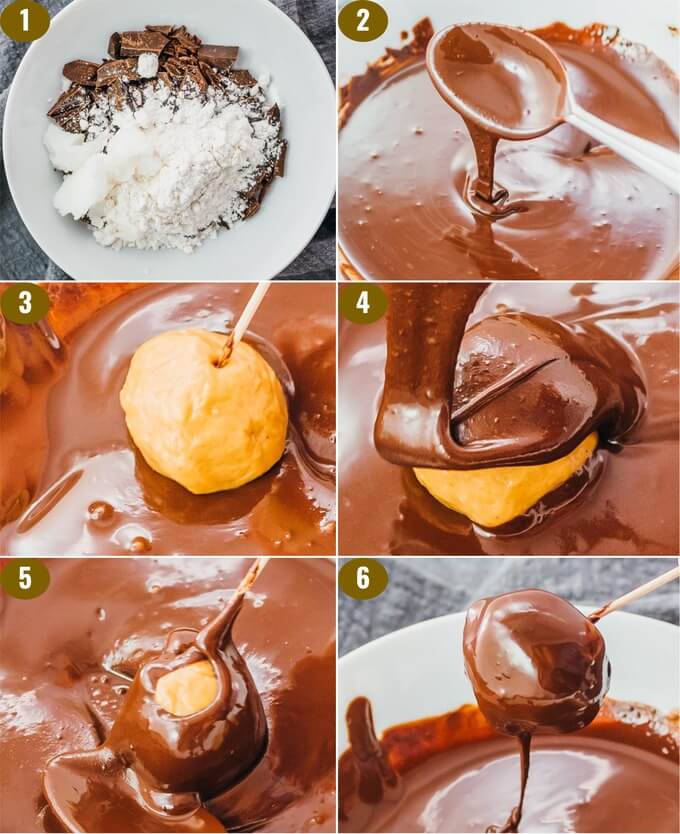 Tips for Dipping Truffles
It's easiest to dip the peanut butter balls if they are hardened, which is why I recommend freezing them for at least 30 minutes prior to dipping. If you're in a pinch, you can freeze them for a shorter period of time, but they'll quickly lose their shape once you start dipping. That's fine if you don't mind misshapen truffles.
To keep the peanut butter balls optimally chilled, you can work in batches by only removing a few from the freezer at a time for dipping.
I use toothpicks to help transfer the peanut butter balls to and from the melted chocolate mixture. You can also use forks or other tools you might have on hand. I typically stab the peanut butter ball with a toothpick, drop it into the chocolate and turn it around to coat all sides, and stab it again to lift it up from the mixture. Then I wait a bit to let the excess chocolate drip off.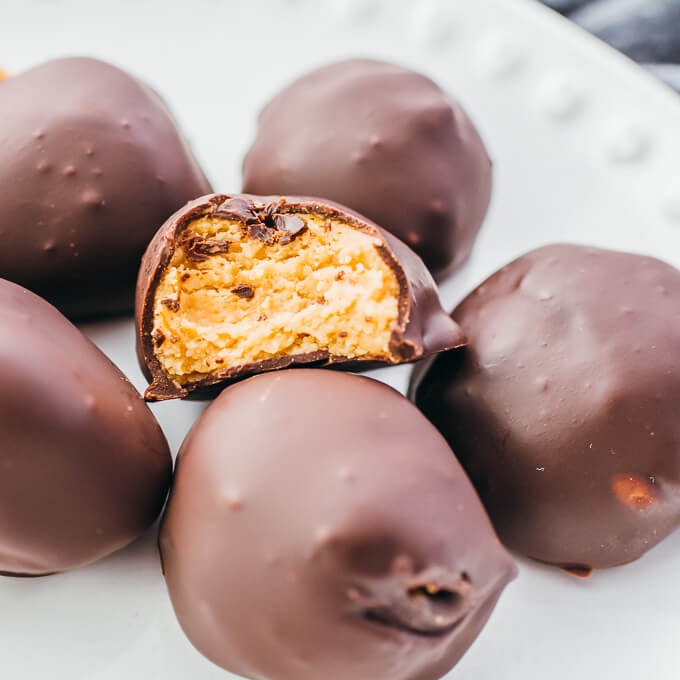 More Peanut Butter & Chocolate Treats