Summary:
Chicken Cacciatore refers to chicken prepared in the "hunter style." In this Italian dish, meat is seared and simmered with a flavorful base of onions, peppers, tomatoes, and garlic. This meal translates well to pressure cooking — same great taste but faster.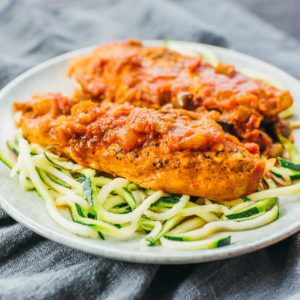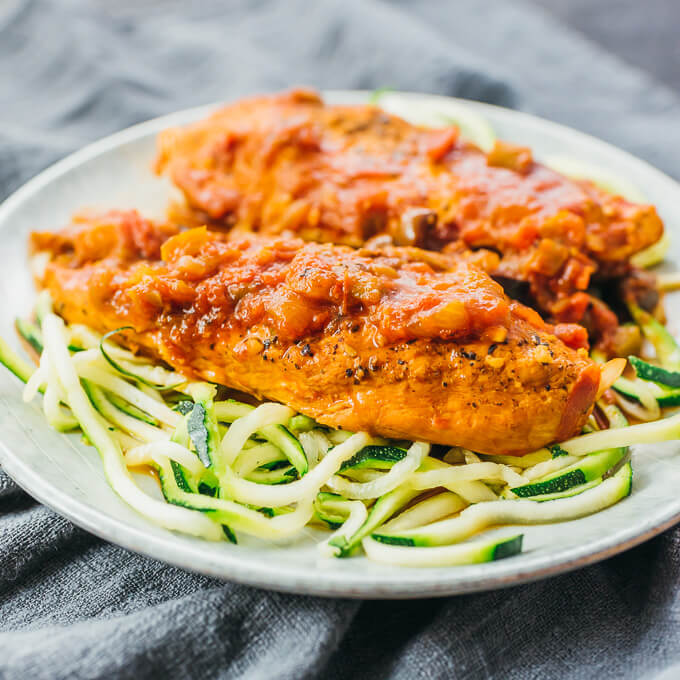 INGREDIENTS
INSTRUCTIONS
Prepare Chicken: Slice each chicken breast horizontally in half to make thinner. Pat dry with paper towels. Generously season with salt and pepper on both sides.

Sauté Chicken: Select sauté mode on pressure cooker (Note 3) for medium heat. Add olive oil to coat bottom of pot. Once heated, add half of chicken pieces to pot in single layer. Sauté for a few minutes, flip to repeat for other side, and transfer to plate. Repeat for remaining chicken pieces.

Sauté Vegetables: Add more oil if pot is too dry. Add onions, peppers, and garlic to pot. Sauté for a few minutes to soften, stirring occasionally. Turn off sauté mode.

Pressure Cook: Add 1/4 cup water, briefly loosening any brown bits stuck to bottom of pot. Return chicken to pot, snugly arranging on top of vegetables. Add crushed tomatoes, olives, and oregano on top of chicken pieces (Note 4). Secure and seal lid. Cook at high pressure for 10 minutes, followed by quick pressure release.

Thicken Sauce: Uncover and turn on sauté mode. Boil until sauce is thickened, about 10 minutes, stirring frequently to prevent sticking along bottom of pot. Turn off sauté mode. Serve (Notes 5-6).
NUTRITION
Makes 4 Servings
Amount Per Serving:
| | |
| --- | --- |
| Calories 290 (23% from fat) |   |
| Total Fat 8g | 12% |
|    Saturated Fat 1g | 4% |
| Cholesterol 99mg | 33% |
| Sodium 380mg | 16% |
| Net Carb 6g |   |
| Total Carb 11.5g | 4% |
|    Dietary Fiber 5.5g | 22% |
|    Sugars 2g |   |
| Protein 40g |   |
PHOTOS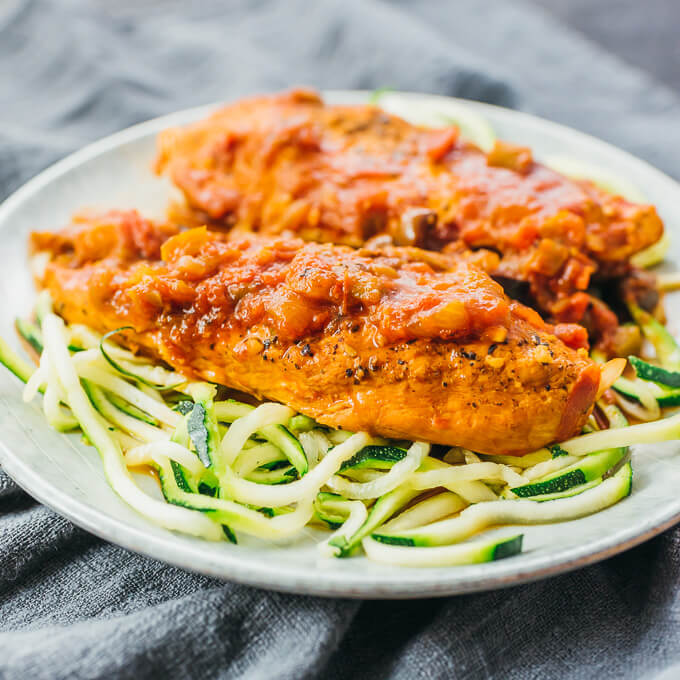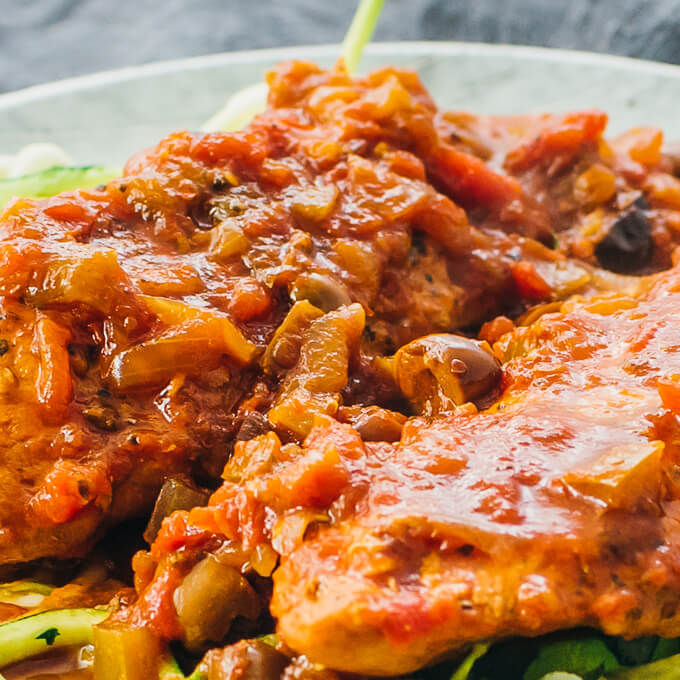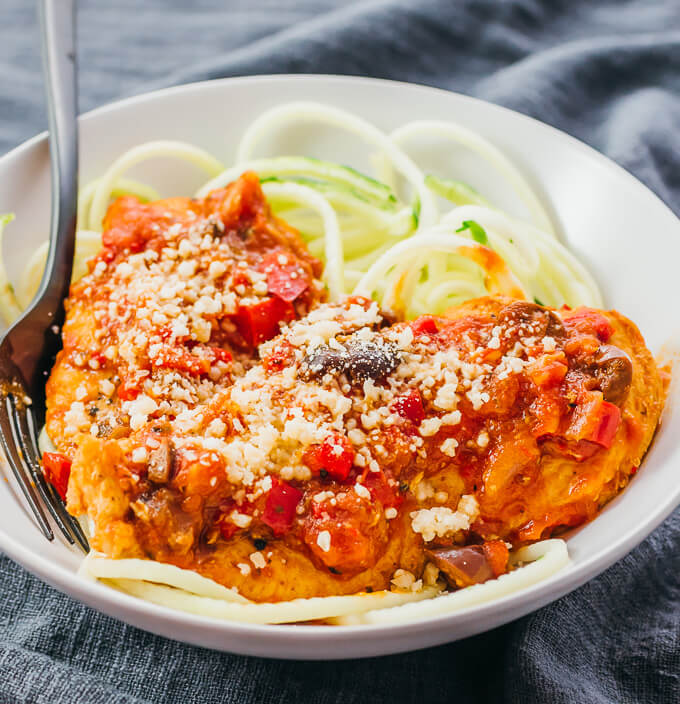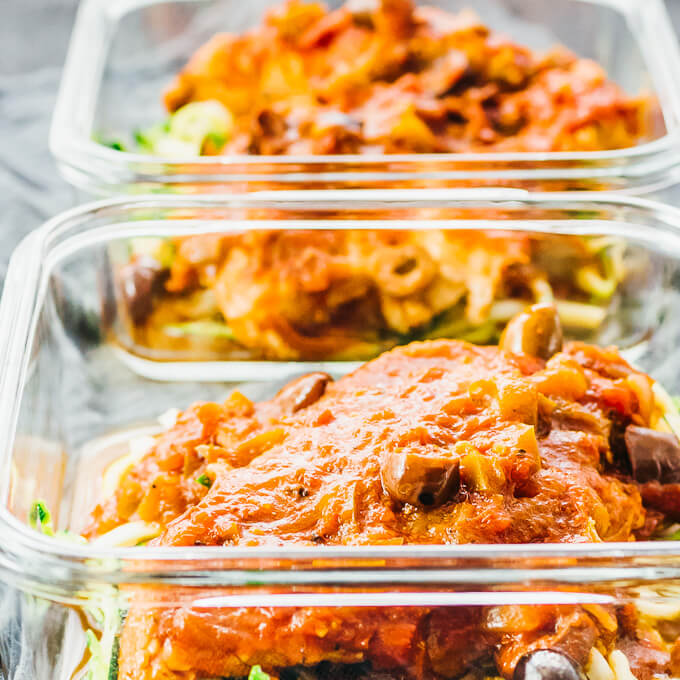 NOTES & TIPS
(1) Chicken. About 1.5 pounds total. I use fresh chicken; if yours is frozen, defrost in the refrigerator overnight before using in this recipe.
(2) Tomatoes. Crushed tomatoes are commonly sold in 28-ounce cans in the U.S. — note that this recipe calls for half of that, so you'll only need to use half the can. Crushed tomatoes are different from diced tomatoes.
(3) Pressure Cooker. I use a 6-quart Instant Pot. You can use a different size of electric pressure cooker as long as all ingredients fit within the maximum capacity line.
(4) Order of Ingredients. Pay attention to the order of ingredients in the pressure cooker: the vegetables (peppers and onions) are on the bottom, chicken is in the middle, and crushed tomatoes are on top. It's important that the tomatoes aren't touching the bottom of the pot, where they can easily burn during pressure cooking.
(5) Serving. Serve hot with salt and pepper to taste, over a bed of spiralized vegetables — zucchini or radish, for example — and topped with grated parmesan cheese. Pre-spiralized vegetables can be found in the refrigerated produce section of many U.S. grocery stores. Lightly fried riced cauliflower would also be delicious. If you're not watching your carb intake, you can opt for pasta or crusty bread to help sop up the red sauce.
(6) Leftovers. Leftovers can be stored in a covered container in the refrigerator for up to 2 days, and reheated using the microwave.