Summary:
Instant Pot Chicken Cacciatore is a tasty Italian meal with tomato sauce, diced onions, and peppers -- a great choice among other low carb/keto chicken dinners.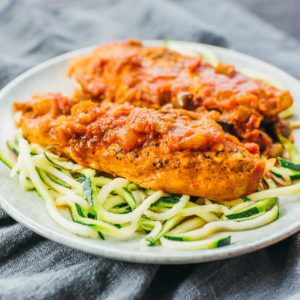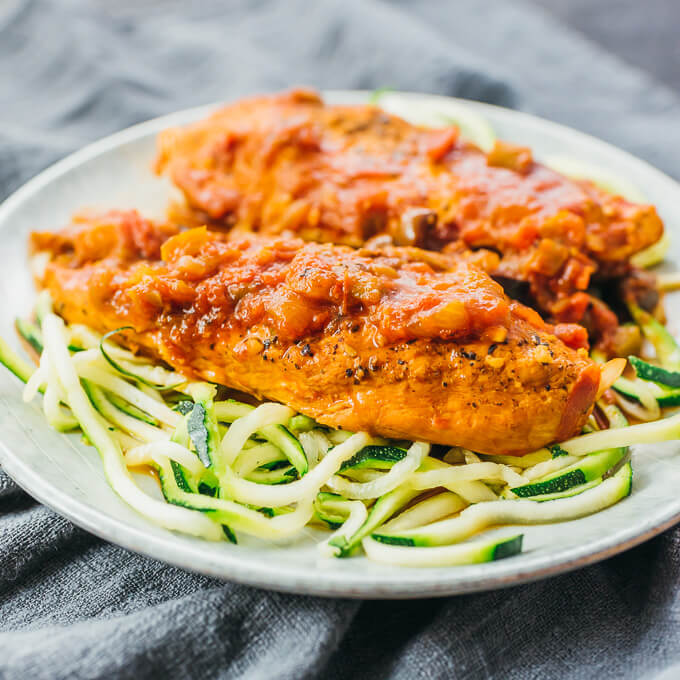 Instant Pot Chicken Cacciatore
INSTRUCTIONS
Slice each chicken breast horizontally in half to make it thinner. Pat dry with paper towels. Generously season with salt and pepper on both sides.

Select the saute mode on the pressure cooker for medium heat. Add olive oil to coat the bottom of the pot. When the display reads HOT, add half of the chicken breast pieces to the pot in a single layer. Saute for a few minutes, flip, repeat for the other side, and transfer to a plate. Repeat for the remaining chicken pieces.

Add more oil if the pot is too dry. Add onions, peppers, and garlic. Saute for a few minutes to soften, stirring occasionally. Turn off the saute mode.

Add 1/4 cup water, briefly scraping up any brown bits stuck to the bottom of the pot. Return the chicken to the pot, snugly arranging them on top of the vegetables.

Add crushed tomatoes, olives, oregano, and 1/2 teaspoon salt on top of the chicken pieces. Secure and seal the lid. Cook at high pressure for 10 minutes, followed by a manual pressure release.

Uncover and turn on the saute mode. Boil until the sauce is thickened, about 10 minutes, stirring frequently to prevent anything from sticking to the bottom of the pot. Turn off the saute mode.

Serve while hot, optionally over zucchini noodles and topped with parmesan cheese.
NUTRITION
Makes 4 Servings
Amount Per Serving:
| | |
| --- | --- |
| Calories 290 (23% from fat) | |
| Total Fat 8g | 12% |
| Saturated Fat 1g | 4% |
| Cholesterol 99mg | 33% |
| Sodium 380mg | 16% |
| Net Carb 6g | |
| Total Carb 11.5g | 4% |
| Dietary Fiber 5.5g | 22% |
| Sugars 2g | |
| Protein 40g | |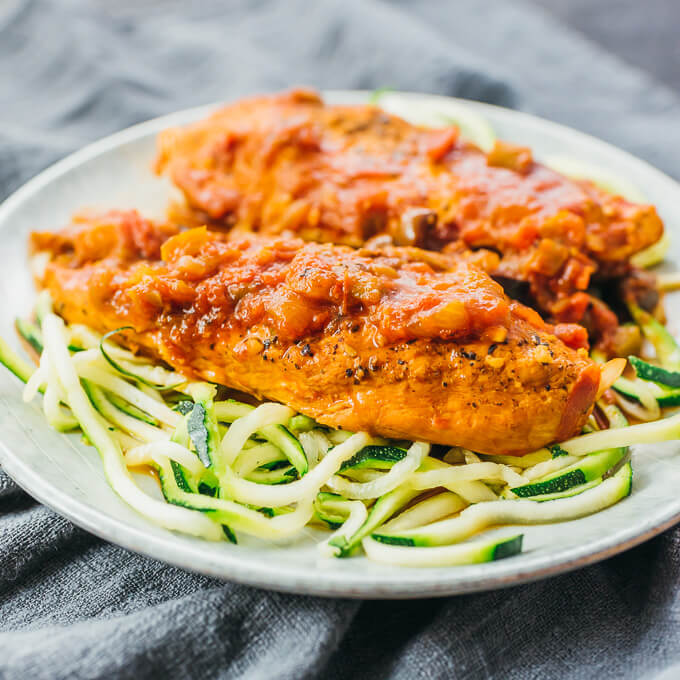 What's chicken cacciatore?
In Italian cuisine, cacciatore refers to meat prepared in the "hunter style" and is typically made with either chicken or rabbit. Its base ingredients include onions, peppers, tomatoes, and garlic.
First, the chicken is seared and set aside to fry the onions and peppers. Then the chicken is added back in along with tomatoes and seasonings. Everything is simmered for about an hour until tender and flavorful.
It's easily translated to the Instant Pot, and it only takes about 10 minutes of pressure cooking followed by 10 minutes on the saute mode to thicken the sauce.  Same great taste, but in far less time!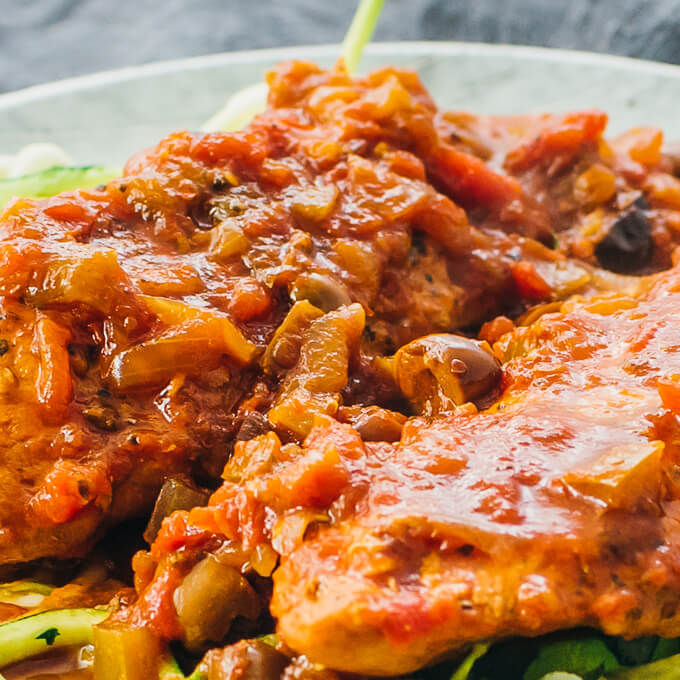 Chicken breasts vs thighs
In general, I prefer the taste of boneless skinless chicken breasts over thigh meat (see Instant Pot Chicken Marsala or Instant Pot Chicken With Creamy Mushroom Gravy), despite often being drier. If you have frozen breasts, you can thaw them overnight in the refrigerator.
If you'd rather use thighs, I recommend increasing the pressure cooking time from 10 minutes to 20 minutes to ensure that the thigh meat is super tender. Note that the resulting sauce will be greasier, as thighs have a lot more fat content.
Whichever meat you decide on, you can use either boneless or bone-in, or skinless or skin-on. All will work here. I use boneless and skinless so that it's easier to cut up and eat.
Recipe Tips
In the U.S., crushed tomatoes are almost always sold in 28 ounce cans. Note that the recipe calls for half of that so you'll only need to use half the can. Crushed tomatoes are different from diced tomatoes.
Any color of bell pepper will do. I've used green and red ones; both work well. Red peppers tend to be a bit sweeter.
Pay attention to the order of ingredients in the pressure cooker: the vegetables (peppers and onions) are on the bottom, chicken in the middle, and crushed tomatoes on top. It's important that the tomatoes aren't touching the bottom of the pot, where they can easily burn during pressure cooking.
To protect your hands from hot splatters, use an oven mitt while sauteing the chicken and when boiling the tomato sauce.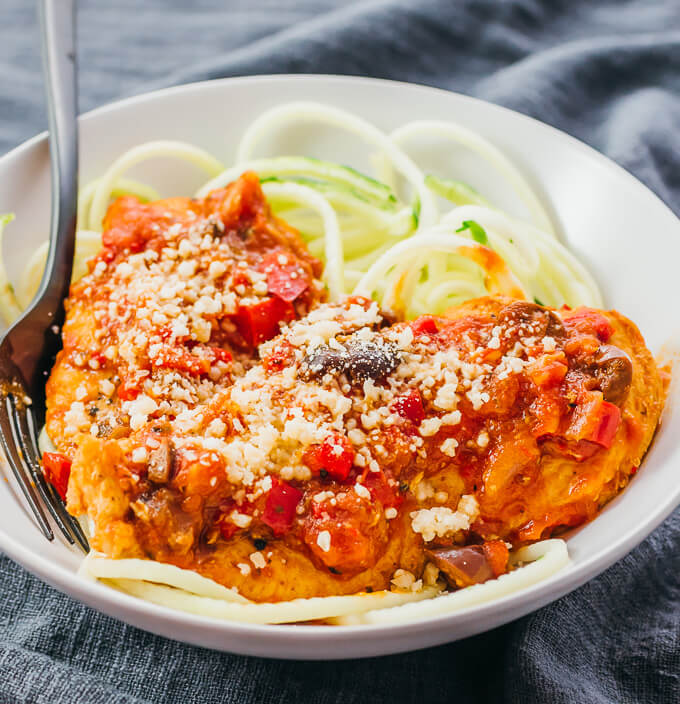 Serving
I like serving chicken cacciatore over a bed of spiralized vegetables — radish, zucchini, and other types of squash work well. You can buy pre-spiralized vegetables in the refrigerated produce section at almost all grocery stores. Cauliflower rice would also be delicious, which is what I use for Instant Pot Chicken Adobo.
If you're not low carb, you can opt for pasta or crusty bread. You just want something to help sop up the delicious red sauce.
Just before serving, top the chicken with generous amounts of finely grated parmesan cheese (the kind with a sandy consistency) to add that extra flavor. For a paleo friendly meal, you can skip this cheese topping.
If you have any leftovers, you can cover and store them in the refrigerate for a few days. Reheat using the microwave.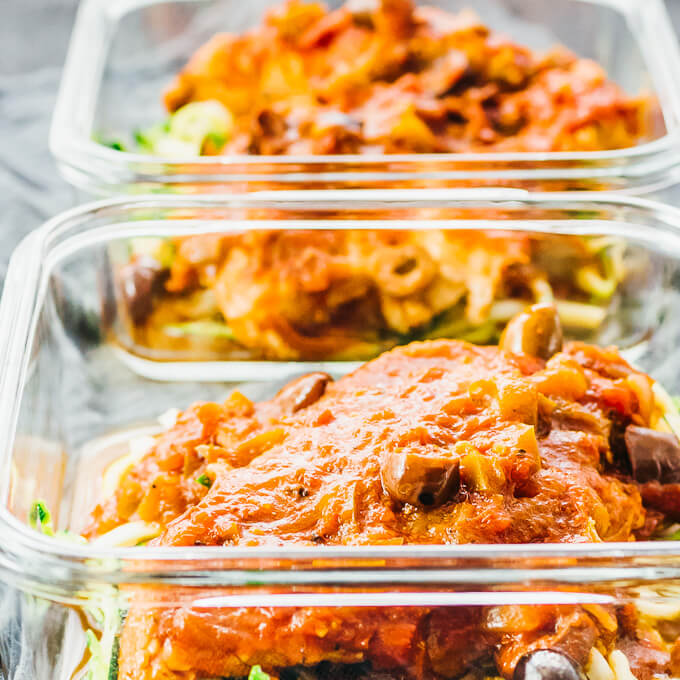 MORE PRESSURE COOKER CHICKEN DINNERS: