These keto peanut butter cookies with almond flour are incredibly easy to make, with only 4 ingredients and low carb. They're flourless, and great for ketogenic and gluten free diets.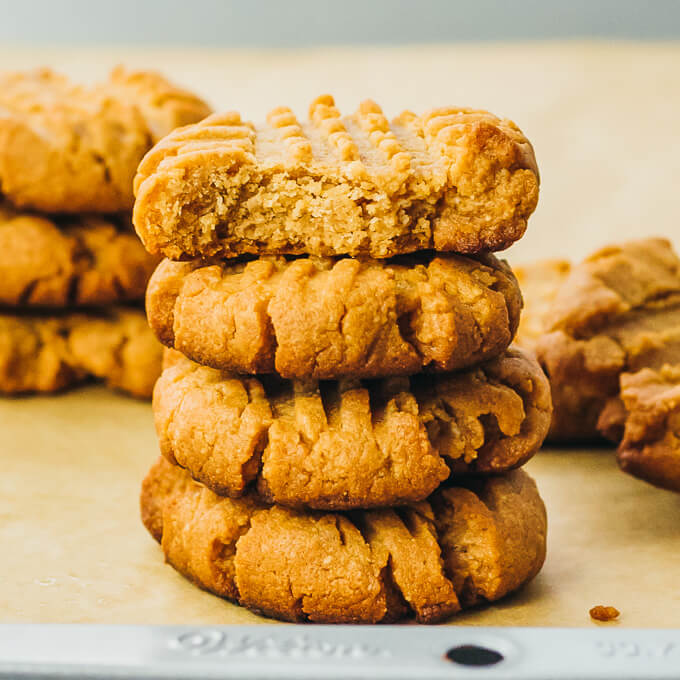 Some cookies are so easy to make that it's always worthwhile to bake them at home instead of buying them in the store. Especially these keto peanut butter cookies that are healthier with no white sugar, yet taste identical to typical peanut butter cookies. The only ingredients are unsweetened creamy peanut butter, low carb powdered sweetener, almond flour, and egg.
Also, these keto peanut butter cookies are super simple to make; all you need to do is mix everything together, form into cookies, and bake. These cookies are crisp and crunchy on the outside, chewy and slightly soft on the inside — just like how you would expect a peanut butter cookie to be. They are perfect as a healthy, keto dessert or a snack on the go.
How to make low carb, keto peanut butter cookies using almond flour: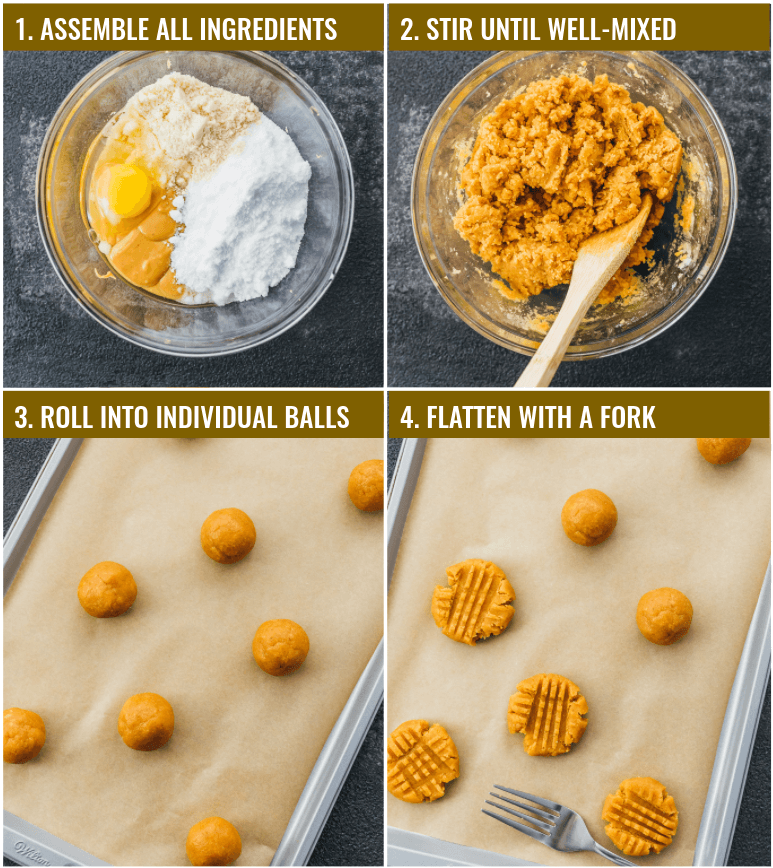 These cookies were inspired by Mr. Savory Tooth's never-ending requests for more peanut butter goodness in our life. Back when we used to eat high carb foods, I often made spicy peanut noodles with shredded chicken for dinner and oreo peanut butter bars for dessert to satisfy his peanut butter cravings. Sometimes I think that food preferences are contagious, as I've been liking peanut butter more with each passing year. That brings me to these delicious peanut butter cookies, which are very low in carbs at only 2g net carbs per cookie, and helps satisfy our peanut butter cravings.
When I'm baking cookies, I alternate between making these keto peanut butter cookies and low carb chocolate chip cookies — depending on whether we feel like peanut butter or chocolate.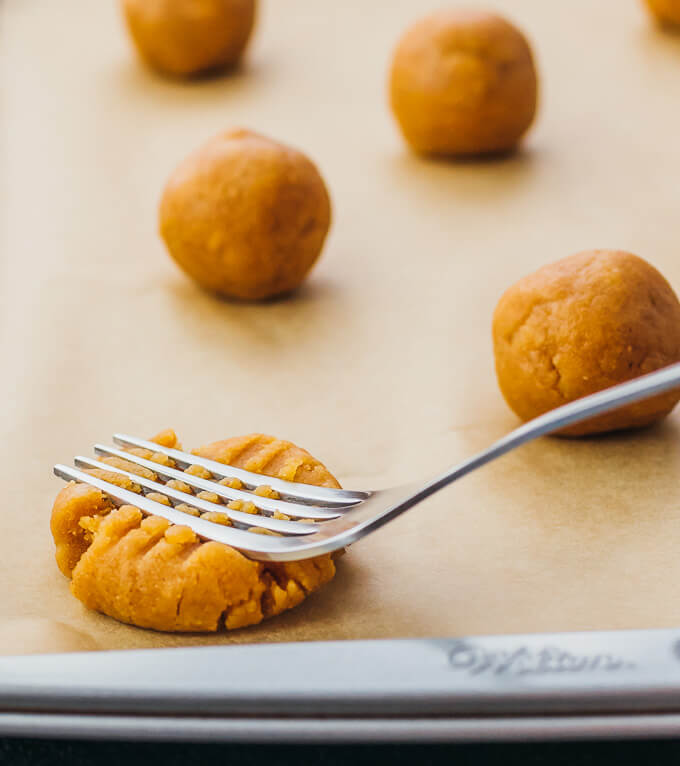 It's possible to make these ketogenic cookies with only three ingredients by taking out the almond flour, but I prefer the texture with almond flour because it helps hold everything together. Any kind of grainy flour-like ingredient will work, including almond flour, finely ground flax meal, or any other low carb alternative you can think of.
After mixing all of the ingredients together, the dough will be very dense and easily formed into balls. The dough isn't too sticky to work with, so it's easy to handle.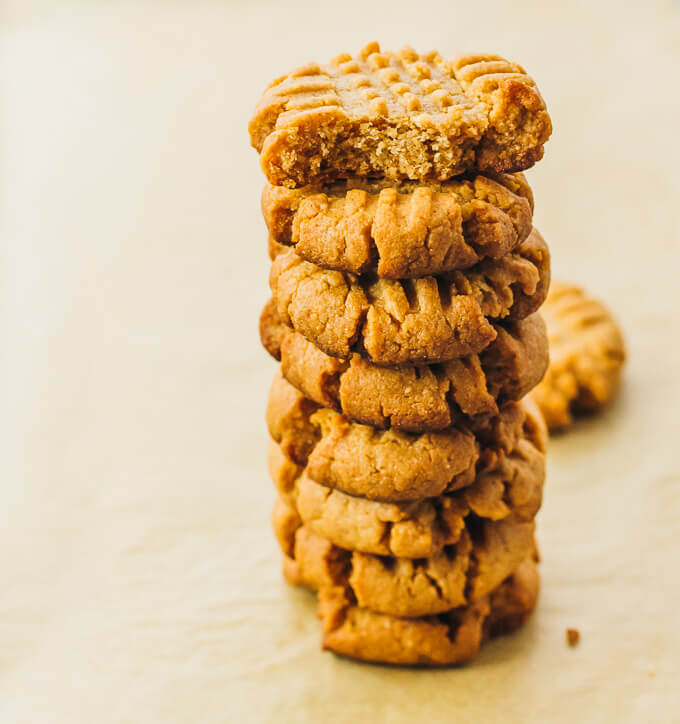 Tips for making the best ketogenic peanut butter cookies:
These keto cookies won't spread as they bake, so if you care about how they look, make sure that you form the desired shape, thickness, and size of each cookie prior to baking. Also have fun with "decorating" the cookies — I used a fork to make a standard criss-cross pattern as I flattened each cookie.
I use erythritol in this recipe and it's easily available online. It's my preferred low carb sweetener because it has no effect on blood sugar or insulin. It's a sugar alcohol that cannot be digested by the body, which makes it ideal for low carb foods. If you don't want to use erythritol, you can substitute with any other powdered sweetener, but the resulting nutrition information and taste may be different.
Also note that erythritol is about 70% as sweet as table sugar. If you use a sweetener that has a 1:1 substitution ratio for sugar, you'll need to use less for the same effect.
The recipe calls for powdered erythritol rather than granulated. I typically buy erythritol in granulated form and pulverize into powder using a Nutribullet blender. You can do the same, or buy already-powdered erythritol. Note that the same weight of granulated erythritol will result in a noticeably larger volume of powdered erythritol.
I don't recommend using granulated erythritol because it doesn't combine with other ingredients as well as powdered form.
I recommend using "natural" peanut butter, which simply means that it is pure peanut butter without added sugars and other ingredients. Even when you buy natural peanut butter, brands can differ in the amount of net carbs per serving. The nutrition information in the recipe box below assumes 4 g net carbs per 2 tbsp serving, which corresponds to the brand of peanut butter that I used for this recipe.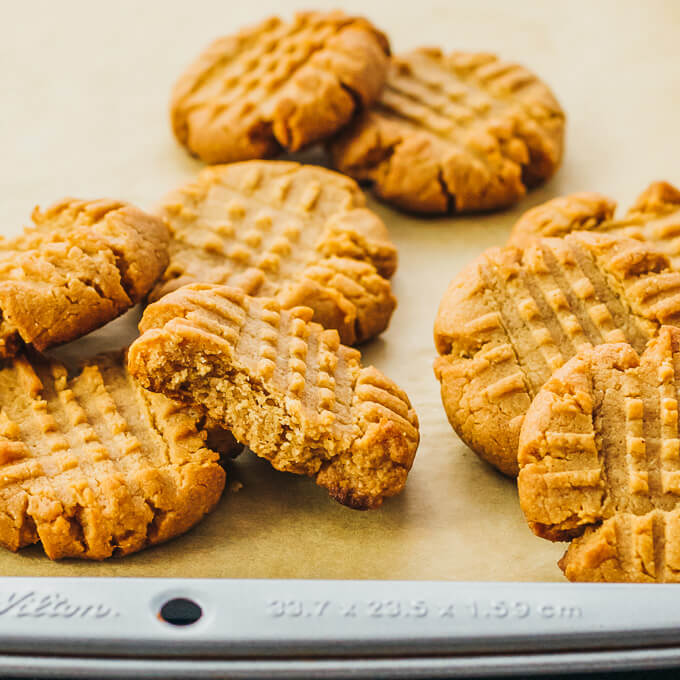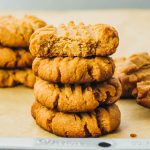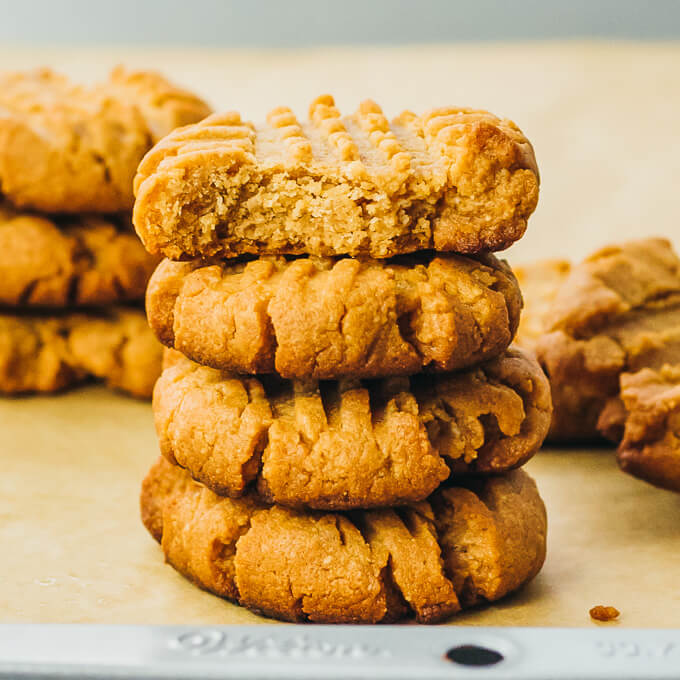 Keto Peanut Butter Cookies (Low Carb)
These keto peanut butter cookies with almond flour are incredibly easy to make, with only 4 ingredients and low carb. They're flourless, and great for ketogenic and gluten free diets.
Instructions
Preheat the oven to 350 F.

In a mixing bowl, combine all ingredients and stir together until well-mixed. The resulting dough should be thick and dense.

Scoop about 1-2 tablespoons of dough and form into a small 1-inch ball, placing the ball onto the baking sheet. Repeat until the dough is used up, resulting in about 18 balls.

Arrange the balls on the baking sheet so that they are about 2 inches apart from each other. Flatten each ball by pressing down using a fork and rotating 90 degrees to press down again, forming a criss-cross pattern. Repeat for all balls until they are flattened.

Bake at 350 F for 10-12 minutes or until the edges of the cookies are browning.

Let the cookies cool before serving.
Nutrition Notes
This recipe yields 2 g net carbs per serving (1 cookie). Nutrition information does not include erythritol because it cannot be digested by the body.
Nutrition Facts Per Serving
| | |
| --- | --- |
| Calories 100 |   |
| Total Fat 8g | 12% |
|    Saturated Fat 1g | 5% |
|    Trans Fat 0g |   |
| Cholesterol 10mg | 3% |
| Sodium 20mg | 1% |
| Potassium 10mg | 0% |
| Total Carb 3.5g | 1% |
|    Dietary Fiber 1.5g | 6% |
|    Sugars 1g |   |
| Protein 4g |   |
MORE LOW CARB & KETO DESSERT RECIPES: