Summary:
These keto and low carb peanut butter cookies are crisp and crunchy on the outside, and chewy and slightly soft within. You only need 4 ingredients to make them, with the option of using either almond flour or coconut flour.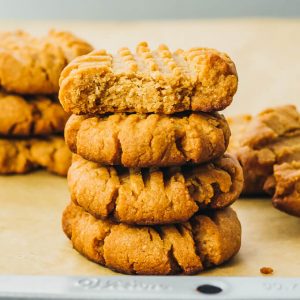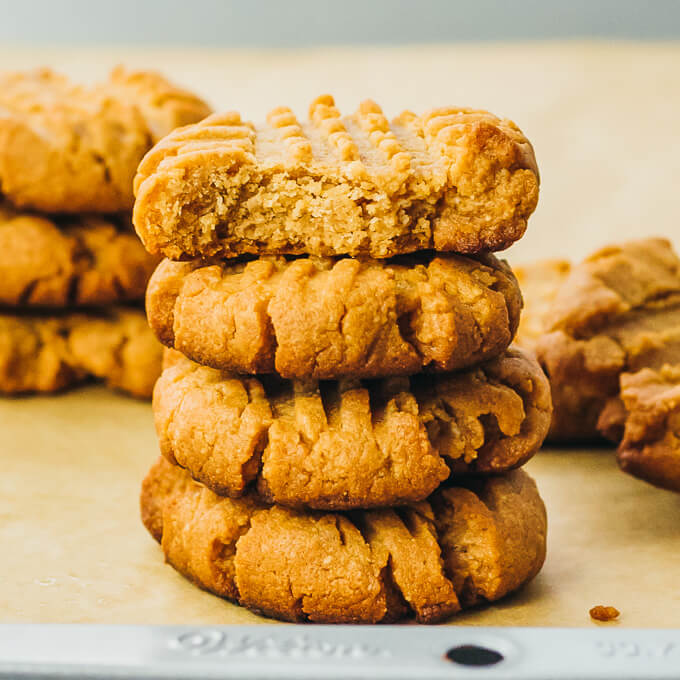 INSTRUCTIONS
Prepare: Preheat oven to 350 F. Set aside baking sheet lined with parchment paper or baking mat. Stir together all ingredients in mixing bowl until well-mixed; resulting dough should be thick and dense.

Form Cookies: Scoop 1 to 2 tablespoons of dough to form 1-inch ball, placing it onto baking sheet. Repeat until dough is used up, resulting in about 18 balls, arranged about 2 inches apart. Flatten each ball by pressing down using fork and rotating 90 degrees to press down again, forming criss-cross pattern (Note 4).
NUTRITION
Makes 18 Servings
Amount Per Serving (1 cookie):
| | |
| --- | --- |
| Calories 100 (68% from fat) |   |
| Total Fat 8g | 12% |
|    Saturated Fat 1g | 5% |
| Cholesterol 10mg | 3% |
| Sodium 20mg | 1% |
| Net Carb 2g |   |
| Total Carb 3.5g (Note 7) | 1% |
|    Dietary Fiber 1.5g | 6% |
|    Sugars 1g |   |
| Protein 4g |   |
PHOTOS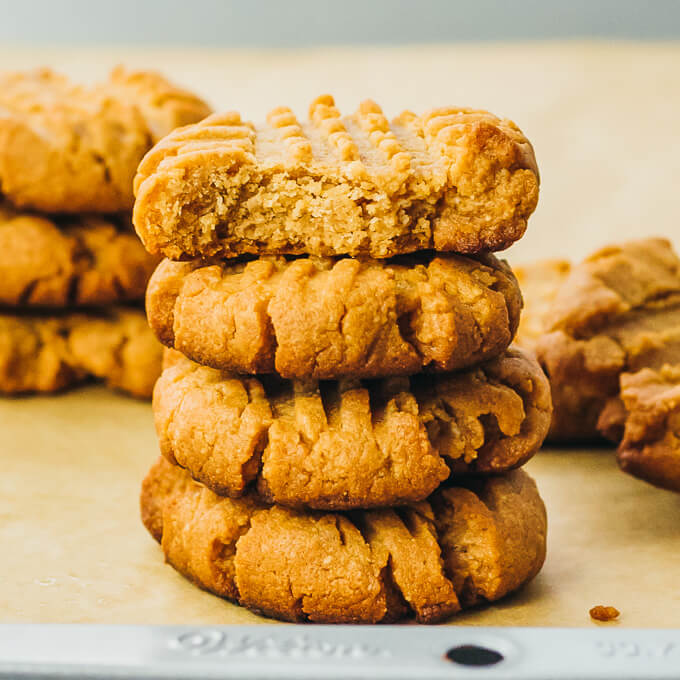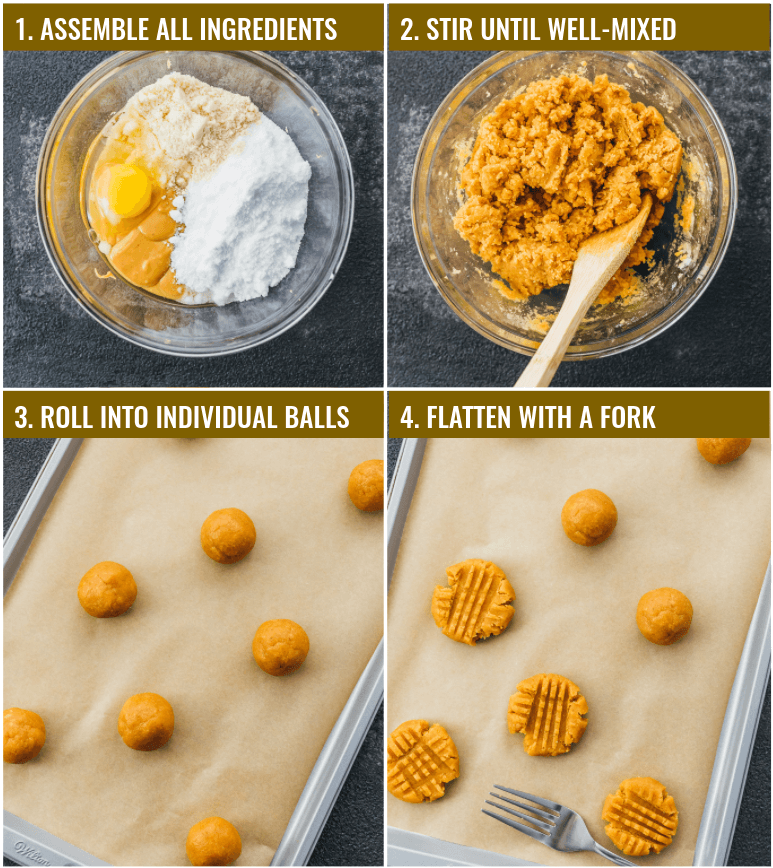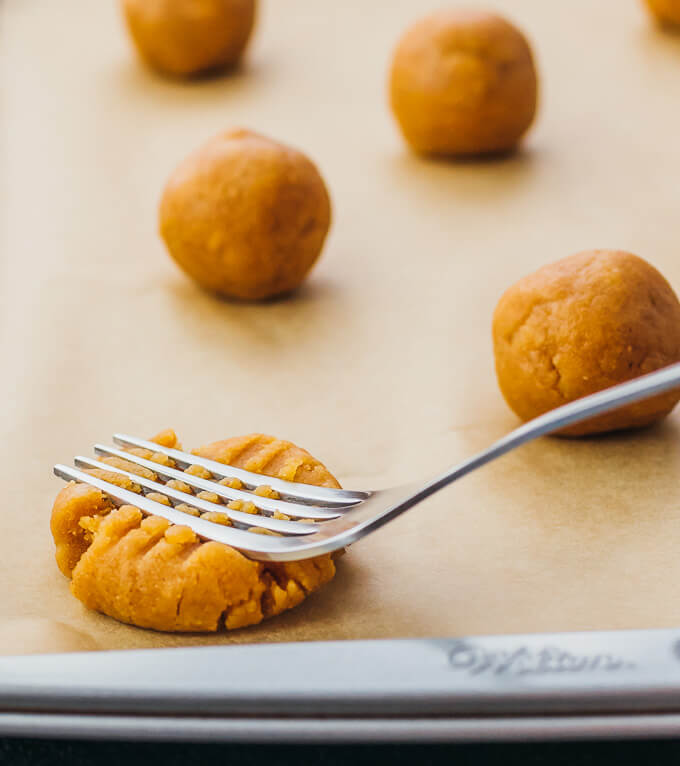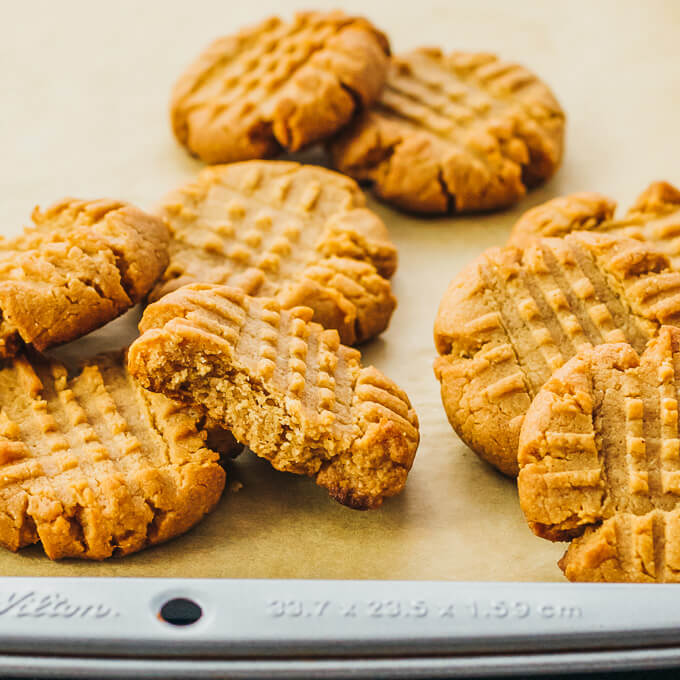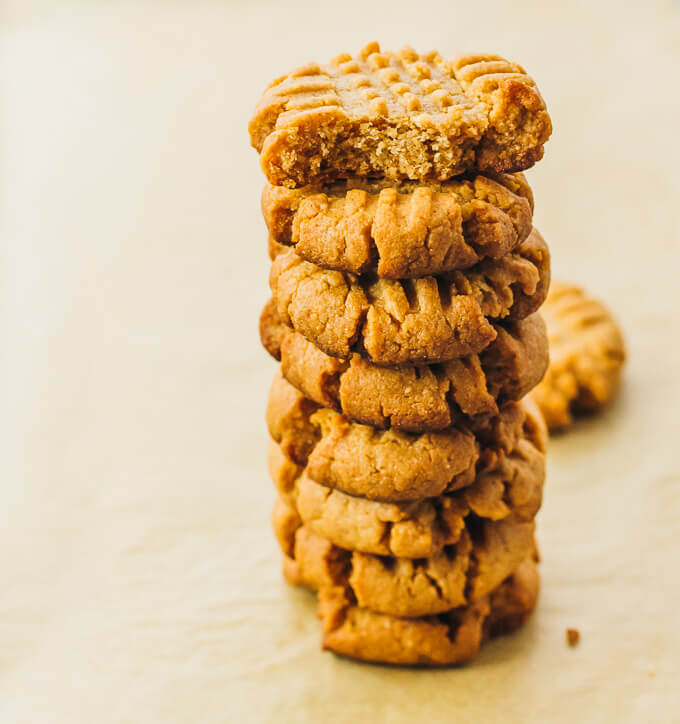 NOTES & TIPS
(1) Peanut Butter. About 9.2 ounces weight. I use creamy salted peanut butter, without any special flavors or add-ins, and unsweetened. This is often referred to as "natural" peanut butter on package labels, and only peanuts and salt are listed on the ingredient label. There is typically some separation at room temperature, so stir up the jar of peanut butter before measuring out the amount to use. If your peanut butter has been refrigerated, it may be difficult to mix with the other ingredients; let it soften at room temperature. This can't be substituted with powdered peanut butter.
(2) Sweetener. About 2.8 ounces weight for powdered erythritol and 2.1 ounces weight for Confectioners Swerve. Erythritol is about 70% as sweet as Confectioners Swerve; the latter measures the same as regular powdered sugar. You can substitute with your favorite dry sweetener; I don't recommend liquid sweeteners which affect the ratio of dry to wet ingredients. To calculate the amount to use, check your sweetener's packaging to determine how it compares to regular sugar. If it's granulated, I recommend powdering it using a blender (like a Nutribullet).
(3) Almond Flour / Coconut Flour. About 1 ounce weight for almond flour and 0.5 ounce weight for coconut flour. Both flours produce nearly identical cookies in terms of appearance, taste, texture, and nutritional data. For almond flour, I use the blanched kind, which means the skins are taken off of the almonds so the resulting flour looks white. Note that while it's possible to make these cookies with only 3 ingredients by avoiding any flour, I prefer using one because it helps bind everything together with a nicer texture. You can substitute with any kind of grainy flour-like ingredient, like finely ground flax meal, whey protein, or other low carb alternative.
(4) Forming Cookies. These cookies won't spread much as they bake. If you're particular about their appearance, form your desired cookie shape, thickness, and size prior to baking. You can also have fun decorating the cookies however you wish — I use a fork to make a standard criss-cross pattern as I flattened each cookie.
(5) Baking Time. The recipe provides a range of baking times because you may prefer softer or harder cookies. For softer, chewier, moister cookies, you'll want a shorter baking time. For harder, crisper, and drier cookies, bake on the longer end. I typically bake for 15 minutes.
(6) Serving / Leftovers. It's important to let the cookies cool at room temperature: they're too soft to handle fresh out of the oven, and will harden as they cool. Leftover cookies should be completely cooled and then stored in an airtight container at room temperature. They're best when consumed within 3 days.
(7) Carbs. The nutrition calculation assumes you are using Swerve or a similar erythritol-based sweetener that uses sugar alcohols, whose carbs are non-impact and therefore not included in the nutrition estimate. Apps that count sugar alcohols will show a higher number of carbs.