Summary:
Bacon wrapped asparagus is a tasty appetizer, stuffed with a cream cheese filling that's low carb and keto friendly. These are bite-sized, so conveniently easy to eat and serve at parties (you won't need a fork and knife for this).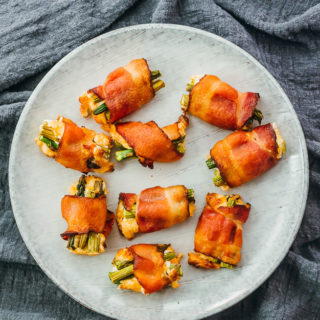 Convenient Bacon Wrapped Asparagus Bites With Cream Cheese
INGREDIENTS
12

spears asparagus

6

slices

bacon, cut in half widthwise
Cream Cheese Mixture:
3

ounces

cream cheese

1/3

cup

shredded cheddar cheese

1/2

teaspoon

garlic powder
INSTRUCTIONS
Cook bacon in a wide pan over medium heat until some of the fat is rendered but the slices are still soft and pliable. Drain the bacon on paper towels.

Preheat the oven to 400 F. Prepare a baking sheet lined with foil and fitted with a wire rack.

Trim the asparagus spears by cutting off the tough woody ends so you're left with about 6 inches. Cut each trimmed spear into 3 equal pieces, and put these 3 pieces side by side to form a bundle.

Microwave cream cheese until very soft and easily mixed, about 15 seconds. Stir with cheddar cheese and garlic powder until well-mixed.

Spread about 1 teaspoon of the cream cheese mixture onto each bundle of 3 asparagus pieces, and wrap with a slice of bacon. Place the bundles with the seam side facing down on the wire rack.

Bake at 400 F until the bacon is crispy and any exposed cream cheese is browning, 20 to 25 minutes. Serve while hot.
NUTRITION
Makes 4 Servings
Amount Per Serving (3 pieces):
| | |
| --- | --- |
| Calories 160 (70% from fat) | |
| Total Fat 13g | 20% |
| Saturated Fat 7g | 36% |
| Cholesterol 40mg | 13% |
| Sodium 310mg | 13% |
| Net Carb 1.5g | |
| Total Carb 2g | 1% |
| Dietary Fiber 0.5g | 3% |
| Sugars 0.5g | |
| Protein 8g | |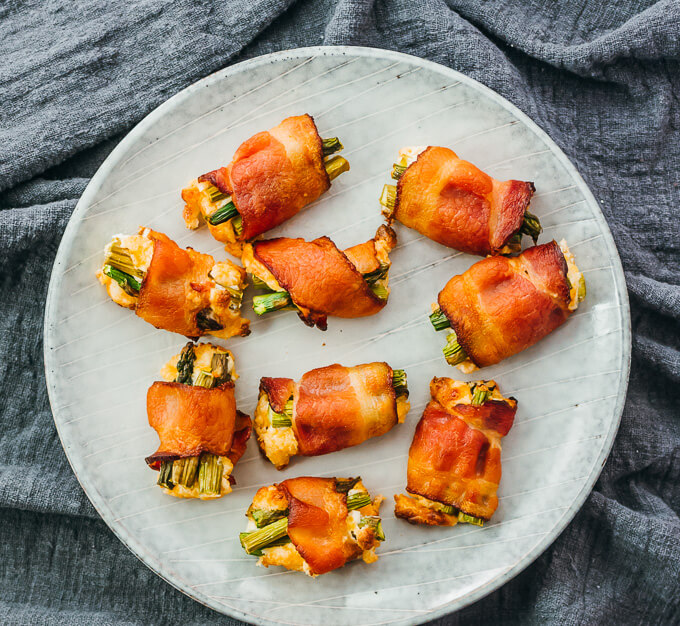 Bacon wrapped asparagus is one of my favorite holiday appetizers around Thanksgiving and Christmas. My only complaint is that it usually requires a fork and knife to eat, and it's cumbersome to saw through asparagus spears when there's bacon wrapped around them or when you get to the tougher woody ends.
This recipe fixes that by making them bite sized. The asparagus spears are pre-cut into convenient bite-sized pieces, bundled together with a cream cheese stuffing, and wrapped in bacon. They're designed to be finger food served as an appetizer.

Wrapping everything in bacon is almost never a bad idea, like these bacon wrapped brussels sprouts that are always a hit during fall and winter months.
I took inspiration from my bacon wrapped and cream cheese filled jalapeños by stuffing these asparagus bites with the same cream cheese filling, made with cheddar cheese and garlic powder. It brings the flavor up a notch and adds a creamy texture to every bite.

I've tested this recipe by wrapping with a single vs a bundle of asparagus stalks. The single wrapped asparagus was too heavy on the bacon and need more asparagus flavor, so I opted to use a bundle.
The bundle is formed by cutting an asparagus spear into thirds, giving an optimal amount of asparagus and bacon flavor in each bite. It's also much easier to spread a dollop of cream cheese filling onto a bundle and have it stay in place while you wrap with bacon.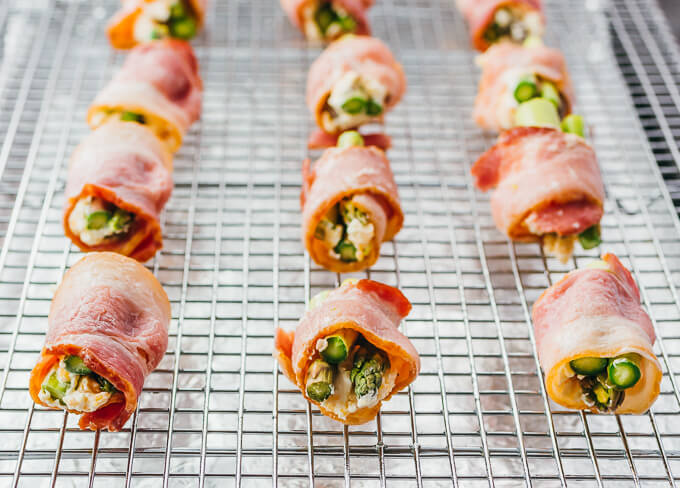 Here are some tips for making these asparagus bites:
Use asparagus spears that are fresh, not frozen.
The bacon is sliced widthwise, not lengthwise. This means each bacon slice should be half as long.
If you like your bacon as crispy as I do, I recommend pre-cooking the bacon on a pan on the stovetop. Just don't overcook the bacon — it needs to be pliable so that you can wrap it around the asparagus bundles without much difficulty.
The cream cheese should be very soft when you're making the stuffing. It's important to microwave it until it's very pliable before attempting to mix it with other ingredients; otherwise, you'll have a hard time stirring everything together. If you don't have a microwave, you can  let it sit on the countertop until softened, or use a different heat source.
For best results, use a wire rack for baking. That way, the bacon grease can drip below instead of pooling around the wrapped asparagus bites. If you don't use a wire rack and end up with very greasy asparagus bites, I suggest draining them on paper towels before serving.
For easier release from the wire rack, you can spray with nonstick cooking spray beforehand. I usually use tongs to transfer the asparagus bites to and from the rack.
As is often the case with foods that contain a cream cheese based stuffing, these asparagus bites are best eaten soon after they're done baking. They are fabulous with a hot and melty filling, and not so great once they've cooled down. Don't wait too long to enjoy them once they're cool enough to eat.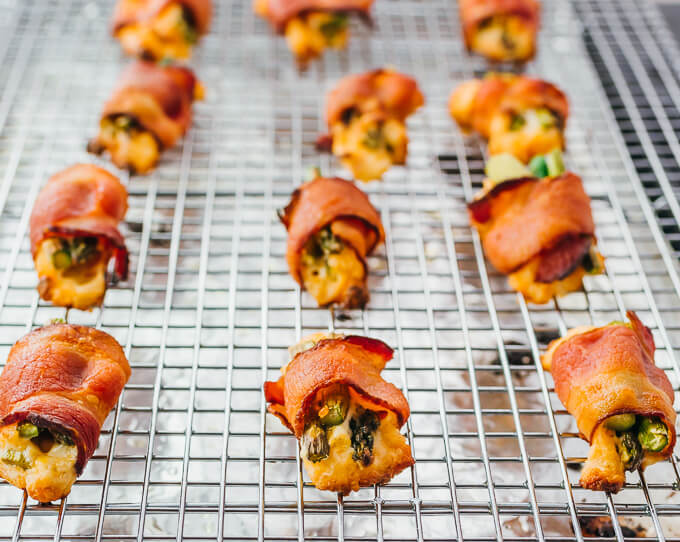 More Low Carb Party Food Ideas