Summary:
Faster and easier than traditional methods, this 4-ingredient Instant Pot Corned Beef recipe with cabbage and carrots uses pressure cooking to produce melt-in-your-mouth tender meat. Pair this with low carb Shepherd's Pie for your St. Patrick's Day dinner.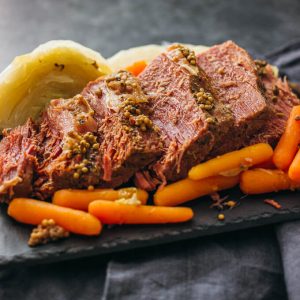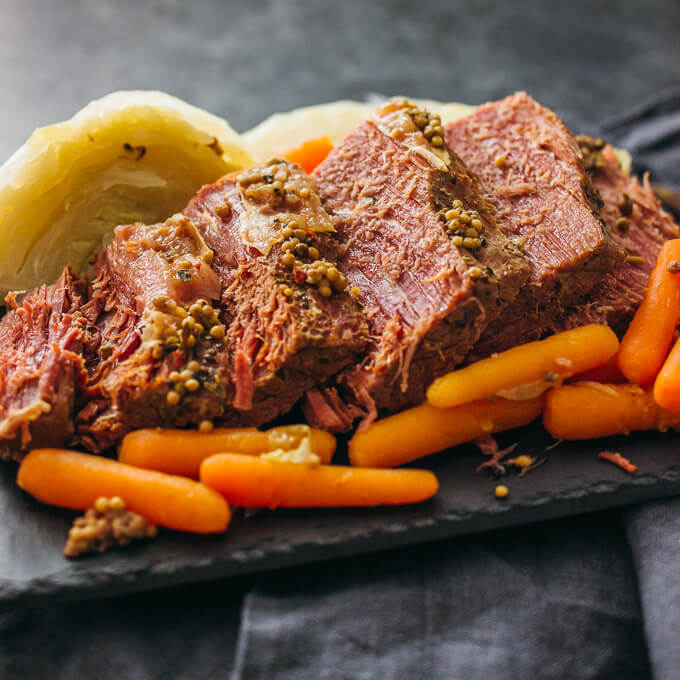 INGREDIENTS
3

pounds

corned beef (Note 1)

1

small head

green cabbage, cut into 8 wedges

2

cups

baby carrots

5

cups

water
INSTRUCTIONS
Add Beef: Place corned beef into pressure cooker with at least 6 quart capacity (Note 2), including juices that separated from meat and any included flavorings. Add water to pressure cooker pot so that water level is even with top of corned beef, about 5 cups. If beef is partially protruding out of water, push it down.

Pressure Cook: Cover and seal lid. Cook at high pressure for 90 minutes, followed by quick pressure release. Uncover, and check if fork can easily pierce thickest part of beef; if not, cook for another 10 minutes and test again.

Add Vegetables: Without removing corned beef from pressure cooker, add cabbage wedges and carrots, pushing down to fill the space. Don't overfill past maximum capacity of pressure cooker.

Pressure Cook: Cover and seal lid. Cook at high pressure for 5 minutes, followed by quick pressure release. Uncover, then drain vegetables and corned beef.

Slice & Serve: Slice corned beef against grain (perpendicular to muscle fibers) into thick slices, and serve with cabbage and carrots. Save leftovers (Note 3).
NUTRITION
Makes 4 Servings
Amount Per Serving:
| | |
| --- | --- |
| Calories 570 (47% from fat) |   |
| Total Fat 30g | 45% |
|    Saturated Fat 12g | 59% |
| Cholesterol 162mg | 54% |
| Sodium 2060mg | 86% |
| Net Carb 5.5g |   |
| Total Carb 8g | 3% |
|    Dietary Fiber 2.5g | 11% |
|    Sugars 4.5g |   |
| Protein 57g |   |
PHOTOS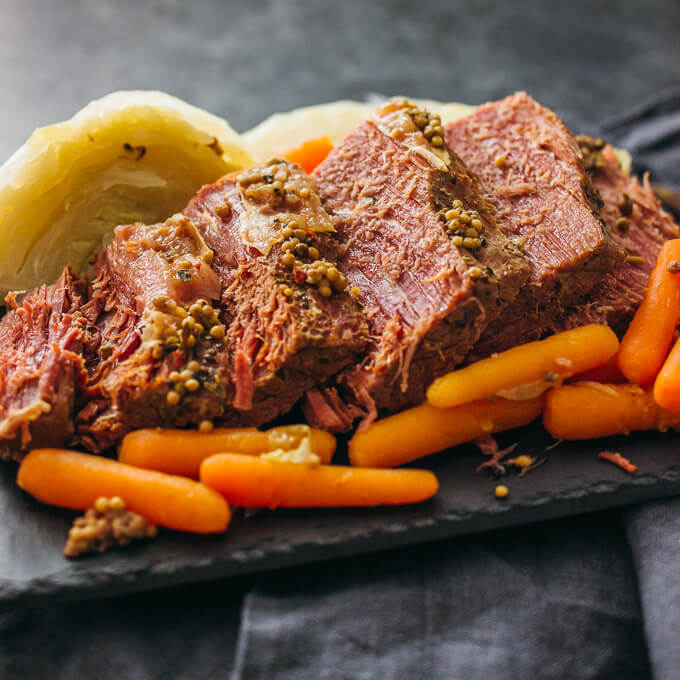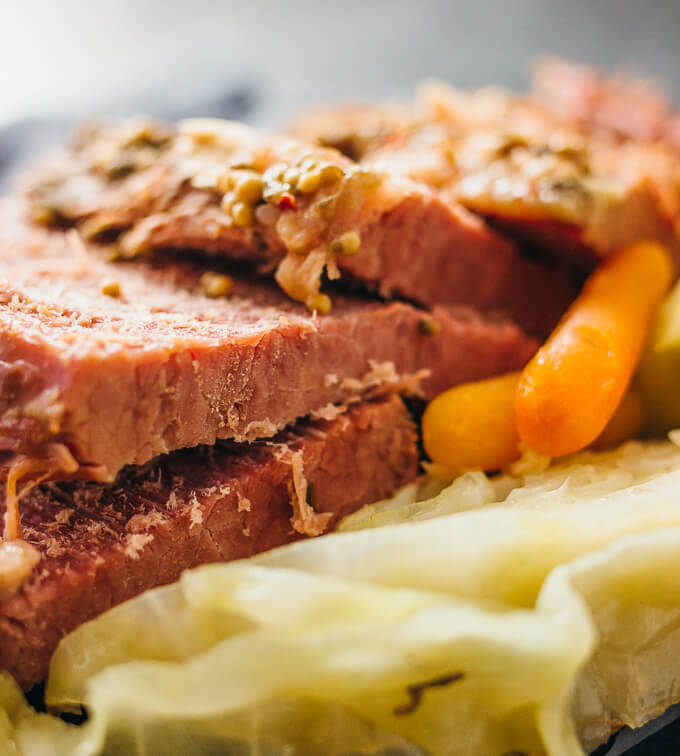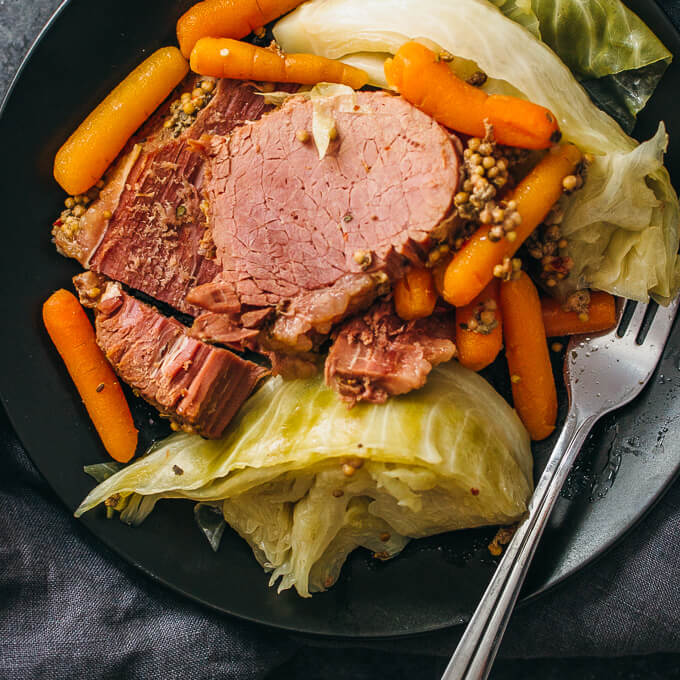 NOTES & TIPS
(1) Corned Beef. If your corned beef is cured (see packaging) and you are sensitive to salty foods, drain and rinse beef to remove excess salt. Most store-bought corned beef comes with flavorful seasonings, such as mustard seed, bay leaves, cloves, garlic, dill seed, and crushed red pepper. Depending on the kind that you buy, yours may come with a separate seasoning packet, which you can add to the pressure cooker at the same time as the corned beef.
(2) Pressure Cooker. I use a 6 quart Instant Pot. Don't use pressure cookers smaller than 6 quarts because the ingredients won't all fit. Don't over-stuff, and stay within the "max" line on your pressure cooker. If you're having trouble fitting everything, take the corned beef out when it's done (tent with foil to keep warm) and cook the vegetables separately.
(3) Leftovers. Cover and refrigerate any leftovers, and reheat using the microwave or on the stovetop until warmed through. Corned beef leftovers can also be re-purposed by using them to make a low carb breakfast hash.