Summary:
A gorgeous savory galette with pesto, heirloom tomatoes, and a parmesan crust.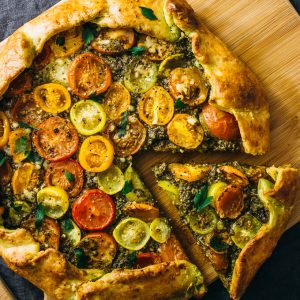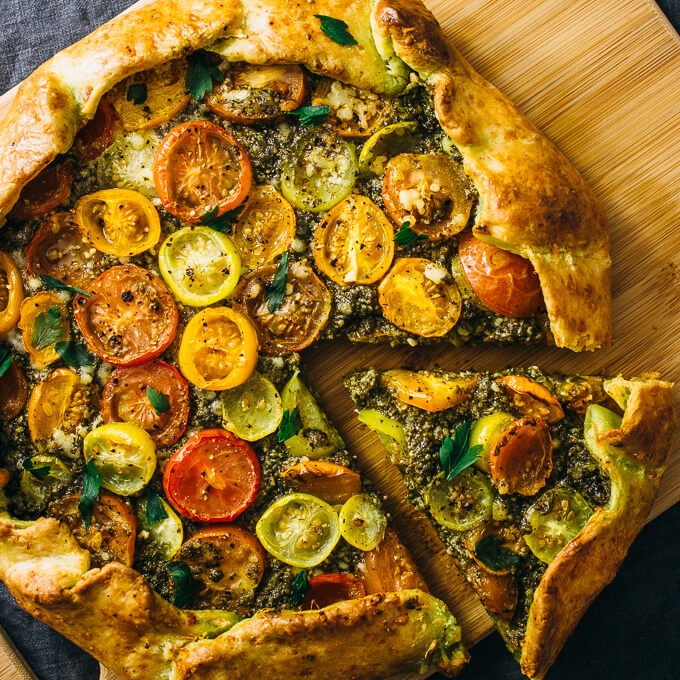 Savory galette with pesto and heirloom tomatoes
INGREDIENTS
Parmesan crust:
1 1/2

cups

all-purpose flour

1/2

cup

finely grated parmesan cheese

1/2

cup

cold unsalted butter

cubed

6

tablespoons

cold water

50 F or colder

1/2

teaspoon

salt
Toppings:
7

ounces

pesto sauce

drained

8

ounces

mini heirloom tomatoes

sliced

1/2

cup

finely grated parmesan cheese

1/8

teaspoon

freshly ground black pepper

freshly chopped parsley

for garnish
Egg wash:
1

egg

beaten

1

tablespoon

water
INSTRUCTIONS
Prepare the crust dough: Add flour, parmesan cheese, butter, and salt to a food processor with a metal blade. Process until combined. Replace the metal blade with a dough attachment. Add water and process until the mixture clumps together and resembles dough. Form dough into a ball and cover with plastic wrap. Refrigerate for an hour to chill.

Assemble the galette: On an oven-safe baking mat, roll out the dough into a rough circle about 12 inches in diameter. Evenly distribute the toppings, avoiding a 1 inch border. Start with the parmesan cheese then pesto then followed by tomatoes. Top with black pepper. Fold the border of the dough inwards around the edges of the galette. Combine egg and water to form an egg wash and brush the edges of the galette, discarding any leftover egg wash.

Bake and serve: Bake at 400 F until the crust is golden brown, about 30 minutes. Garnish with parsley, and let cool for 10 minutes before slicing and serving.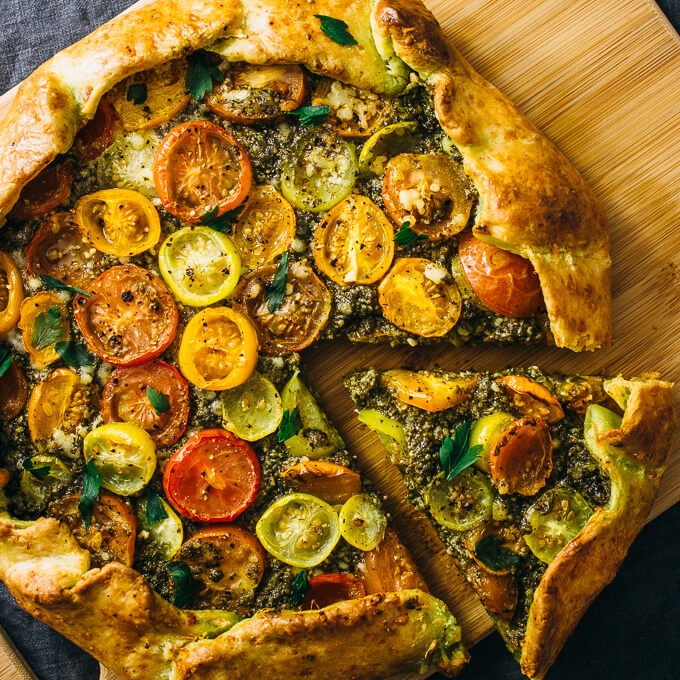 A few days ago, I was thinking about how we are only about one week away from spring. Perennial chocolate mint plants in my outdoor garden have started popping up with new green leaves, and I have been mentally counting down the weeks until I can start planting this year's jalapeño seeds. With the coming of spring, occasions such as Easter gatherings, Mother's Day brunches, and Spring Break festivities will soon be upon us. I'm looking forward to lots of spring baking — I definitely need to bake these cranberry orange scones again — and I'm starting it off with today's featured savory galette recipe.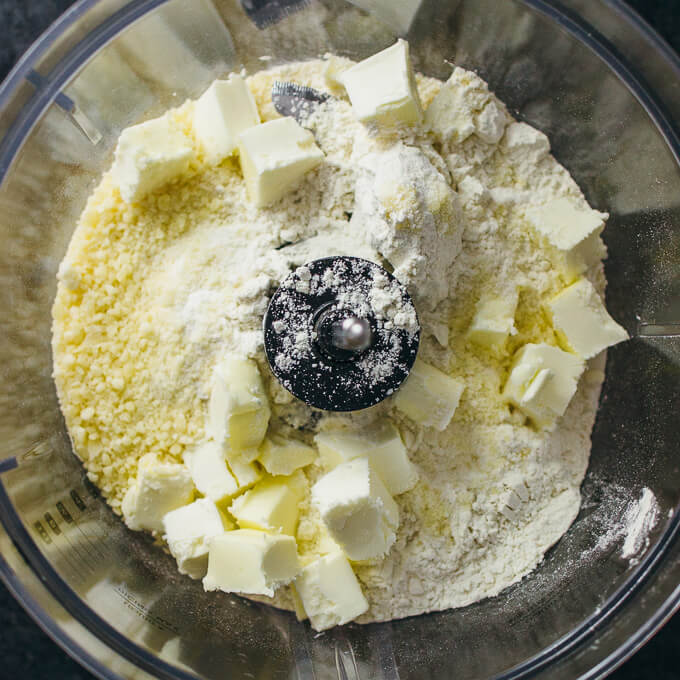 The first step is to make galette dough, which is simple to make and doesn't require much kneading. I use my food processor to mix the ingredients and to combine into dough, but it is not necessary. The dough only contains five ingredients: all-purpose flour, parmesan cheese, butter, water, and salt. I use Bob's Red Mill for their all-purpose flour, which is a premium baking flour that you can use for any occasion — both for bread as well as more airy baked goods. Their flour is organic and unbleached, and not enriched with any additives. They also have gluten-free and paleo versions, so most people should be able to find something that works with their diet.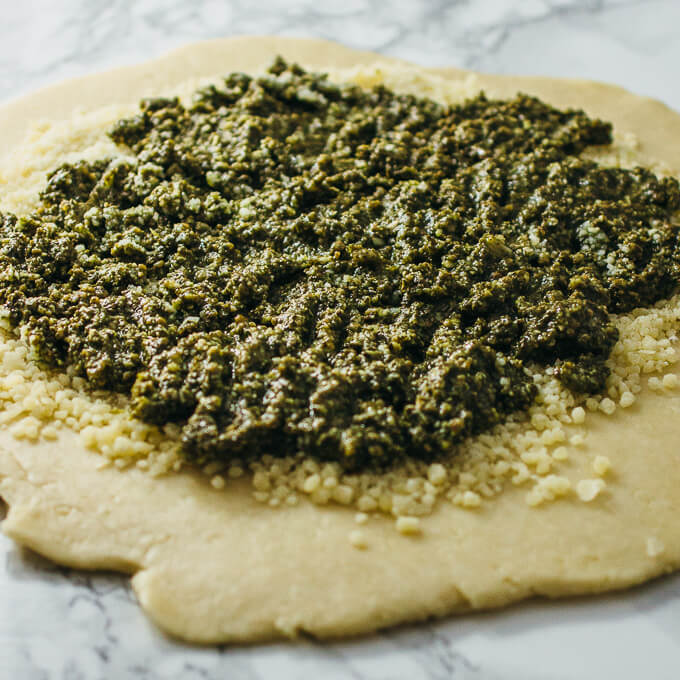 The dough itself includes a good heaping of finely grated parmesan cheese and results in an absolutely delicious galette crust — it is crispy and flaky, similar to pastry crust. I love its crunchy texture and taste. To get that beautiful golden crust color, I use a simple egg wash to brush the edges of the galette prior to baking. The crust is also quite sturdy, so a slice of this galette doesn't bend or fold over when you pick it up.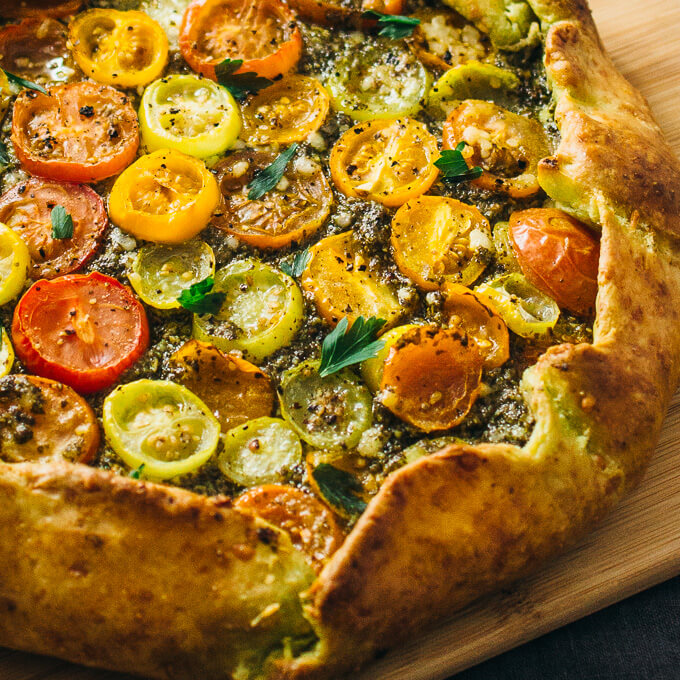 The galette toppings are where you can get creative. My toppings included more finely grated parmesan cheese, nearly half a pound of pesto (about 3/4 to 1 cup), and mini heirloom tomatoes (cherry or grape tomatoes are also suitable). These vegetarian toppings make this savory galette great for Meatless Mondays. You can add whatever strikes your fancy — other tasty ideas include artichokes, spinach, onions, and potato.