Summary:
An easy Thanksgiving recipe for making homemade cranberry sauce with orange zest in the Instant Pot pressure cooker.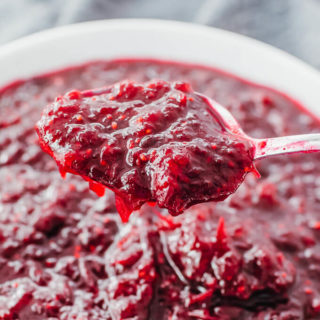 Instant Pot Cranberry Sauce
Natural Release:
15

minutes
INGREDIENTS
1

(12-ounce)

package whole cranberries (fresh or frozen)

2/3

cup

(5 ounces weight) sugar equivalent sweetener (I use granulated swerve)

1/2

cup

water

1

tablespoon

fresh orange zest (about 1 orange)

1/8

teaspoon

salt
INSTRUCTIONS
Cover and seal the lid. Cook at high pressure for 1 minute, followed by natural release.

Uncover and turn on the saute mode for medium heat. Add sweetener, fresh orange zest, and salt, stirring together.

As the sauce begins to simmer, use a stiff utensil to break apart the cranberries and stir nearly constantly, for a few minutes or until the cranberries are burst.

The sauce should thicken quickly; if not, let it simmer longer until it reaches your desired consistency. Turn off the saute mode, and stir to cool down the sauce until it stops simmering. Serve while hot.
NUTRITION
Makes 6 Servings
Amount Per Serving (1/4 cup):
| | |
| --- | --- |
| Calories 30 (0% from fat) | |
| Total Fat 0g | 0% |
|    Saturated Fat 0g | 0% |
| Cholesterol 0mg | 0% |
| Sodium 50mg | 2% |
| Net Carb 4.5g | |
| Total Carb 7g | 2% |
|    Dietary Fiber 2.5g | 10% |
|    Sugars 2.5g | |
| Protein 0g | |
PHOTOS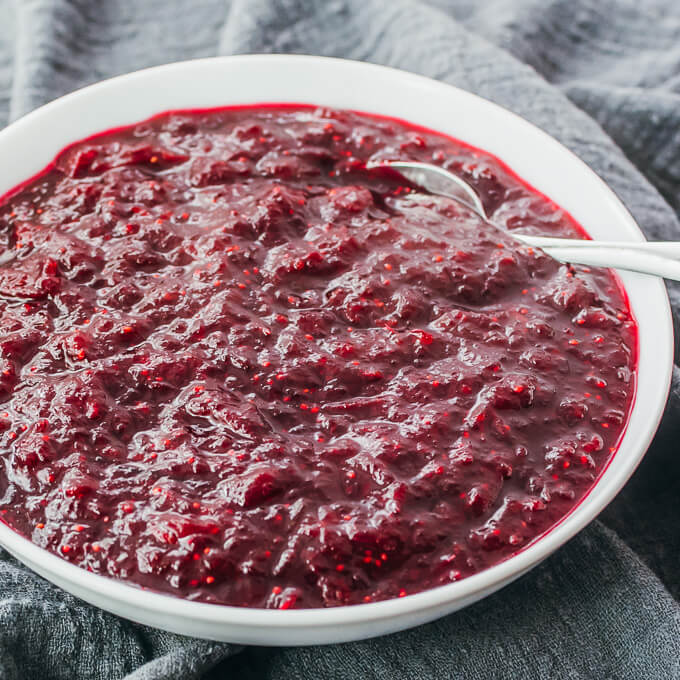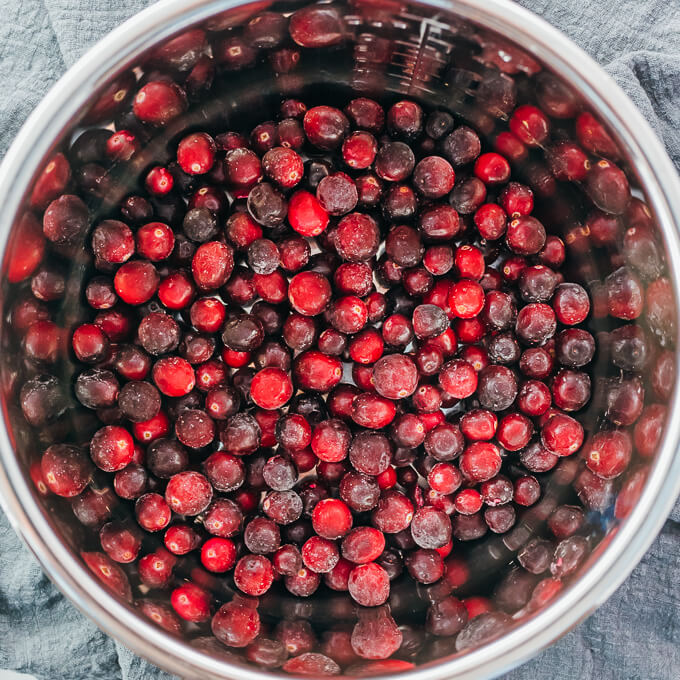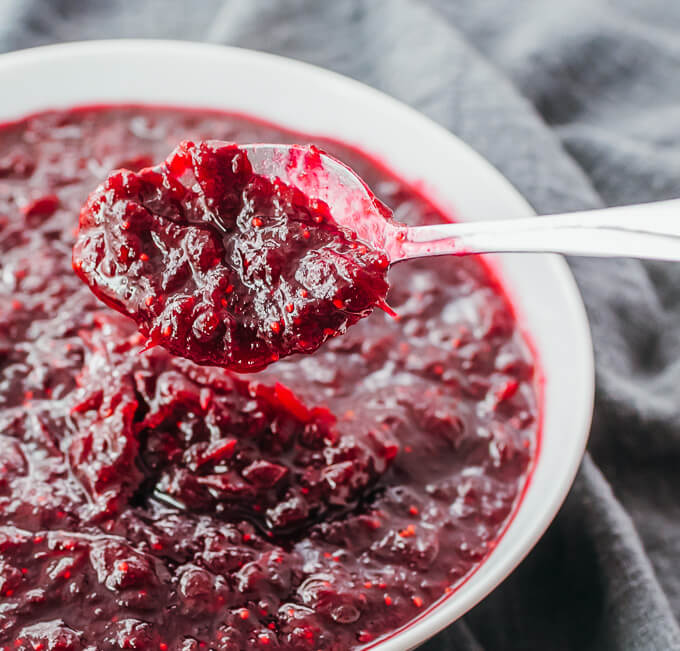 NOTES & TIPS

Sweetener. This sauce is friendly for keto folks, since using a sugar free sweetener significantly lowers the carb count. In the recipe, I've listed the amount of dry sweetener to use, assuming it measures the same as sugar. I use swerve, which is an erythritol blend and 1:1 substitution for sugar. Note that this isn't the same as pure erythritol, which is only about 70% as sweet as sugar. Pure erythritol granules can be on the larger side, so it's best to powder it first using a blender like the Nutribullet. If you're using a sweetener that doesn't measure the same as sugar, make the appropriate conversions to figure out how much to use. Your sweetener's packaging should indicate how it compares to sugar. Otherwise, add to taste.
Serving. You can serve cranberry sauce with turkey, but if you're looking for something less traditional, you can pair it with roast chicken (oven or pressure cooker versions) or pork tenderloin (oven or pressure cooker versions). For appetizers, I highly recommend Bacon Wrapped Brussels Sprouts, Cheddar Biscuits, and Crab Stuffed Mushrooms, all of which are low carb. I also enjoy eating these cauliflower versions of Mashed "Potatoes" and "Mac" And Cheese.