Summary:
One of readers' favorite fall appetizers, these roasted brussels sprouts are wrapped with crispy bacon slices, dipped in a balsamic vinegar and mayonnaise sauce.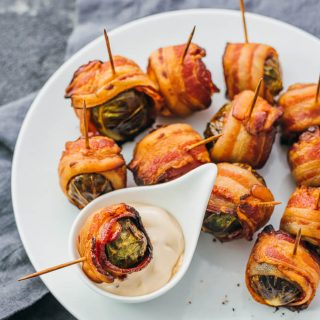 Bacon Wrapped Brussels Sprouts with Balsamic Mayo Dip
INGREDIENTS
12

slices

bacon

12

brussels sprouts (about 12 ounces)

stems trimmed

12

toothpicks
INSTRUCTIONS
Prepare a baking tray lined with parchment paper or a baking mat.

Preheat the oven to 400 F.

Wrap a bacon slice around each brussels sprout, and secure with a toothpick. Place in a single layer on the baking tray.

Bake at 400 F until the bacon is crispy and the brussels sprouts are very tender, about 40 minutes.

Combine mayonnaise and balsamic vinegar together in a small bowl. Stir until smooth.

Serve the bacon wrapped brussels sprouts with the balsamic mayonnaise dip.
NUTRITION
Makes 4 Servings
Amount Per Serving (3 bacon brussels sprouts w/ dip):
| | |
| --- | --- |
| Calories 170 (81% from fat) | |
| Total Fat 15g | 24% |
|    Saturated Fat 1g | 6% |
| Cholesterol 13mg | 4% |
| Sodium 120mg | 5% |
| Net Carb 2.5g | |
| Total Carb 5g | 2% |
|    Dietary Fiber 2.5g | 9% |
|    Sugars 2g | |
| Protein 2g | |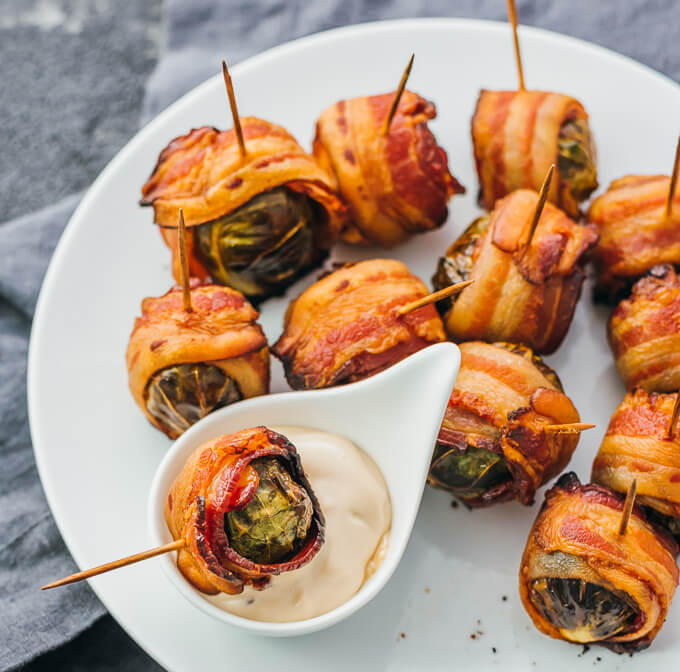 This is one of my favorite appetizers to make for Thanksgiving. It's incredibly simple, reminding me of bacon wrapped jalapeno peppers, with just four ingredients: brussels sprouts, bacon, balsamic vinegar, and mayonnaise. If you don't normally like brussels sprouts, this dish will make you love them.
These brussels sprouts are oven roasted until very tender, and during that time the bacon gets nice and crispy. When you bite into these, you can barely feel the brussels sprouts because they're meltingly tender, and the bacon gives a nice crunch. I love how this appetizer is so delicious and simple.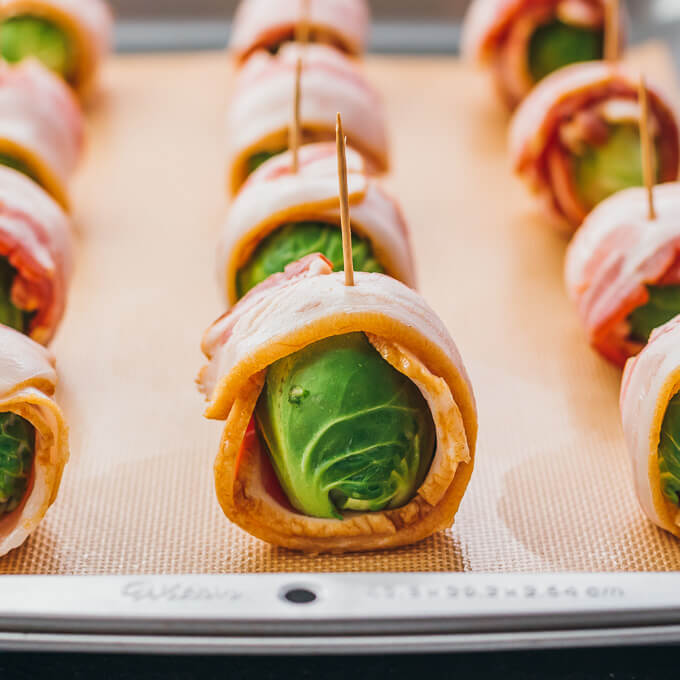 Bacon and brussels sprouts go hand in hand. I used to make pan-fried brussels sprouts with bacon and cranberries for the holidays, but since adopting a keto diet, I've been thinking of ways to reinvent bacon and brussels sprouts while keeping the carb count low, like these Instant Pot Brussels Sprouts.
That's where these bacon wrapped brussels sprouts come in. To keep the sprouts securely wrapped, I use a toothpick to hold them together while baking, and this has the added benefit of making it super easy to handle and eat them. They're essentially finger food, and you can just pick one up by its toothpick and plop it into your mouth. It's super handy if you're making these for a party.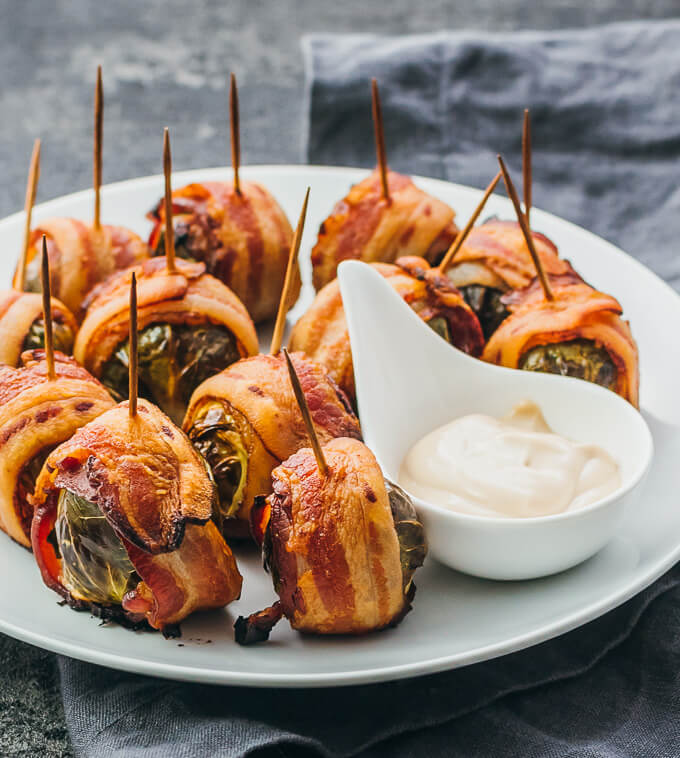 These bacon wrapped brussels sprouts are already fantastic by themselves, but they are even better with a balsamic mayo dip. The zing you get from the balsamic vinegar pairs well with the savory bacon and brussels sprouts flavors. Definitely give it a try.