These low carb chocolate chip cookies are healthy, keto friendly, and incredibly easy to make.

These chocolate chip cookies are amazing homemade treats — soft and buttery on the inside, crispy on the outside. They are so simple and fast to make, about 20 minutes total for prep and baking. I don't typically post desserts, but these cookies make the cut because they are actually healthy. Yes, these cookies are actually good for you and don't cause blood sugar and insulin spikes that you would normally get from carb laden foods. These chocolate chip cookies are made using almond flour, and only have about 2.5 grams net carbs per cookie. Compare this to your typical chocolate chip cookie, which has about 15 grams.
Step-by-step: how to make low carb chocolate chip cookies

I typically use powdered erythritol for all of my low carb baking. I buy granulated erythritol and then use my Nutribullet to pulverize the granules into very fine powder. I find that the powdered version is more easily absorbed into mixtures and batters for baking. If you're not familiar with erythritol, here's a quick summary: erythritol is a sweetener that doesn't affect blood sugar or insulin, and your body is unable to digest it, making it perfect for anyone doing low carb or ketogenic baking. It's my go-to sweetener these days, and I most recently used it to make a low carb cranberry sauce.
Choose your baking surface wisely. I recommend using parchment paper or a nonstick baking mat for best baking results. There's a great article that describes how to get perfectly browned cookies. You can use the same ingredients, the same baking time, the same baking temperature, and still get vastly different results depending on your baking pan. For this recipe, the baking temperature and time has been optimized for ideal cookie browning assuming that you're using parchment paper or a baking mat.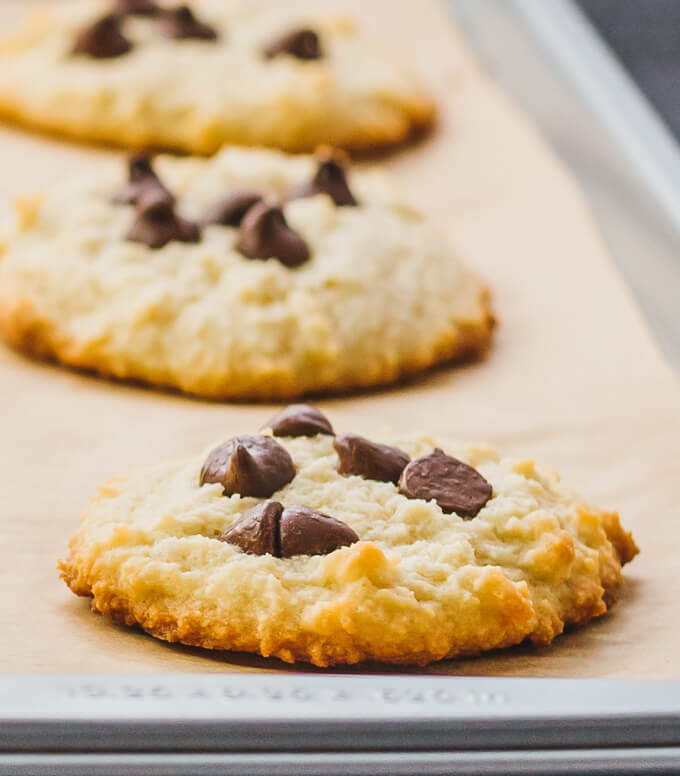 The majority of the carbohydrates in these cookies come from the chocolate chips, which is why I only include a limited amount of them. I list the amount in weight and not volume, and recommend using a food scale to make sure you don't accidentally add too much and end up going over your daily carb limit. I use semi-sweet chocolate chips and I suggest that you use darker chocolate chips if you have them. That way, there's less sugar in them, which means you can add more chocolate chips for the same number of carbs.
If you don't finish these cookies off immediately, you can easily store the leftovers. Place the cookies in a zip-top bag and refrigerate. They taste great when cold and straight out of the fridge — they harden a bit when refrigerated, which is a plus if you like harder cookies.
This recipes makes a small batch of cookies — just a dozen. You can easily double or triple the recipe to make a big batch to last throughout the week. I love making a big batch over the weekend so that I have a healthy sweet snack that I can easily grab to-go any day of the week.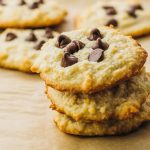 Best low carb chocolate chip cookies
These low carb chocolate chip cookies are healthy, keto friendly, and incredibly easy to make.
Instructions
Prepare a parchment paper lined baking tray or baking mat, large enough to fit 12 cookies that are each about 3 inches in diameter.

Combine erythritol and butter in a mixing bowl. Use a hand mixer to beat until smooth and creamy.

Add egg and vanilla extract to the mixture, beating until incorporated.

Add baking soda, salt, and almond flour. Beat until well-mixed and smooth.

Preheat the oven to 325 F.

Divide the mixture into 12 equal piles and place them on the parchment paper, separated by a few inches. Each pile is about 1-2 tablespoons of mixture.

Evenly distribute chocolate chips on top of the cookie piles, slightly pressing them in.

Bake at 325 F until the edges of the cookies are golden, about 12 minutes. The cookies will be very soft when they come out of the oven. Let them cool before removing from parchment paper.
Recipe Notes
This recipe yields 2.5 g net carbs per serving (1 cookie). Nutrition information does not include erythritol because it cannot be digested by the body.
Nutrition Facts Per Serving
| | |
| --- | --- |
| Calories 140 |   |
| Total Fat 12g | 19% |
|    Saturated Fat 3g | 17% |
|    Trans Fat 0g |   |
| Cholesterol 25mg | 8% |
| Sodium 110mg | 5% |
| Potassium 90mg | 3% |
| Total Carb 4g | 1% |
|    Dietary Fiber 1.5g | 6% |
|    Sugars 2g |   |
| Protein 4g |   |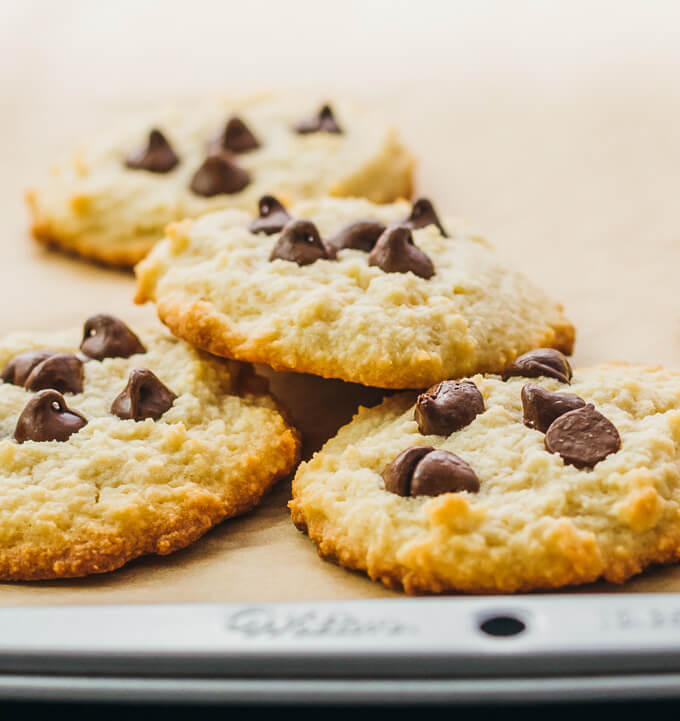 LOW CARB & KETO COMMUNITY
Join our support group on Facebook.
Visit Group