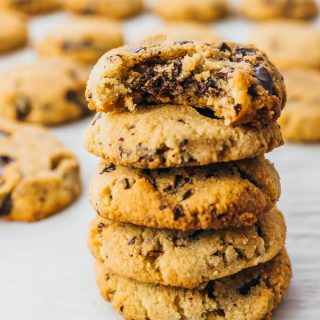 Keto Chocolate Chip Cookies (Low Carb Recipe)
INGREDIENTS
2

cups

blanched almond flour

1

large egg

4

ounces (weight)

sugar-free chocolate, finely chopped (about 1 cup)

(I use Lily's brand)

1/2

cup

powdered erythritol sweetener

1/4

cup

unsweetened almond milk

3

tablespoons

salted butter, softened to room temperature

1

teaspoon

vanilla extract

1/2

teaspoon

baking soda
INSTRUCTIONS
In a mixing bowl, use an electric hand mixer to beat the egg until well-mixed, 1-2 minutes on low. Add softened butter, erythritol, and vanilla extract, then beat together for 1-2 minutes.

In a separate bowl, combine almond flour and baking soda, stirring until well-mixed.

Combine wet and dry ingredients and beat together until just starting to form a cohesive dough. Add almond milk and stir with a wooden utensil until the dough absorbs the milk and becomes moist.

Stir chocolate chunks into the dough until evenly distributed. Refrigerate the dough for about 20 minutes.

Shape the dough into 20 balls about 1-2 inches in diameter, using your hands to roll them into smooth balls.

Place them on the pan 1-2 inches apart from each other. Flatten the balls into cookie shapes.

Bake at 350 F until the cookies start turning lightly brown on top, about 20 minutes. Start monitoring after 15 minutes of baking and remove when done.

The cookies will be soft when they come out of the oven so let them cool for 10 minutes before serving.
NUTRITION
Makes 20 Servings
Amount Per Serving (1 cookie):
| | |
| --- | --- |
| Calories 110 (81% from fat) | |
| Total Fat 10g | 15% |
| Saturated Fat 3g | 14% |
| Cholesterol 14mg | 5% |
| Sodium 20mg | 1% |
| Net Carb 1.5g | |
| Total Carb 5g | 2% |
| Dietary Fiber 3.5g | 14% |
| Sugars 0.5g | |
| Protein 3g | |
Nutrition information does not include erythritol, which cannot be digested by the body. This also assumes Lily's brand of dark chocolate (4g net carbs per 40g serving), which is 55% cocoa and has no sugar added.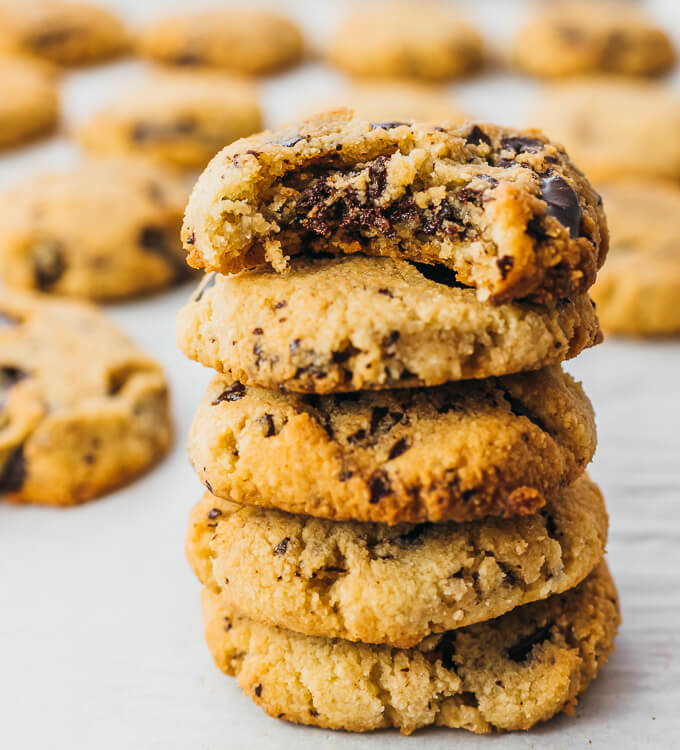 Whether you have sweet cravings every now and then, or you're looking for a quick healthy snack to grab any time of the day, these low carb chocolate chip cookies will satisfy them both. The dough is made using almond flour, and can be easily adapted for a paleo diet by replacing one of the dough ingredients — butter — with coconut oil.
The texture of the cookies is chewy and soft, with a slight springy texture, but with a firm base so it doesn't crumble. The recipe doesn't skimp on chocolate — that would be blasphemous — so you'll find that every bite comes with a densely chocolate taste.
Making keto chocolate chip cookie dough: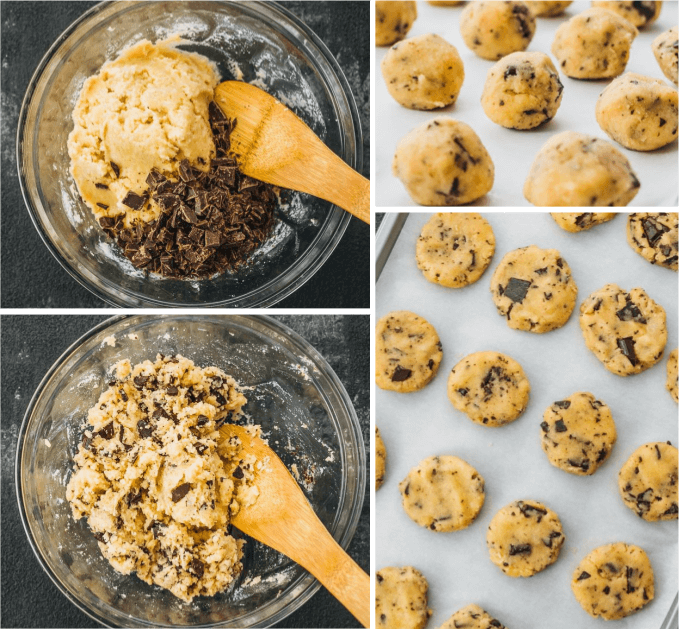 I've been tinkering with this recipe for the past couple of months to make the best possible keto chocolate chip cookies. This current recipe has a proportion of ingredients that yields a great cookie dough that can hold densely packed chocolate, with a taste, appearance, and texture similar to that of flour cookies. Compared to an earlier version of these cookies, one of the main changes was adding a small amount of unsweetened almond milk, which yields a more moist dough.
I use powdered erythritol for all of my keto dessert recipes, most recently when making low carb pumpkin cheesecake bars and keto peanut butter cups. Erythritol is a sweetener that doesn't affect blood sugar or insulin, and your body is unable to digest it, making it ideal for anyone doing low carb or keto baking. If you substitute it with another sweetener, note that erythritol is only about 70% as sweet as table sugar, so you'll need to adjust the amount of sweetener for the same effect.
I buy granulated erythritol online and then use my Nutribullet to pulverize the granules into very fine powder. I find that the powdered version is more easily absorbed into mixtures and batters for baking. You can also buy powdered erythritol directly under the brand name Swerve, but note that Swerve is a 1:1 replacement for table sugar unlike pure erythritol, so you'll need to adjust the amount used as appropriate.
You can use whichever type of chocolate that you prefer — 40% milk chocolate, 50-70% dark chocolate, or even 100% cacao if you're up for it. Just know that the nutrition information will depend on the kind that you use. I use Lily's brand of sugar free 55% dark chocolate (sweetened with stevia and erythritol) which only has 4g net carbs per 40g serving. You can buy their chocolate bars at Whole Foods. If you like extra dark cookies, you can use 100% cacao bars from the brand Bakers, which is pure chocolate with no sweeteners added (this will result in nutritional information similar to Lily's).
You can also follow this recipe to make your own low carb chocolate.
The chocolate should be chopped up finely, similar to the size of chocolate chips, so that you can more evenly incorporate them into the dough. It also makes it easier to form cookie shapes without large chocolate chunks jutting out. I like to use a variety of sizes — some smaller than chip size, some larger — so that every once in awhile you get a large bite of dense chocolate goodness.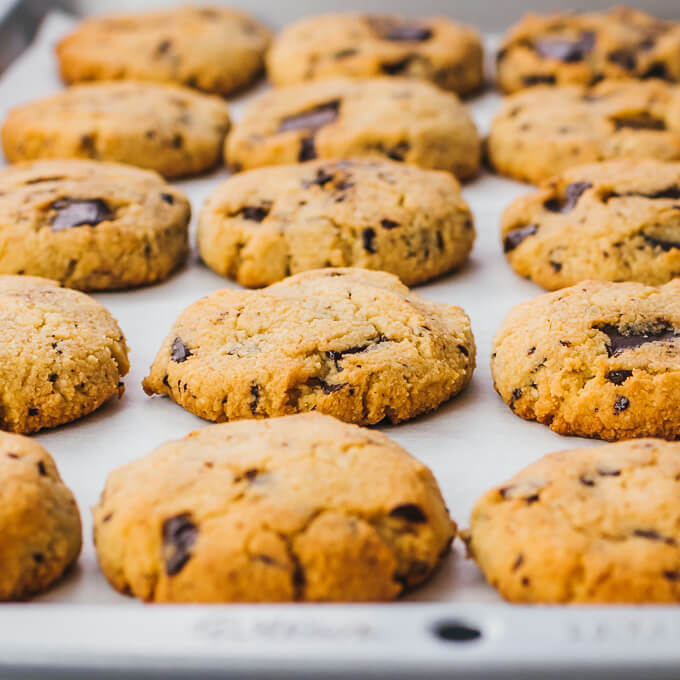 These chocolate chip cookies hardly spread out when they bake. Their shape and size after baking is about the same as it is before. The only difference is their lightly brown color and slightly puffier appearance. Accordingly, you'll want to make sure that you mold the dough to your desired shape and smooth out any rough edges.
These cookies are amazing fresh out of the oven. Still warm, soft and gooey with chocolate. For cooled cookies, microwave them for 10-15 seconds or until warmed for a similar effect. You can store leftovers in a covered container at room temperature.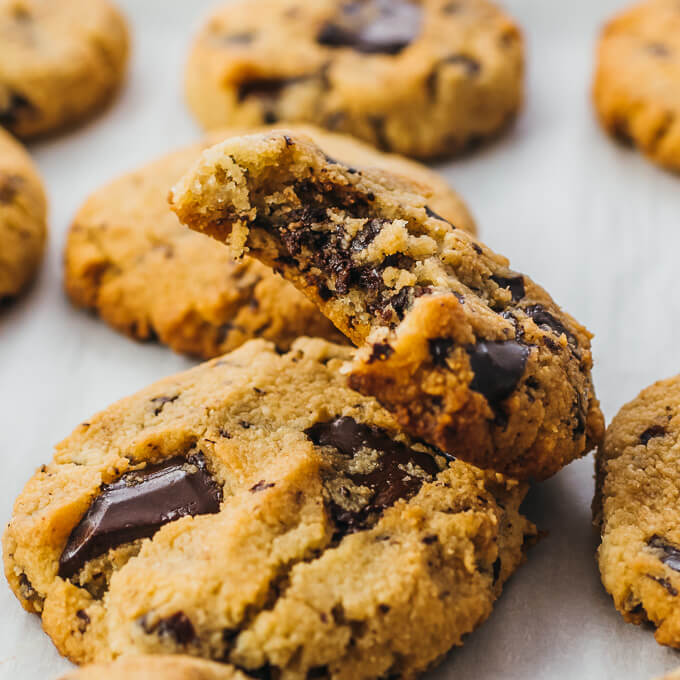 MORE LOW CARB & KETO DESSERTS: