Summary:
This easy breakfast casserole features chunks of savory sausage, hash browns, colorful vegetables, eggs, and cheddar cheese. Save time in the morning by preparing this dish the day before.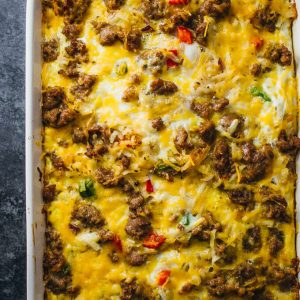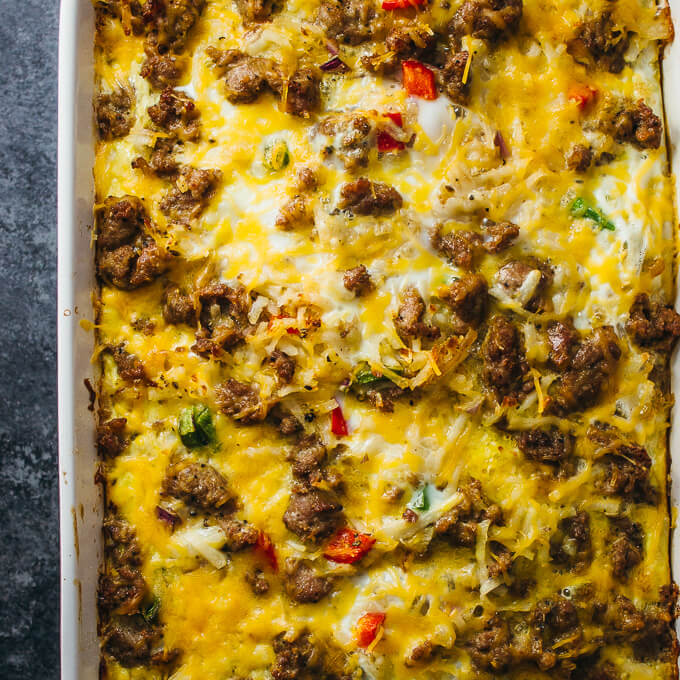 Sausage Breakfast Casserole
INGREDIENTS
2

pounds

raw pork sausage, casings removed

20

ounces

frozen shredded hash browns

3

cups

mixed chopped vegetables (Note 1)

12

large eggs, beaten

1

cup

whole milk

1

cup

shredded cheddar cheese

3/4

teaspoon

table salt

1/4

teaspoon

ground black pepper
INSTRUCTIONS
Cook Hash Browns: Working in batches, heat hash browns on large oiled pan over medium heat. Cook until browned, 5 to 10 minutes. Transfer hash browns to baking dish, and set aside.

Cook Sausages: Add pork sausages to now-empty pan over medium heat, and use stiff utensil to break apart and crumble sausages. Cook until browned, about 10 minutes. Transfer sausages to baking dish, excluding any liquid in pan. Stir sausages with hash browns and vegetables in baking dish.

Make Liquid Mixture: In large mixing bowl, stir together eggs, milk, salt, and pepper until mixed. Pour mixture into baking dish, or keep separate if making ahead of time (Note 2).

Bake & Serve: Bake casserole at 350 F until eggs are set, about 45 minutes. Top with remaining cheddar cheese. Let cool before serving (Note 3).
NUTRITION
Makes 8 Servings
Amount Per Serving:
| | |
| --- | --- |
| Calories 730 (65% from fat) |   |
| Total Fat 53g | 81% |
|    Saturated Fat 18g | 89% |
| Cholesterol 394mg | 131% |
| Sodium 1600mg | 67% |
| Net Carb 25g |   |
| Total Carb 27.5g | 9% |
|    Dietary Fiber 2.5g | 10% |
|    Sugars 6g |   |
| Protein 37g |   |
PHOTOS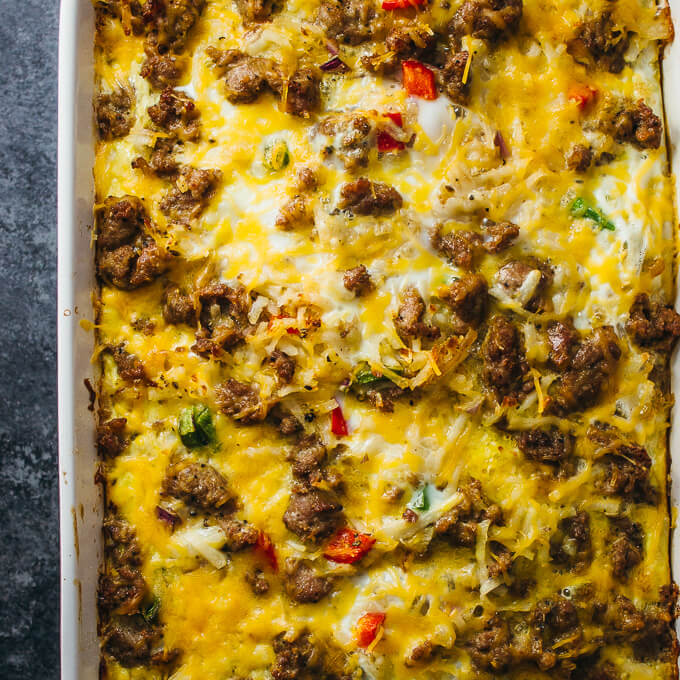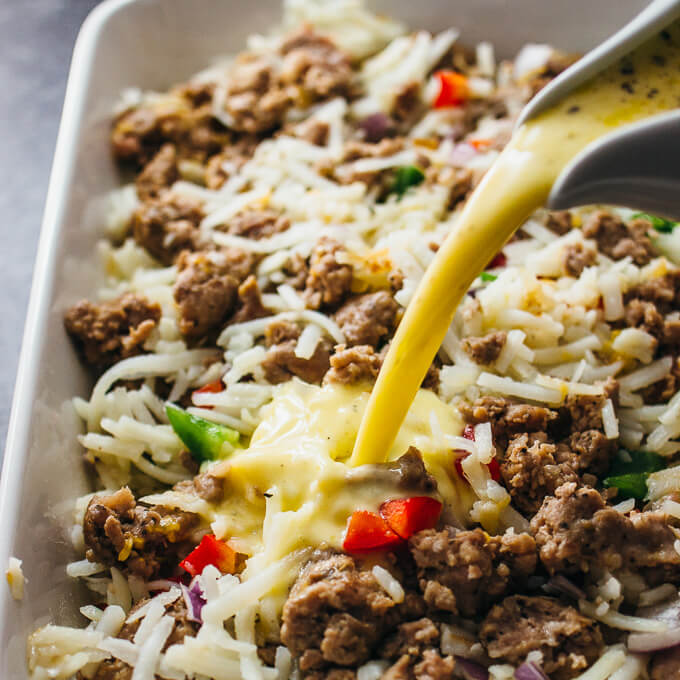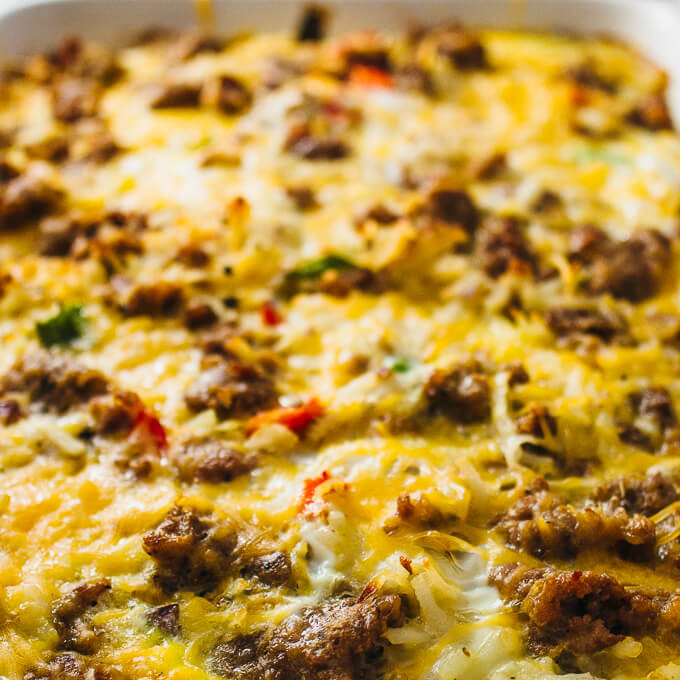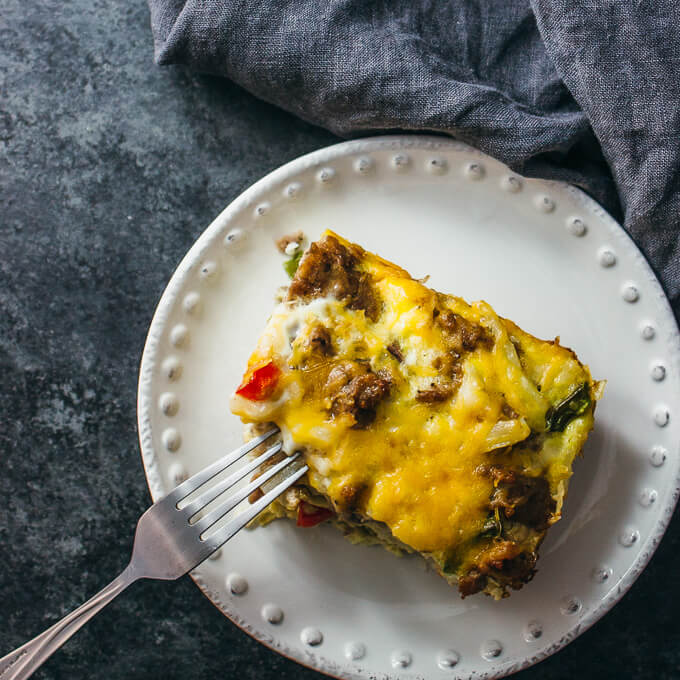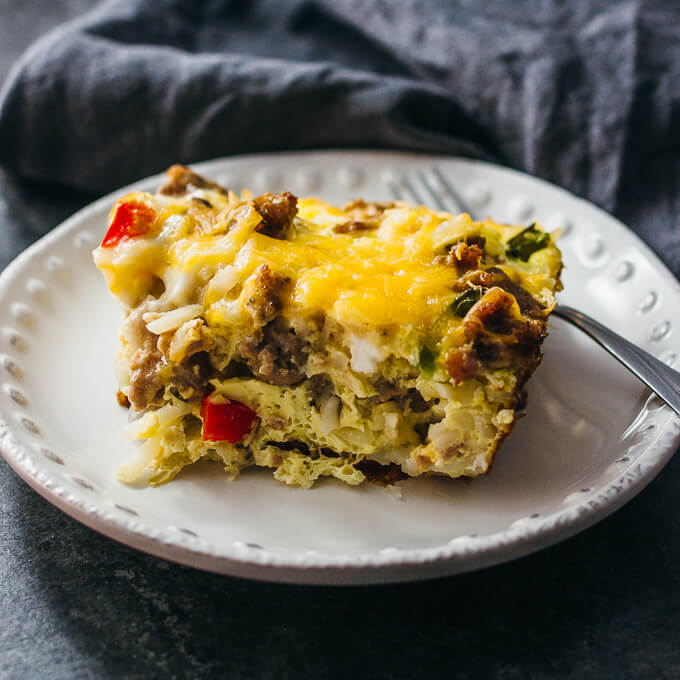 NOTES & TIPS
(1) Mixed Vegetables. You may use a variety of chopped mixed fresh vegetables — anything that sounds like it would be tasty in an egg-based breakfast casserole. It's also a great way to use up leftover vegetables in the refrigerator. I typically use 1 red bell pepper, 1 green bell pepper, and 1 small red onion.
(2) Making Ahead Of Time. This recipe can be prepared the night before to expedite the cooking process in the morning. Keep the browned sausage, cooked hash browns, and chopped vegetables in the baking dish separate from the egg mixture. Both should be covered and stored in the refrigerator overnight. In the morning, pour the egg mixture into the baking dish and bake according to the recipe's instructions. Watch the baking time — it may take a little longer than the recipe states because the sausage and hash browns will be cold.
(3) Serving / Leftovers. The breakfast casserole will be too hot to eat immediately after baking. Let it cool a bit before slicing and serving. Enjoy this breakfast casserole alongside oven-baked bacon, toast, cheesy biscuits, or a mixed berry salad. Leftovers can be stored in the refrigerator for up to 2 days, and reheated in the oven.