Summary:
This Crab Louie is an easy and refreshing seafood salad with lump crab meat, lettuce, avocado, tomato, and hard boiled eggs. It's tossed with a homemade Louie dressing that tastes like a spiced-up Thousand Island dressing. Check out more Low Carb and Keto Salads.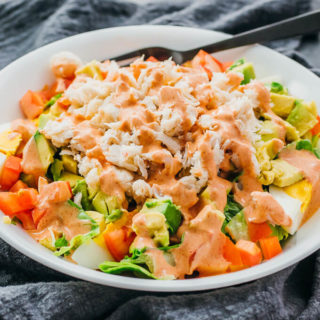 Crab Louie (Seafood Salad Recipe)
INGREDIENTS
1/2

pound

lump crab meat

1

(6-ounce)

heart romaine lettuce

cut lengthwise in half then crosswise into 1/2 inch thick strips

3

hard boiled eggs

2 cut into wedges and 1 chopped

1

large roma tomato

chopped

1

large avocado

chopped
Louie Dressing:
1/2

cup

mayonnaise

1/4

cup

ketchup (I use Heinz sugar free ketchup)

1

tablespoon

lemon juice

1

teaspoon

paprika

1/2

teaspoon

cayenne

1/2

teaspoon

salt
INSTRUCTIONS
Stir together all dressing ingredients until smooth. Set aside.

Arrange a bed of lettuce on two salad plates.

Top with crab, eggs, tomatoes, and avocados.

Leave dressing on the side, or drizzle on top of the salad. Cover and refrigerate until ready to serve.
NUTRITION
Makes 2 Servings
Amount Per Serving:
| | |
| --- | --- |
| Calories 830 (75% from fat) | |
| Total Fat 70g | 107% |
| Saturated Fat 8g | 41% |
| Cholesterol 420mg | 140% |
| Sodium 1870mg | 78% |
| Net Carb 7g | |
| Total Carb 16g | 5% |
| Dietary Fiber 9g | 36% |
| Sugars 5.5g | |
| Protein 35g | |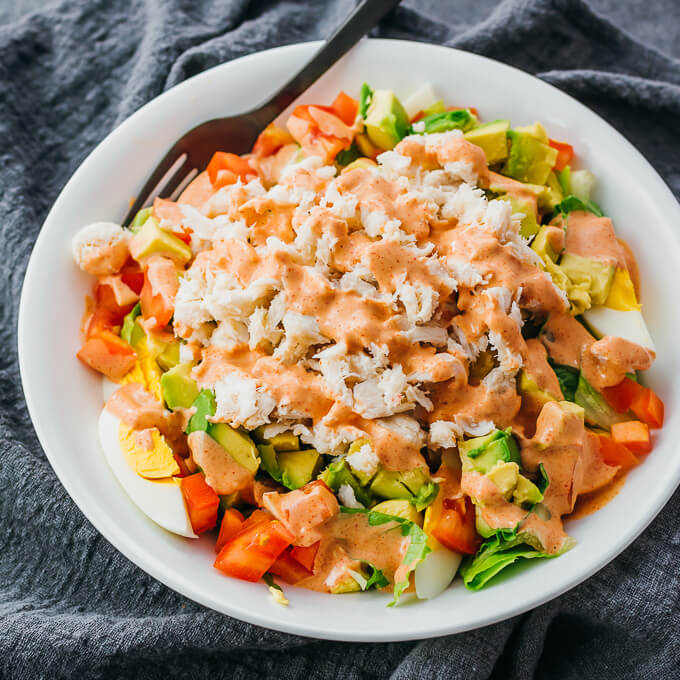 What Is Crab Louie?
Also known as Crab Louis, a Crab Louie salad is a type of crab salad dating back to the early 1900s. It's most popular on the U.S. West Coast, and thought to have originated in San Francisco.
There are a lot of variations of this salad. It's typically made with dungeness crab, but can also be substituted with imitation crab meat, and is often served with tomatoes and hard boiled eggs over a bed of lettuce.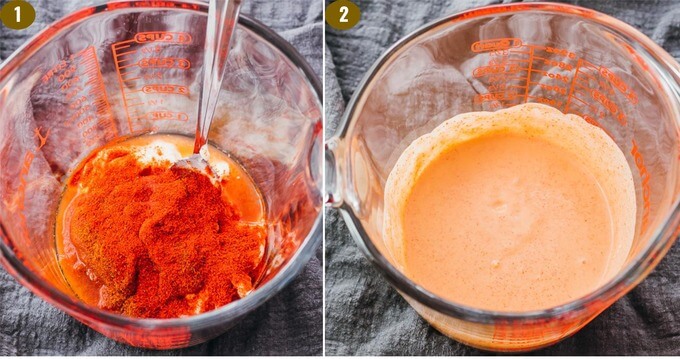 Louie Dressing & Its Substitutions
I make my own Louie dressing, which tastes like a spiced-up Thousand Island dressing. It's made with mayonnaise, ketchup (I use Heinz's sugar free ketchup), lemon juice, paprika, and cayenne.
You can easily adjust the dressing to your liking. Swap the ketchup for shrimp cocktail sauce, or add a dash of your favorite hot sauce. Basically, you want a creamy orange sauce that's both spicy and tangy.
Don't want to make your own sauce? No problem. Just use store-bought Thousand Island or Green Goddess dressing.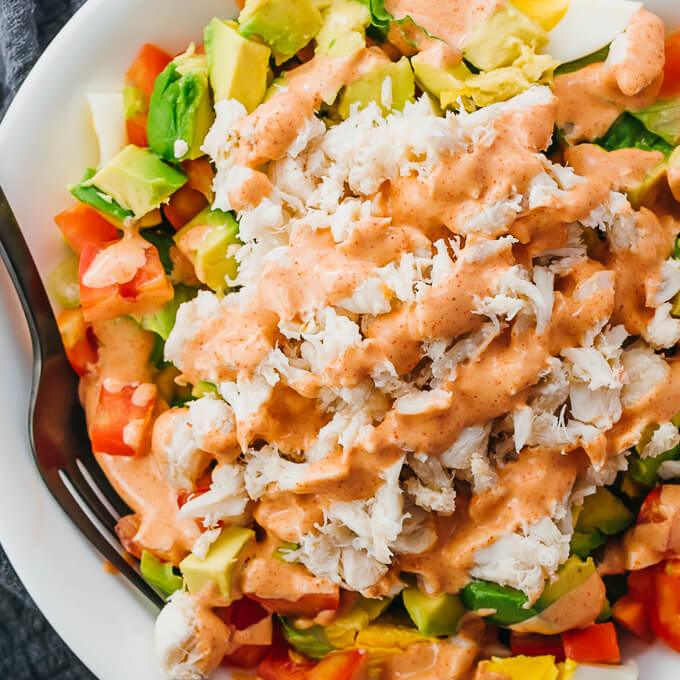 Tips For Selecting & Preparing Crab Meat
This salad is perfect if you have access to fresh crab meat. If you don't, you can use either canned lump crab or imitation crab meat.
If you use canned meat, note that the weight listed on the can usually includes the packaged water, which could be up to half of the weight of the entire can. So if you buy an 8 ounce can of lump crab, it might only contains 4 ounces of meat, so you'll need 2 of those cans for this recipe.
Also, avoid using canned crab meat that's waterlogged. Make sure you thoroughly drain the crab meat before assembling the salad. Otherwise, the dressing will get watered down by the excess liquid and the salad will taste soggy.
More Seafood Dinner Ideas