Summary:
This easy casserole recipe has all of the flavors of traditional Mexican chile rellenos, but skips the breading and frying. For more low carb and keto dishes, visit Vegetarian Main Recipes.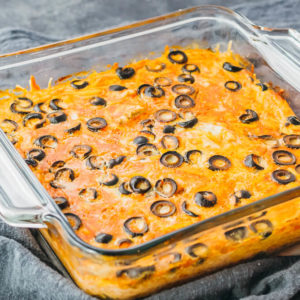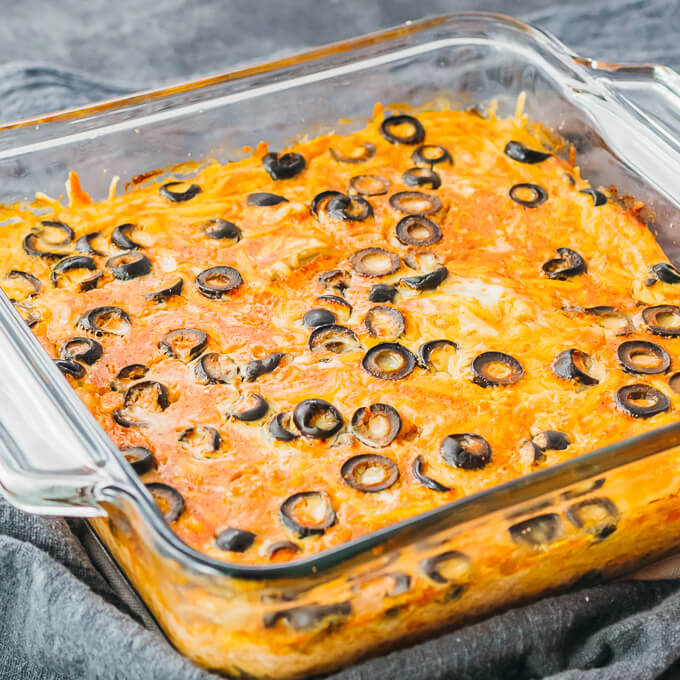 INSTRUCTIONS
Drain the chile and olive cans. Slice each chile open lengthwise, and pat dry with paper towels.

Lay half of the chiles along the bottom of the baking dish. Distribute half of each cheese on top.

In a bowl, beat eggs and enchilada sauce until well-mixed. Evenly pour about half of the sauce over the cheese in the baking dish.

Lay remaining chiles on top of the sauce. Distribute remaing cheese. Scatter the olives on top. Evenly pour remaining sauce on top.

Bake uncovered at 350 F until the surface is set and the casserole is cooked through, about 40 minutes. Let it rest for 10 minutes before slicing.
NUTRITION
Makes 4 Servings
Amount Per Serving:
| | |
| --- | --- |
| Calories 340 (64% from fat) | |
| Total Fat 24g | 37% |
| Saturated Fat 11g | 56% |
| Cholesterol 200mg | 67% |
| Sodium 1140mg | 48% |
| Net Carb 6g | |
| Total Carb 8g | 3% |
| Dietary Fiber 2g | 8% |
| Sugars 1.5g | |
| Protein 19g | |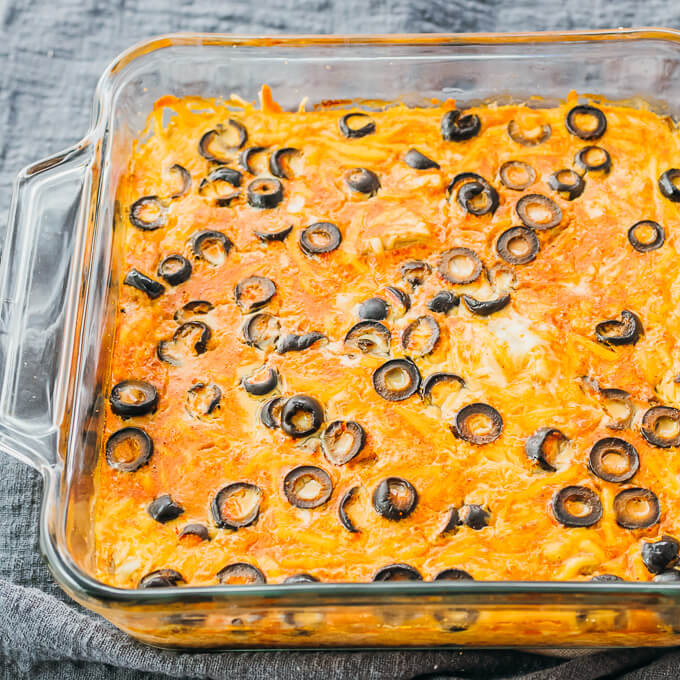 This casserole is like a deconstructed chili relleno, which means "stuffed chile" in Spanish, and consists of a poblano pepper stuffed with cheese and meat, coated with an egg batter or corn flour, and fried. It's often served with tomato based sauces.
My version is in the form of a casserole, which skips the frying and is simpler to make. I use canned green chiles, avoiding an additional step of pre-roasting raw peppers, and layer them with two kinds of shredded cheese (monterey jack and cheddar).  I use a batter made with red enchilada sauce and eggs, topping everything with sliced black olives.
The result is a savory and comforting dish that you can enjoy as a main course for dinner or even breakfast. Leftovers can be reheated the next day.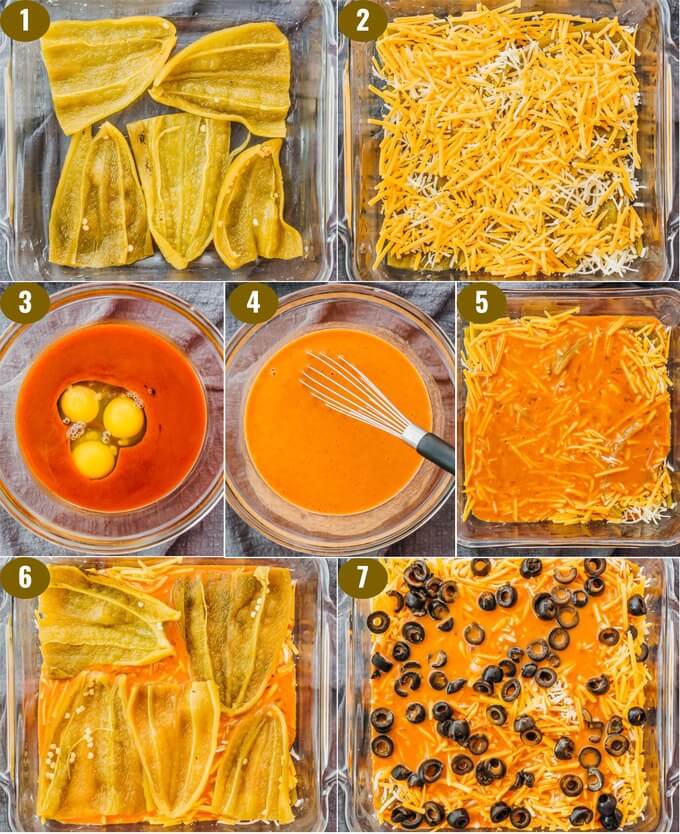 There are several canned ingredients in this recipe. When selecting green chiles, verify that the packaging says "whole" and not "diced." For reference, I use two 7-ounce cans by the Ortega brand. It's important to drain them well to avoid excess liquid in the casserole.
I use an enchilada sauce that's available in 10-ounce cans by the Casa Fiesta brand. It should be a red colored sauce, not green. An alternative to store-bought sauce is making your own enchilada sauce using tomato sauce, spices, and oil.
Lastly, I use sliced black olives that come in 2-ounce cans, but any variety will work so you can use your favorite kind. Just slice and scatter them over the casserole before baking.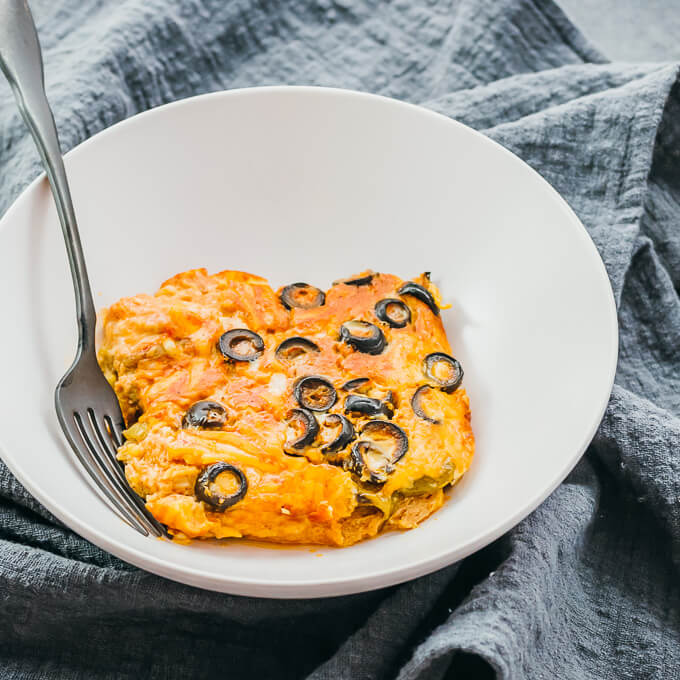 More Recipes For Mexican Inspired Food