Summary:
This is a low carb version of fried asparagus with a crunchy breading, made from parmesan cheese and almond flour, and served with a spicy mustard mayo dip. Easy to make on the stovetop or in a deep fryer.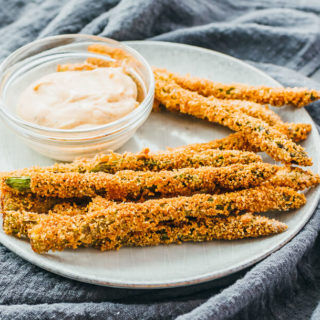 INGREDIENTS
Egg Wash:
1

large egg

1

tablespoon

heavy whipping cream
INSTRUCTIONS
Make Dip: Stir together all dip ingredients in small bowl until well-mixed. Refrigerate until ready to use.

Prep Asparagus: Trim asparagus spears by cutting off tough woody ends so that 6 inches of asparagus remains. Rinse and dry them.

Prep Breading Station: Whisk egg and heavy cream in bowl until combined and pale yellow, then pour into shallow plate large enough to hold asparagus spears. Stir together all breading ingredients in another shallow plate until well-mixed with no clumps. Prepare large tray lined with parchment paper to hold breaded asparagus (Note 5).

Bread Asparagus: Generously coat each asparagus spear in egg wash with one hand, then in breading with second hand until well-coated on all sides (Note 6). Gently shake off excess and transfer to prepared parchment paper.

Heat Oil: Using deep fryer or pan on stovetop, add enough oil so that asparagus can be fried on all sides. Heat oil to 350 F. If not using fryer with automatic temperature control, frequently monitor to maintain temperature during frying (Note 7).

Fry Asparagus: Fry breaded asparagus until golden brown, 3 to 5 minutes, then drain on paper towels. You may need to work in batches to avoid overcrowding. After frying, handle asparagus carefully so that breading stays intact. Serve hot with dip (Note 8).
NUTRITION
Makes 2 Servings (Note 9)
Amount Per Serving (5 fried spears):
| | |
| --- | --- |
| Calories 420 (86% from fat) |   |
| Total Fat 40g | 61% |
|    Saturated Fat 5g | 27% |
| Cholesterol 122mg | 41% |
| Sodium 830mg | 35% |
| Net Carb 3.5g |   |
| Total Carb 7g | 2% |
|    Dietary Fiber 3.5g | 14% |
|    Sugars 2g |   |
| Protein 9g |   |
PHOTOS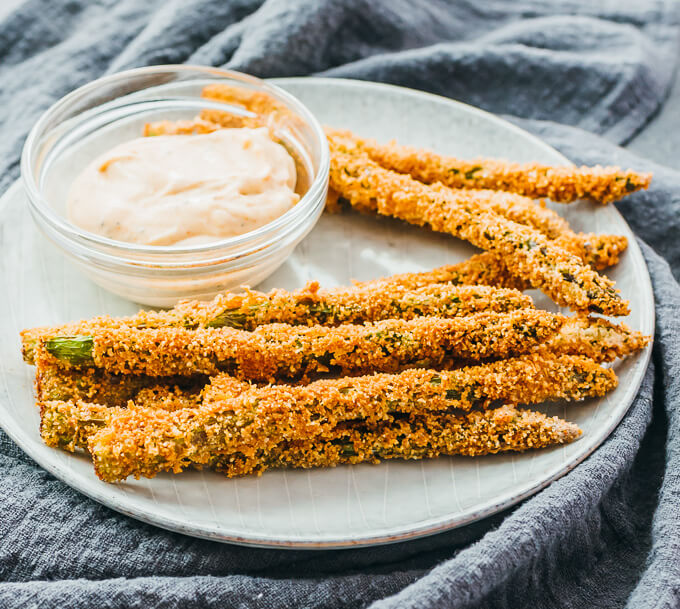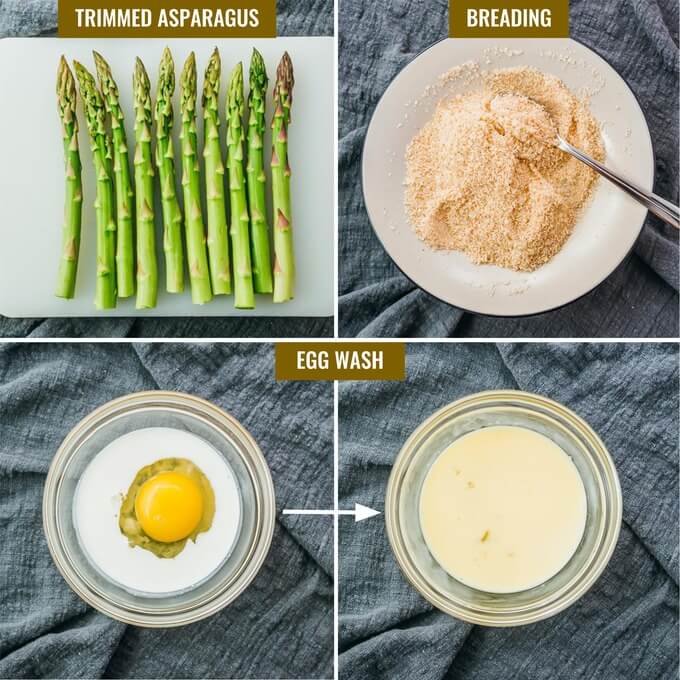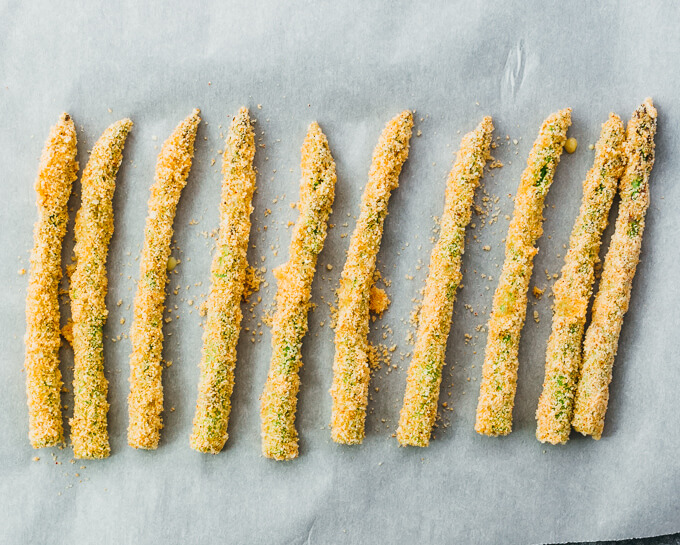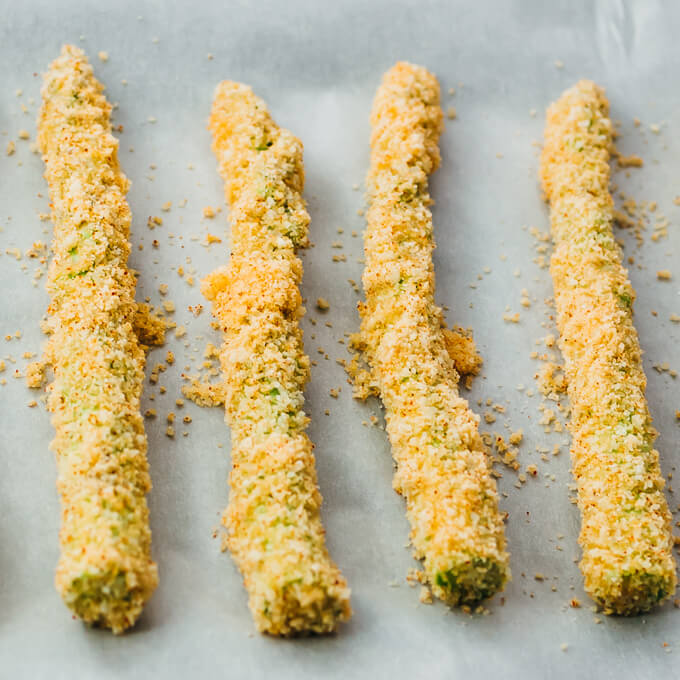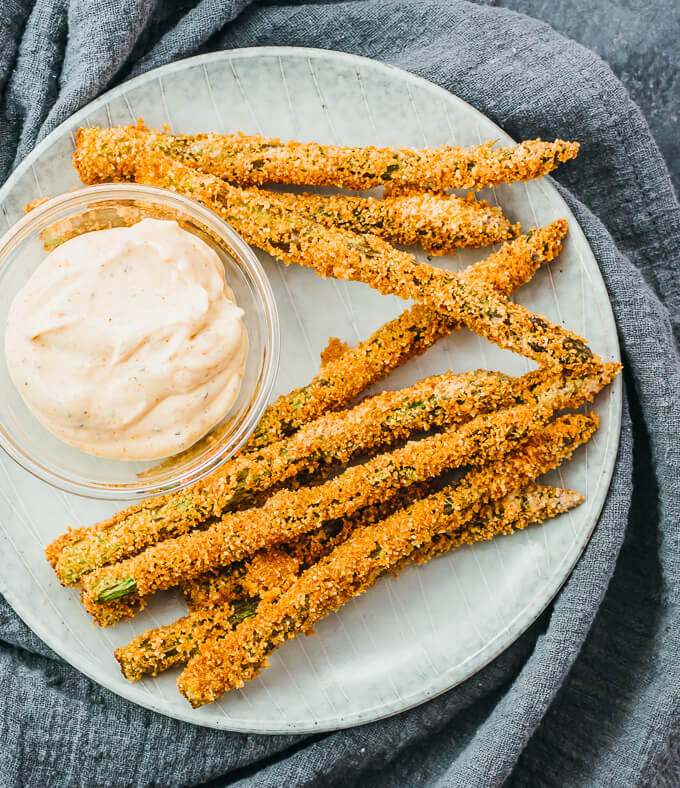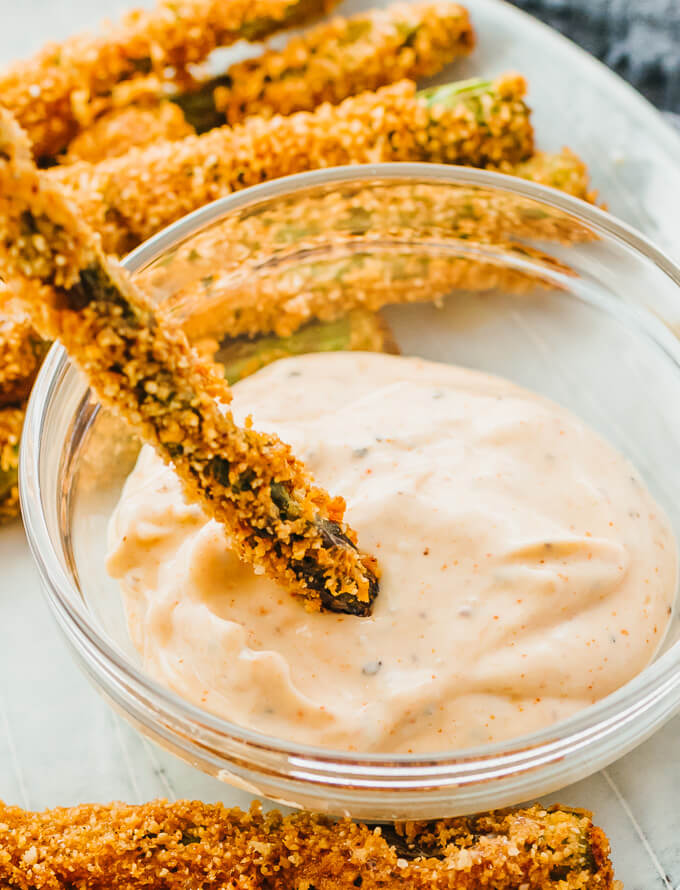 NOTES & TIPS
(1) Asparagus. I use fresh raw spears available in the produce area of grocery stores, not frozen or canned.
(2) Oil For Frying. Select an oil that (a) has neutral flavor and (b) can be heated to at least 350 F without burning — see Oil Smoke Points. Common frying oils include avocado oil, peanut oil, vegetable oil, canola oil, and sunflower oil. Note that you can re-use oil by filtering it through a fine-mesh strainer or coffee filter. In fact, re-used oil or a mix of old and new often results in crunchier fried foods due to broken-down oil making better contact with the food — see Cooks Illustrated article.
(3) Almond Flour. I use almond flour that is blanched, which means the skins are taken off of the almonds, so that the resulting flour looks white. This recipe hasn't been tested with other kinds of flours.
(4) Parmesan Cheese. This is the kind of parmesan that has a sandy or almost powdery texture. Don't use shredded cheese, which won't stick as easily to the asparagus.
(5) Tray With Parchment Paper. This is useful so that you can bread all of the asparagus at once. I use a baking half sheet. Wax paper or other nonstick surface would also work for lining. You can skip this step if you plan to place each breaded asparagus directly into the hot oil right after breading — it just makes it harder to keep track of how long each asparagus spear has been frying, since you're not putting them in simultaneously.
(6) Breading. To make the breading process less messy, use one hand for touching the breading and the other hand for touching the egg wash. Only one hand per plate. I prefer a single layer of breading to avoid overwhelming the asparagus flavor; that is, one coat of egg wash followed by one coat of breading. If you prefer a thicker breading, prepare 2x egg wash and breading ingredients, and repeat with a second coat of egg wash followed by breading.
(7) Without Deep Fryer. If you're making this without a deep fryer, use enough oil so that the asparagus spears can be fried on all sides. You'll likely need 1 to 2 inches of oil in your pan. Use an instant-read thermometer to check if your oil is around 350 F, and adjust the stovetop's heat as needed. Note that as you add food to the oil, the oil's temperature will initially decrease.
(8) Serving. Serve promptly while the fried asparagus is hot and crispy; leftovers don't keep well because the breading loses its crunchiness over time. I recommend serving with the spicy mustard mayo dip, or any other thick and creamy dip that will easily adhere to the fried asparagus.
(9) Nutrition. The estimate assumes all of the egg wash and breading ingredients are consumed. Oil used for frying is not included in the estimate.