Summary:
Make this one-pan parmesan and spinach frittata with chopped prosciutto and sliced bell peppers for a low carb, keto breakfast meal.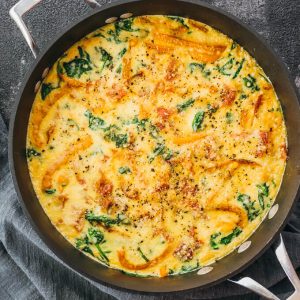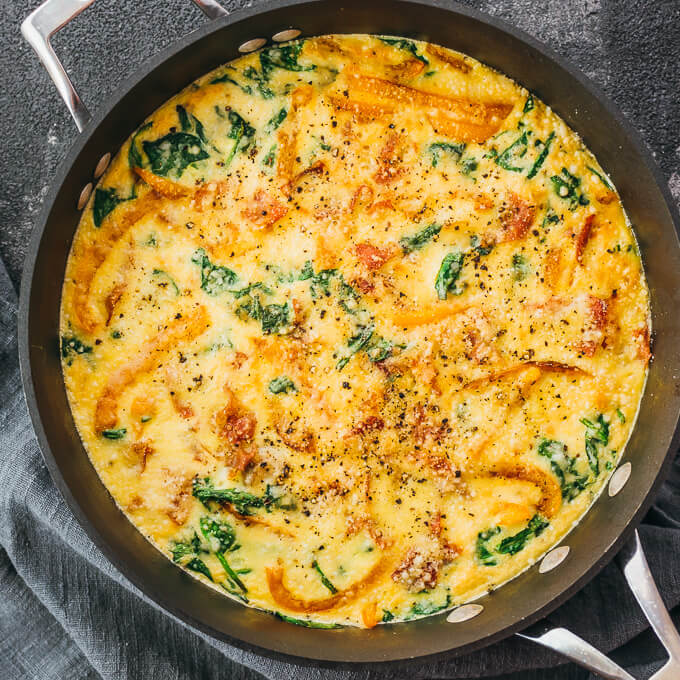 Spinach frittata with prosciutto and peppers
INGREDIENTS
8

large eggs

1

(6-ounce)

package baby spinach

roughly chopped

4

slices

prosciutto (2 ounces)

chopped into 1-2 inch pieces

1

orange bell pepper

sliced into short strips

3/4

cup

finely grated parmesan cheese (sandy consistency)

1/2

cup

heavy whipping cream

1

tablespoon

olive oil

1/4

teaspoon

coarsely ground black pepper

1/4

teaspoon

salt
INSTRUCTIONS
Combine eggs, heavy cream, half of the parmesan cheese, black pepper, and salt in a large mixing bowl. Whisk until well-beaten and set aside.

Prepare a 10-inch high-sided pan, safe for use in the broiler and with a lid. The sides should be high enough to hold all of the spinach.

Coat the bottom of the pan with olive oil, and add chopped prosciutto. Cook over medium heat until partially crispy, 5 to 10 minutes, stirring occasionally. Transfer to a large bowl, leaving the oil and grease in the pan.

Add bell pepper slices and cook until seared and soft, about 5 minutes, stirring occasionally. Transfer to the bowl with the prosciutto.

Reduce to medium-low heat. Add spinach to the pan and cook until just wilted, a few minutes, stirring almost constantly. Transfer to the bowl with the prosciutto. Turn off the heat.

Stir the egg mixture and pour into the pan. Add prosciutto, spinach, and bell pepper on top of the eggs, leaving any juices in the bowl. Evenly distribute them by briefly re-arranging with tongs. Gently push down on anything protruding out of the egg mixture.

Cover with a lid and cook over low heat until most of the surface is no longer liquid, about 15 minutes. When you give the pan a gentle shake, the center should be set and only the edges should be liquid. Remove the pan from heat.

Uncover and evenly distribute remaining parmesan cheese on top. Sprinkle additional black pepper.

Turn on the broiler. Place the frittata in the middle of the oven and broil until the surface is completely set and the cheese is bubbling, 5 to 10 minutes. Frequently monitor so that the frittata doesn't overcook.

Let cool for a few minutes before using a spatula to loosen the sides, then cut into wedges and serve.
NUTRITION
Makes 4 Servings
Amount Per Serving:
| | |
| --- | --- |
| Calories 410 (69% from fat) | |
| Total Fat 31g | 48% |
| Saturated Fat 15g | 77% |
| Cholesterol 434mg | 145% |
| Sodium 770mg | 32% |
| Net Carb 4g | |
| Total Carb 5.5g | 2% |
| Dietary Fiber 1.5g | 7% |
| Sugars 3.5g | |
| Protein 24g | |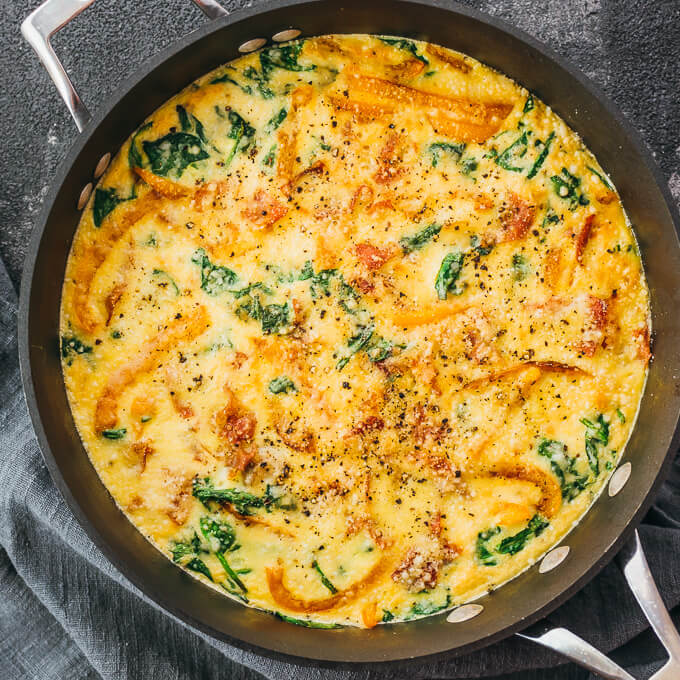 This rich spinach frittata is packed with sliced bell peppers and fried prosciutto, with a strong taste of parmesan cheese. If you've had frittatas before, you'll know that a proper frittata should be very soft with the texture of custard. The center should be wobbly and barely set, and the texture should taste silky and creamy. However, it's all too easy to over-cook a frittata, and you'll know when it happens — the frittata will taste and look like a kitchen sponge. Rubbery, chewy, and dry.
You can make this frittata for breakfast or lunch on the weekends, or for a special holiday brunch with family. I enjoy it for any meal and I actually will make it for dinner when I'm looking for something quick and easy. It's a one pan deal so there's minimal cleanup, and you can easily incorporate any leftover veggies in your refrigerator.

This spinach frittata was inspired by a recent meal that I enjoyed over the holidays, prepared by Mr. Savory Tooth's mom. She was conscious of the fact that we were eating low carb foods and made a delicious dish with soft eggs, prosciutto, spinach, and bell pepper. Using that combination of ingredients, I experimented and developed this frittata recipe that's mainly cooked on the stovetop followed by a brief broiling stint in the oven.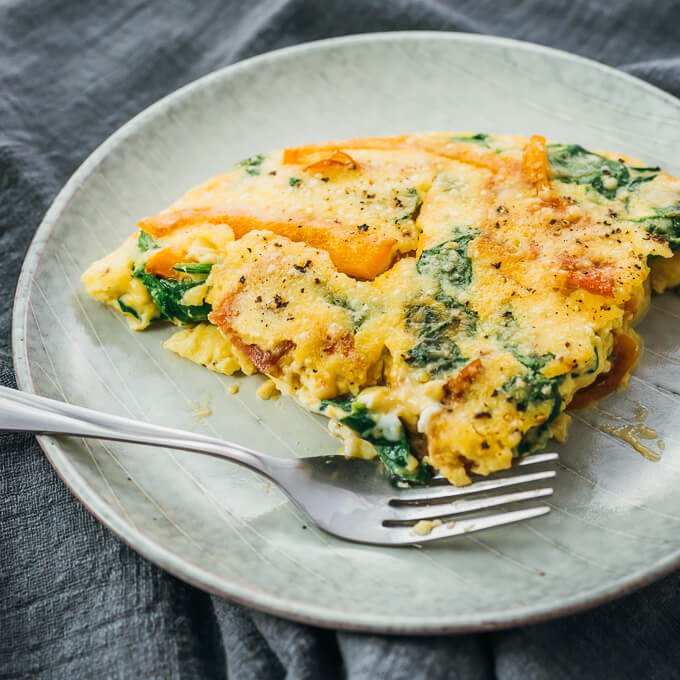 I love the fact that this frittata has prosciutto in it. In addition to bringing great flavor, it also means you don't need to add much salt since the prosciutto comes with a fair amount of sodium. There's only 2 ounces of prosciutto used in this recipe, compared to 6 ounces of spinach. If you prefer your frittata with less spinach and more prosciutto, you can alter the ratio to 3 ounces of prosciutto and 5 ounces of spinach.
There's a fair bit of moving ingredients around in this recipe. I recommend using tongs so that ingredients can be transferred without also scooping up oil and liquid as you might with a spoon or other utensil.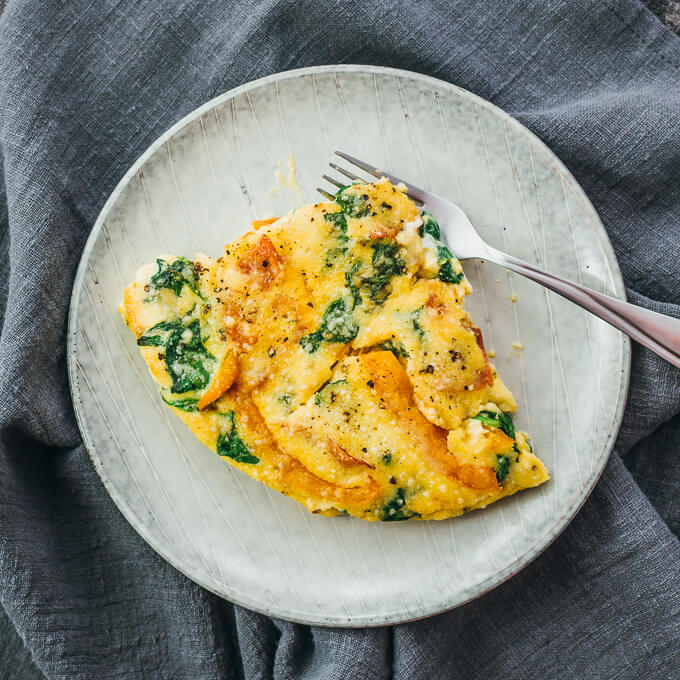 If you're serving this for brunch, I also recommend making low carb biscuits to round out your menu.
Leftovers reheat best on a pan over medium-low heat until warmed through.
MORE DELICIOUS FOOD FOR BRUNCH: