Summary:
Pressure cookers are your friend when it comes to making anything soft and tender, like soups and stews. This split pea soup is thick and creamy, with texture akin to potato soup, and is a convenient dump-and-go recipe. The green peas, onions, and celery are easily broken down by pressure cooking, adding to the soup's viscosity. Vegetarians and vegans can enjoy this soup as-is; meat lovers can add ham or bacon.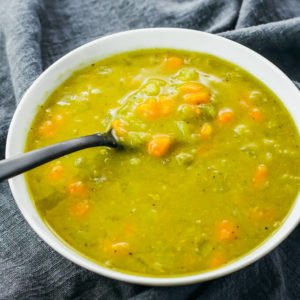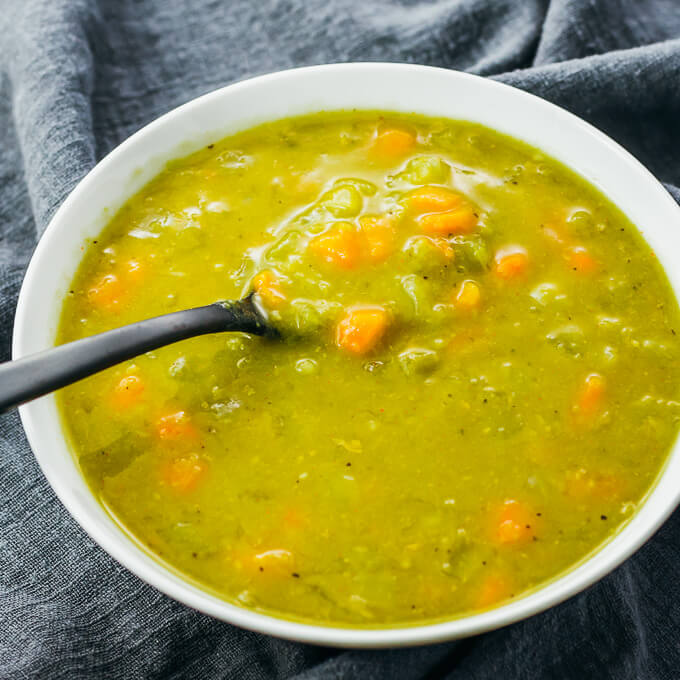 Instant Pot Split Pea Soup
INGREDIENTS
1

pound

split green peas, rinsed (Note 1)

7

cups

water or broth (Note 2)

1.5

cups

diced onions (1/2 onion; Note 3)

1

cup

diced carrots

(3 carrots)

1

cup

diced celery

(3 stalks)

3

cloves

garlic, minced

1

teaspoon

smoked paprika (Note 4)

1

teaspoon

table salt

1/2

teaspoon

ground black pepper
optional meat or potatoes (Notes 5-6)
INSTRUCTIONS
Pressure Cook: Secure and seal lid. Cook at high pressure for 15 minutes, followed by 15 minute natural release (Note 8). Then turn pressure knob to venting position to release any remaining pressure.
NUTRITION
Makes 10 Servings
Amount Per Serving (1 cup):
| | |
| --- | --- |
| Calories 170 (3% from fat) |   |
| Total Fat 1g | 1% |
|    Saturated Fat 0g | 0% |
| Cholesterol 0mg | 0% |
| Sodium 260mg | 11% |
| Net Carb 17.5g |   |
| Total Carb 30g | 10% |
|    Dietary Fiber 12.5g | 51% |
|    Sugars 5g |   |
| Protein 11g |   |
PHOTOS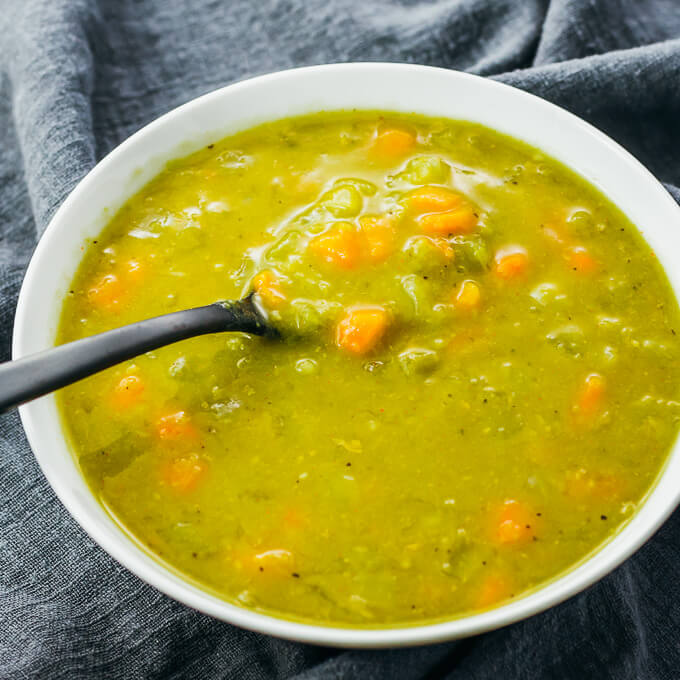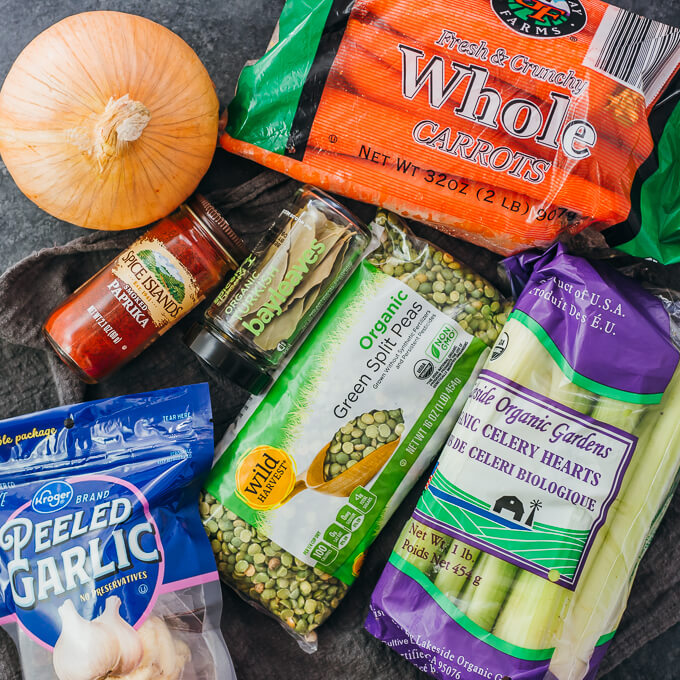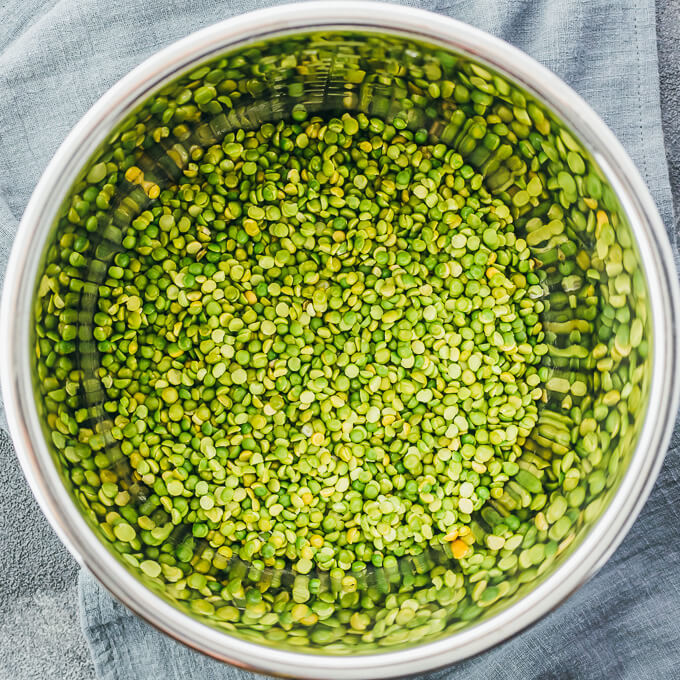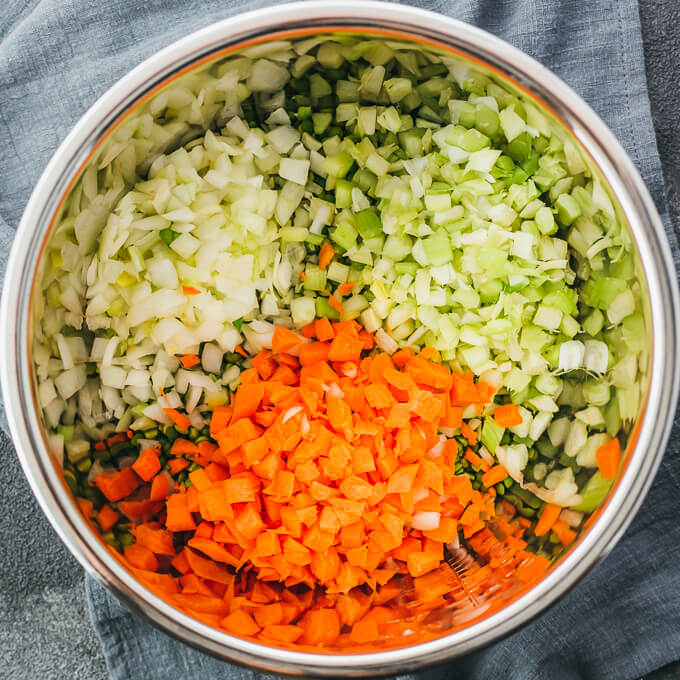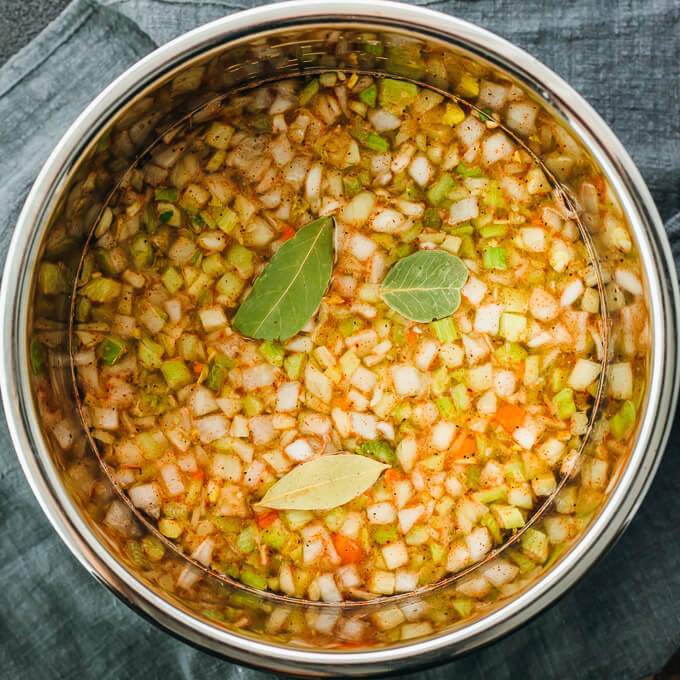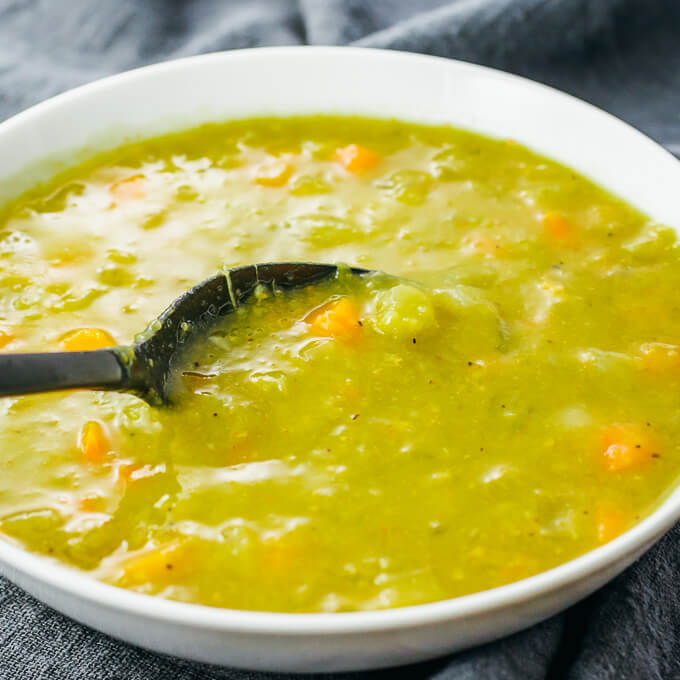 NOTES & TIPS
(1) Split Green Peas. These are dried peas with the skin removed, then split in half. Split green and yellow peas are interchangeable in this recipe, with a slight difference in flavor. Before cooking, sort the peas by sifting them with your fingers and discarding any pea pod fragments or dirt.
(2) Water / Broth. In my tests, there was no noticeable flavor difference between using water or broth. I use water for convenience, but some readers prefer using vegetable broth or chicken broth. I've also experimented with various liquid levels ranging from 6 to 8 cups. With 6 cups, the resulting soup was too thick, almost like a split pea puree. With 8 cups, it was too thin and watery. I found that 7 cups of liquid is ideal. You can adjust this amount if you prefer your soups to be on the thicker or thinner side.
(3) Mirepoix Option. Save time on preparing the onions, carrots, and celery stalks by buying mirepoix, which is a pre-diced package of those vegetables. I sometimes use a 14 ounce tub of mirepoix from Trader Joe's, which is the equivalent of half an onion, 3 carrots, and 3 celery stalks.
(4) Paprika. This contributes extra flavor and a slight heat to the soup. There are multiple varieties of paprika; I recommend smoked paprika or Spanish paprika, which are more strongly flavored than the mild basic supermarket paprika.
(5) Meat Option. Add leftover diced ham, ham bone, diced bacon, or pancetta. The meat can be added to the pressure cooker at the same time as the other ingredients, with no changes to the cooking time. Remove any bones before serving. I think this soup tastes best sans meat; for other opinions, check out the comments section. The provided nutrition estimate does not include meat.
(6) Potato Option. Add 2 chopped Yukon Gold potatoes plus 1 extra cup of liquid. Note that a fine chop results in a mushy potato texture and a coarser chop will stay intact. The cooking time remains the same. Personally, I don't add potatoes because the soup is deliciously thick and creamy as-is, and I'm minimizing my carb intake. The provided nutrition estimate does not include potatoes.
(7) Pressure Cooker. I use a 6-quart Instant Pot. You can use a different size of electric pressure cooker as long as all ingredients fit within the maximum capacity line.
(8) Natural Release. Once the timer beeps to signal the end of pressure cooking, let the pot stand for 15 minutes to naturally release pressure. You don't need to press any buttons.
(9) Serving. Serve the soup once it's cool enough to eat. Note that the soup will thicken a bit as it cools. Serve it alongside a deviled ham salad, a simple romaine salad drizzled with sherry vinaigrette, or toasted bread (look for low carb breads at Costco and Aldi in the U.S.).
(10) Leftovers. Leftovers can be covered and stored in the refrigerator for up to 3 days, and reheated using the microwave. I don't recommend freezing the soup because the consistency will be noticeably less smooth.