Summary:
One of the most comforting soup recipes, this Instant Pot split pea soup is a simple dump-and-go type of meal. Vegetarians can enjoy it meatless, and meat lovers can add ham bone or bacon.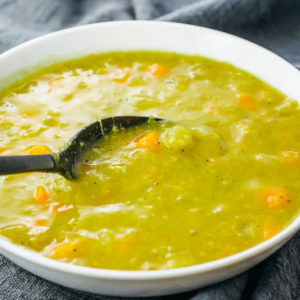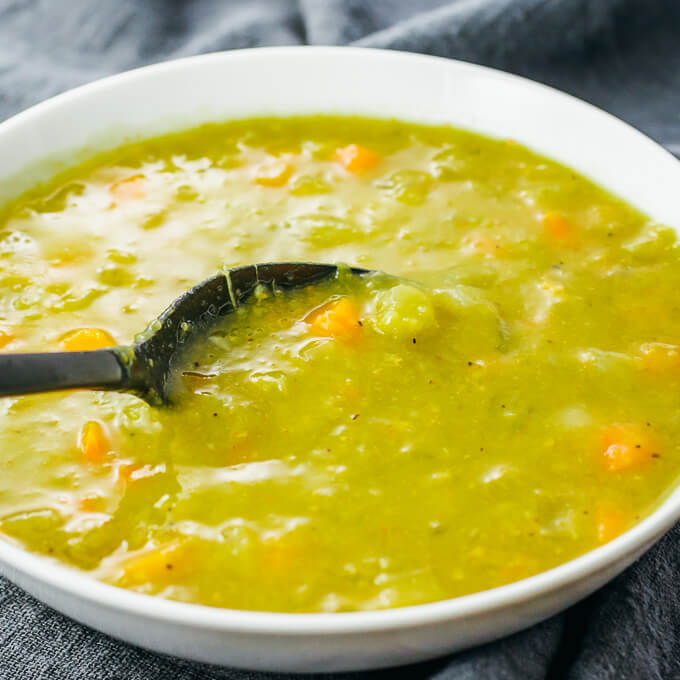 Instant Pot Split Pea Soup
INGREDIENTS
1

pound

split green peas

rinsed

7

cups

water or broth

1 1/2

cups

diced onions (about 1/2 onion)

1

cup

diced carrots (about 3 carrots)

1

cup

diced celery (about 3 stalks)

3

cloves

garlic

minced

1

teaspoon

smoked paprika

1

teaspoon

salt

1/2

teaspoon

black pepper

(optional) leftover ham, ham bone, or bacon
INSTRUCTIONS
Add all ingredients to the pressure cooker pot and briefly stir them together.

Secure and seal the lid. Cook at high pressure for 15 minutes, followed by a 15 minute natural release. Manually release remaining pressure.

Uncover. Remove the bay leaves (and ham bones, if used) and stir the soup. It will be very hot, so let it cool a bit before serving.
NUTRITION
Makes 10 Servings
Amount Per Serving (1 cup):
| | |
| --- | --- |
| Calories 170 (3% from fat) | |
| Total Fat 1g | 1% |
| Saturated Fat 0g | 0% |
| Cholesterol 0mg | 0% |
| Sodium 260mg | 11% |
| Net Carb 17.5g | |
| Total Carb 30g | 10% |
| Dietary Fiber 12.5g | 51% |
| Sugars 5g | |
| Protein 11g | |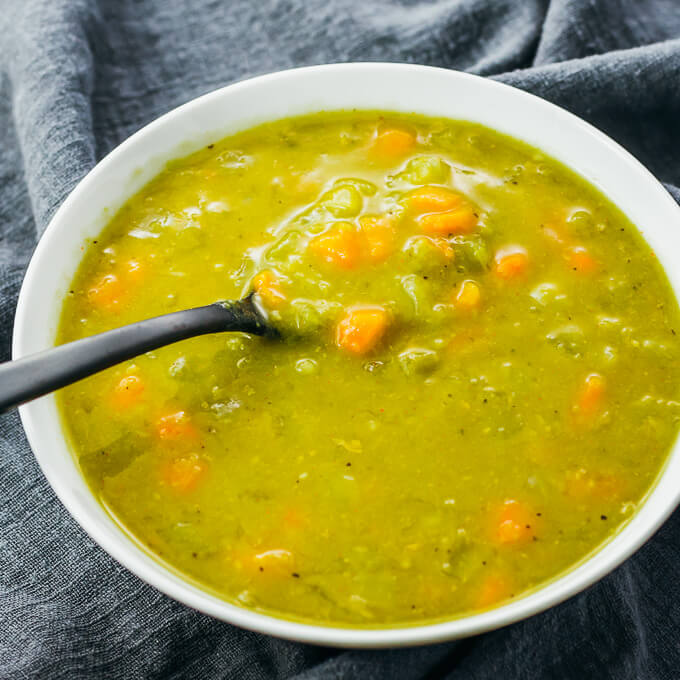 Pressure cookers like the Instant Pot are great for breaking down tough cuts of meat and vegetables. Want something crispy? Stay away from the pressure cooker. But if you're craving anything soft and tender like stews and soups (see Instant Pot Broccoli Cheese Soup and Instant Pot Cabbage Soup With Beef), the pressure cooker is your friend.
This split pea soup is thick and creamy, with a texture similar to potato soup, but without potatoes. The green peas, onions, and celery are easily broken down by pressure cooking, adding to the viscosity of the soup, and there are occasional bites of carrots. There's also a very slight heat to the soup due to the smoked paprika.
You can enjoy this as a vegetarian meal, or add leftover ham or ham bone if you're coming off a holiday feast. Another option is to add some diced bacon. Either way, it's a very simple recipe where you can dump all of the ingredients into the pressure cooker, turn it on, and come back later to a delicious meal.
Split Pea Soup Ingredients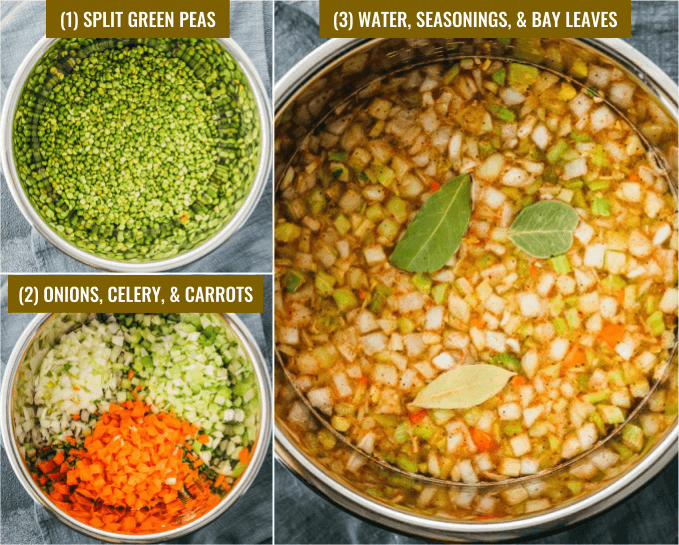 To make split pea soup, you'll need water, dry split green peas, vegetables like onions, carrots, and celery, some minced garlic, a few bay leaves, and seasonings like paprika, salt, and pepper. The soup is vegetarian and vegan as shown.
Interested in saving time? You can make this a no-chop recipe by buying mirepoix, which is a pre-diced package of onions, carrots, and celery. I buy a 14 ounce tub of mirepoix from Trader Joe's, which is the equivalent of half an onion, 3 carrots, and 3 celery stalks.
I use water as the liquid base, not broth or stock. In my cooking experiments, I tried using broth instead, but didn't find any noticeable difference in the end result. Since it's easier to use water, that's what I recommend and use. You're welcome to substitute with vegetable broth or chicken broth, of course.
I've also experimented with various liquid levels ranging from 6 to 8 cups. With 6 cups, the resulting soup was too thick, almost like a split pea puree. With 8 cups, it was too thin and watery. I found that 7 cups of liquid is ideal. You can adjust this amount if you prefer your soups to be on the thicker or thinner side. Note that split pea soup thickens substantially as it cools.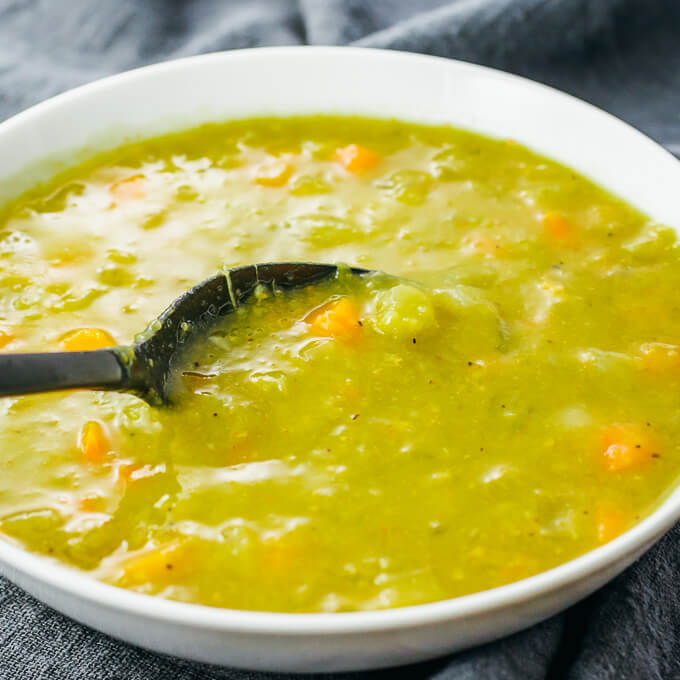 You can serve split pea soup with pita chips or bread. If you're following a low carb diet like me, you can serve with almond flour crackers or enjoy the soup by itself.
If you have too many leftovers, you can freeze the soup, but note that the texture won't be the same after defrosting — it'll be less smooth. For this reason, I usually refrigerate leftovers and avoid freezing.
MORE COMFORTING INSTANT POT SOUPS & STEWS: