Summary:
This recipe makes a 6-inch-wide layered cheesecake in a pressure cooker; no baking needed. A top pumpkin layer and a middle cheesecake layer are supported by an almond crust.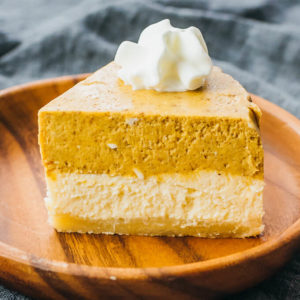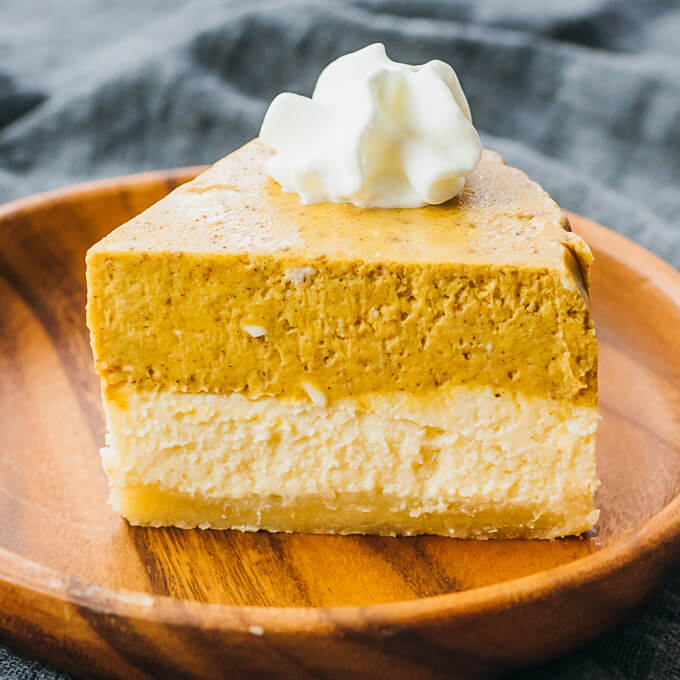 Instant Pot Pumpkin Cheesecake
Natural Release:
15

minutes
INSTRUCTIONS
Make Crust: Stir melted butter and sweetener in mixing bowl until combined, then stir in almond flour until butter is absorbed and forms dough. Transfer dough to prepared cheesecake pan, and use spoon or measuring cup to firmly press down and form flat, smooth crust covering entire bottom of pan. Transfer pan to freezer to chill crust for 20 minutes while making filling.

Make Cheesecake Filling: Beat cream cheese and sweetener in large bowl with electric hand mixer on low speed until well-mixed, about 1 minute (Note 8). Add heavy cream, lemon juice, and vanilla extract; beat on low speed until smooth, about 30 seconds. Add eggs one at a time, beating on low speed until just combined, about 30 seconds each. Remove pan with chilled crust from freezer. Pour about 75% of batter over crust, being careful to avoid trapped air gaps. Flatten surface with spatula. Return pan to freezer.

Make Pumpkin Filling: Add pumpkin, cinnamon, ginger, and cloves to remaining batter. Beat on low speed until incorporated, about 10 seconds. Use spatula to scrape down sides and stir until well-mixed. Remove pan from freezer. Carefully pour pumpkin batter over cheesecake layer.

Pressure Cook: Pour 1 cup of water into pressure cooker pot, and lower cheesecake pan onto trivet. Secure and seal lid. Cook for 40 minutes at high pressure, followed by 15-minute natural release. Manually release any remaining pressure by gradually turning release knob to venting position. Carefully lift lid to avoid dripping condensation on cheesecake. If needed, use paper towel to carefully dab cheesecake to absorb condensation on surface. Turn off pressure cooker.

Cool Cheesecake: Let cheesecake cool uncovered in pressure cooker for about 1 hour. Use trivet's handles to lift cheesecake from pot onto countertop and let stand until fully cooled. Loosely drape dry paper towel over cheesecake pan and refrigerate for at least 24 hours (Note 9). Carefully remove chilled cheesecake from pan, and peel off parchment paper. Slice and serve (Note 10).
NUTRITION
Makes 6 Servings
Amount Per Serving (1 slice):
| | |
| --- | --- |
| Calories 400 (84% from fat) |   |
| Total Fat 37g | 58% |
|    Saturated Fat 18g | 91% |
| Cholesterol 146mg | 49% |
| Sodium 290mg | 12% |
| Net Carb 5.5g |   |
| Total Carb 8g (Note 11) | 3% |
|    Dietary Fiber 2.5g | 11% |
|    Sugars 2g |   |
| Protein 10g |   |
PHOTOS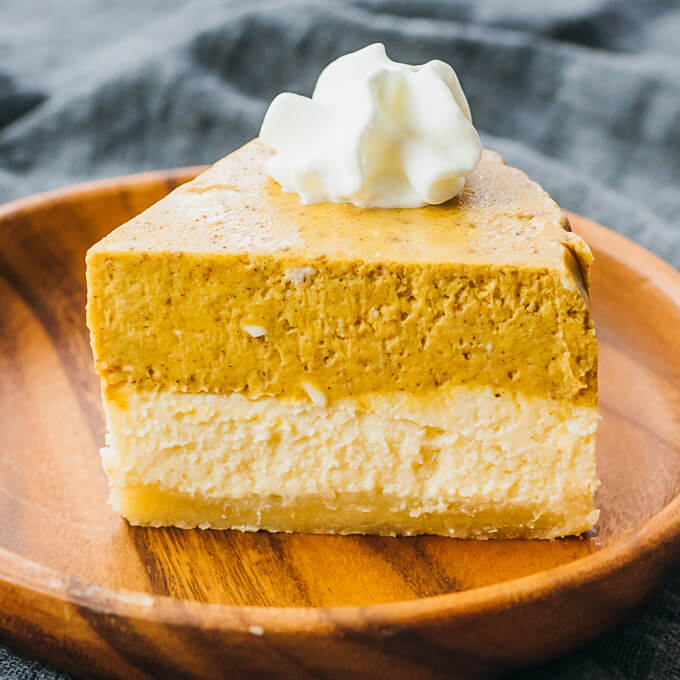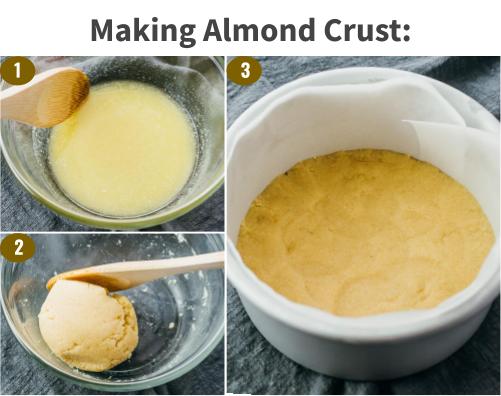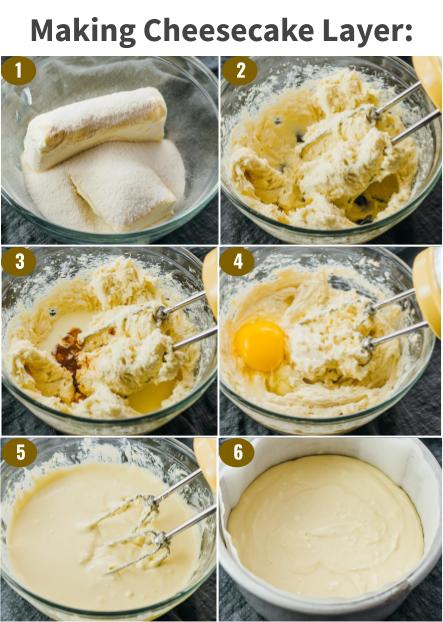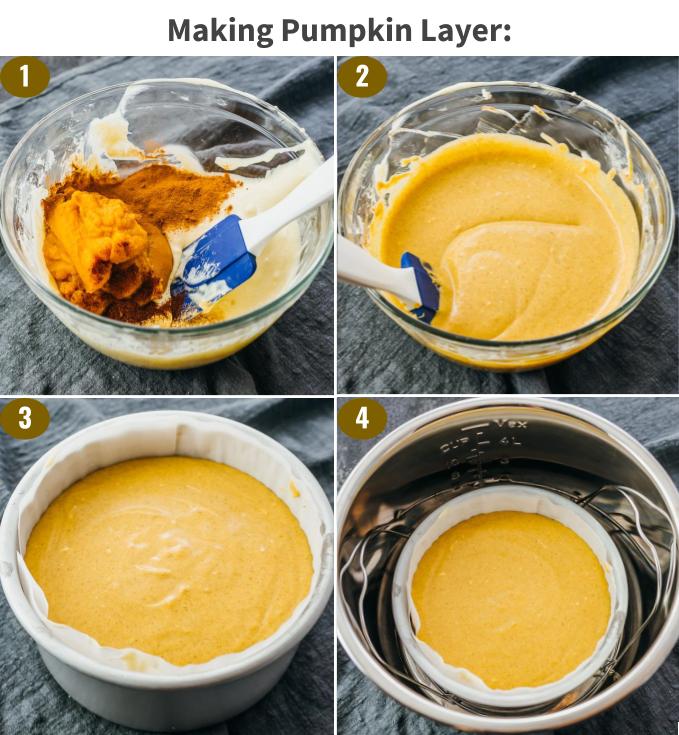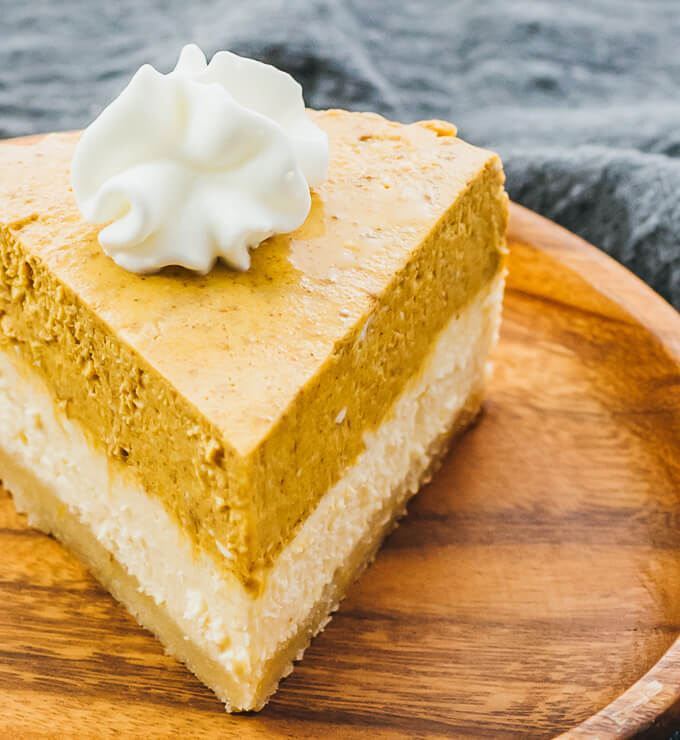 NOTES & TIPS
(1) Almond Flour. About 3 ounces weight. I use almond flour that is blanched, which means the skins are taken off of the almonds, so the resulting flour looks white. I typically use Costco's Kirkland brand, which has 2 grams of net carbs per 1/4 cup serving. Some readers have enjoyed substituting or adding ground pecans or walnuts. Don't substitute with coconut flour, which is more absorbent than almond flour.
(2) Sweetener. Crust: 2 teaspoons = 1/3 ounce weight. Filling: 1/2 cup = 3 ounces weight. Confectioners Swerve is a dry sweetener that measures the same as regular powdered sugar; it's not the same as pure erythritol, which is about 70% as sweet. If you use a different type of sweetener, you can use the amount listed in the recipe if your sweetener also measures the same as regular powdered sugar. Otherwise, you'll have to calculate the converted amount. Your sweetener's packaging should indicate how its sweetness compares to sugar. If your sweetener is granulated, you can powder it by running the granules through a blender like a Nutribullet.
(3) Cream Cheese. 12 ounces = 1.5 standard bricks. Each standard brick is 8 ounces. I use regular, full-fat cream cheese from the brand Philadelphia, not reduced fat or light versions.
(4) Pumpkin. About 6 ounces weight of canned pumpkin puree.
(5) Room Temperature Ingredients. It's important to remove cold ingredients — cream cheese, eggs, heavy whipping cream — from the refrigerator at least 30 minutes before starting the recipe. You want to give them time to come to room temperature, helping to ensure a smooth and creamy batter. Otherwise, you might end up with a lumpy batter.
(6) Cheesecake Pan. I use Fat Daddio's aluminum 6-inch round cheesecake pan with removable bottom that's six inches in diameter and 3 inches tall. If your pan is 7 inches in diameter, decrease the pressure cooking time by 5 minutes. I like the convenience of the removable bottom, but you can also use a springform pan. The sides and bottom of the pan should be lined with parchment paper so that the cheesecake doesn't stick to the pan; no greasing needed.
(7) Pressure Cooker Equipment. I use a 6-quart Instant Pot. Other sizes of electric pressure cookers should also work as long the cheesecake pan fits within the maximum capacity. You'll also need the trivet that came with your Instant Pot or a steam rack with handles. This will elevate your cheesecake so it's not sitting in water. If your trivet or steam rack doesn't have handles, you can make a foil sling to help you transfer the cheesecake out of the pressure cooker when it's done.
(8) Mixing Batter. Don't over-mix while beating the batter, or you'll end up with a lighter and fluffier batter, resulting in an airier and puffier cheesecake. We want a dense, firm, and smooth cheesecake. At every step, the batter should be mixed until the ingredients are incorporated and smooth, and no more. I provide electric mixer time estimates in the recipe to give you an idea, based on a 5-speed KitchenAid electric hand mixer.
(9) Chilling Cheesecake. It's very important to chill the cheesecake in the refrigerator for at least 24 hours before serving. This cheesecake is very moist after pressure cooking and needs time to dehydrate in the refrigerator. That's why it should only be loosely covered with a paper towel, not sealed.
(10) Serving / Storage. This cheesecake is delicious by itself, or with a dollop of whipped cream. Store leftover slices in an airtight container in the refrigerator for up to 5 days or in the freezer for up to 3 months. Once frozen, thaw in the refrigerator overnight.
(11) Carbs. The nutrition calculation assumes you are using an erythritol-based sweetener that uses sugar alcohols like Swerve, whose carbs are non-impact and therefore not included in the nutrition estimate. Apps that count sugar alcohols will show a higher number of carbs.
(12) Recipe Development. This recipe is adapted from these layered pumpkin cheesecake bars that I often make at Thanksgiving and this classic New York style cheesecake made in the Instant Pot. Both recipes use almond crusts.