Summary:
Dip into this roasted curry cauliflower dip with crackers and chips. This recipe is healthy, vegan, easy to make, and a great addition to your next party. It tastes like hummus but isn't hummus.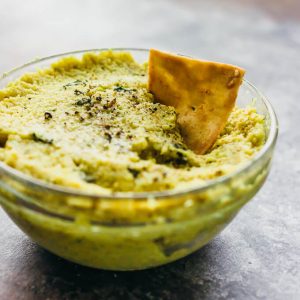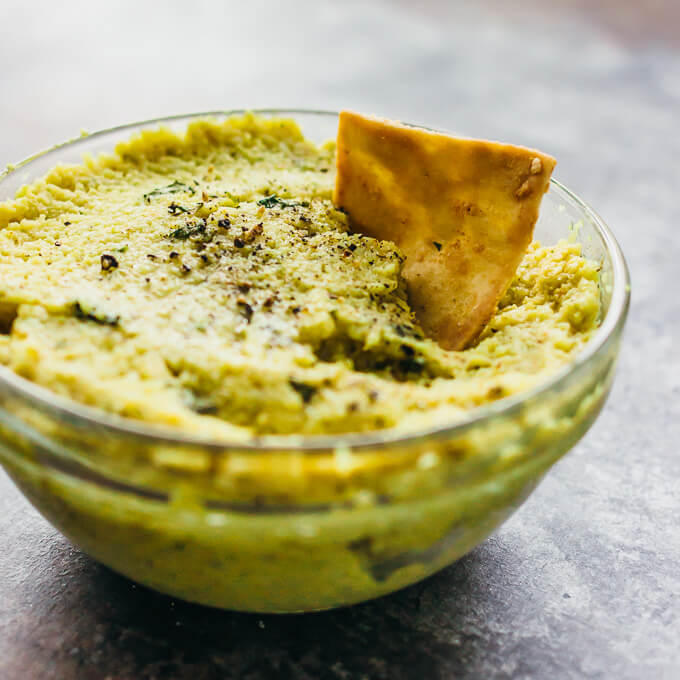 INGREDIENTS
For roasting:
4

cups

cauliflower florets

about 1 small head

2

jalapeños

sliced lengthwise with membranes and seeds removed

2

teaspoons

curry powder

2

tablespoons

olive oil
INSTRUCTIONS
Toss cauliflower florets and sliced jalapeños with 2 tablespoons of olive oil, either in a ziplock bag or a mixing bowl. Add curry powder and toss again. Lay out the cauliflower and jalapeños in a single layer on a baking pan and roast at 400 F until tender, about 20 minutes.

Add the roasted cauliflower and jalapeños plus all of the other ingredients to a

food processor

. Puree until smooth, pausing to scrape down the sides if needed. If the dip is too chunky, add more olive oil until it reaches your desired consistency.

Serve in a dipping bowl, optionally drizzling with more olive oil on top and garnishing with additional pepper, sea salt, and dried cilantro. Serve with chips or crackers.
NUTRITION
This recipe yields 4 g net carbs per serving.
Nutrition Facts Per Serving
| | |
| --- | --- |
| Calories 320 |   |
| Total Fat 33g | 51% |
|    Saturated Fat 5g | 23% |
|    Trans Fat 0g |   |
| Cholesterol 0mg | 0% |
| Sodium 420mg | 18% |
| Potassium 50mg | 1% |
| Total Carb 7.5g | 3% |
|    Dietary Fiber 3.5g | 15% |
|    Sugars 3g |   |
| Protein 3g |   |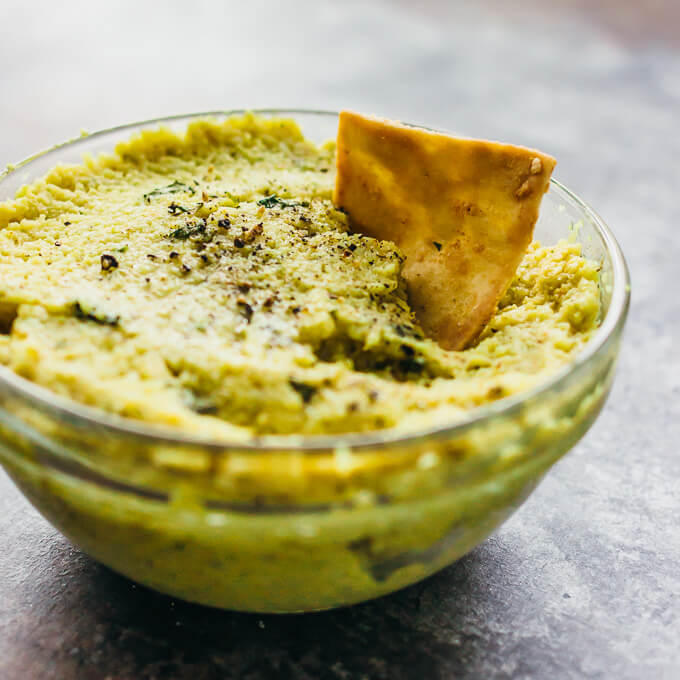 I've been obsessed with the irresistible combination of cauliflower and curry ever since I've been making Indian recipes like this golden cauliflower curry with potatoes and peas. It was such an easy and delicious dish that I started wondering how I could get more of those tasty flavors into my system without making the same dish again.
Enter this roasted curry cauliflower dip. The cauliflower is tossed with olive oil and curry powder before roasting in the oven until tender and juicy, and then it's blended in a food processor with garlic, lemon juice, sea salt, and more olive oil until it reaches a dip-like consistency.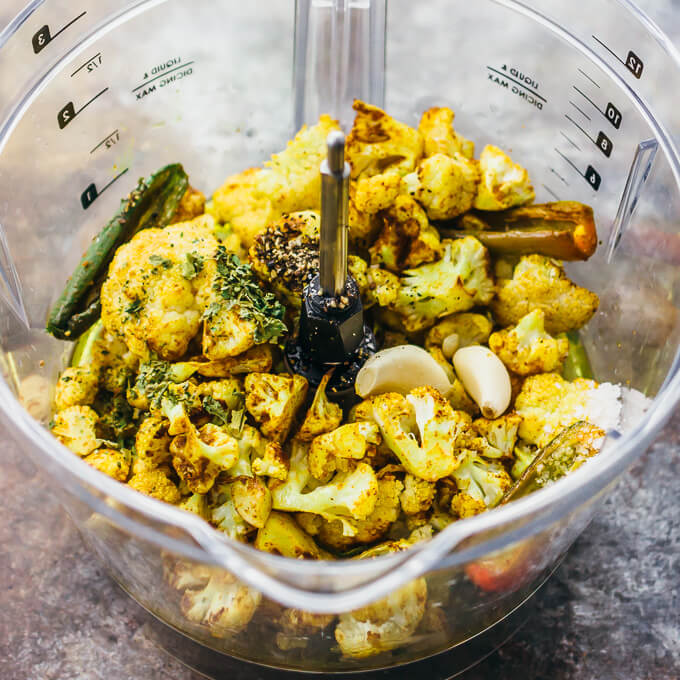 As I mentioned earlier, this roasted curry cauliflower dip tastes like hummus but isn't hummus. In fact, this dip is easier to make than hummus — for one, it doesn't require the use of tahini paste — and is a great way to use up extra cauliflower. The other ingredients are simple and everyday items, and it's easy to add or subtract to substitute in your favorite herbs or dip ingredients.
When I was making this dip for the first time, I was really excited to use homemade Kauai sea salt that my relatives-in-law sent me. Mr. Savory Tooth's grandma's niece's husband — sometimes even I forget how they are related — is a native Hawaiian spear fisherman and he also makes sea salt on the side. I love using homemade or homegrown ingredients so this was a great gift. Since then, I've used the Kauai sea salt not only for this dip but also for my favorite artichoke appetizer.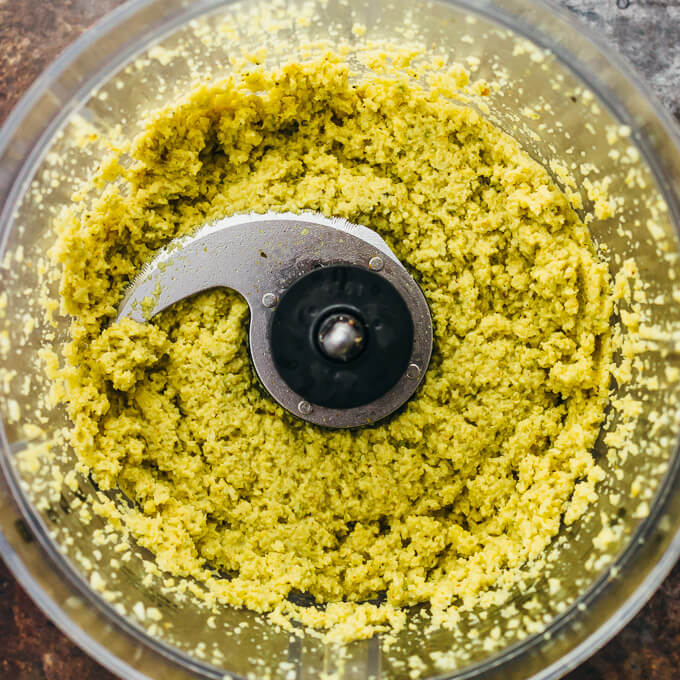 This dip has great texture: it's chunkier than your typical store-bought hummus or dip, but still smooth enough that it's easy to use a cracker or chip to scoop up a good chunk of it. Also, it's jam-packed with tasty flavors: the curry, garlic, and lemon are prominent flavors and there's also a charred roasted flavor that comes from the baked cauliflower and jalapeños.
Last but not least, this dish is healthy and vegan, so it's perfect to bring to a potluck or party if you know there are going to be vegans abound.