Summary:
A delicious and easy quiche with crunchy bacon bits, tender broccoli, and roasted tomato slices.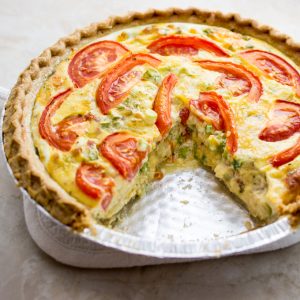 Crazy good quiche with bacon, broccoli, and tomato
INGREDIENTS
9-inch deep dish pastry shell

1

cup

small broccoli florets

1/2

pound

pepper jack and cheddar mixed cheese

shredded

4

bacon strips

1/3

cup

scallions

finely chopped

1

teaspoon

basil

crumbled

5

oz

canned evaporated milk

3

eggs

1/4

teaspoon

pepper

1

medium-sized tomato

thinly sliced
INSTRUCTIONS
Bake the pastry shell for 7 minutes at 350 F. Prick the shell a couple of times with a fork before baking. You can bake the frozen shell — no need to thaw.

Microwave the bacon strips according to package instructions, about 5 minutes. I microwaved the bacon with paper towels to help soak up the grease. Also microwave the broccoli until tender, about a few minutes. Drain with a paper towel. You want to make sure the broccoli is dry before you put it in the quiche otherwise your quiche will be watery.

Scatter a third of the pepper jack and cheddar cheese mix to the pastry shell.

Add broccoli over the pie.

Add another third of the pepper jack and cheddar cheese mix over the pie.

Crumble the bacon and spread over the pie.

Scatter scallions over the pie.

Add the remainder of the pepper jack and cheddar cheese mix over the pie.

Beat eggs, milk, basil, and pepper together. Pour over pie.

Decorate the top of the pie with sliced tomatoes.

Bake the pie at 350 F for 50 minutes or until it starts to brown. Let cool for 20 minutes before cutting into it.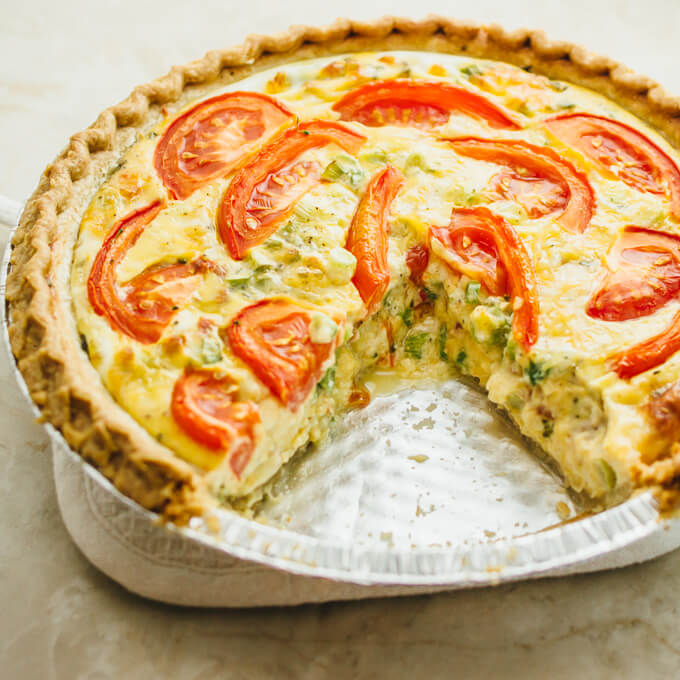 This is the ultimate quiche. It's got everything I love: crunchy bacon bits, tender and soft broccoli, and roasted tomato slices. It's also pretty simple to make. Most of the work is in assembling and microwaving some of the ingredients. Mr. Savory Tooth and I made this for a weeknight dinner and loved it! We are really loving savory pies these days.
Feel free to use whatever veggies you love or just have lying around. Just make sure the veggies are not raw and are cooked (give them a quick zap in the microwave, for convenience), or else they'll release water when cooked in the oven and you'll end up with a watery quiche.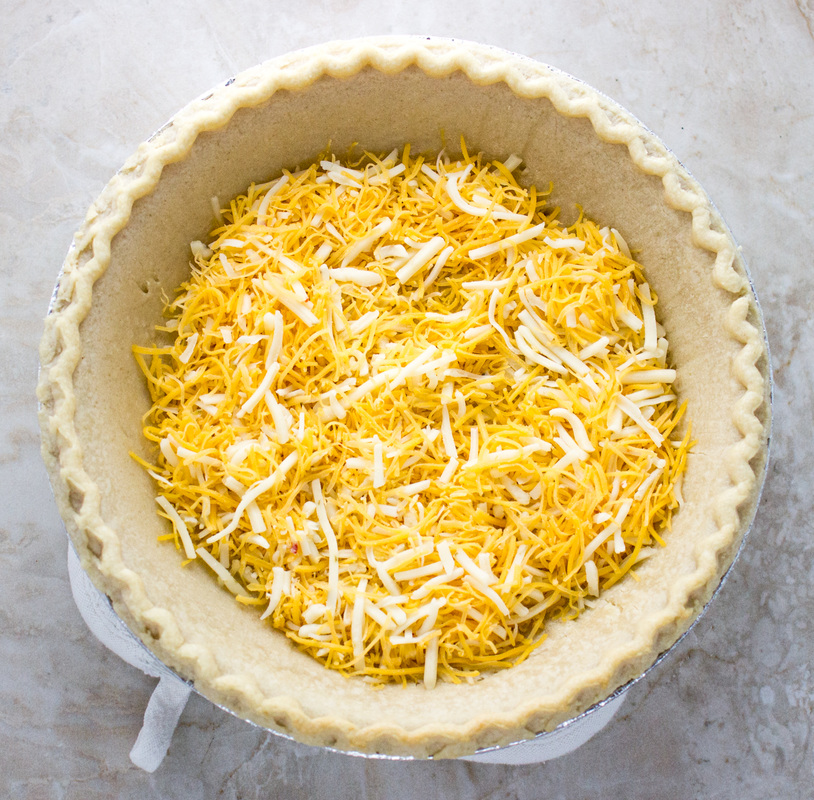 Every quiche needs a good foundation of cheese.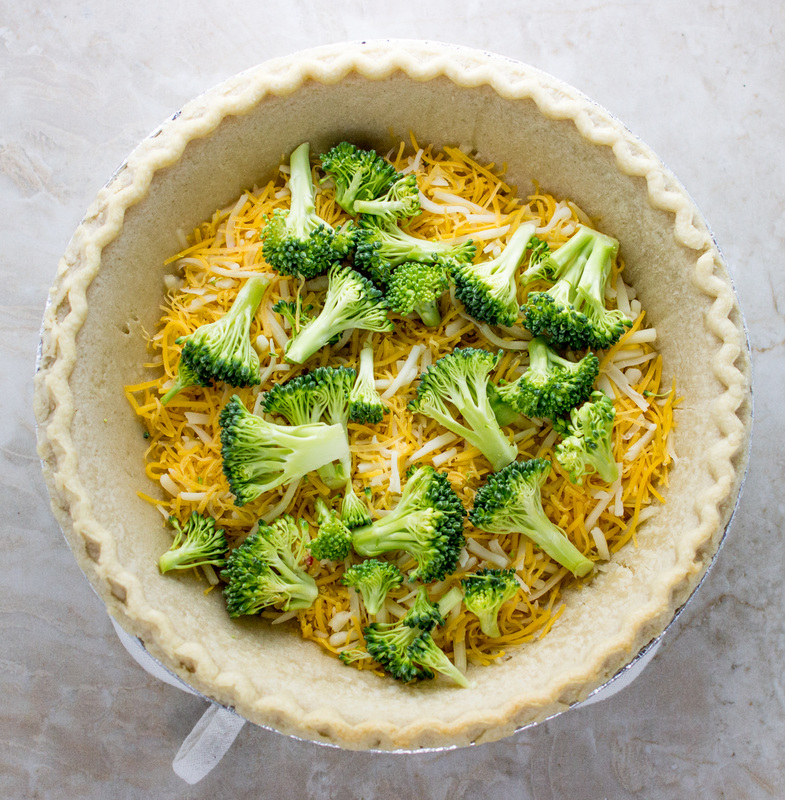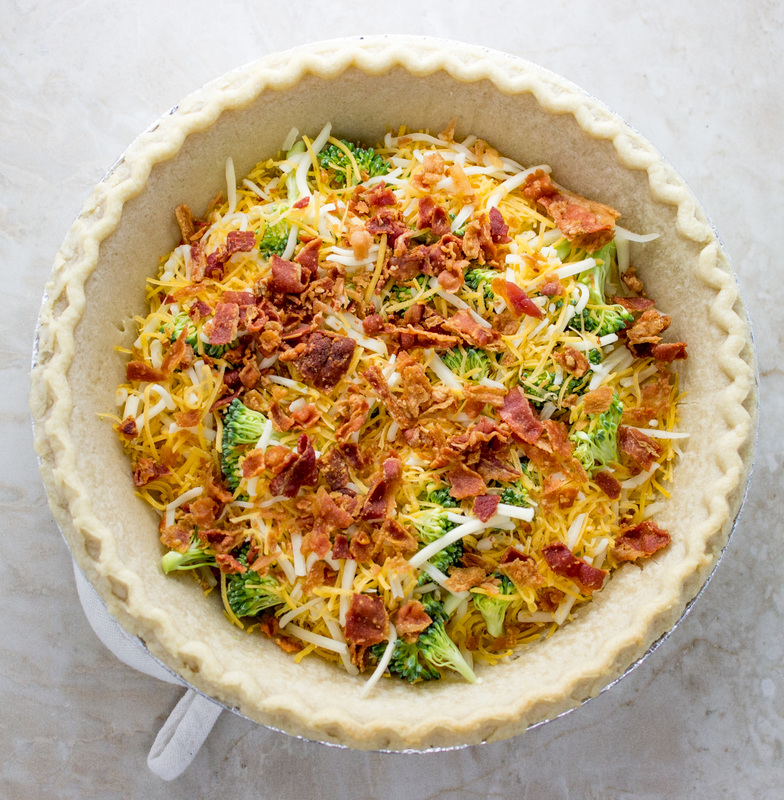 Mmm, crispy bacon. I snacked a little on these bacon bits when I was assembling the quiche. What I really wanted to do was eat them all, then and there.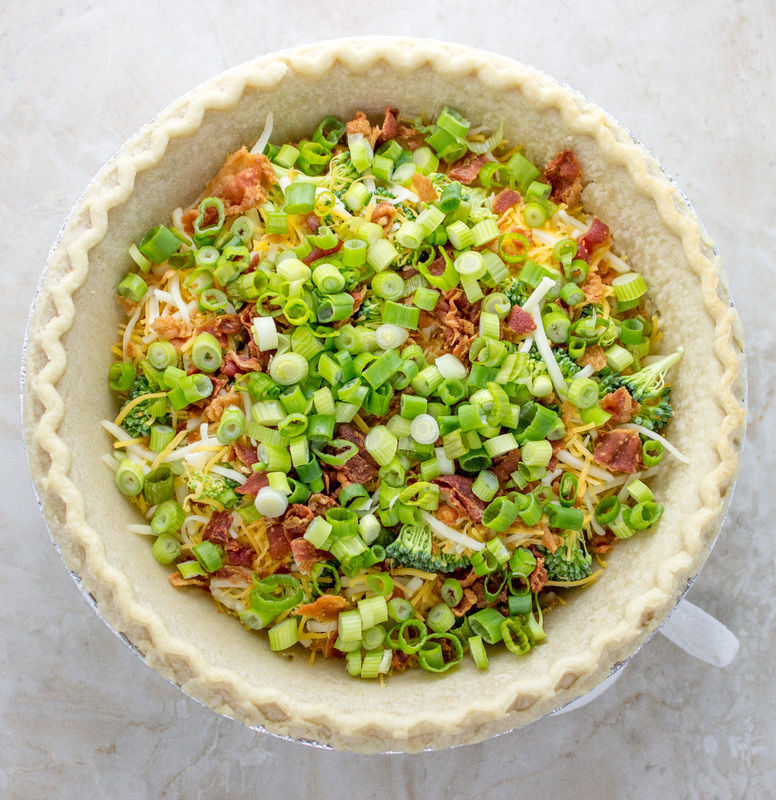 These SCALLIONS. They are my secret weapon here. The scallions add so much flavor and character to the quiche.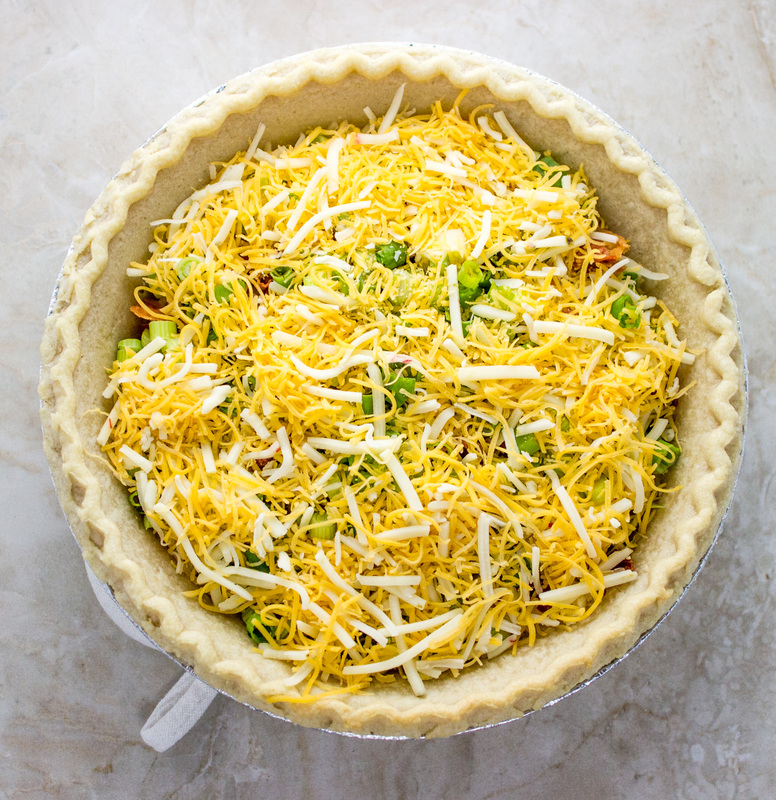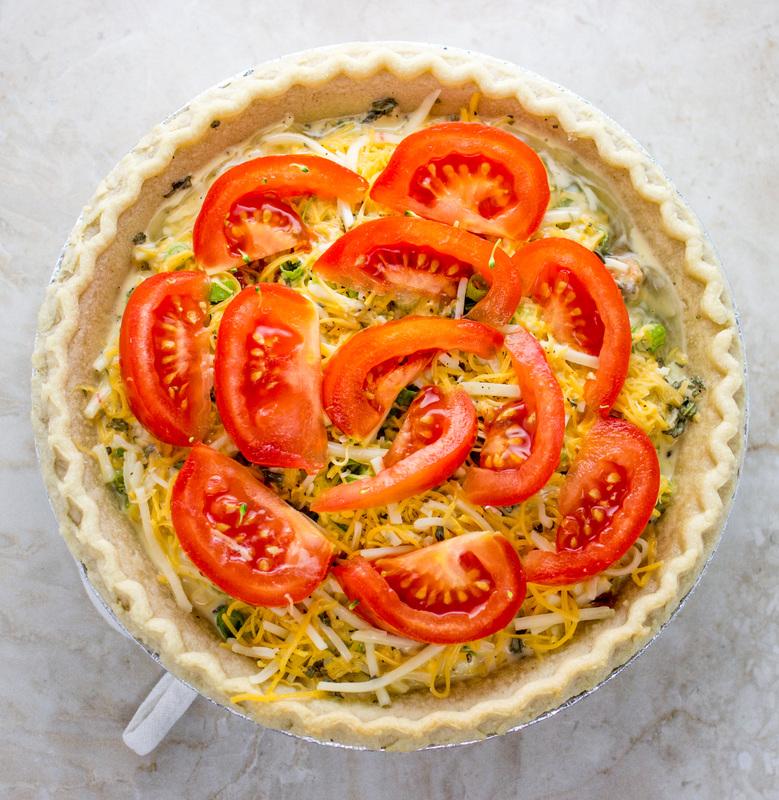 And then we finally bake it.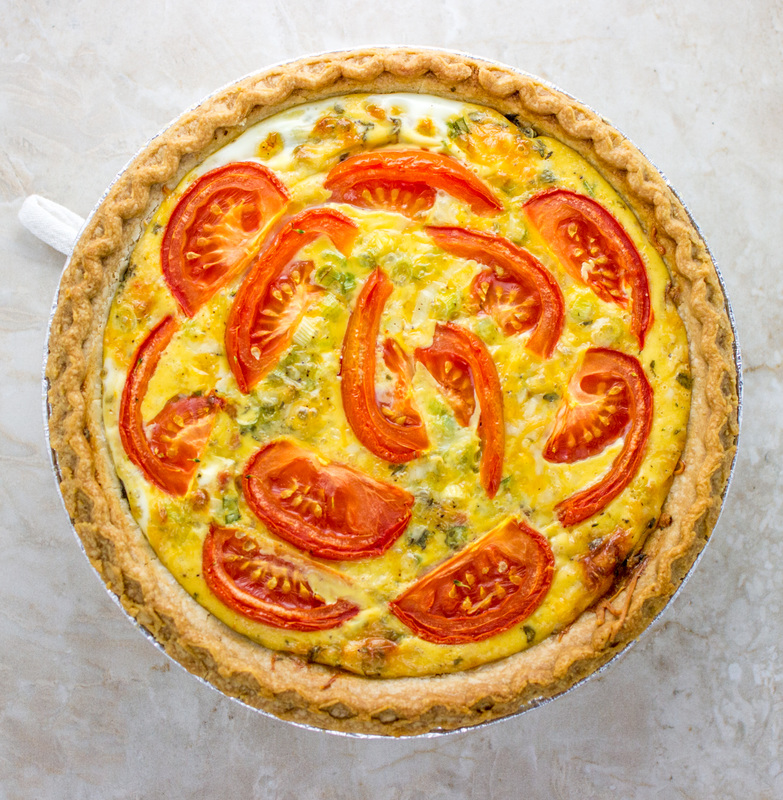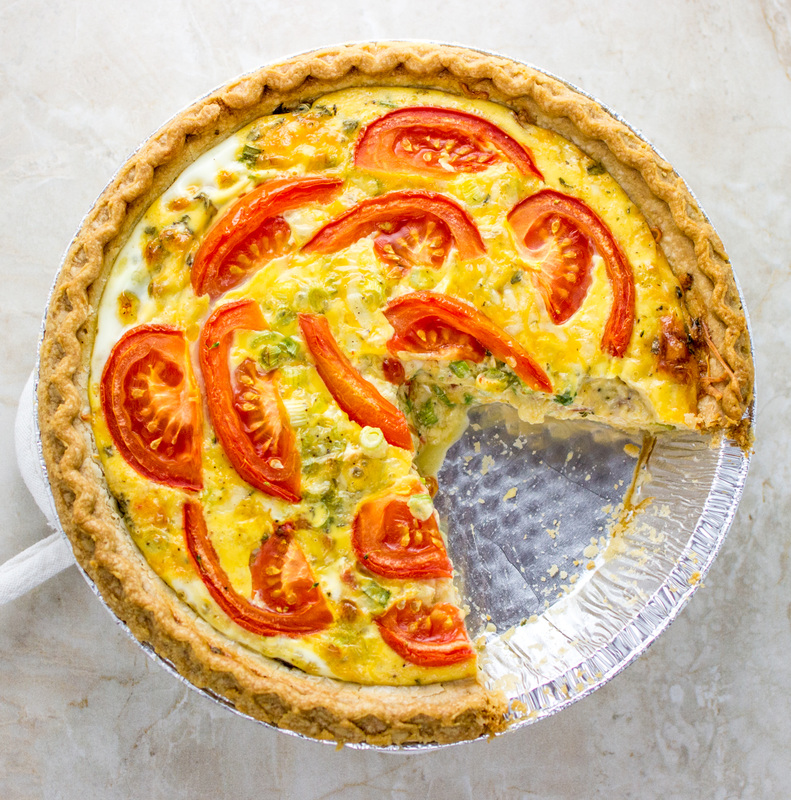 Here's an animation of assembling the quiche: