I love SPICY deviled eggs and these do not disappoint. Each deviled egg includes a generous squeeze of sriracha and is topped with crispy crumbled bacon, fresh chives, and ground paprika.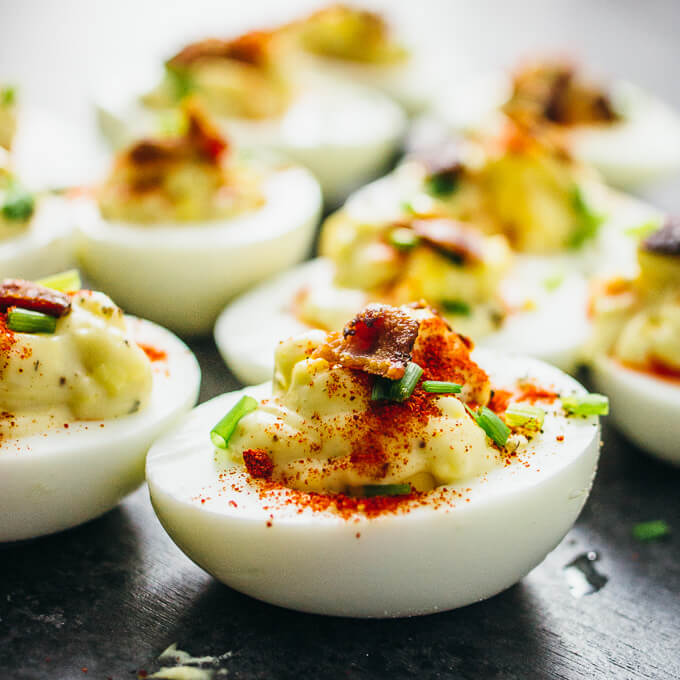 Holidays and parties were totally created for deviled eggs and everyone's enjoyment of them. They are always a crowd favorite and a hit at every gathering. Here in Massachusetts, you would be surprised at how many people raise chickens in their backyard — sometimes I wonder if I'm really living in the 10th largest metropolitan area in the US — even though caring for chickens is no small task. With so many people raising chickens and producing more eggs than they can eat, it seems like making deviled eggs is the de facto way for everyone to deplete their arsenal of eggs.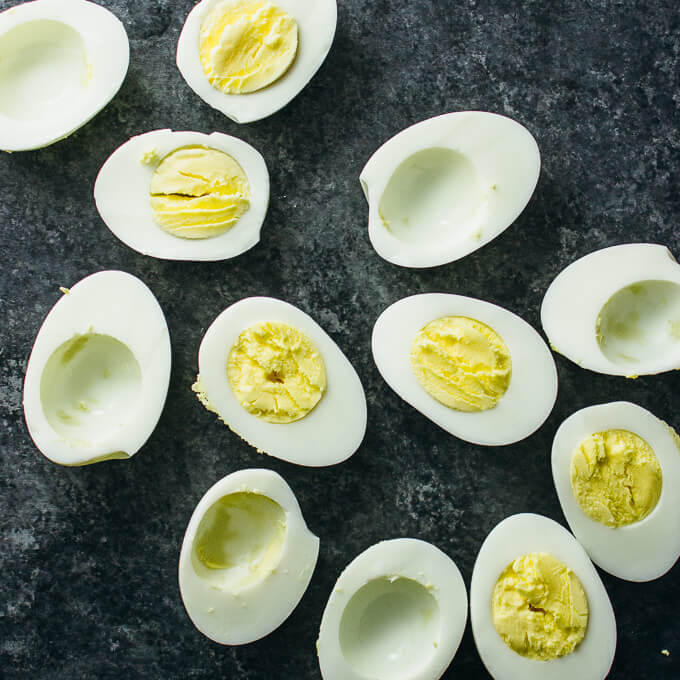 The key to great deviled eggs starts with properly hard-boiling them so that they are easy to peel. I've experimented over the past years on the best way to boil eggs, and I've got it down to a science. I always boil them for 1 minute, remove the pot from heat, let sit covered for 15 minutes, and soak the eggs in cold water. I've tested this on both electric and gas burners, and it produces easy-to-peel eggs.

After peeling, slicing, and removing the yolks, here comes the fun part: I squirt a dollop of spicy sriracha onto each exposed egg white. In other words, the sriracha sits between the egg white and the reconstituted yolk. It's almost as if I'm making secretly spicy deviled eggs. Then I fill with the yolk part, which is a simple mixture of yolk, mayonnaise, mustard, salt, and pepper. The last part is the topping, which is where I like to go all out — I top with paprika, chopped fresh chives, and crumbled bacon. The busier the deviled egg looks, the better.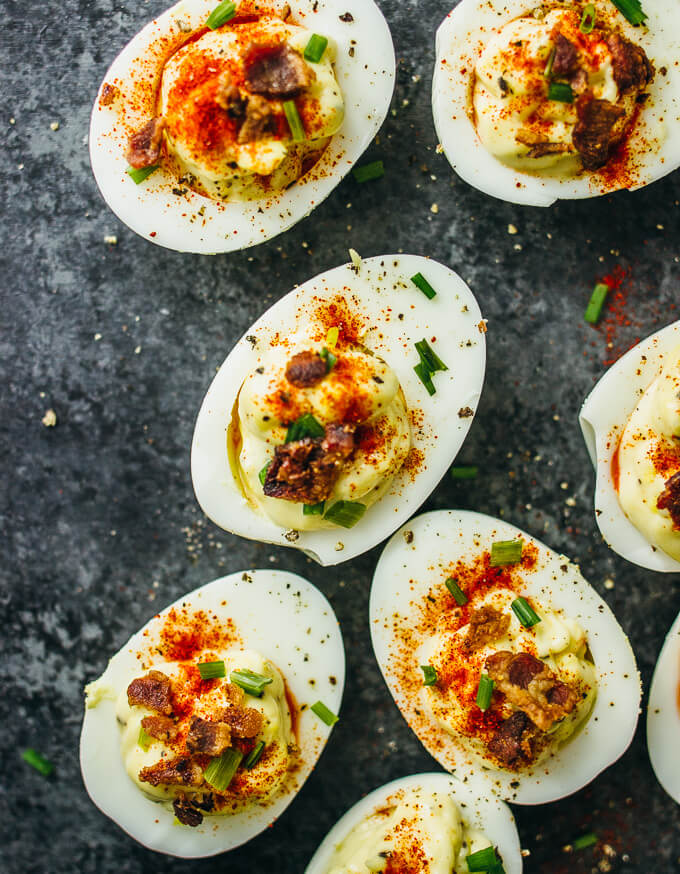 Ingredients
6 eggs
1/4 cup mayonnaise
1 tablespoon sriracha
1 teaspoon dijon mustard
1/4 teaspoon salt
1/4 teaspoon freshly ground black pepper

For toppings:

1/8 teaspoon paprika
1 tablespoon chopped fresh chives
1 slice cooked bacon, crumbled
Instructions
Place the eggs in a pot. Fill with cold water to about 1 inch above the top of the eggs.
Bring to a boil over high heat and let it boil for 1 minute. Remove the pot from the burner, cover with a lid, and let sit for 15 minutes. Strain out the eggs and place in a bowl. Pour cold water over the eggs.
When cool enough to handle, peel the eggs and slice each egg lengthwise.
Carefully scoop out the egg yolks into a large mixing bowl, and mash them. Add mayonnaise, mustard, salt, and pepper. Mix until smooth.
Using sriracha in its squeeze bottle, squirt about 1/4 teaspoon of sriracha onto each empty egg white.
Scoop the egg yolk mixture into a small sandwich plastic bag. Cut a tiny corner of it, and pipe the filling over each egg white. Garnish with paprika, fresh chives, and crumbled bacon.
http://www.savorytooth.com/best-spicy-deviled-eggs/
COPYRIGHT © 2016 · SAVORY TOOTH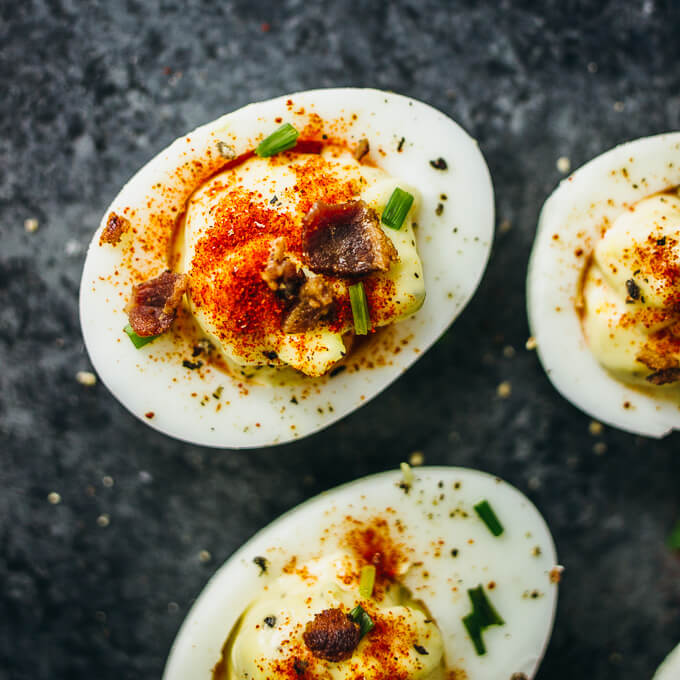 Sign up for the savory tooth e-mail list and I'll send you new recipes right when they come out. Better than having to check the site! You can also follow me on Instagram, Pinterest, Twitter, and Facebook.