Bite into these crab and avocado summer rolls! This Vietnamese and Thai inspired recipe has crab meat, sliced avocado, cucumber, and carrots wrapped together in a summer roll with a spicy red dipping sauce. It's an easy and healthy dish for when you are looking for something lighter and low-calorie to eat.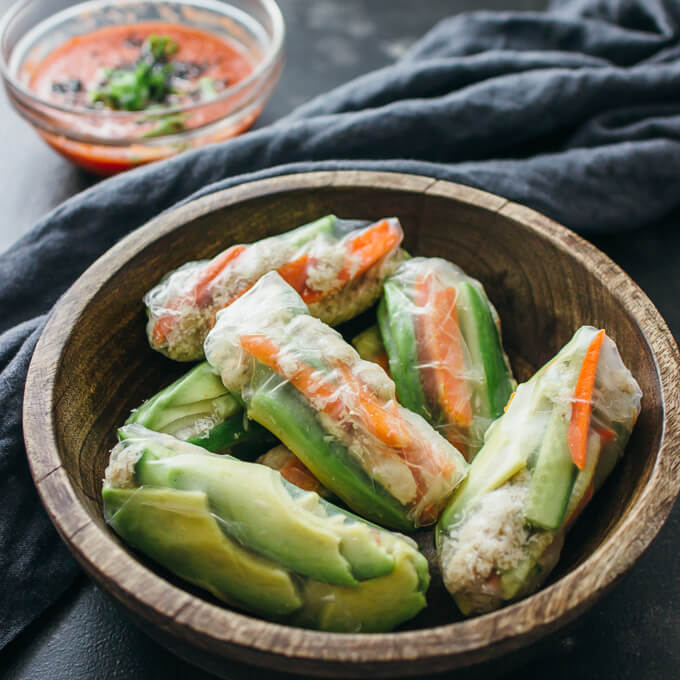 I'm definitely continuing this whole it's-summer-and-let's-eat-cold-food trend, at least for today. I can't promise about tomorrow — I'll probably be back to hot dishes again. But for today, I'm excited to share this no-cook summer recipe that's super easy: throw a bunch of delicious ingredients together, wrap it up in a rice paper wrapper, dip into a spicy sauce, and eat. No cooking needed! You can make this ahead of time as well, and refrigerate until ready to serve. If you're looking for something easy, low-calorie, and refreshing, these summer rolls are for you.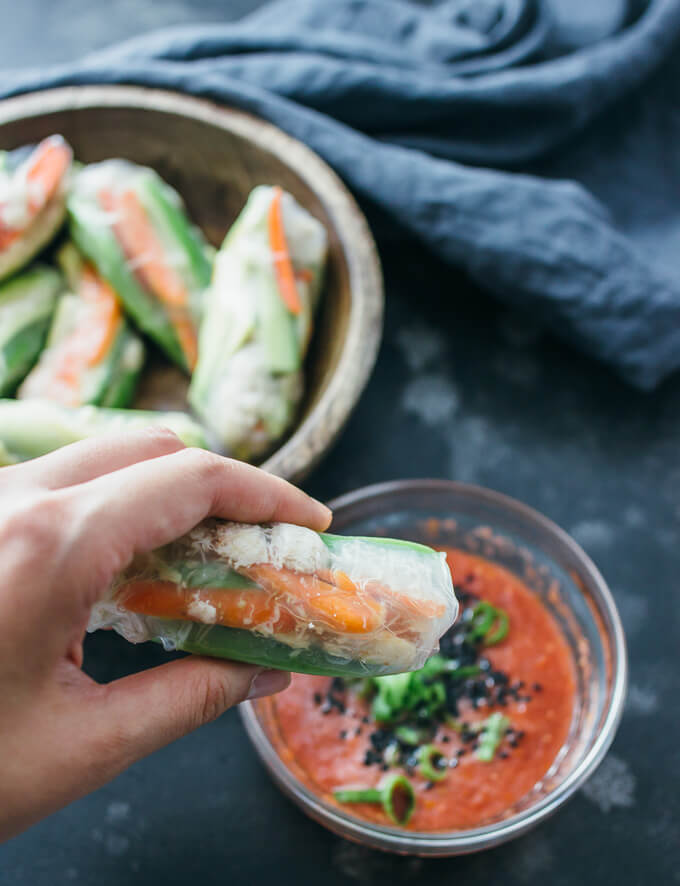 Rice Wrappers and How To Wrap a Summer Roll
First of all, I love rice paper wrappers. They come in packages with round 6 to 8 inch diameter sheets. Each wrapper is dry and hard, like a thin piece of plastic. To use, you simply soak the wrapper in water for a few seconds until it's all wet. Then the wrapper becomes really soft and sticky — like an edible plastic wrap! The translucent wrapper stretches and clings to itself really well, so you can really load in a bunch of ingredients and the wrapper will manage to accommodate them all and seals up nicely.
Wrapping technique: once the rice wrapper is wet, I usually set it down on a cutting board. I add ingredients to the bottom half of the wrapper that's closest to me. Then I fold up the side closest to me, then I fold up the left and right sides, and then I roll it up until it's secure, making sure to tuck in the food. It's not difficult to do and I love the versatility of these rice wrappers.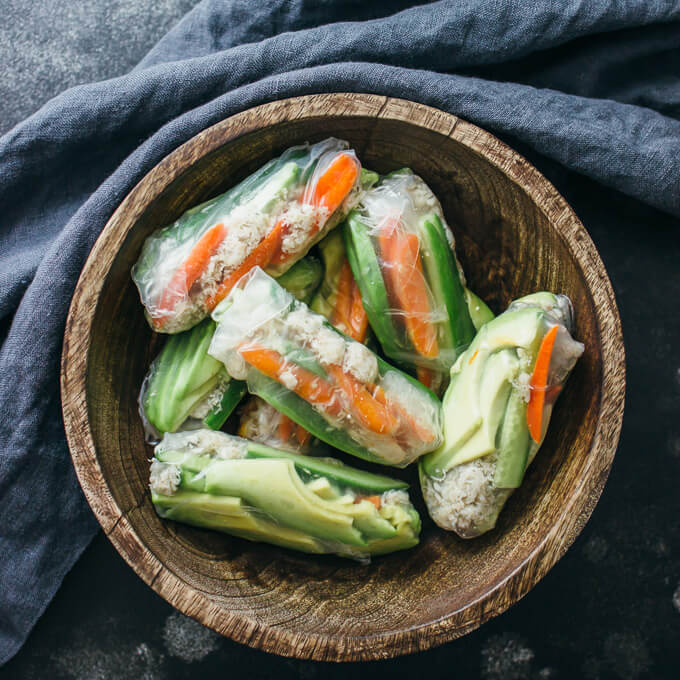 Difference Between Spring Rolls and Summer Rolls
There isn't a difference and everyone just calls them whatever they want, especially when you look at restaurant menus. Pretty much every country and even regions of a country will have their own variations on these rolls so there aren't any strict definitions. Spring rolls and summer rolls all refer to food being wrapped in a rice wrapper, sometimes fried or baked, sometimes not. A typical Vietnamese spring roll or summer roll will include shrimp, carrots, cabbage, and some herbs. Dips like peanut sauces are really popular, too.
With this recipe, I've taken ingredients that I love (crab and avocado) and stuffed them inside a rice paper wrapper. This is definitely not authentic and it's my own spin on summer rolls! 🙂
For more cold dishes to eat this summer, try out my favorite things to eat on hot days: pasta salad, southwest cous cous salad, and spicy-sweet black bean salad.
Crab and avocado summer rolls
Ingredients
8 six-inch round rice wrappers
4 ounces crab meat
1 avocado, seeded and sliced
1 persian cucumber (about 2 ounces), julienned
4 baby-cut carrots, julienned

For the spicy red sauce:

5 grape tomatoes
1 tablespoon fish sauce
1 tablespoon water
1/4 teaspoon cayenne
1/2 teaspoon black sesame seeds
scallions, for garnish
Instructions
Wrapping the summer rolls

: Dip the rice wrappers into water so that they become moist and soft. Lay out on a cutting board. Distribute the ingredients among 8 wrappers. To wrap, fold in the side closest to you, then the left and right sides, and then roll up.

Making the sauce

: Blend together the tomatoes, fish sauce, water, and red pepper. Sprinkle sesame seeds and scallions.
http://www.savorytooth.com/crab-avocado-summer-rolls/
COPYRIGHT © 2016 · SAVORY TOOTH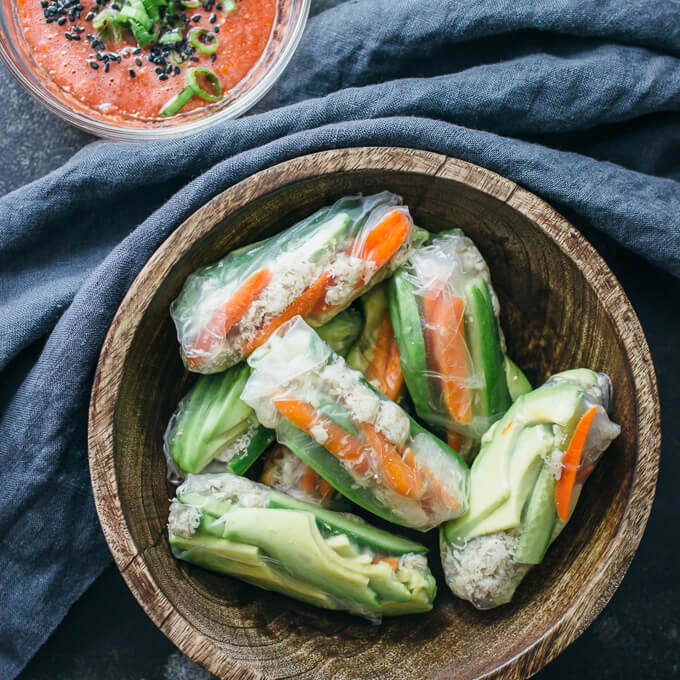 Sign up for the savory tooth e-mail list and I'll send you new recipes right when they come out. Better than having to check the site! You can also follow me on Instagram, Pinterest, and Twitter.