Summary:
Dig into these delicious shredded chicken enchiladas! These enchiladas are baked in a casserole pan with an easy-to-make Mexican mole sauce, which is a savory and spicy chocolate sauce. Continue reading to find out how I make my homemade mole sauce.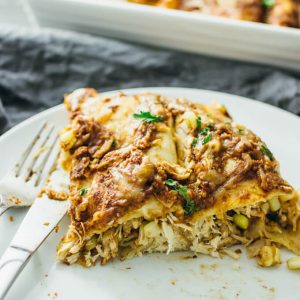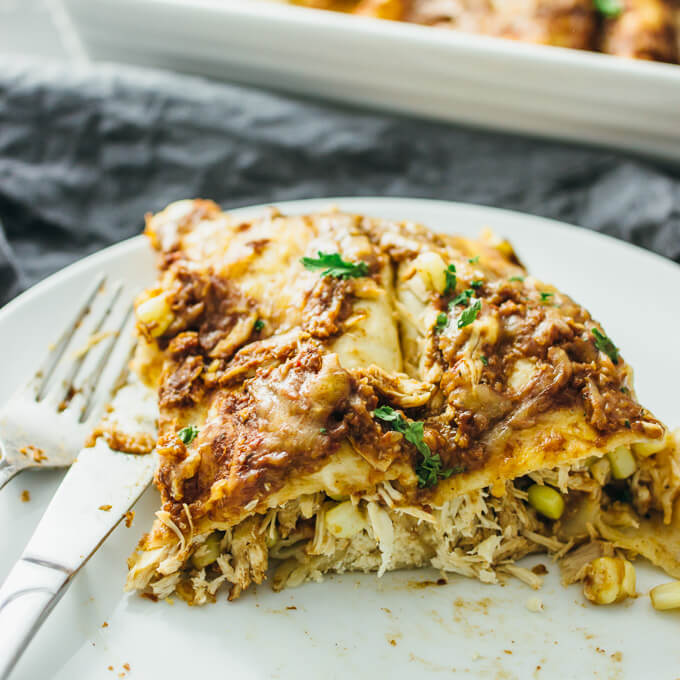 Chicken enchiladas with easy mole sauce
INGREDIENTS
8

flour tortillas

8-inch diameter

1.5

pounds

cooked chicken

shredded

1

cup

corn

2

cups

Mexican blend cheese

shredded
INSTRUCTIONS
Making the mole sauce:
Combine all of the mole sauce ingredients except for the vegetable stock and chocolate in a saucepan over medium heat. Cook until tomatoes and onions are wilted, about 10 minutes, stirring frequently. Let cool.

Pour the mixture into a blender and process until smooth.

Pour the blended mixture back into the same pot. Add vegetable stock and chocolate. Bring to a boil then let simmer until the chocolate is melted and the sauce thickens a bit, about 15 minutes, stirring occasionally.
Making the enchiladas:
Pour 3 tablespoons of mole sauce in a 9 x 13 inch baking dish. Smear it along the bottom of the baking dish.

Soften the tortillas by drizzling them with water and placing them on a plate, four at a time. Microwave for 30 seconds or longer until they are warmed. Do this in two batches of four tortillas each.

Assemble the enchiladas by distributing the chicken, corn, 1 cup cheese, and 8 tablespoons mole sauce among the tortillas. Roll up the tortillas.

Place the rolled-up enchiladas side-by-side in the baking dish. Sprinkle the remaining 1 cup of cheese. Pour the remaining mole sauce on top. Bake at 350 F for 25 minutes. Serve immediately.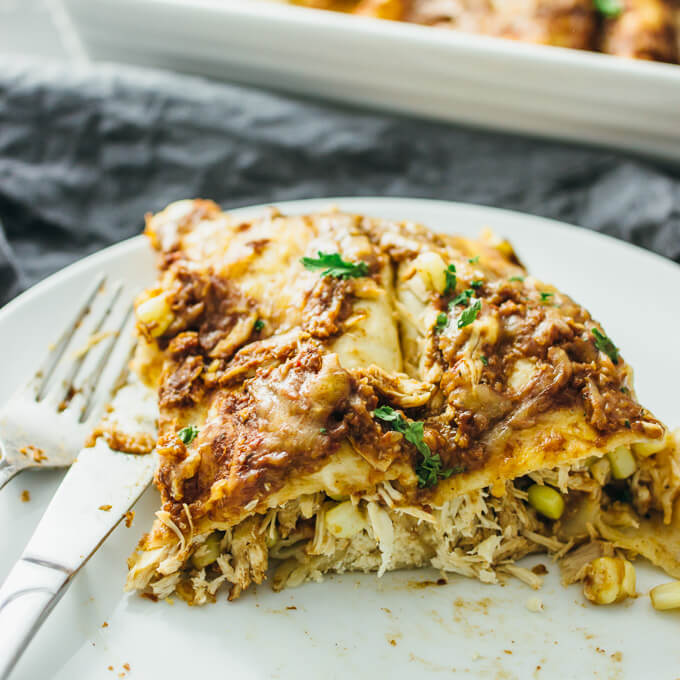 First, let me answer some common questions about mole.
How is mole pronounced? It's pronounced mo-lay.
What does mole sauce taste like? It tastes like chocolate and is spicy (includes peppers like chipotles in adobo), and has some flavors like cinnamon and garlic. The texture of the sauce is smooth.
How to make mole sauce? It is easy and doesn't have to be complicated! I've tasted mole sauce in various restaurants and my version of mole tastes just as good and is straightforward to make. It's also vegan. My mole sauce is made out of tomatoes, sweet onion, garlic, chipotle peppers in adobo, chocolate, and some spices. I sauté everything in a small pot, blend the mixture until smooth, and mix with chocolate until it melts and the sauce thickens. Then I drizzle the sauce over chicken enchiladas in a casserole pan, and bake for about 25 minutes.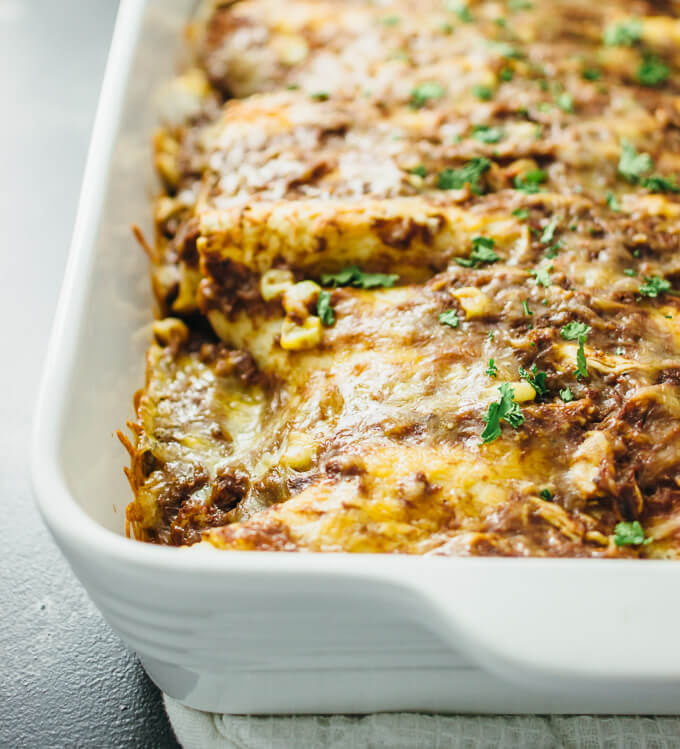 I've never had enchiladas in mole sauce until I met Mr. Savory Tooth. It's an understatement to say that he is a BIG FAN of mole sauce. He'll always order it if he sees it on a restaurant menu. Unfortunately for him, mole sauce is not very popular in the U.S. and it's rare that we see it being offered in restaurants. About a year ago, we were in a large Mexican restaurant chain, and the server told us that they used to offer mole enchiladas. However, it wasn't very good and people didn't like it, so they stopped making it. ? These days, Mr. Savory Tooth and I visit a local Mexican eatery whenever we're craving authentic Mexican food, and YES, they do serve mole sauce and it's excellent. It's one of those tiny restaurants that has a very neighborhood feel that stays true to its Mexican roots. We frequent this place a lot, and this mole recipe is my best recreation of their sauce!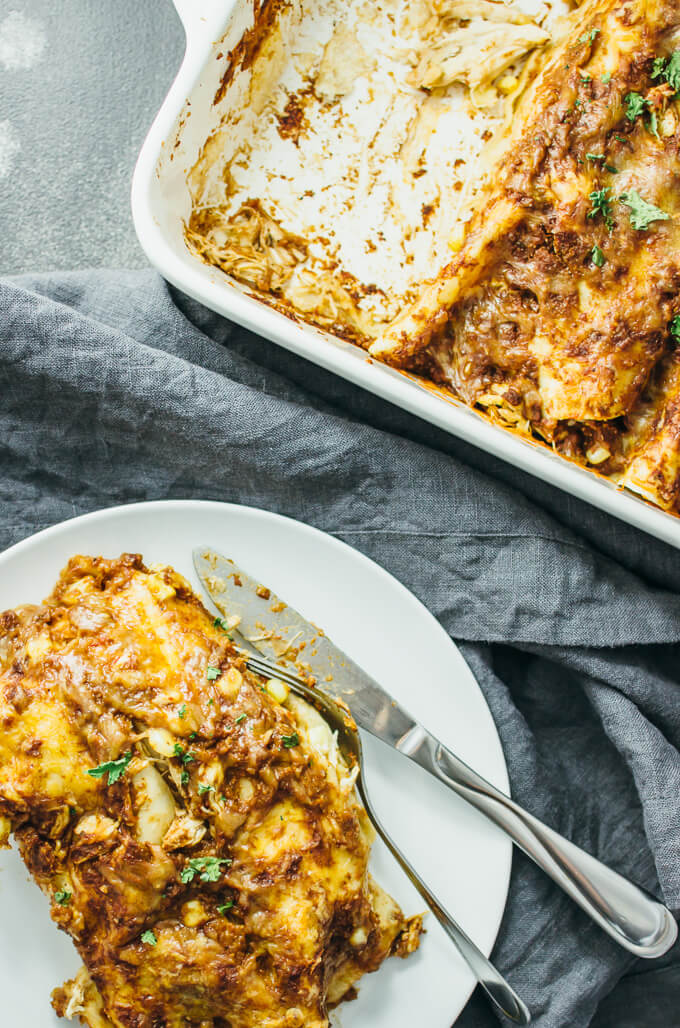 As for the enchiladas themselves, I used chicken but you can use whatever strikes your fancy — pork, steak, shrimp — it's all good. I prefer my meat shredded, so dust off your slow cooker to make some pulled meat. This is how I make shredded chicken in the slow cooker: add a few tablespoons of olive oil, place 1.5 pounds chicken breasts in a single layer, and cook on high for 4 hours. Yes, that's right, no need to add any other liquid! The chicken will ooze its own juice in no time at all and it won't end up dry. Try it!
If you're making these mole chicken enchiladas for dinner, don't forget to pair it with my favorite Mexican drink horchata (cinnamon rice milk) as well as some starters like my 5-ingredient salsa and loaded nachos. Yum!