Cool off on a hot summer day with this COLD peanut noodle salad! This Thai-inspired recipe consists of noodles, healthy vegetables, a tasty and spicy peanut dressing, and is topped with sesame seeds. This is an easy vegan and gluten-free dish that you can whip up for weeknight dinners during hot summer days.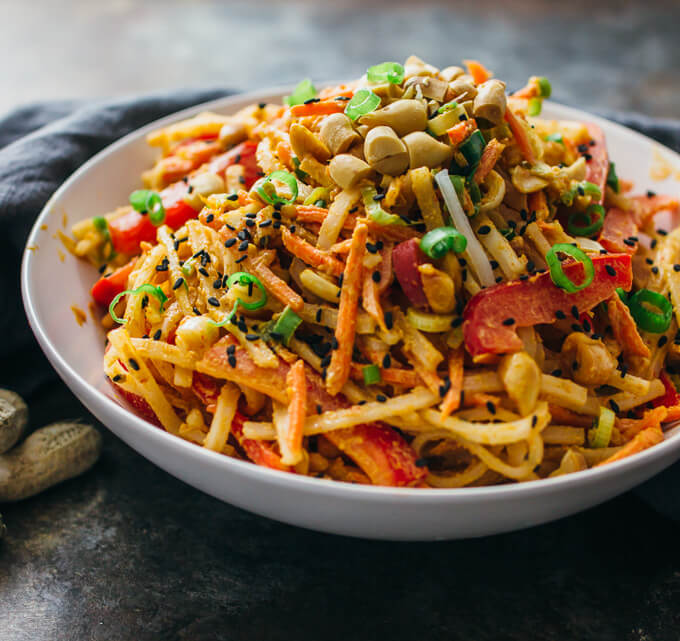 Last week here in Boston was really hot, like high 80s and humid. On most weekdays I take hour-long walks outdoors, and lately I've been such a sweaty mess afterwards that I've been trying to take my walks earlier and earlier in the morning. And it's getting harder to keep my place cool indoors so I've been loathe to use the oven. So I have been drinking cold drinks like horchata (my favorite cinnamon rice milk) all the time and cold dinners have been on my mind.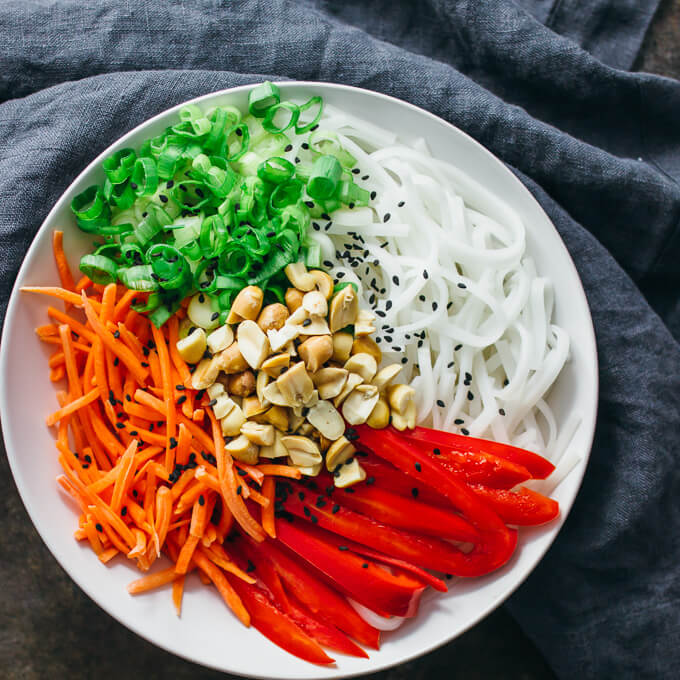 I've had various Asian cold peanut noodle salads at restaurants over the years, and my recipe represents all of my favorite things about these peanut noodle salads: fresh red bell pepper slices, shredded carrots, chopped scallions, noodles (any kind will work!), sesame seeds, and chopped peanuts. These are all easy and healthy ingredients to assemble. Very little cooking is involved (you only need to cook the noodles!) and this recipe is vegan + gluten-free as well. If you want some meat, that would be delicious too — I recommend adding some shredded chicken.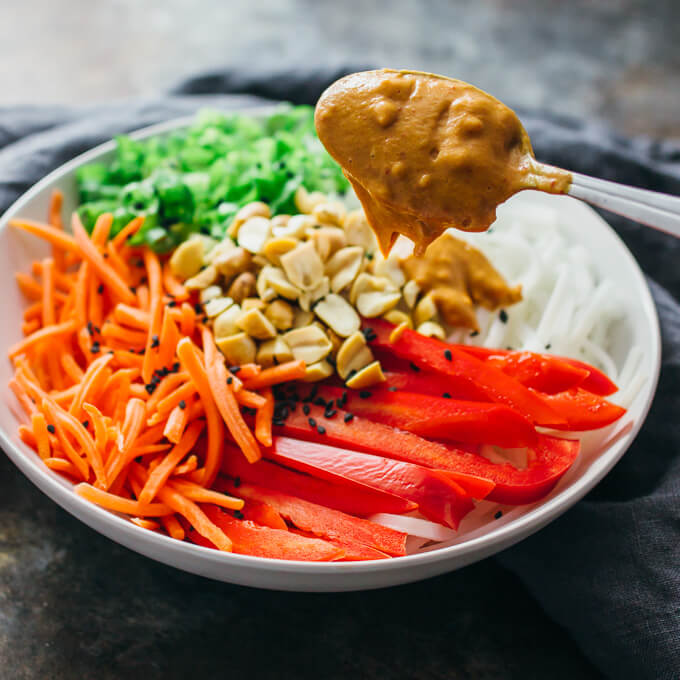 Let's talk about this peanut dressing. To make this dressing, I got some inspiration from my other peanut dish (spicy  and hot peanut noodles) and I tried to keep it simple: crunchy peanut butter (please get the REAL stuff and not Skippy or Jif), sriracha, vinegar, minced garlic, and hot water. It's a really tasty and spicy dressing that makes this cold peanut noodle dish come alive.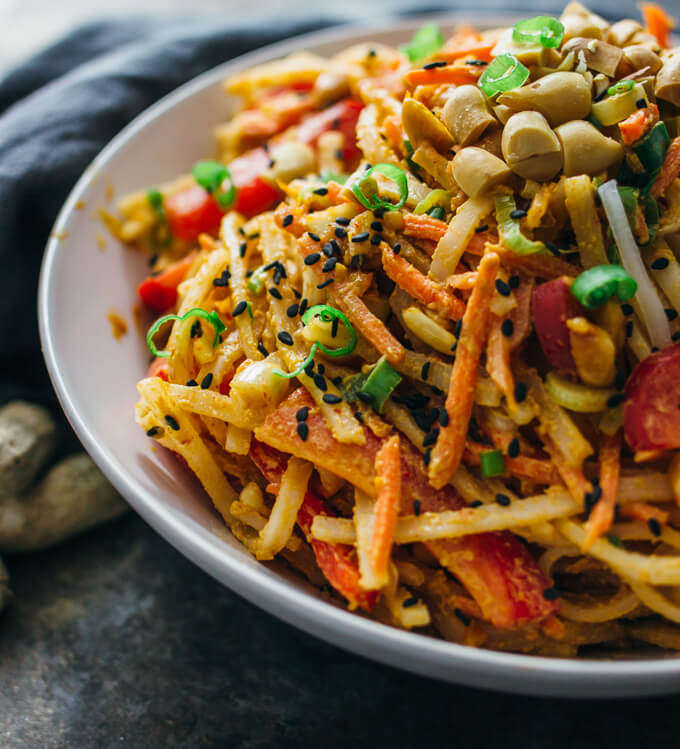 So grab some noodles, slice up your favorite vegetables, and whip up some peanut dressing. Let's make this nice cold peanut noodle salad for dinner and stay cool during summer!
Ingredients
8 ounces rice noodles (can substitute with linguini or spaghetti-style noodles)
1/2 red bell pepper, thinly sliced
1 cup shredded carrots
2 scallions (green onions), chopped
1/3 cup peanuts, chopped
1/2 teaspoon black sesame seeds

For the peanut dressing:

1/3 cup crunchy peanut butter
3 tablespoons sriracha
1 tablespoon rice vinegar
2 garlic cloves, minced
2 tablespoons hot water
Instructions
Cook noodles according to package directions. Drain and rinse with cold water in a colander until cool. Set aside.
Combine all of the peanut dressing ingredients in a mixing bowl. Mix until smooth. Set aside.
Combine the noodles with all other ingredients including the peanut dressing. Toss and mix well. Refrigerate until ready to serve.
http://www.savorytooth.com/cold-peanut-noodle-salad/
COPYRIGHT © 2016 · SAVORY TOOTH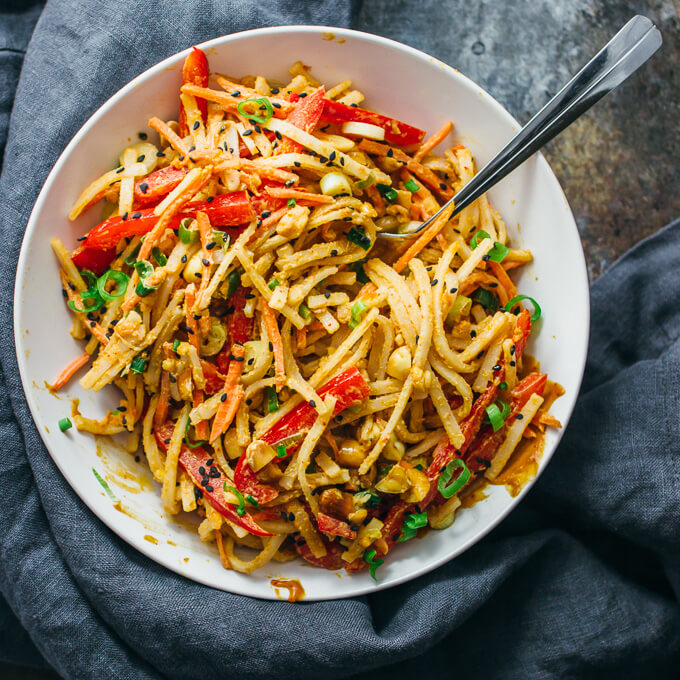 Sign up for the savory tooth e-mail list and I'll send you new recipes right when they come out. Better than having to check the site! You can also follow me on Instagram, Pinterest, and Twitter.