Summary:
Cool off on hot days with this flavorful peanut noodle salad featuring fresh bell pepper slices, shredded carrots, sliced scallions, chopped nuts, and a spicy peanut dressing.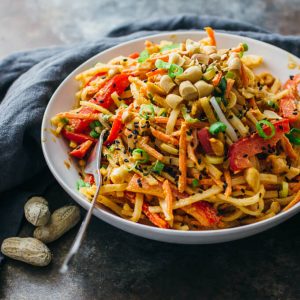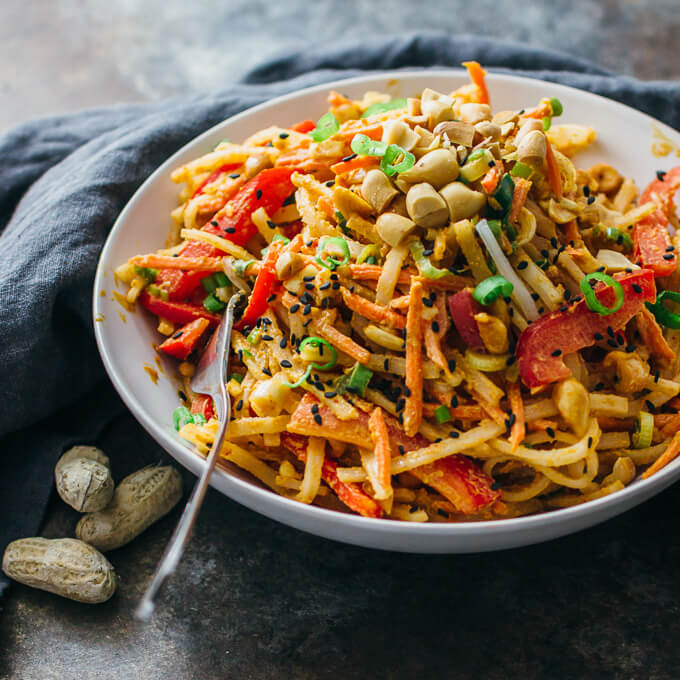 INSTRUCTIONS
Cook Noodles: Cook noodles according to package directions. Drain and rinse with cold water in colander until cool. Set aside.

Make Dressing: Stir together all peanut dressing ingredients in mixing bowl until smooth. Set aside.

Mix Salad: Toss noodles with bell pepper, carrots, scallions, peanuts, sesame seeds, and peanut dressing until well-mixed. Serve or refrigerate (Note 6).
NUTRITION
Makes 3 Servings
Amount Per Serving:
| | |
| --- | --- |
| Calories 590 (35% from fat) |   |
| Total Fat 23g | 36% |
|    Saturated Fat 4g | 19% |
| Cholesterol 0mg | 0% |
| Sodium 740mg | 31% |
| Net Carb 74g |   |
| Total Carb 81.5g | 27% |
|    Dietary Fiber 7.5g | 30% |
|    Sugars 9g |   |
| Protein 17g |   |
PHOTOS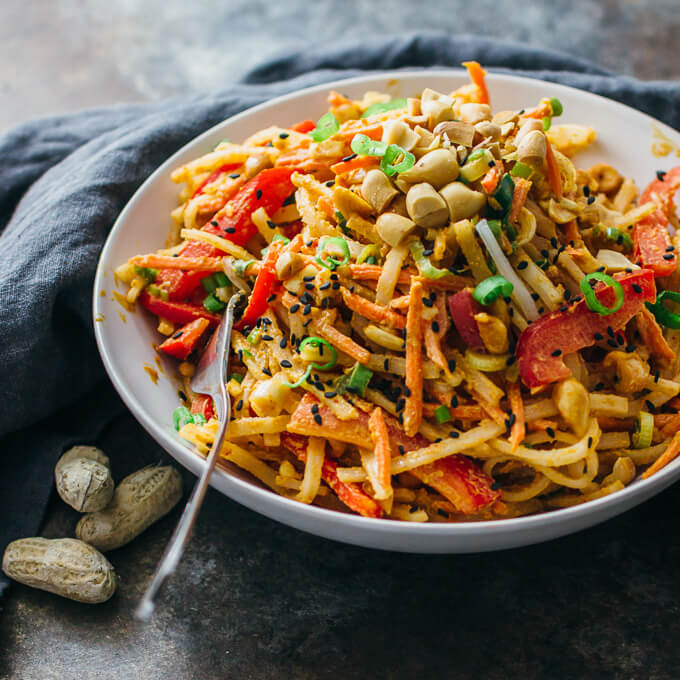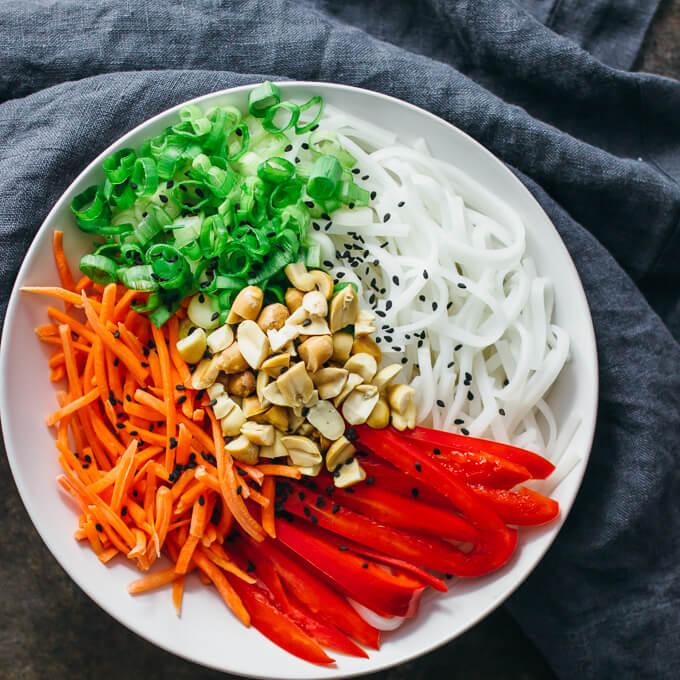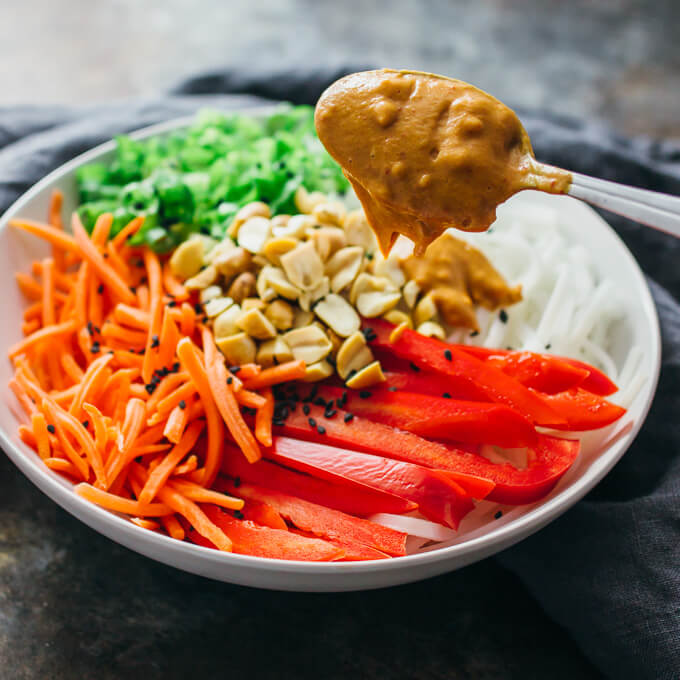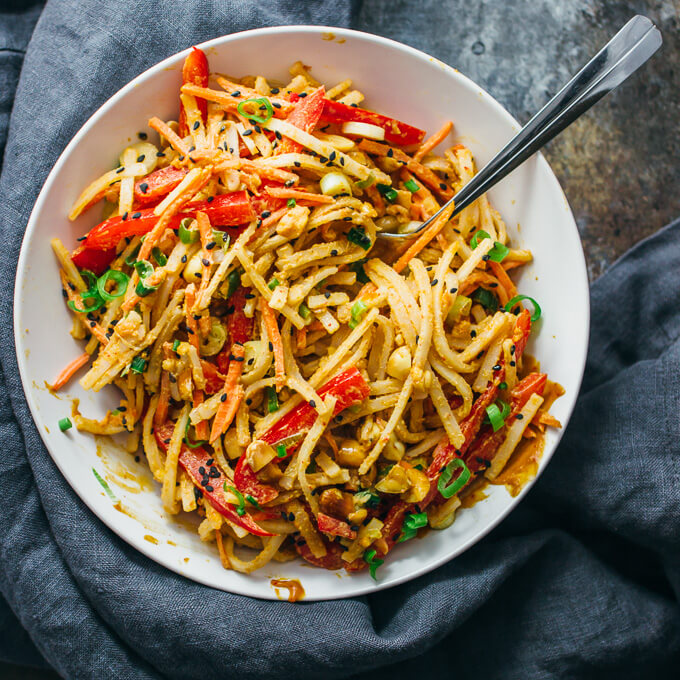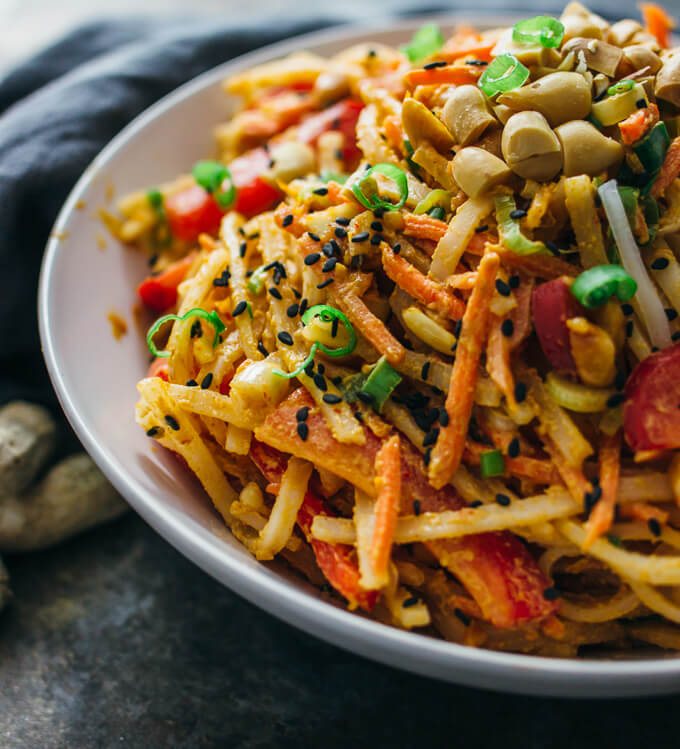 NOTES & TIPS
(1) Noodles. I use rice noodles. Substitute with any type of noodle, such as linguini, spaghetti, soba, shirataki, kelp, or zucchini noodles.
(2) Carrots. I use packaged pre-shredded carrots, usually found in the refrigerated produce section of U.S. grocery stores.
(3) Peanut Butter. I use crunchy salted peanut butter, without any special flavors or add-ins, and unsweetened. This is often referred to as "natural" peanut butter on package labels, and only peanuts and salt are listed on the ingredient label. There is typically some separation at room temperature, so stir up the jar of peanut butter before measuring out the amount to use.
(4) Sriracha. I use the brand Huy Fong. Substitute with another chili garlic sauce or your favorite hot sauce. Adjust amount according to desired spiciness.
(5) Rice Vinegar. If you can't find this, substitute with white vinegar.
(6) Serving. Cover and refrigerate the salad until ready to serve. Add extra protein by serving with a side of tofu (see tofu stir fry recipe) or shredded rotisserie chicken.