Summary:
Cute blueberry scones made with almond flour, cream, and a sugar free sweetener.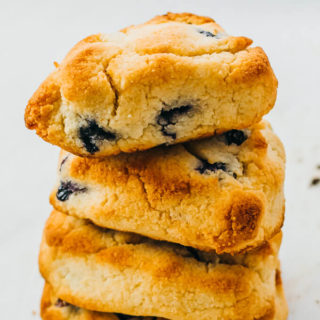 INGREDIENTS
1

cup

blanched almond flour (4 ounces weight)

1/3

cup

heavy whipping cream

2

tablespoons

swerve sweetener (1 ounce weight)

1/4

cup

fresh blueberries (1 ounce weight)

2

tablespoons

coconut flour (1/2 ounce weight)

1/2

teaspoon

baking powder

1/4

teaspoon

salt
INSTRUCTIONS
Position a rack in the center of the oven. Preheat to 350 F. Prepare a baking tray lined with parchment paper or nonstick baking mat.

In a bowl, add dry ingredients (almond flour, sweetener, coconut flour, baking powder, salt). Whisk until well-mixed.

Add heavy cream to the bowl. Stir together until absorbed and the mixture forms into a cohesive dough.

Add blueberries to the dough, carefully folding them in until well-distributed.

Divide the dough into 6 equal pieces. Form into wedge or triangle shapes. Space them out by 2-3 inches on the lined baking tray.

Bake at 350 F until the scones are lightly golden, 15 to 20 minutes.
NUTRITION
Makes 6 Servings
Amount Per Serving (1 small scone):
| | |
| --- | --- |
| Calories 160 (78% from fat) | |
| Total Fat 14g | 21% |
|    Saturated Fat 3g | 16% |
| Cholesterol 11mg | 4% |
| Sodium 210mg | 9% |
| Net Carb 2.5g | |
| Total Carb 5.5g | 2% |
|    Dietary Fiber 3g | 12% |
|    Sugars 2g | |
| Protein 5g | |
PHOTOS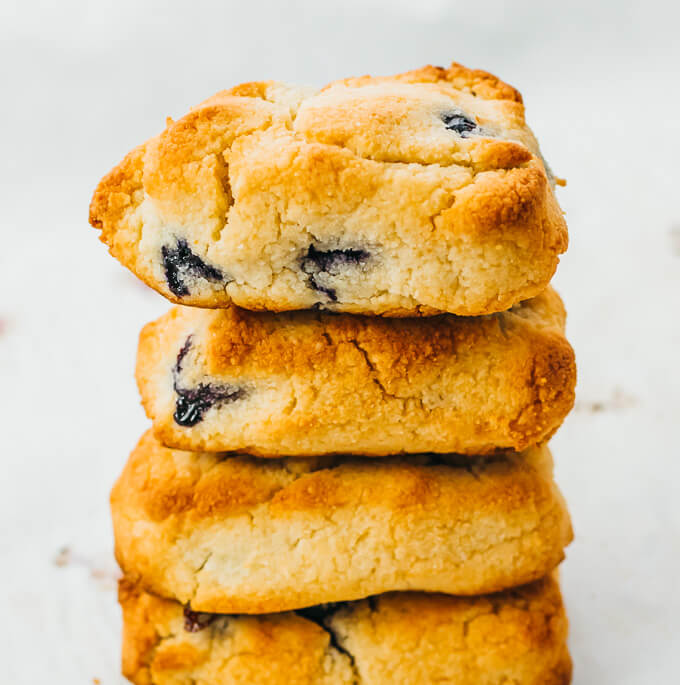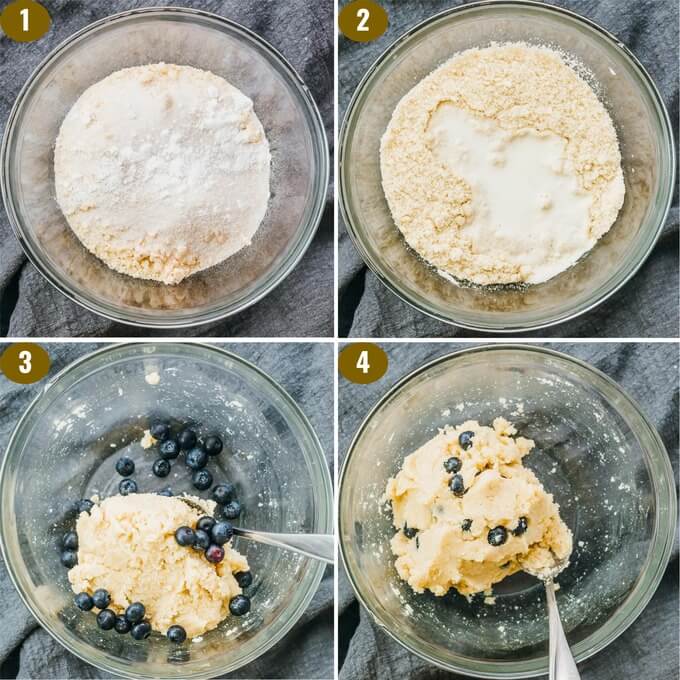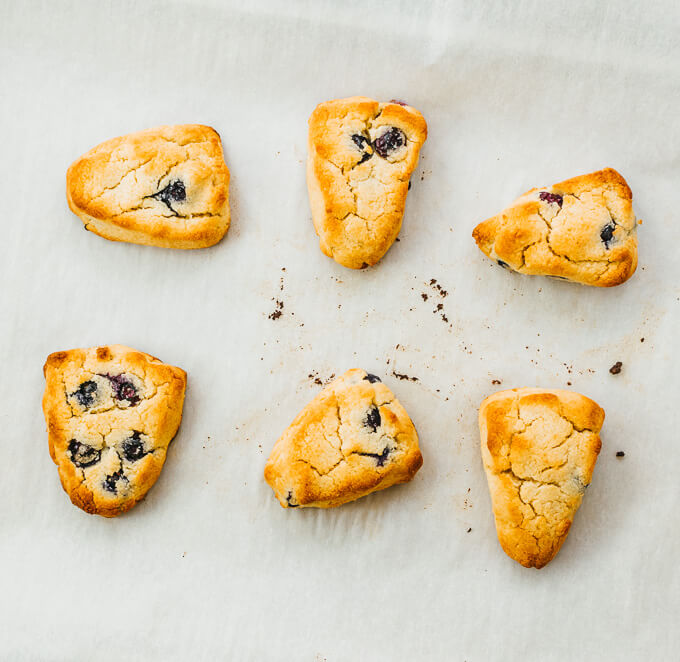 NOTES & TIPS

Blueberries. Use smaller blueberries if possible, so that they can be more evenly distributed in the dough. Then you'll get more frequent bites with blueberries in them.
Sweetener. I use a natural sugar-free sweetener called swerve, which is an erythritol blend that measures the same as sugar. Any other dry sweetener will also work well; for best results, make the appropriate sweetener conversions by weight so that you end up with the correct amount of sweetness. Note that pure erythritol is only about 70% as sweet as sugar, and often comes in rather large granules that should be powdered using a Nutribullet or similar blender before using.
Almond Flour. I've used blanched almond flour sold by brands like Trader Joe's, Kirkland, and Bob's Red Mill, all of which work well. Almond flour typically comes in blanched variety, which means that the skins are removed. You can buy them in many supermarkets like Whole Foods, or they can be purchased online at Amazon.
Dough Consistency. I recommend measuring out the main ingredients by weight, which will ensure the correct consistency and texture for the dough. Don't have a kitchen scale? If you're using the volume estimates, in the third step when you're adding heavy cream, you should add just enough until the mixture is able to form into a cohesive dough. Avoid adding too much, or else the scones won't be able to hold their form when baking.