Summary:
Ever wonder how to make boba (bubble tea) at home? This recipe shows you how to make boba with coconut and vanilla flavors using home-cooked tapioca pearls! You don't need many supplies nor ingredients to end up with this very refreshing drink.
Looking for low carb recipes instead? Visit the Savory Tooth Homepage.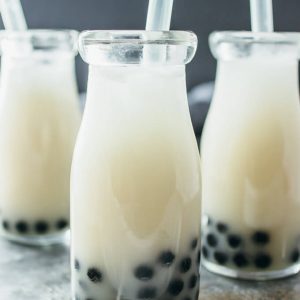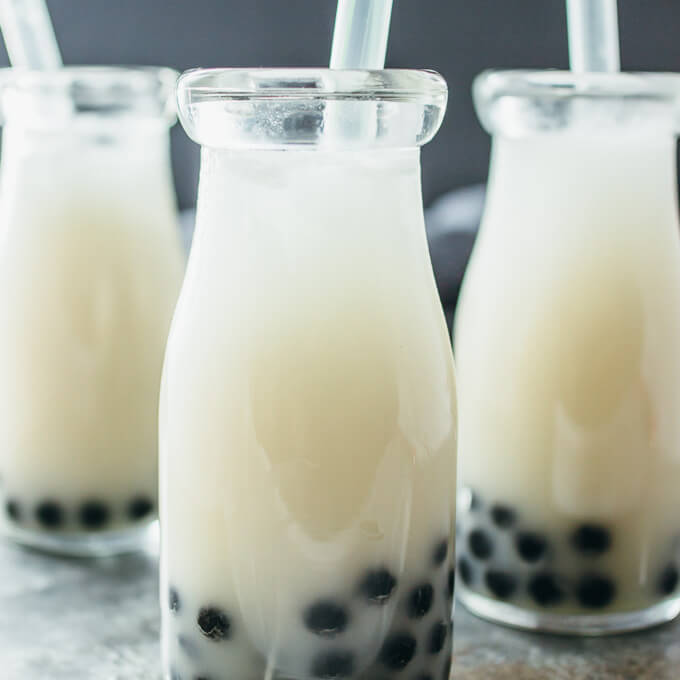 Coconut Bubble Tea (Homemade Boba Recipe)
INGREDIENTS
For the tapioca:
3/4

cup

black tapioca pearls

3

tablespoons

honey
INSTRUCTIONS
Tapioca pearls: Cook the tapioca pearls according to package instructions. After cooking, let the tapioca rest in cold water for half a minute. Drain the tapioca and mix with honey. Set aside while you prepare the rest of the drink.

Assemble the drink: Combine the black tea, coconut milk, and vanilla extract. Mix well. Add and stir in the tapioca pearls and honey. Serve chilled with ice.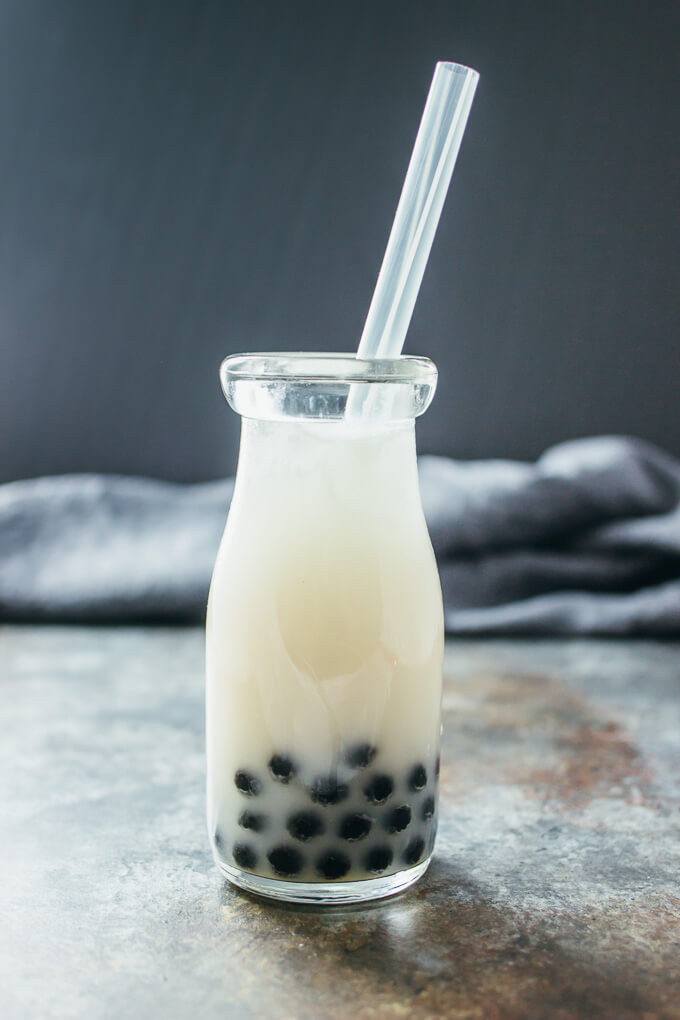 It's summer and we need more light drinks like this. Since living in Boston, I have noticed the sad state of affairs when it comes to boba here (or bubble tea, depending on the region you hail from). I've had boba that ranges from so-cloyingly-sweet-that-I-need-to-dump-this-out-immediately to tapioca-pearls-are-hard-in-the-center-and-therefore-inedible to this-is-just-okay. I've even been in tea shops that only serve boba during certain months of the year. It's a lot different than growing up in L.A. where I was able to get consistently excellent boba pretty much everywhere.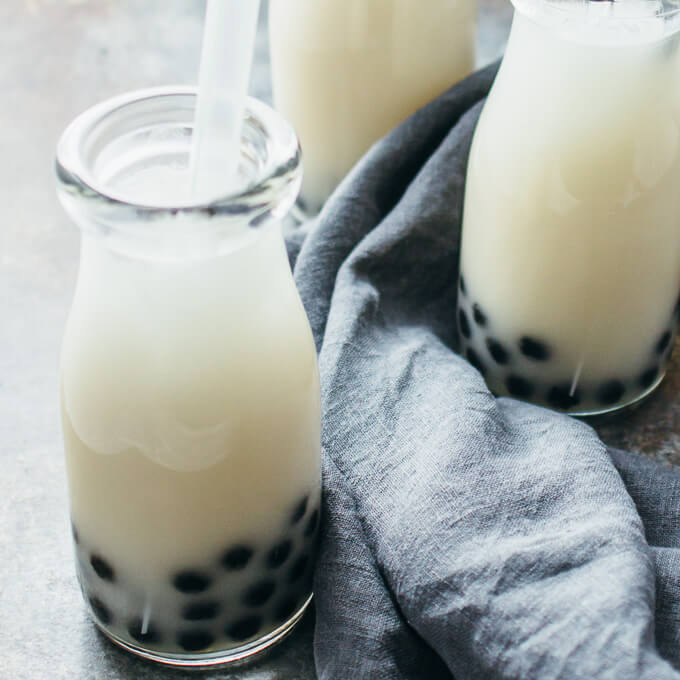 I love being able to make my own boba so that I can adjust the amount of sweetness to my liking (store-bought drinks are almost always too sweet for me), get the ratio of tea to milk just right, and pick the flavors that I want. And it's easy to do at home! I remember watching my mom whipping up a big batch of boba when I was a kid.
First, you need to buy tapioca pearls. You can buy these in your local Asian store or online. I ordered mine on Amazon (2 pack black tapioca pearls with straws) and they were really easy to cook! Just 5 minutes or so in a saucepan, then cooling, and then mixing in with some honey. You can adjust the cooking time to get your preferred tapioca pearl texture. I like mine on the soft squishy side, so I cooked them a minute or two longer. Also, get some straws for those tapioca pearls! My purchased tapioca pearls came with straws, which was really convenient, otherwise I would need to get the straws separately.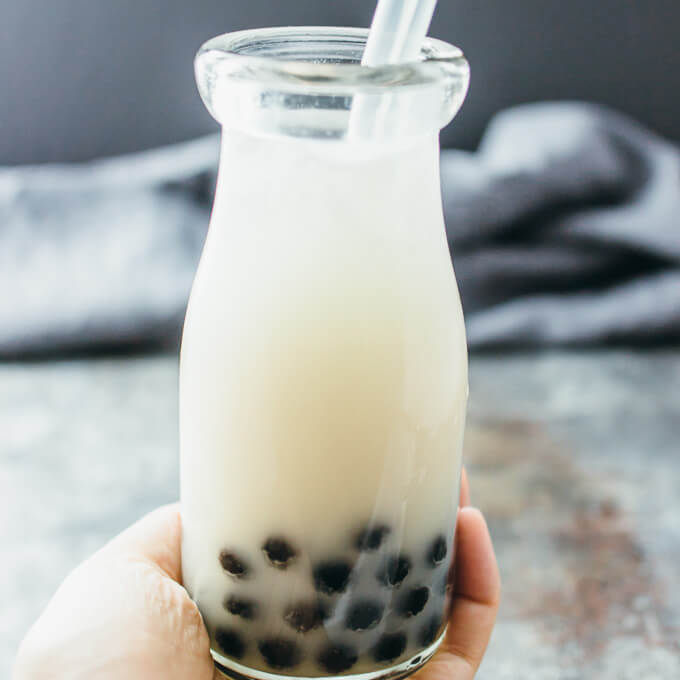 You can let the boba sit in the honey while you work on the other steps. Next step is brewing some tea. I used black tea because it's more authentic, but you can use any kind of tea and it will work just fine. Then you'll want to take that brewed black tea and mix it with coconut milk (I like using the ones that aren't fat-reduced) and vanilla extract. The coconut milk really shines here and gives the drink a very refreshing taste.
Then you'll mix everything together: the black tea, coconut milk, and vanilla extract mixture should be combined with the tapioca pearls and honey. Get some ice cubes and serve this drink chilled. Tapioca pearls lose their texture over time and harden, so I recommend consuming this drink soon after making it for the best results.
And that's it! You can also use this recipe as a general template for other flavors that you would like to infuse this drink with. Other good boba / bubble tea flavors include taro, mango, strawberry, and honeydew — those are my favorites. You can use the fruit to make a blended smoothie version.