Summary:
Ropa vieja is a comforting Cuban beef stew consisting of shredded beef, colored bell peppers, mild spices, and a tomato sauce.
Looking for low carb recipes instead? Visit the Savory Tooth Homepage.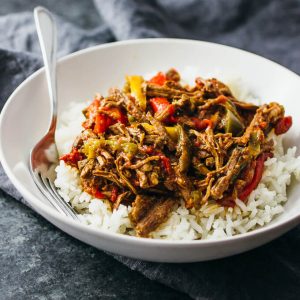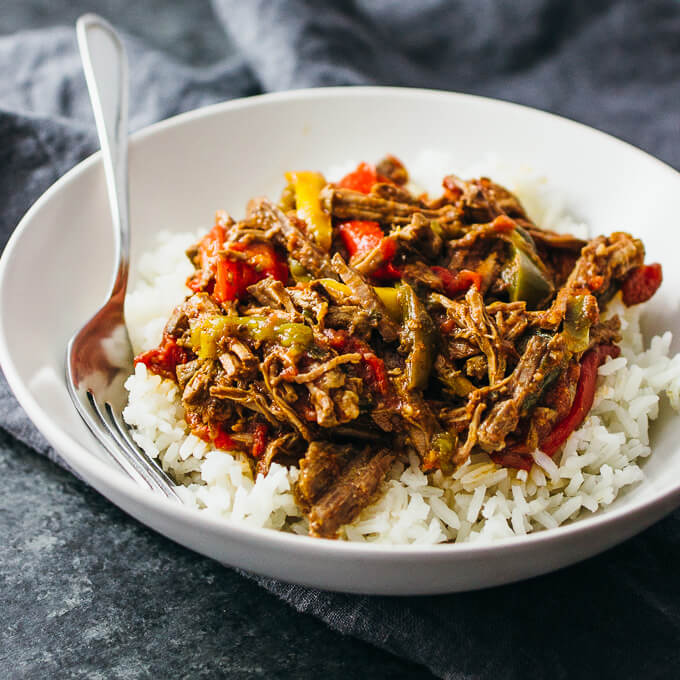 Cuban beef stew ropa vieja (slow cooker)
INGREDIENTS
1.5

pounds

beef stew meat

cut in 1-2 inch chunks

1

green bell pepper

thinly sliced

1

red bell pepper

thinly sliced

1

yellow bell pepper

thinly sliced

1

garlic bulb

peeled and minced

28 ounce can crushed tomatoes

unsalted

1

teaspoon

salt

1/2

teaspoon

cumin

1/2

teaspoon

oregano

1/2

teaspoon

paprika

1/2

teaspoon

pepper

1

tablespoon

canola oil
INSTRUCTIONS
Heat canola oil on a large pan over medium heat. Add beef and sear until mostly brown, about 5 minutes, stirring occasionally. Transfer to the slow cooker. Sprinkle salt, cumin, oregano, paprika, and pepper over the beef in the slow cooker.

Add sliced bell peppers to the pan over medium-high heat. Sear until they start to soften, about 5 minutes, stirring occasionally. Transfer to the slow cooker on top of the beef. Add garlic over the bell peppers.

Pour crushed tomatoes over the contents of the slow cooker. Cook on high for 4 hours.

Shred the beef using forks. Stir everything together until well-mixed.
NUTRITION
This recipe yields 14.5 g net carbs per serving. Nutrition information does not include rice.
Nutrition Facts Per Serving
| | |
| --- | --- |
| Calories 490 | |
| Total Fat 23g | 35% |
| Saturated Fat 7g | 33% |
| Trans Fat 1g | |
| Cholesterol 145mg | 48% |
| Sodium 990mg | 41% |
| Potassium 1440mg | 41% |
| Total Carb 23.5g | 8% |
| Dietary Fiber 9g | 35% |
| Sugars 2g | |
| Protein 47g | |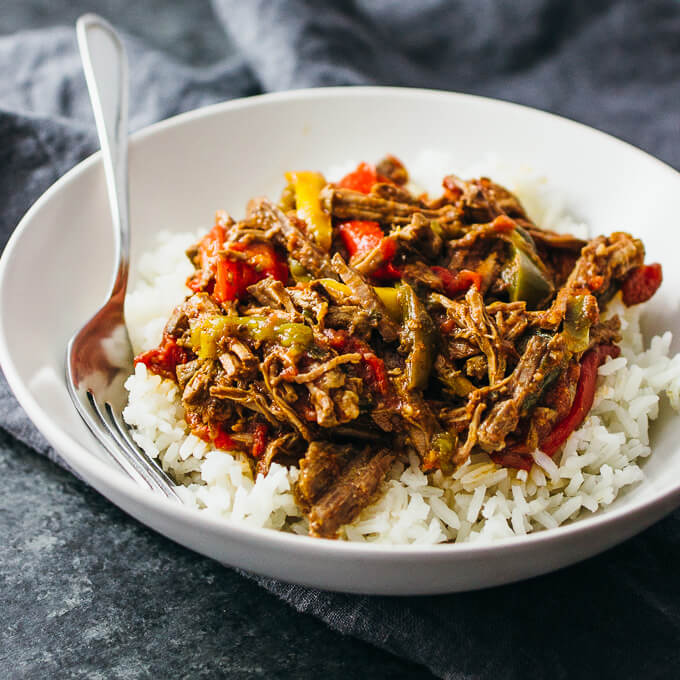 Translated as "old clothes" from Spanish, ropa vieja is a deliciously slow-cooked Cuban beef stew with mild flavors — nothing too strong, and not spicy either. Similar to a mild pot roast, but Cuban style. It's often served with white rice, and sometimes with black beans and plantains. This is one of Cuba's national dishes, and it's affectionately called "old clothes" because the shreds of beef and bell pepper look like a mess of colorful rags. To emphasize that, I made sure to include three different colors of bell peppers in this recipe.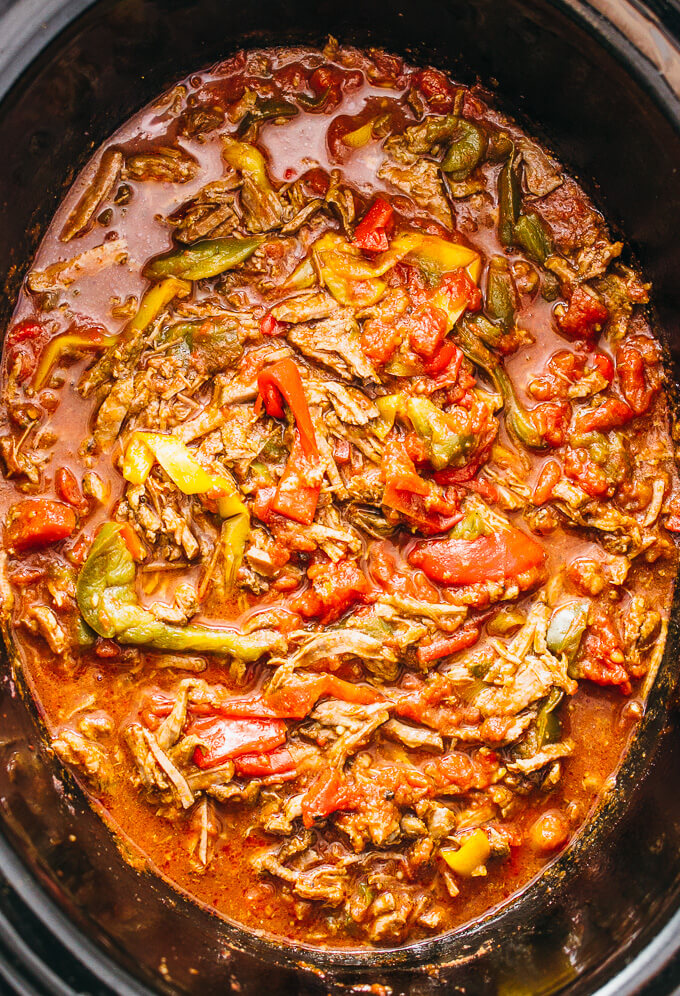 The beef and bell pepper slices are cooked for hours in the slow cooker — alternatively, you could cook them in a dutch oven on the stove — and you end up with juicy shreddable beef and very tender bell peppers. This Cuban beef stew is traditionally made using flank steak, but I thought that slow-cooked flank steak would be such a waste of good meat, so I used cheaper beef stew cuts.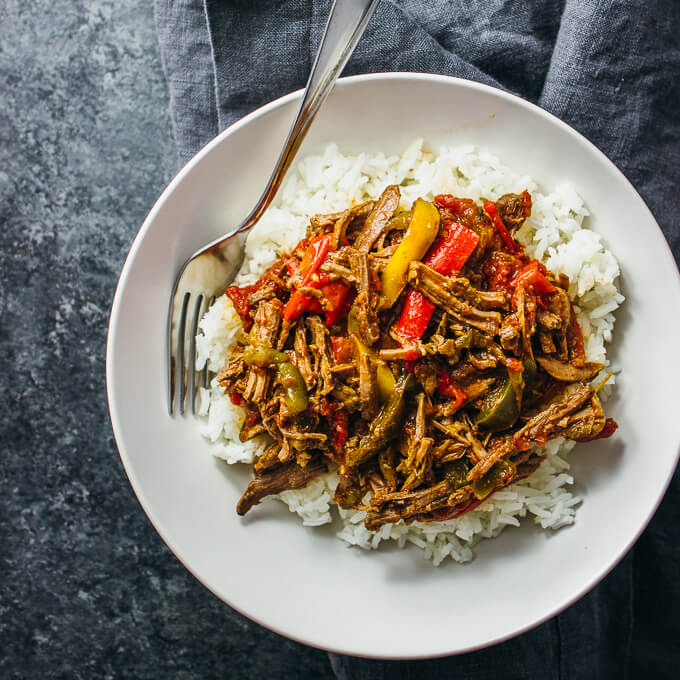 The last time I had great Cuban food was when I took a quick weekend trip to Miami a few years ago. I went on a food tour of South Beach and tasted beef and potato empanadas, passion fruit ceviche, and of course, delicious ropa vieja. I'll have to go back again sometime for more amazing Cuban food tasting.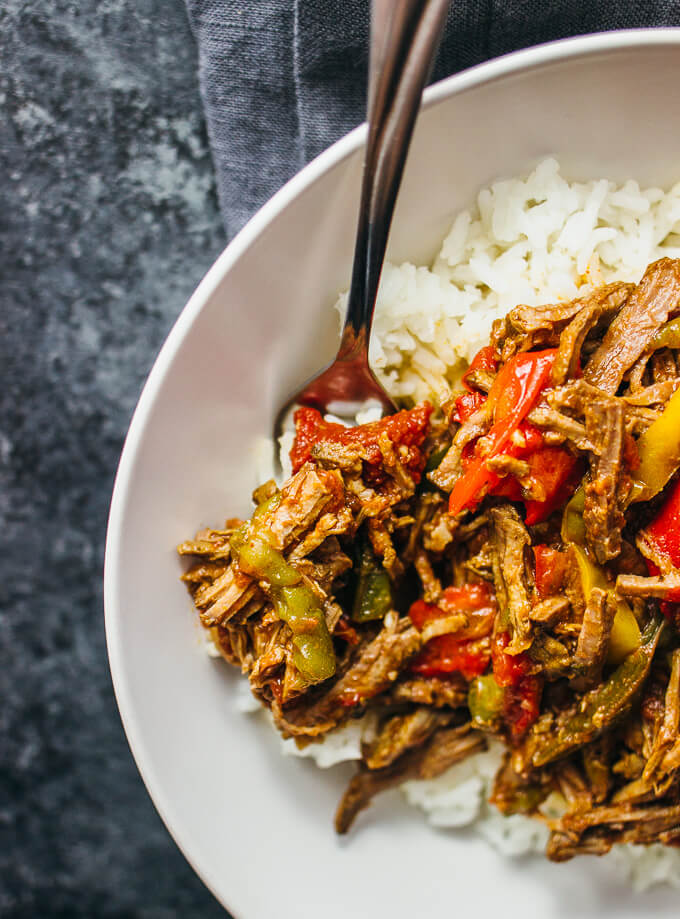 For more beef stews, check out this Instant Pot Beef Stew With Potatoes.