Summary:
This is a simple stovetop recipe for eggplant caponata, which can be enjoyed as a main or side dish, hot or cold. It has complex flavors that are savory and earthy, yet also tangy from the olives, lemon, capers, and balsamic vinegar.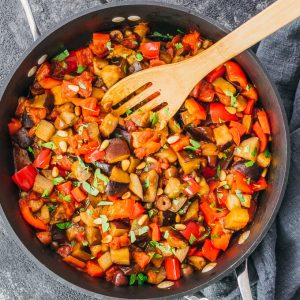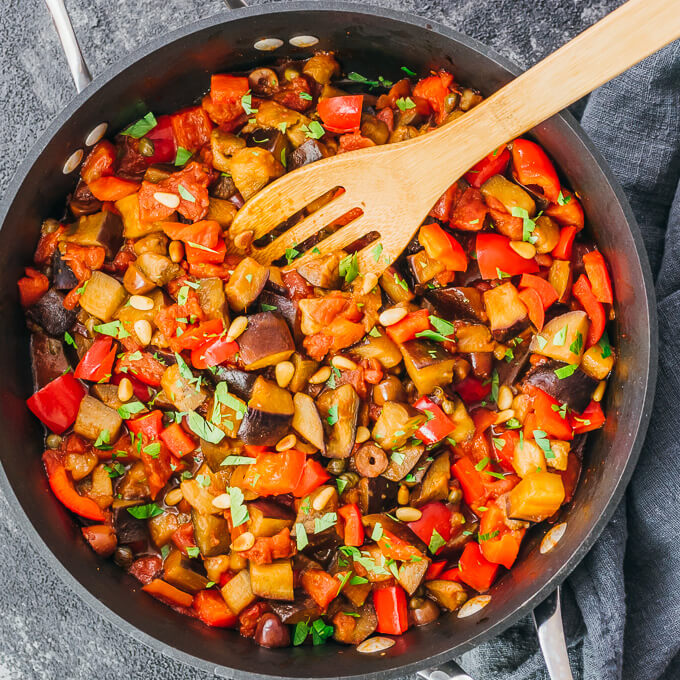 INGREDIENTS
1

small eggplant, chopped into cubes (Note 1)

1

red bell pepper, chopped

15-ounce can

diced tomatoes

1/2

cup

sliced kalamata olives (Note 2)

1/4

cup

olive oil

2

tablespoons

capers, drained

2

tablespoons

fresh lemon juice

1

tablespoon

balsamic vinegar

1/4

cup

pine nuts
chopped fresh parsley, for garnish
INSTRUCTIONS
Toast Pine Nuts: Add pine nuts to small skillet over medium heat. Cook until golden in color, a few minutes, frequently stirring to prevent uneven cooking. Set toasted pine nuts aside.

Cook Eggplant & Tomatoes: Add eggplant cubes to 3-quart or larger pan. Drizzle olive oil on top. Stirring frequently, cook over medium heat until eggplant cubes are brown and shrunken, 10 to 15 minutes. Add diced tomatoes, including liquid in can. Stirring occasionally, cook until eggplant is soft, 5 to 10 minutes.

Add Other Ingredients: Add bell pepper, olives, capers, lemon juice, and balsamic vinegar to pan with eggplant and tomatoes. Stirring occasionally, cook until bell pepper is tender, about 5 minutes.

Finish & Serve: Season with salt and pepper to taste. Top with fresh parsley and toasted pine nuts, and serve (Note 3).
NUTRITION
Makes 6 Servings
Amount Per Serving:
| | |
| --- | --- |
| Calories 180 (73% from fat) |   |
| Total Fat 15g | 22% |
|    Saturated Fat 2g | 8% |
| Cholesterol 0mg | 0% |
| Sodium 230mg | 10% |
| Net Carb 8g |   |
| Total Carb 12.5g | 4% |
|    Dietary Fiber 4.5g | 18% |
|    Sugars 6g |   |
| Protein 1g |   |
PHOTOS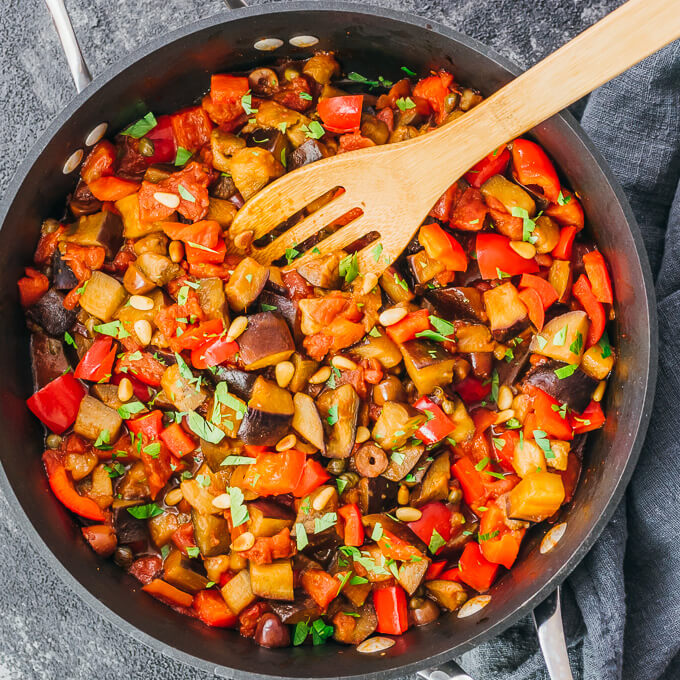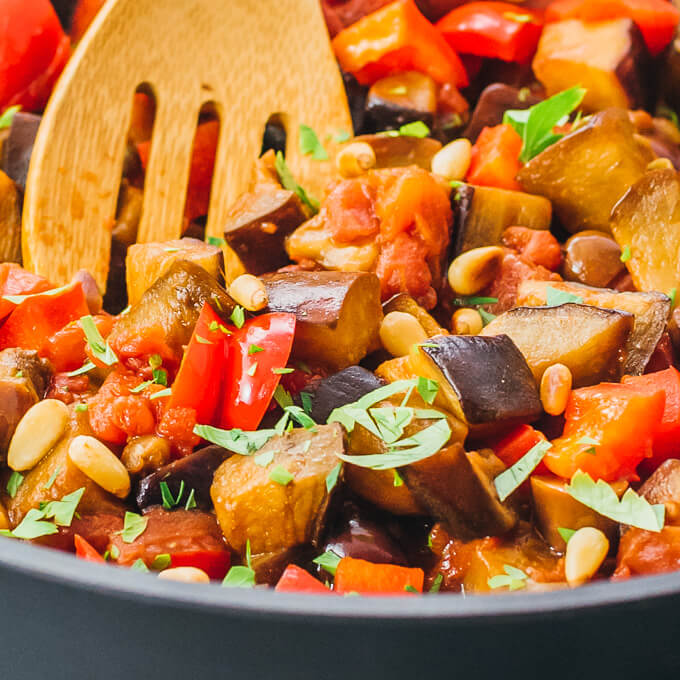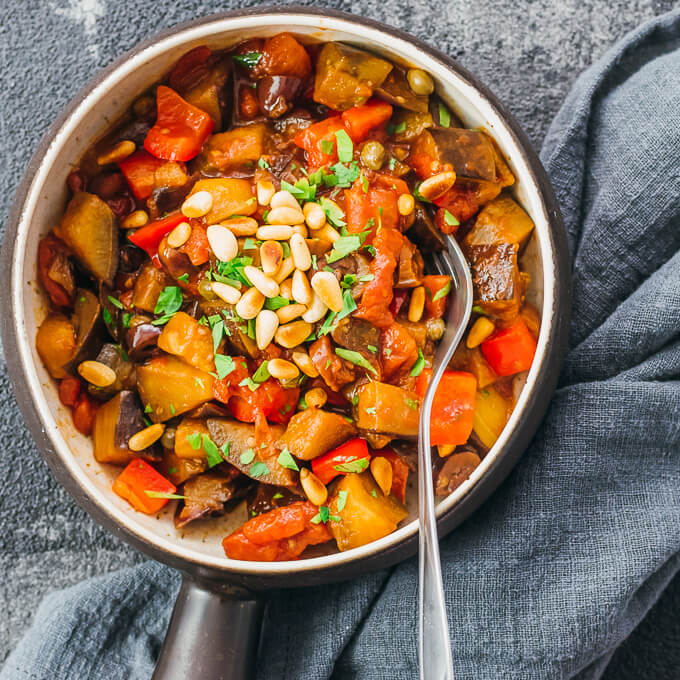 NOTES & TIPS
(1) Eggplant. One small eggplant is about 1 pound. Peeling is not necessary.
(2) Olives. Use your favorite type of olive; kalamata olives are acidic and sharp in taste, whereas black olives are more mild. For convenience, I buy olives that are already pitted and sliced, typically packaged in liquid in a can or jar.
(3) Serving. There are countless ways to enjoy eggplant caponata. Serve hot, room temperature, or chilled. It's typically served as an appetizer or side dish, but also delicious as a light main dish. Pair with grilled chicken breasts or spaghetti, use it as a topping for toasted baguette or pita chips, or enjoy with crackers and cheese.