Summary:
This is a straightforward one-pot recipe for Hungarian goulash, a spicy beef stew generously thickened with onions, tomato paste, and paprika. The beef is slowly simmered until incredibly tender, and comes with extra sauce that pairs nicely with noodles.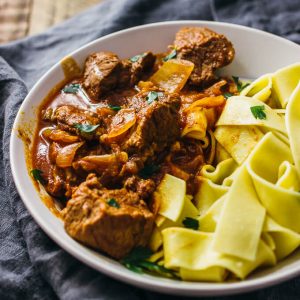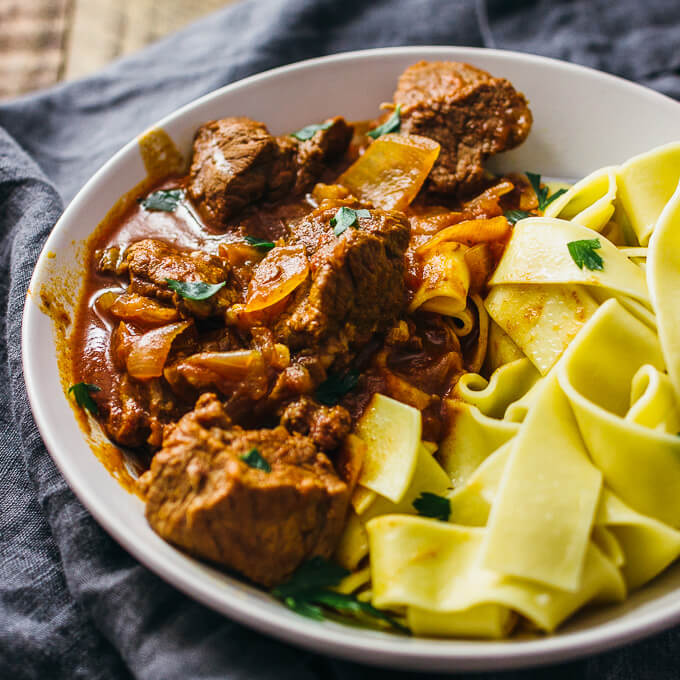 INGREDIENTS
3

pounds

beef stew meat, cut into 1-2 inch chunks

3

yellow onions (about 2 pounds), chopped

2

cups

vegetable broth

6-ounce can

tomato paste

10

cloves

garlic, chopped

1/4

cup

paprika (Note 1)

1

teaspoon

table salt

2

tablespoons

olive oil
optional egg noodles and parsley, for serving (Note 3)
INSTRUCTIONS
Cook Onions: Heat olive oil in large pot (Note 4) over medium heat. Add onions, garlic, and salt to pot. Cook until onions soften, about 5 minutes, stirring frequently.

Brown Beef: Coat beef chunks in mixture of paprika and cayenne, then add to pot with onions. Cook until beef browns, about 5 minutes, stirring frequently.

Simmer Stew: Reduce heat to medium-low. Add vegetable broth and tomato paste to pot, and stir. Cover with lid and simmer until meat is very tender, about 2 hours, stirring occasionally. Serve.
NUTRITION
Makes 6 Servings (Note 5)
Amount Per Serving:
| | |
| --- | --- |
| Calories 670 (53% from fat) |   |
| Total Fat 40g | 61% |
|    Saturated Fat 14g | 72% |
| Cholesterol 179mg | 60% |
| Sodium 760mg | 32% |
| Net Carb 11g |   |
| Total Carb 14.5g | 5% |
|    Dietary Fiber 3.5g | 14% |
|    Sugars 6.5g |   |
| Protein 64g |   |
PHOTOS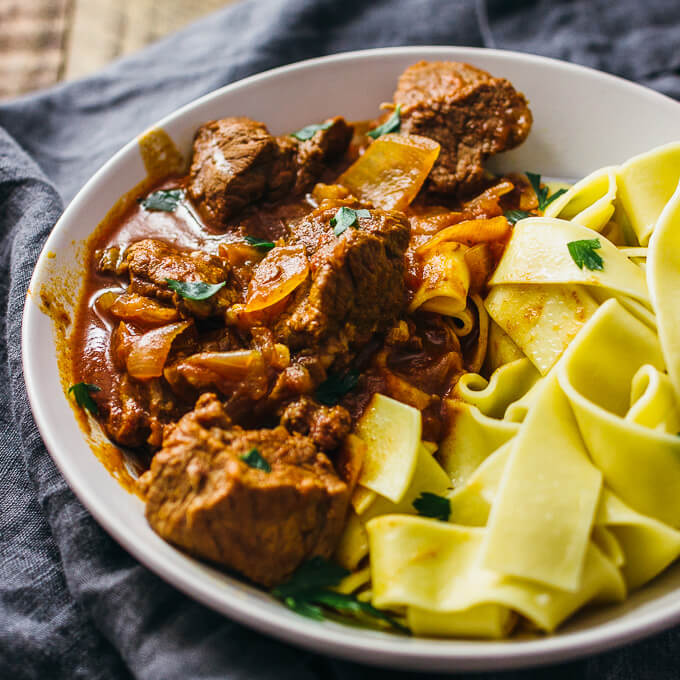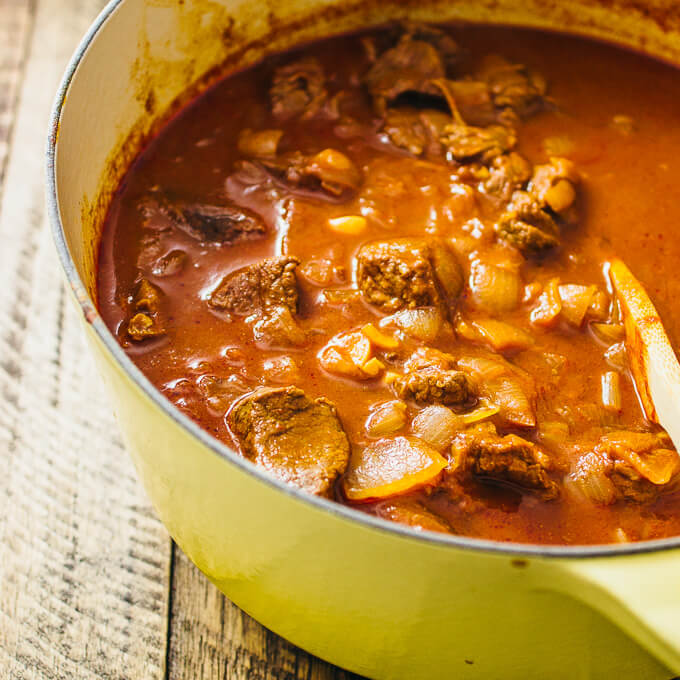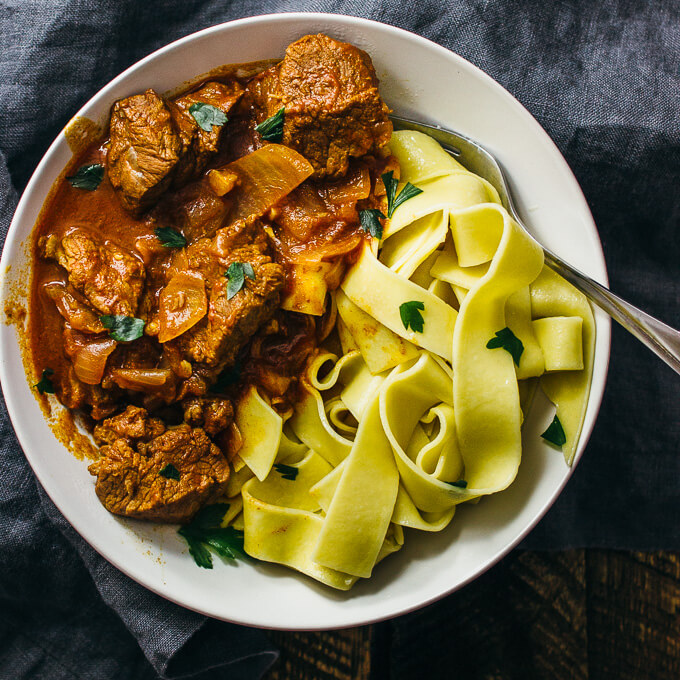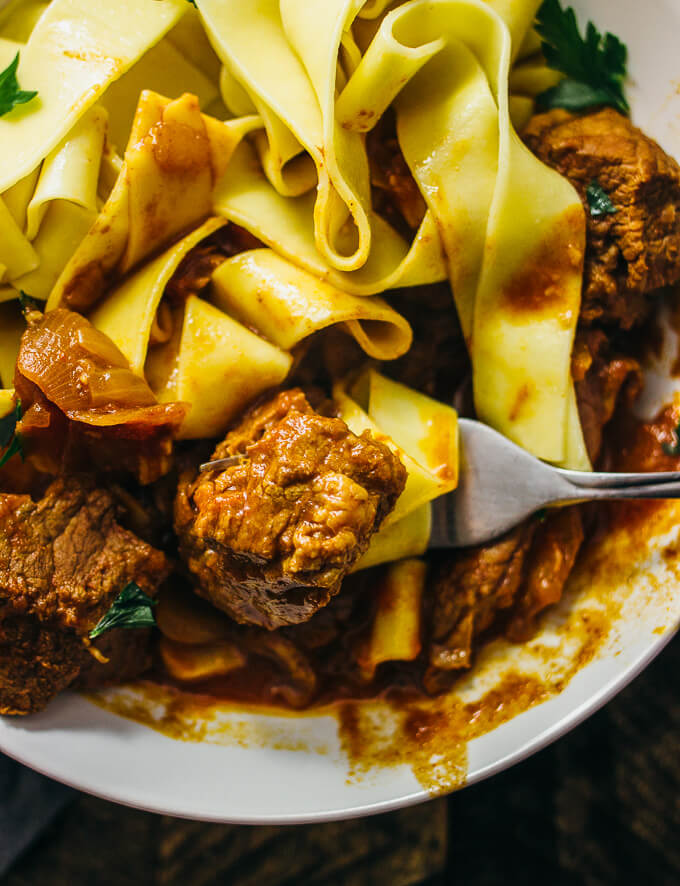 NOTES & TIPS
(1) Paprika. Yes, 1/4 cup — this is not a typo. You can use Hungarian sweet paprika to be authentic, but any kind of paprika will work nicely here.
(2) Cayenne. This is a lot of cayenne, but it will be divided among 6 servings and this is meant to be a spicy stew. If you can't handle the heat, decrease the amount as needed.
(3) Egg Noodles / Parsley. This stew pairs well with egg noodles, and can be topped with chopped fresh parsley.
(4) Large Pot. I use a 6-quart yellow dutch oven, as shown in one of the photos. Use a pot with at least 5-quart capacity, with a fitting lid.
(5) Nutrition. The nutrition estimate does not include egg noodles or parsley.