Summary:
Hungarian beef goulash is a spicy beef stew with onions and plenty of paprika. Here's an easy recipe for this classic dish where everything cooks in a single pot.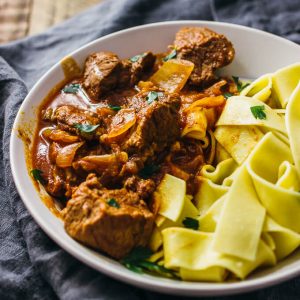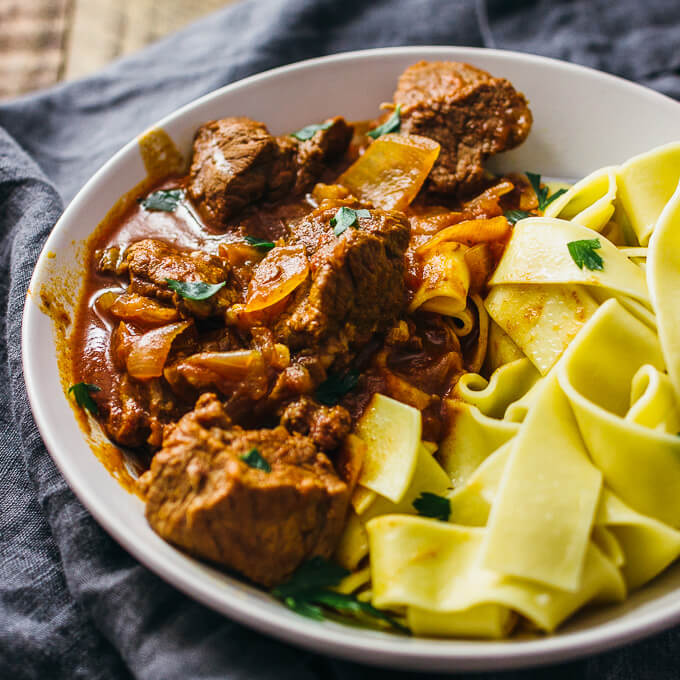 INSTRUCTIONS
Heat olive oil in a large pot over medium heat. I used a 6 quart

dutch oven

.

Add onions, garlic, salt, and pepper to the pot. Cook until the onions soften, about 5 minutes, stirring frequently.

Coat the beef chunks in a mixture of paprika and cayenne, and add to the pot. Cook until the beef browns, about 5 minutes, stirring frequently.

Reduce the heat to medium-low. Add stock and tomato paste to the pot, and stir. Cover with a lid and let simmer until the meat is very tender, about 2 hours, stirring occasionally.

Serve and garnish with parsley.
NUTRITION
This recipe yields 13 g net carbs per serving. Nutrition information does not include noodles.
Nutrition Facts Per Serving
| | |
| --- | --- |
| Calories 590 | |
| Total Fat 30g | 47% |
| Saturated Fat 9g | 45% |
| Trans Fat 1.4g | |
| Cholesterol 193mg | 64% |
| Sodium 910mg | 38% |
| Potassium 1320mg | 38% |
| Total Carb 17g | 6% |
| Dietary Fiber 4g | 15% |
| Sugars 7g | |
| Protein 63g | |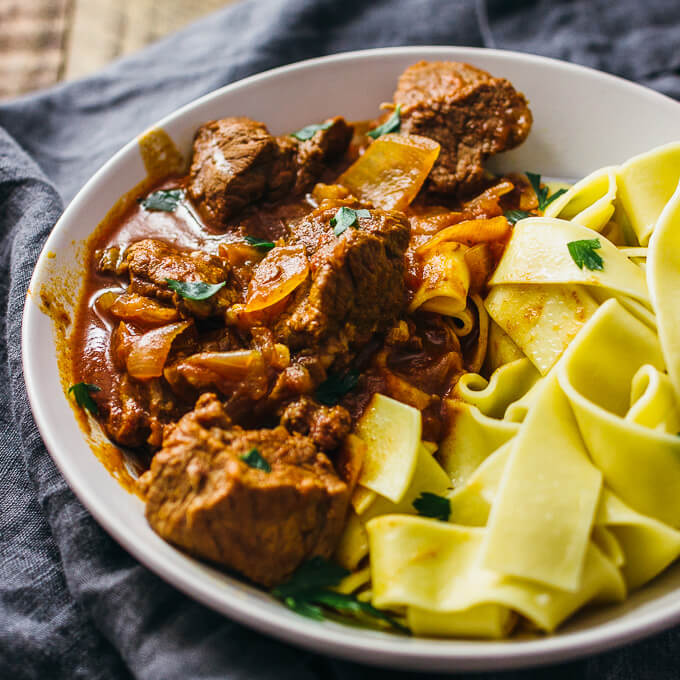 I had a delicious and very spicy Hungarian beef goulash at a German restaurant earlier this year. It was a thick beef stew with paprika, egg noodles, onions, and generous amounts of sauce. It was relatively simple in terms of ingredients, but full of flavor with tender beef chunks. It was also extremely spicy, which was a nice surprise. I'm always game for a delicious spicy stew, and I finally got the chance to recreate this comforting dish last weekend. It was perfect for the rainy weather here in Boston.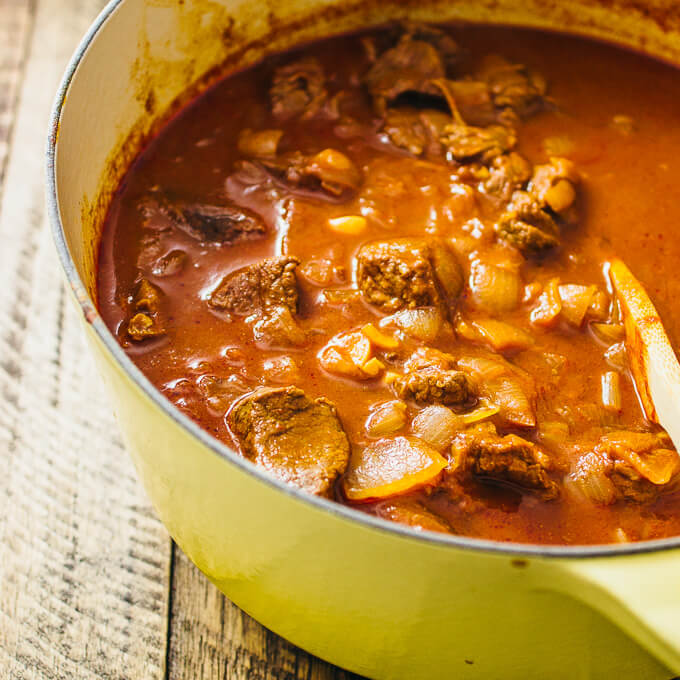 Hungarian goulash is made without any thickeners like flour, and instead it relies on other ingredients like onions, paprika, and tomato to help thicken the stew. In my recipe, I used a lot of onions and paprika; in fact, 3 whole onions and 1/4 cup of paprika for 3 pounds of beef. These ingredients allow for a nice thick stew where everything is simmered for hours on the stove until the beef is tender. For the paprika, you can use Hungarian sweet paprika to be authentic, but really, any kind of paprika will work nicely here.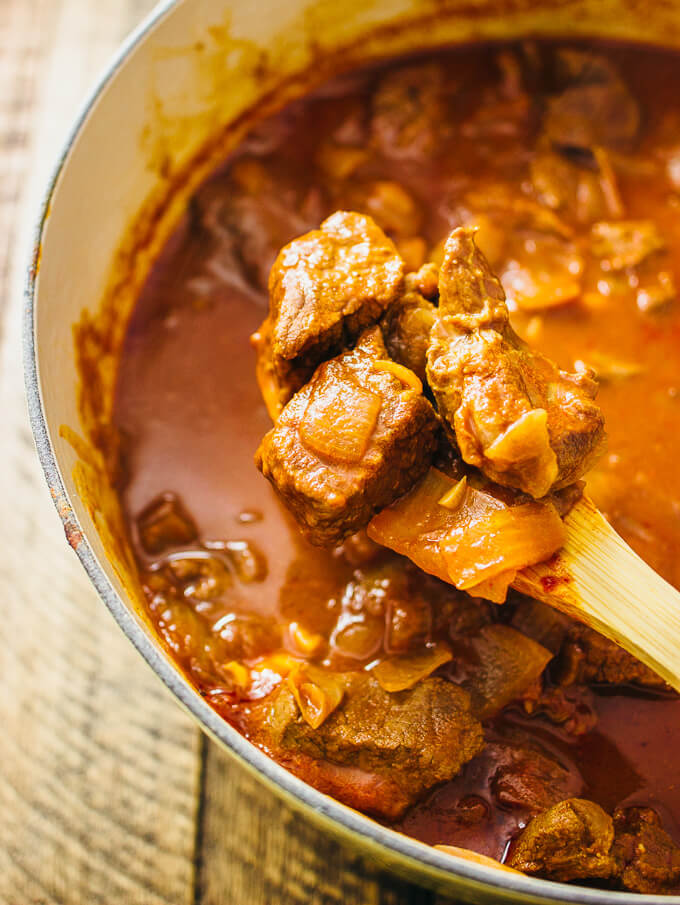 Only one pot is needed for this recipe, and it's fairly straightforward without requiring much attention once everything is added to the pot. I used a dutch oven (as pictured above) and I recommend using a pot that can hold at least 5 quarts and comes with a lid. I was able to cook up a large quantity of goulash using my pot, so I'll be enjoying those leftovers over the next few days.