Summary:
The Instant Pot makes easy-to-peel hard boiled eggs -- use them for breakfast or for spicy deviled eggs. Keto, low carb, and gluten free recipe.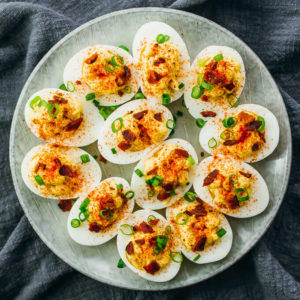 Instant Pot Hard Deviled Eggs Recipe
INGREDIENTS
Toppings:
1

slice

cooked bacon

crumbled

1

tablespoon

chopped fresh chives or scallions

1/8

teaspoon

paprika
INSTRUCTIONS
Hard-Boiled Eggs:
Add 1 cup of water to the pressure cooker pot. Place a trivet, steamer basket, or specialized egg rack inside the pot. Place eggs on top.

Secure and seal the lid. Cook for 5 minutes at high pressure, followed by 5 minutes of natural release. Manually release remaining pressure.

Uncover. Transfer the eggs to a colander and rinse under cold water for a few minutes.
Deviled Eggs:
Peel and slice each egg lengthwise. Carefully scoop out the egg yolks into a large mixing bowl, and mash them. Add mayonnaise, mustard, salt, and pepper, and mix well.

Using sriracha in its squeeze bottle, squirt about 1/4 teaspoon of sriracha into each empty egg white.

Scoop the egg yolk mixture into a small sandwich plastic bag. Cut off a tiny corner, and pipe the filling over each egg white. Alternatively, use a pastry bag and tip.

Garnish with paprika, chives, and crumbled bacon. Refrigerate until ready to serve.
NUTRITION
Makes 12 Servings
Amount Per Serving (1 deviled egg):
| | |
| --- | --- |
| Calories 80 (76% from fat) | |
| Total Fat 7g | 10% |
| Saturated Fat 1g | 6% |
| Cholesterol 97mg | 32% |
| Sodium 140mg | 6% |
| Net Carb 0.5g | |
| Total Carb 0.5g | 0% |
| Dietary Fiber 0g | 0% |
| Sugars 0.5g | |
| Protein 3g | |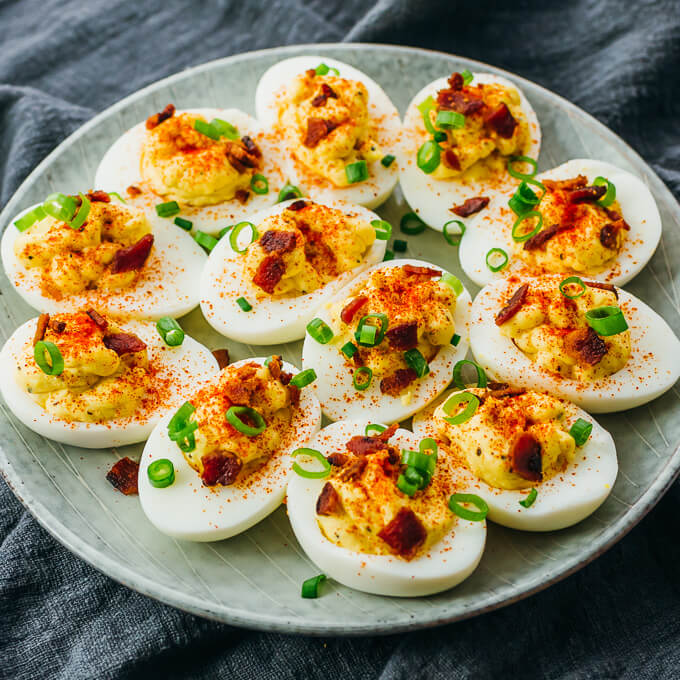 Recipe Overview
The pressure cooker is an easy and foolproof method of cooking hard boiled eggs so that they're easy to peel. It takes 5 minutes for each of these steps: pressurizing the pot, high pressure cooking, and natural pressure release.
Since the egg shells peel off effortlessly, you can easily use the cooked eggs to make my favorite low carb deviled eggs. I add sriracha to spice them up, and I top them with crispy crumbled bacon for an extra crunch.
If deviled eggs aren't your thing, you can use the cooked eggs to make an egg salad or an egg sandwich.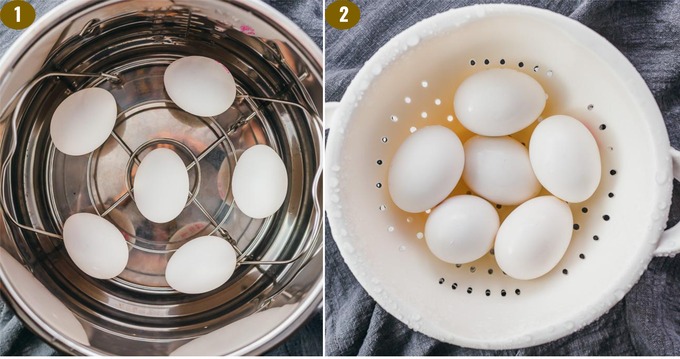 No Special Equipment Needed
You don't need a specialized egg rack to cook perfect hard boiled eggs. You can use a trivet, like the one that came with your Instant Pot (pictured above), or a steam rack.
Same goes for deviled eggs. You don't need a pastry bag and tip in order to pipe the filling into each egg; instead, use a small sandwich plastic bag and cut a small corner of it. Works just as well.
Removing The Yolks
It's best to remove the yolks as cleanly as possible from the egg whites. In my experience, the yolks will easily pop out if you use a small spoon to apply pressure as you scoop it out.
You need to be gentle so that you don't accidentally break the egg whites in the process.
If you're having trouble with yolk removal, you may want to cook the eggs tip-point down to center the yolk.
A Spicy Surprise
These deviled eggs come with a spicy surprise… there's a small dollop of sriracha squirted into the empty egg whites before the yolk mixture is added.
I usually add a tiny amount, like 1/4 teaspoon per egg white half, for mildly spicy deviled eggs. You can easily adjust the amount to match your preferences.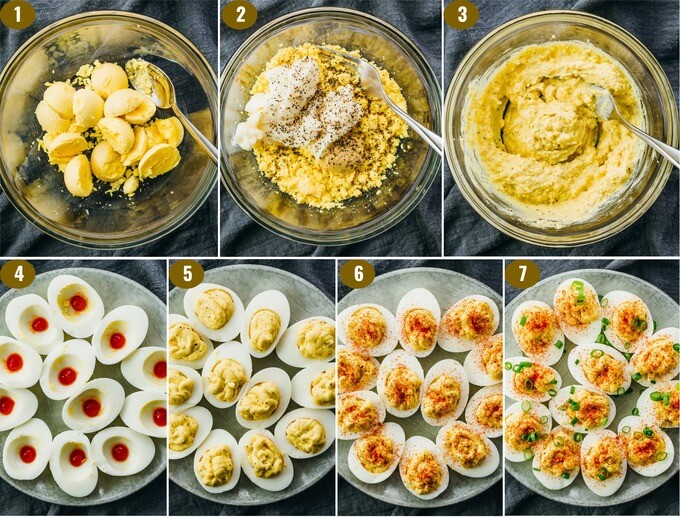 Bacon Topping
You can prepare your toppings while the eggs are cooking in the pressure cooker. The bacon will take the longest, and since you only need a small amount (1 slice) for topping, you can simply cook it in the microwave.
I usually cover the raw bacon slice with multiple paper towels and microwave for 2 1/2 minutes or until crispy. You may need to microwave for shorter or longer periods of time depending on your particular microwave.
Other ways to cook bacon include frying it on a pan or baking it in the oven.
Serving
After assembling the deviled eggs and adding toppings, store them in the refrigerator until ready to serve.
Personally, I much prefer the taste of chilled deviled eggs and not the room temperature freshly made ones, so it's best to plan ahead so that you have time to refrigerate them.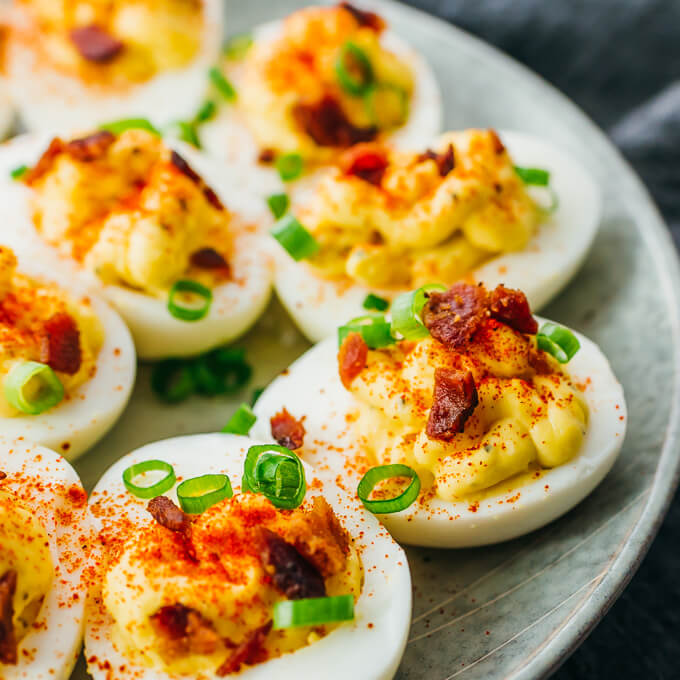 MORE EASY INSTANT POT RECIPES: