Note: This is one of my older recipes and is not low carb. Visit my Recipes page for low carb and keto recipes.
I love these homemade pan-fried Chinese dumplings, filled with ground beef and sliced scallions. Also known as potstickers, they're fun to assemble, can be made ahead of time, and easy to cook.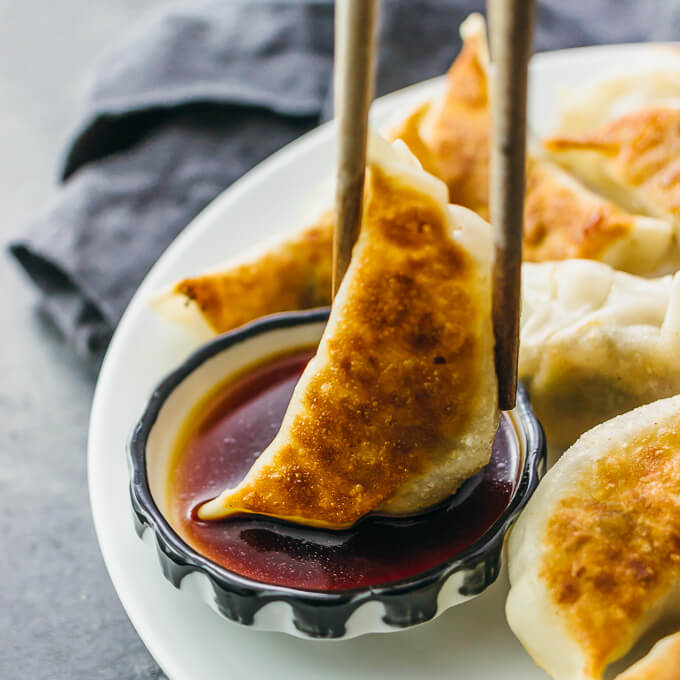 This pan-fried Chinese dumplings recipe is another family favorite handed down from my mom, in addition to her Mexican salsa, Kung Pao chicken, and classic cheesecake recipes. My mom has been making dumplings for decades, often making hundreds at a time, and I've been helping her for as long as I can remember.
Dumplings can have a wide variety of fillings; most commonly, they are filled with ground pork with cabbage, chicken with onions, beef with scallions, or shrimp with celery. One of my favorites is the classic beef dumpling, which has a simple filling with ground beef, scallions, fresh ginger, and sesame oil.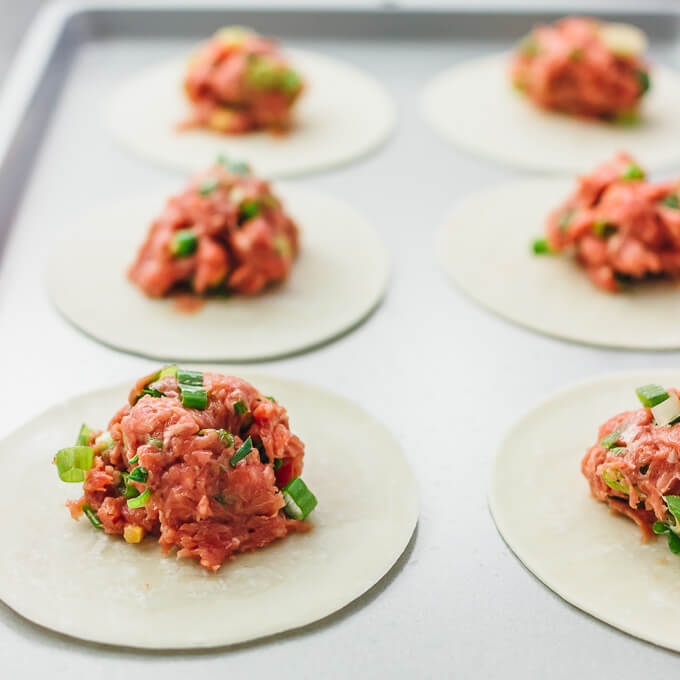 Freshly made dumplings keep well for months in the freezer, which is why it's easy to whip up a big batch of homemade Chinese dumplings to freeze until ready to cook. Once frozen, they can be quickly cooked by either boiling or pan-frying, which makes them perfect for dinner in a pinch.
If boiling, the dumplings should be added to boiling water and they are done when they float to the surface. If pan-frying, you can follow the recipe instructions below but expect a longer cooking time. I find cooking frozen dumplings to be easier than cooking fresh ones, because frozen dumplings are easier to handle and don't stick as readily to pans.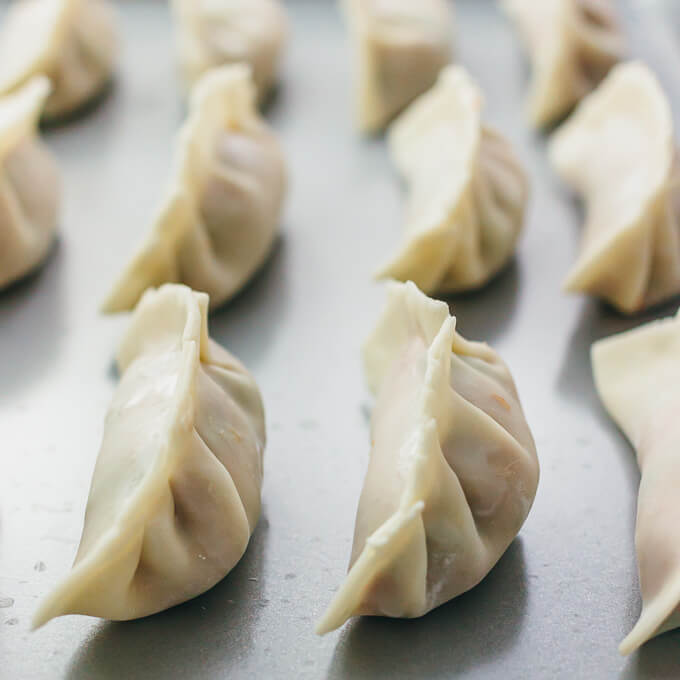 Chinese dumpling wrappers are different from egg roll wrappers or wonton wrappers, which are both square shaped.  Dumpling wrappers are round and fit into the palm of your hand. You can find them in the refrigerated sections of major supermarkets as well as Asian specialty grocers like H-Mart. Alternately, you can also try making your own dumpling dough.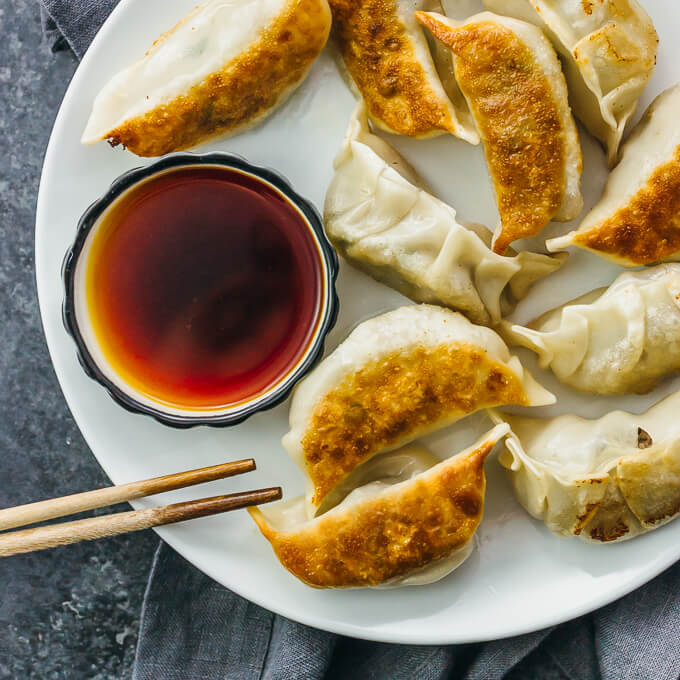 Here are a few tips on wrapping dumplings:
Take the package of dumpling wrappers out of the fridge to let them soften at room temperature before wrapping. Ideally let them sit out for 1-2 hours. This will make the wrappers more flexible and easier to handle.
Keep the dumpling wrappers covered when not in use, so that they don't get too dry. Once wrapped with filling, drape a wet paper towel over them.
Don't overstuff the dumplings, otherwise they will be difficult to wrap and you might end up with broken wrappers. Keep the stuffing to about 1 tablespoon of beef mixture.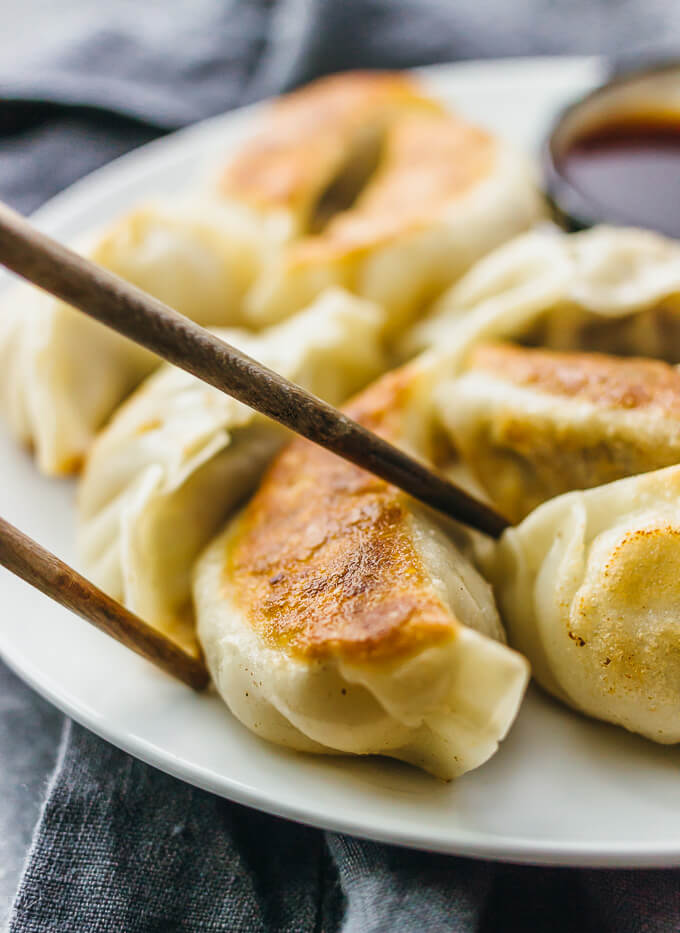 For the dipping sauce, I prefer soy sauce mixed with some rice vinegar and a dash of sesame oil. You can make it a little spicy by adding some sriracha  — the options are endless.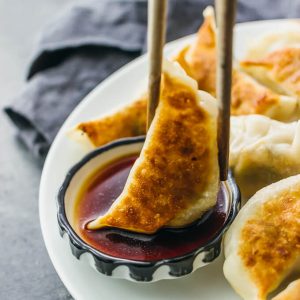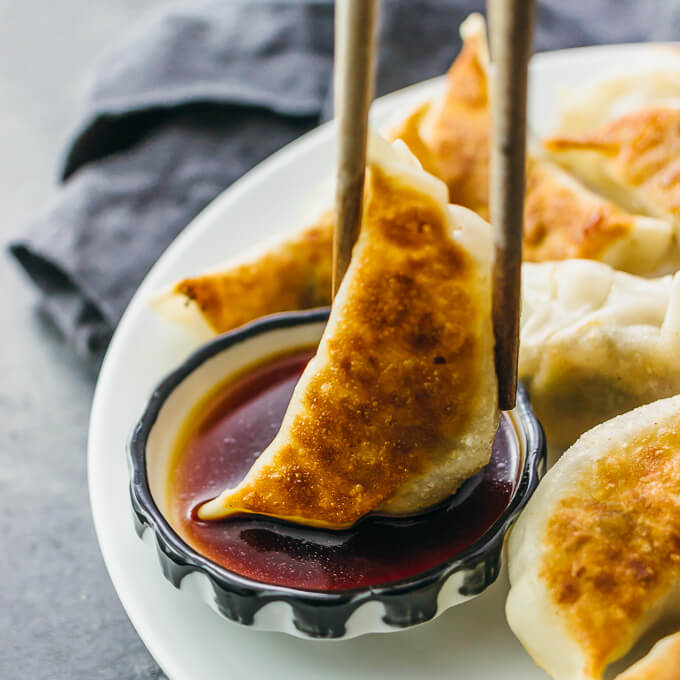 Pan Fried Chinese Dumplings Recipe
DESCRIPTION
Homemade pan-fried Chinese dumplings filled with ground beef and sliced scallions. Also known as potstickers, they're fun to assemble, can be made ahead of time, and easy to cook.
INGREDIENTS
For filling and wrapping:
1

pound

ground beef

85% lean or less

8

scallions

thinly sliced

1

tablespoon

minced fresh ginger

2

tablespoons

sesame oil

1

teaspoon

salt

30

round dumpling wrappers
INSTRUCTIONS
Remove the dumpling wraps from the refrigerator. Let sit at room temperature to soften while you work on the next step.

In a large mixing bowl, combine beef, ginger, sesame oil, and salt. Stir until it combines into a smooth and sticky mixture. Add scallions and stir them into the mixture.

Prepare a surface for wrapping the dumplings and a small dish of water. Scoop about 1 tablespoon of the beef mixture onto a wrapper. Dip your finger in the water and run it along the round edges of the wrapper to moisten. Fold in half and pinch along the edges to seal, using more water if needed. Repeat until the beef mixture is used up, using a damp paper towel to cover the assembled dumplings so they don't dry out.

Heat canola oil in a nonstick pan over medium heat for a few minutes until hot. Working in batches, add dumplings to the pan in a single layer. Let them cook until browned on the bottom, about 5 minutes.

Pour about 2 tablespoons of water over the dumplings and cover with a lid. Let them steam until cooked through, about 5 minutes. Remove the lid. Transfer the dumplings to a serving plate.

Combine dipping sauce ingredients in a dip bowl. Serve with dumplings.