Summary:
Try this simple recipe for turkey stroganoff — shredded turkey meat with sliced mushrooms in a creamy sour cream sauce served over egg noodles.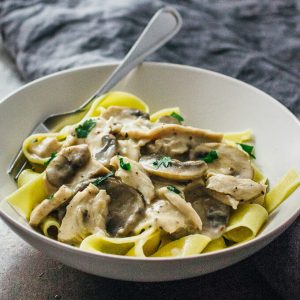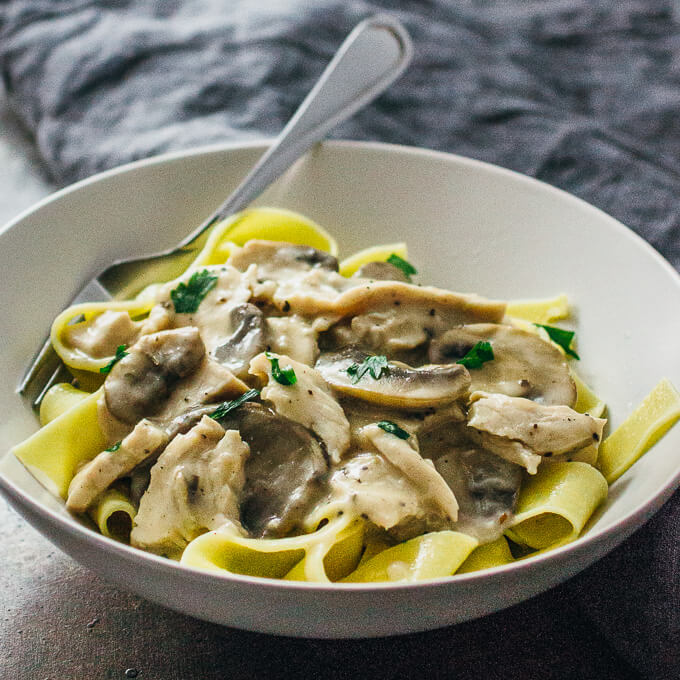 INGREDIENTS
2

cups

shredded roasted turkey

10

ounces

sliced mushrooms

8

ounces

egg noodles

1.5

cups

chicken broth

1/4

cup

sour cream

5

garlic cloves

minced

1

tablespoon

corn starch

2

tablespoons

butter

1

teaspoon

salt

1/2

teaspoon

black pepper

fresh parsley leaves

for garnish
INSTRUCTIONS
Cook egg noodles according to package instructions. Drain in a colander and toss with a drizzle of oil. Set aside.

Heat butter in a pan over medium heat. Add mushrooms and garlic, cooking until the mushrooms soften, about 5 minutes, stirring occasionally.

Combine and mix chicken broth, cornstarch, salt, and pepper in a separate bowl. Pour into the pan and bring to a simmer. Simmer until the sauce thickens, about 5 minutes, stirring occasionally.

Add sour cream to the pan and stir until well mixed. Stir in turkey, and cook until the turkey is heated through.

Add egg noodles to the pan, stirring them in. Serve and garnish with parsley.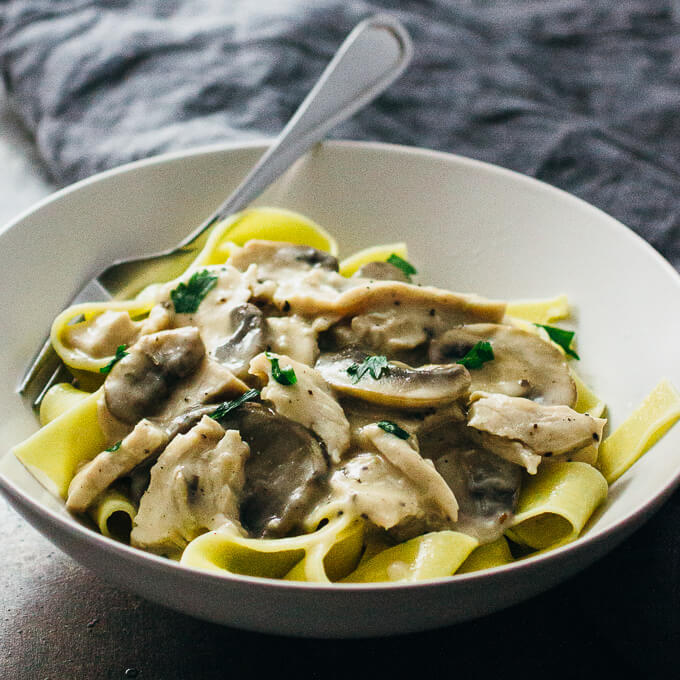 Thanksgiving is tomorrow, and since I'm not posting any recipes on how to cook a turkey, I thought I'd post a recipe on what you can do with already cooked turkey. This turkey strogranoff recipe is a spin on beef stroganoff, except with turkey meat, and it's a delicious way of eating turkey in pasta as well as using up leftover turkey meat. The turkey meat can be shredded or diced and is combined with sautéed mushrooms in a creamy sour cream sauce. Overall, it's an easy-to-follow recipe, and doesn't even use cream of mushroom soup.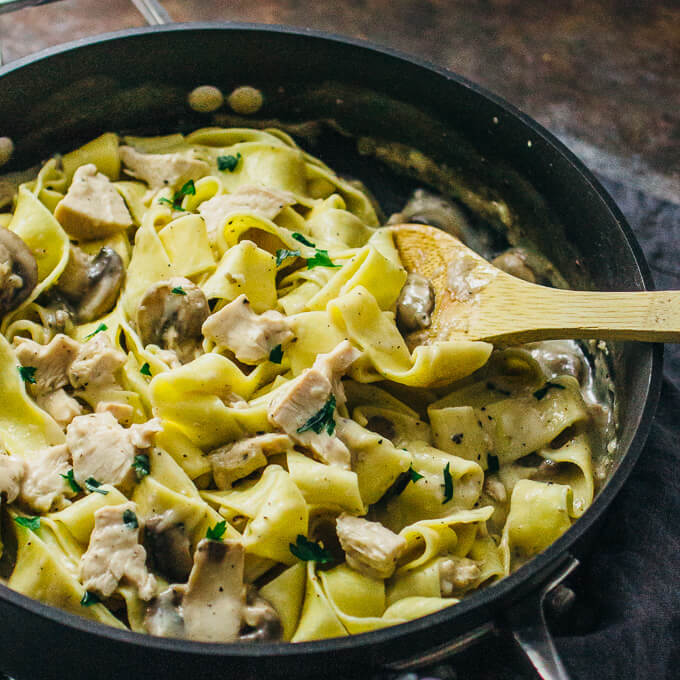 I've been living in Massachusetts for several years now. It always feels special to celebrate Thanksgiving here because Massachusetts is home to Plymouth, where the first Thanksgiving feast was held. Two years ago, Mr. Savory Tooth and I visited Plymouth during Thanksgiving weekend and stayed for a couple of nights. There were many historical attractions to enjoy, including a full-size Mayflower replica, a re-creation of a 1600s settlement, and a working grist mill. Plymouth is also home to many fabulous eateries — my favorite burger joint is there and I've gone back to Plymouth several times for the food alone.
This year, I'm hunkering down at home and enjoying the relaxing days off. Maybe I'll watch a movie and do some catch-up reading — my book club is meeting again in 2 weeks and I need to start the book soon. Thanksgiving dinner will be simple, and I'm going to make my favorite side dishes: apple yam bake and spicy cheesy stuffed crescent rolls. I'll also be experimenting and having fun in the kitchen for some upcoming recipes.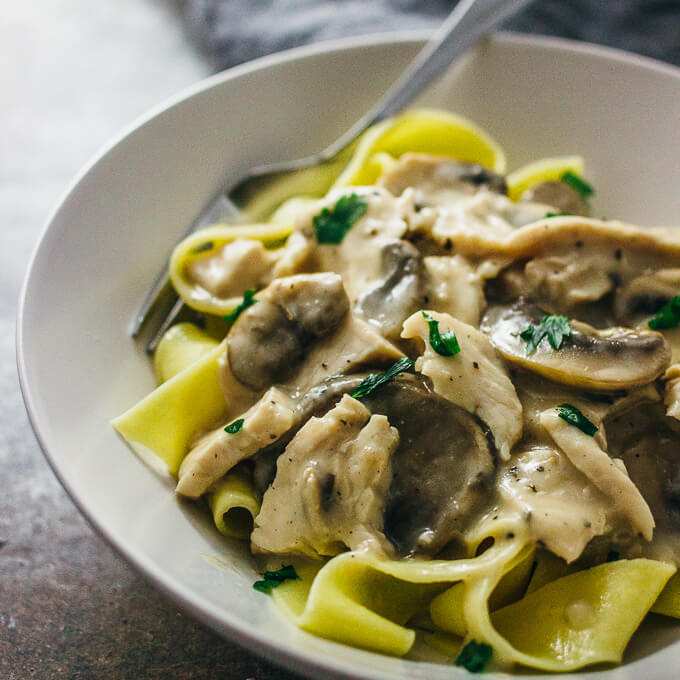 Back to the turkey stroganoff. I want to note that the sauce includes sour cream as that is how stroganoff was originally made, but if that's not up your alley, feel free to use greek yogurt as a substitute. It should be delicious either way. Enjoy!