Summary:
This ragu pasta is made using shredded beef after hours of cooking, paired with rigatoni pasta.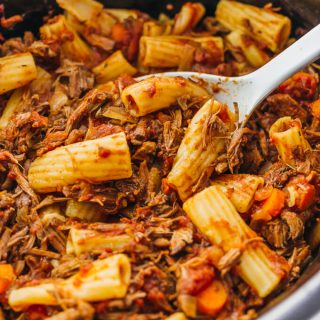 INGREDIENTS
1 1/2

pounds

beef stew meat

chopped into 1-2 inch chunks

8

ounces

rigatoni pasta

1

cup

diced onions

about 1/2 onion

1/2

cup

sliced carrots

about 1 carrot

1

cup

beef stock

1

tablespoon

balsamic vinegar

1

teaspoon

dried thyme

1/2

teaspoon

salt
INSTRUCTIONS
Add beef broth to a 6-quart

slow cooker

. Add beef chunks in a single layer, and sprinkle salt and thyme over the beef. Drizzle balsamic vinegar on top.

Evenly distribute carrots and onions over the beef. Pour can of crushed tomatoes on top.

Cover and cook on high for 5 hours. Uncover and transfer the beef to a plate, leaving everything else including the liquid in the slow cooker. Use 2 forks to shred the beef.

Add rigatoni pasta to the slow cooker, stirring with the liquid. The rigatoni should be completely submerged. Evenly distribute the shredded beef on top of the rigatoni, patting it down to make contact with the liquid.

Cover and cook on high for 45 minutes. Uncover and taste the rigatoni for doneness. If not tender yet, stir and cook on high for another 30 minutes or until cooked through.

Stir and serve hot. Top with grated parmesan cheese and chopped parsley.
NUTRITION
581 kcal/serving

PHOTOS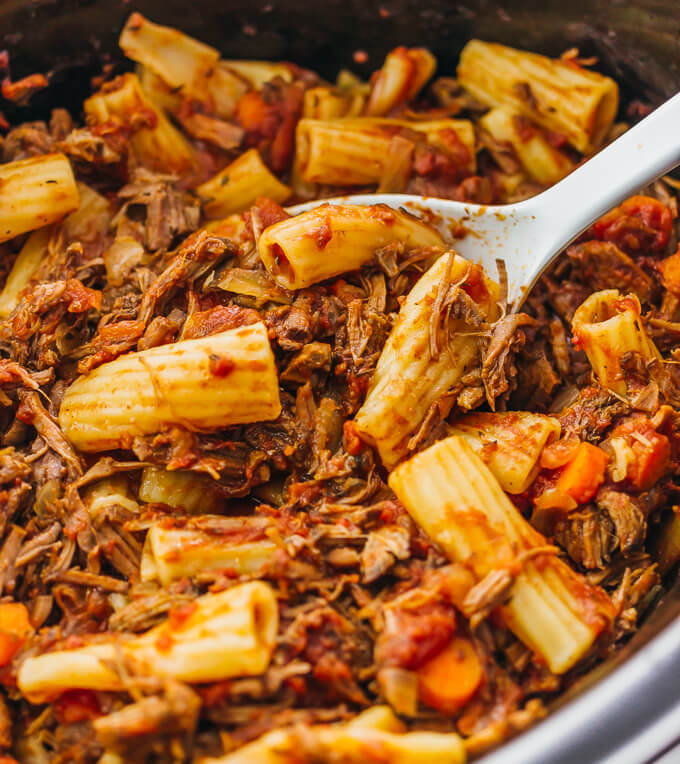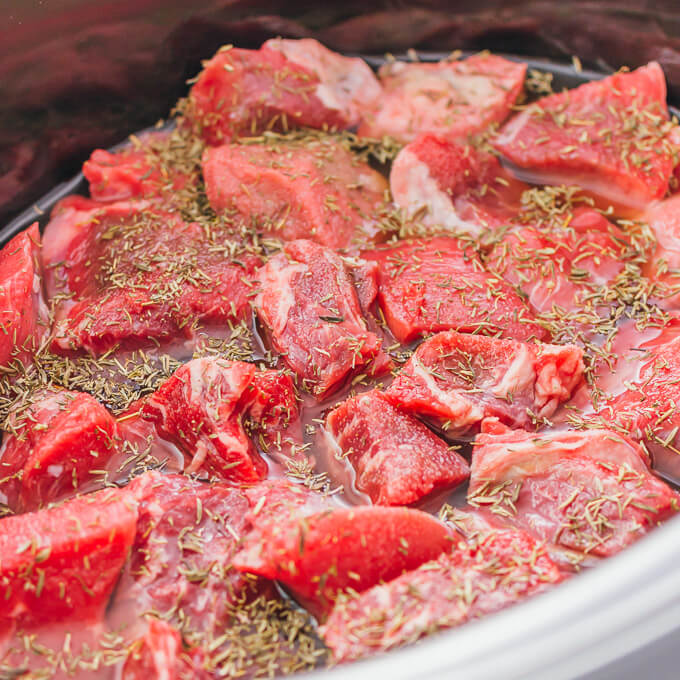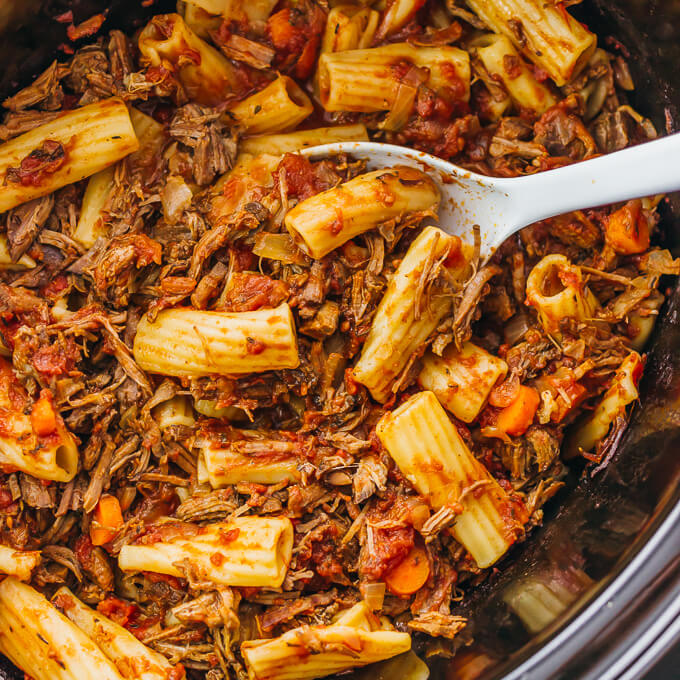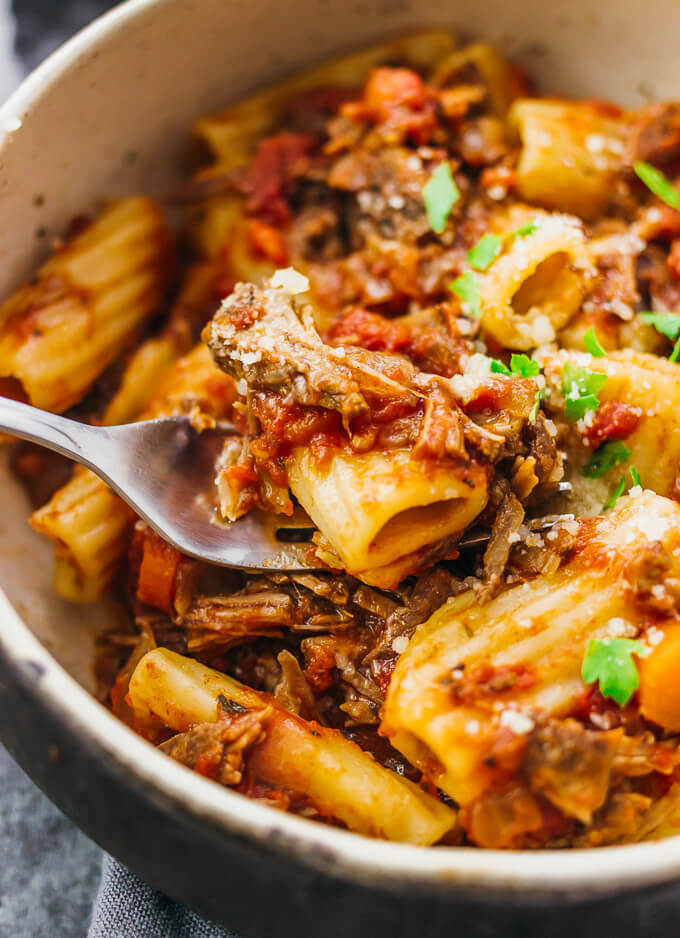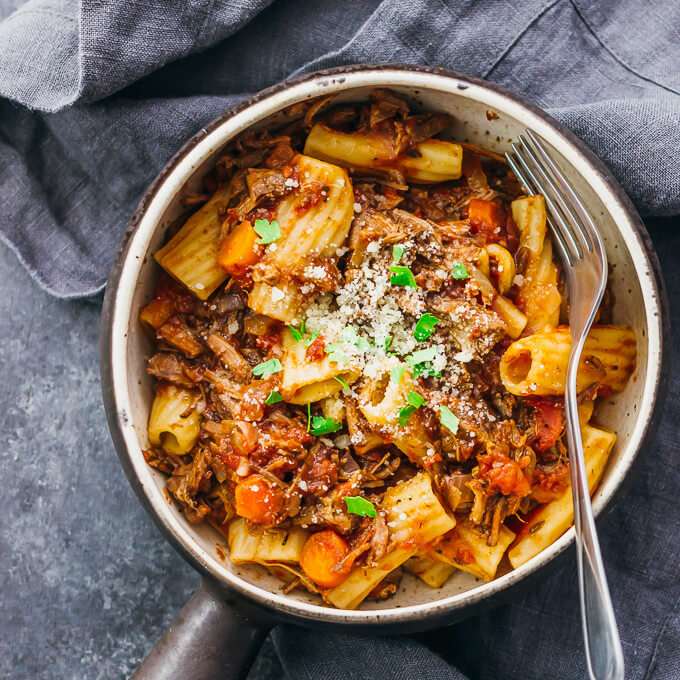 NOTES & TIPS

One-Pot Recipe. This recipe is different from your typical ragu recipe because everything cooks in one pot — the slow cooker. This includes the rigatoni pasta, which means you don't need to use a separate pot to boil water for cooking the pasta. The rigatoni is added during the last steps of the recipe, and because it's cooked in the slow cooker, it has the soft and tender texture of baked pasta. It takes my slow cooker about 45 minutes to cook the rigatoni to my preferred doneness. Optionally, you can cook your pasta separately by boiling it in a separate pot. If you do so, you should add less beef stock to the slow cooker (1/2 cup only). After the pasta is cooked, stir it with the beef ragu sauce in the slow cooker so that the pasta can absorb the sauce.
Beef. Almost any cut of beef will work for this recipe since it's slow cooked for hours. I prefer leaner cuts with the fat trimmed, and boneless. I recommend using beef stew meat or flank steak. There's no need to use any expensive cut of beef since it's going to be slow cooked until it's practically falling apart. This is where you can use a budget cut of beef and it will taste great regardless.
Pasta. The recipe's liquid amounts and cooking estimates are for rigatoni pasta. You can certainly substitute with your favorite kind of pasta — pappardelle is a common choice for ragus like this — but you will need to make other adjustments to the recipe accordingly. Depending on what you use, you may need to cook for longer or shorter periods of time until the pasta is tender and you may need to add more liquid if the slow cooker gets too dry.