Summary:
These crispy skillet breakfast potatoes aka diner-style "home fries" are addicting -- they are pan-fried with onions and peppers, and tossed with lemon juice.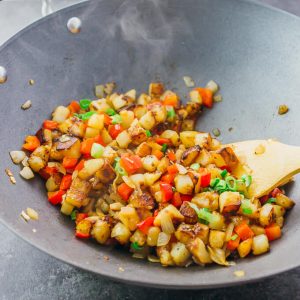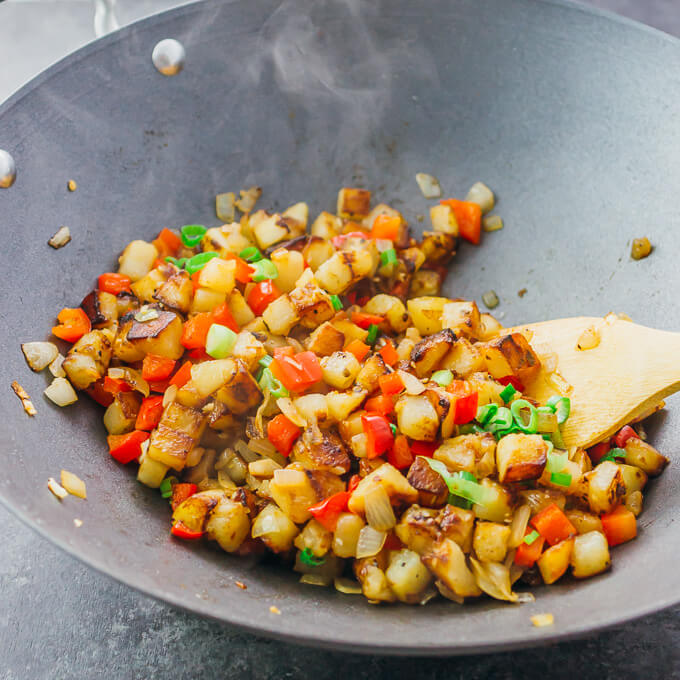 Crispy Lemon Breakfast Potatoes ("Home Fries" Diner Style)
INGREDIENTS
2

large Russet potatoes

about 1 1/2 to 2 pounds, peeled and cut into 1/2 inch chunks

1

red bell pepper

diced

1/2

sweet onion

diced

5

cloves

garlic

minced

1

scallion

thinly sliced

2

tablespoons

fresh lemon juice

1 small lemon, juiced

3

tablespoons

canola oil

1/2

teaspoon

salt

1/4

teaspoon

pepper
INSTRUCTIONS
Add canola oil, potatoes, salt, and pepper to a

wok

. Stir until the potatoes are well-coated with oil.

Place the wok over medium-high heat. Cook until browned and tender, about 15 minutes, stirring frequently so that the potatoes are evenly cooked. Add more oil if the wok gets dry.

Add peppers, onions, and garlic to the wok. Cook until the peppers and onions are tender, about 5 minutes, stirring frequently.

Remove the wok from heat. Stir in lemon juice and scallions. Serve while hot.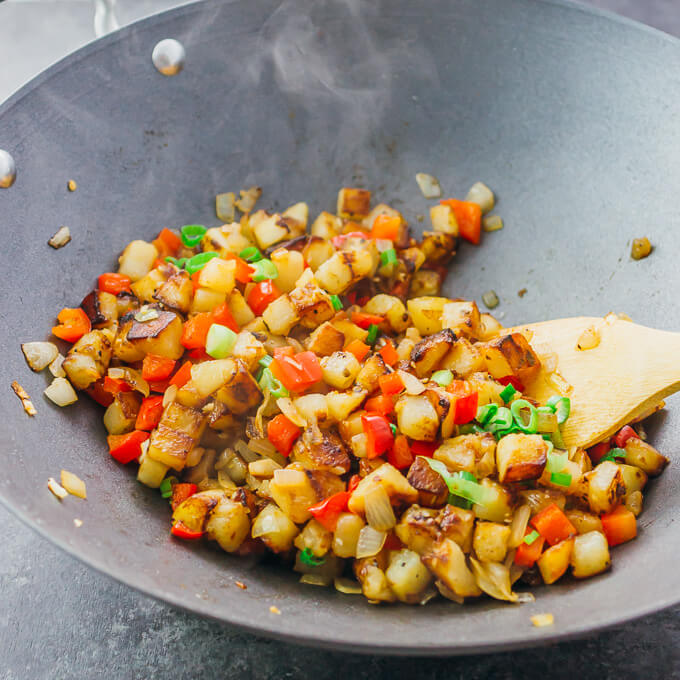 I'm excited to share my recipe on how I make my favorite crispy breakfast potatoes. It's similar to the kind of "home fries" you'll get at diners, and it includes diced onions, peppers, and the best part: freshly squeezed lemon juice. It gives the whole dish a refreshing taste, and you only need about 2 tablespoons of it (about 1 small lemon). It's enough to taste the lemon flavor but not enough to be overpowering.
The other reasons I love this dish: (a) it's vegan and gluten-free, so you can make it for a brunch potluck and everyone will be able to partake, (b) it's a one pot dish so that means minimal cleanup, and (c) it's a fast recipe, about 20 minutes for cooking and 15 minutes for prepping.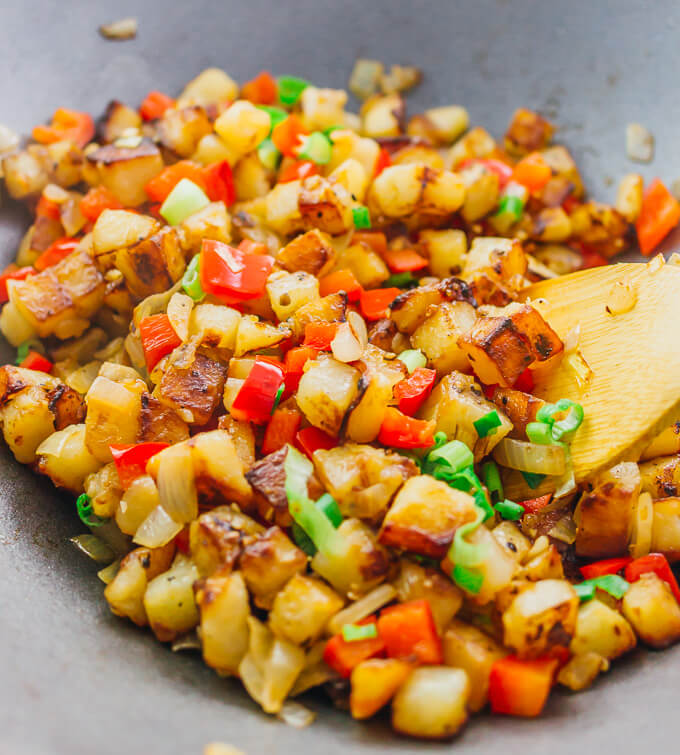 I've been experimenting with these potatoes all week, making some subtle tweaks here and there to maximize its taste and crispiness. Here are a few tips for getting these potatoes just right:
What kind of pan should I use? You should use a pan that is sufficiently large, which will allow you to cook the potato chunks both evenly and quickly. I use a 14-inch nonstick wok, and I recommend that you also use a wok or a large pan (12 inches or larger). You can use a smaller pan, but you may need to increase your cooking time.
How do I get the potatoes to be crispy? You should make sure that your burner is hot enough, and avoid stirring constantly. Medium-high heat is perfect and medium heat is not hot enough. You'll know when your pan is hot enough when your potatoes are getting browned and a bit charred. You want to stir frequently (a few seconds every minute or so) so that the potatoes get evenly cooked, but not constantly, or else they will not have time to develop a crisp skin.
Should I use a lid to make the potatoes cook faster? No. By using a lid, any moisture from cooking the potatoes will not be able to easily escape. This means your potatoes will steam a bit and get mushy.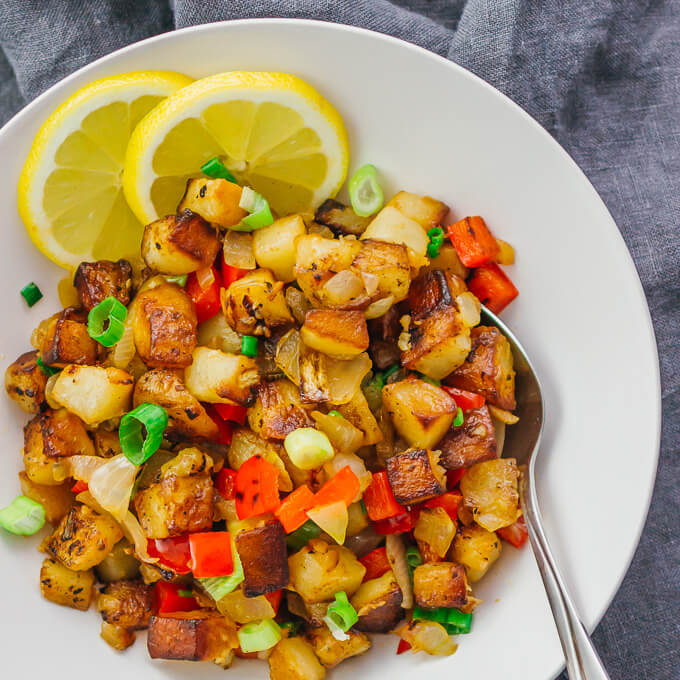 Are you a potato junkie? Then let me steer you in the direction of these must-try recipes: baked parmesan crusted potatoes, creamy potato soup, and campfire potatoes.