Note: This is one of my older recipes and is not low carb. Visit my Recipes page for low carb and keto recipes.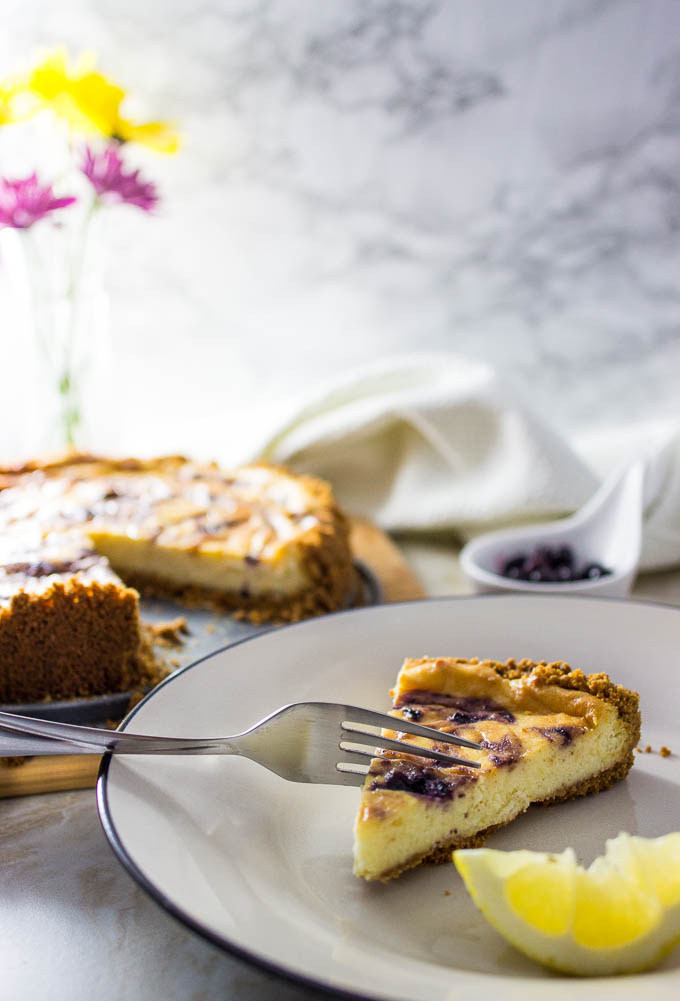 A classic cheesecake recipe with dashes of lemon and a blueberry swirl. This is a family recipe that my mom passed down to me, and something I fondly remember from my childhood. I'm excited to share this with you guys today!
While growing up, I remember this cheesecake more than any other food that my mom made. Every time there was a party or get-together, this was her go-to dish. If she didn't bring it, people were bound to ask why she didn't bring her signature cheesecake. If she did bring it, everyone would be asking for the recipe afterwards, without fail. It's a simple classic cheesecake that's straightforward to make and so timeless, and something that I crave every now and then.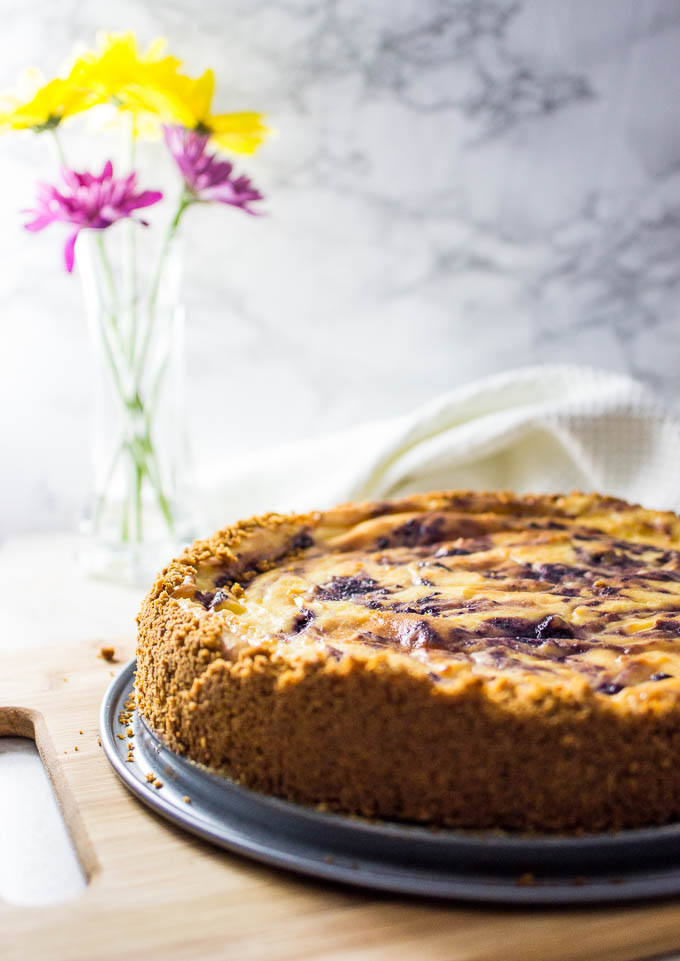 Let's talk about the ingredients. First of all, I love that there isn't any sour cream here. I'm always a fan of cutting down on ingredients that don't add much to a dish or create unnecessary complexity. There's just three main parts to this cheesecake: the crust, which is a homemade 2-ingredient graham cracker crust that anyone can make, the filling, which is cream cheese + eggs + sugar + vanilla extract + lemon, and then the blueberry swirl, which is just blueberries. The last part is fun; you get to be creative and make blueberry swirl patterns on the top of the cheesecake filling. You'll notice that there's very little sugar in this dish compared to most desserts — just 1/2 cup sugar in the filling — so it's not cloyingly sweet or anything.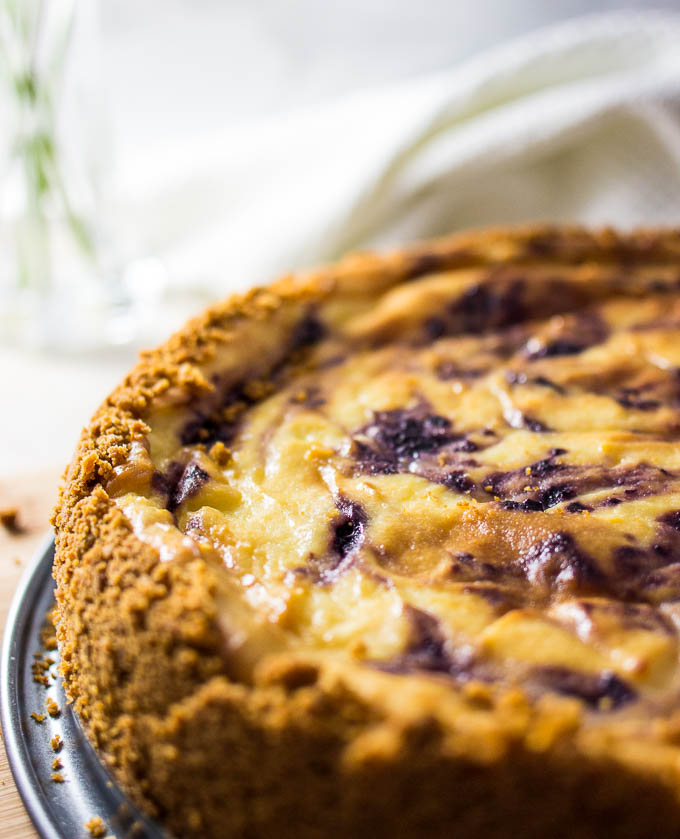 A few tips:
To avoid lumps in your cheesecake filling, let the cream cheese and eggs come to room temperature prior to mixing. Letting them sit out on a kitchen counter for 2 hours will do the trick.
To avoid cracks on your cheesecake surface, add a baking dish filled with water and set it next to the cheesecake pan. One of my mom's favorite tricks in getting her cheesecake just right.
This is a great dish to make for parties, as it's bound to be a crowd-pleaser, and also makes for a fun and relaxing weekend baking project. I made this on a lazy Sunday afternoon while finishing the last season of Castle (seriously, what was that finale all about?) with Mr. Savory Tooth. This will be our leftovers for the week to come. 🙂
Also, if you like this cheesecake, you should definitely try out my no-bake oreo peanut butter squares. Those are seriously addicting and perfect for any peanut butter lovers out there.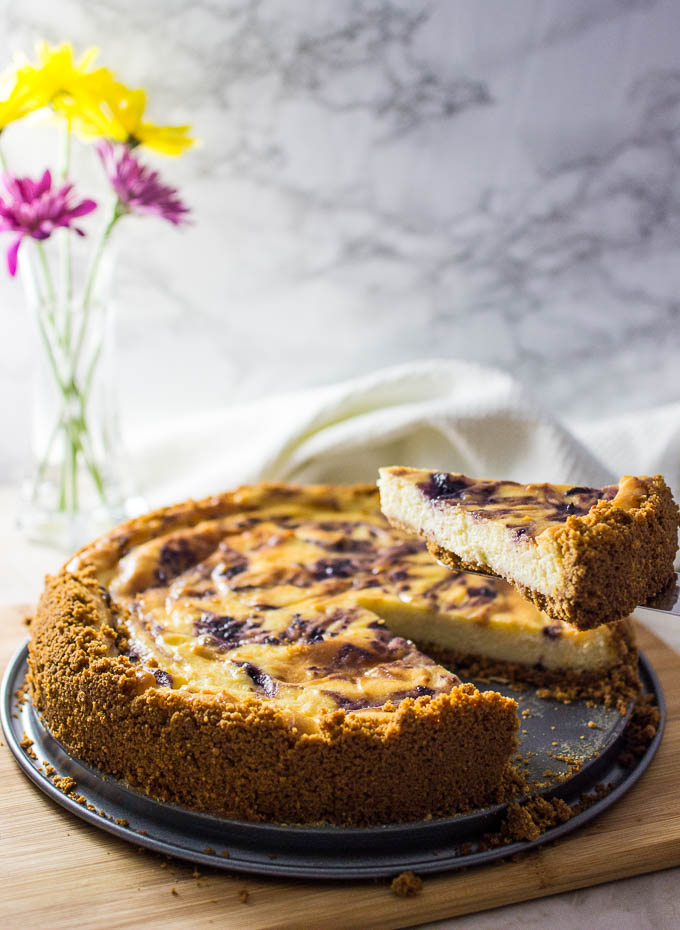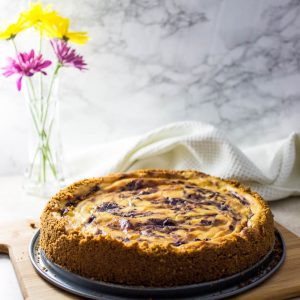 Cheesecake with Lemon and Blueberry
DESCRIPTION
A classic cheesecake recipe with dashes of lemon and a blueberry swirl.
INGREDIENTS
For the graham cracker crust:
For the cheesecake filling:
16

ounces

cream cheese (2 packages)

2

eggs

1/2

cup

white sugar

1/2

teaspoon

vanilla extract

lemon peel from 1 lemon

finely grated

1

tablespoon

lemon juice
INSTRUCTIONS
Make the crust

: Preheat the oven to 325 F. Mix the crust ingredients in a mixing bowl. Transfer to a greased and floured

springform pan

, and use a measuring cup to press down onto the bottom and sides (up about 1 inch) of the pan. Bake for 10 minutes.

Make the filling

: Using a

hand mixer

, beat all of the filling ingredients except the eggs until blended. Add eggs and beat until blended. Pour the filling onto the crust.

Add the blueberries: Cook the blueberries in a small saucepan over medium heat. When they warm up, stir and crush the blueberries. Pour spoonfuls of the blueberry liquid over the cheesecake, and use a knife to add swirl patterns.

Bake the cheesecake: Bake the cheesecake at 325 F until the top turns golden-brown, about 60 minutes. To prevent cracking during baking, add a 1-quart baking dish filled with water and place next to the cheesecake in the oven. Let cool for a few hours and refrigerate before serving.
Liked this recipe?
Sign up for email updates!