Summary:
Enjoy this 6-ingredient summertime treat featuring three delicious layers: a crushed Oreo crust, a thick and creamy peanut butter filling, and a rich chocolate topping. This is a no-bake recipe — perfect to make on a hot day.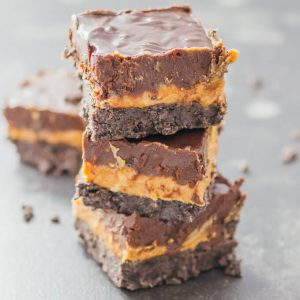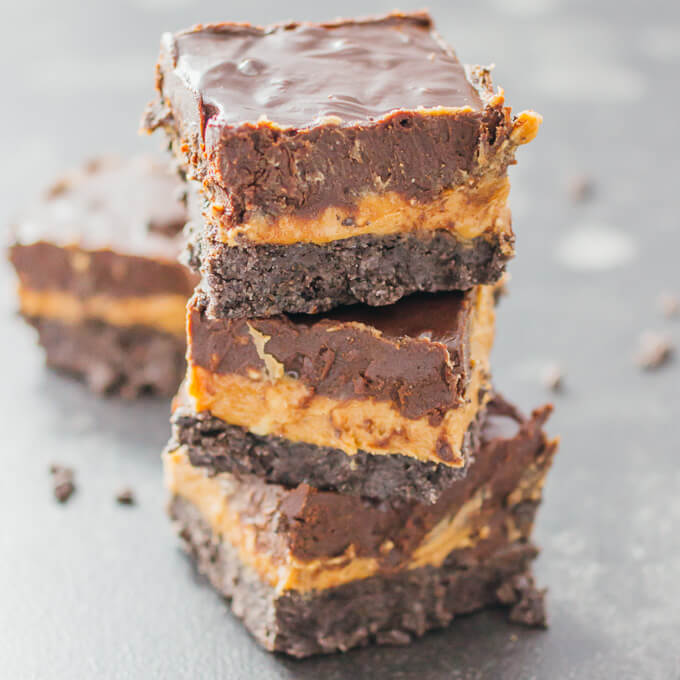 INGREDIENTS
Oreo Crust:
13-ounce package

oreo cookies (Note 1)

6

tablespoons

butter
Peanut Butter Filling:
1.5

cups

crunchy peanut butter (Note 2)

1/2

cup

powdered white sugar

4

tablespoons

butter
Chocolate Topping:
1/2

cup

heavy whipping cream

2

tablespoons

crunchy peanut butter
INSTRUCTIONS
Make Crust: Line 8×8 inch baking dish with foil, and grease sides and bottom with butter. Add Oreos to food processor and pulse until finely crushed. Melt butter in large mixing bowl in microwave. Add crushed Oreos to bowl and stir with melted butter until well-mixed. Transfer to prepared baking dish, forming flat crust by pressing down along bottom of dish. Place baking dish in freezer.

Make Filling: Melt butter in large mixing bowl in microwave. Stir in peanut butter and sugar until well-mixed. Distribute mixture over chilled crust in baking dish. Return to freezer.

Make Topping: Add chocolate chips and peanut butter to large mixing bowl. Bring heavy whipping cream to simmer in small saucepan over medium-low heat. Pour heated cream over chocolate chips and peanut butter, and stir until completely smooth. Pour chocolate mixture over chilled filling in baking dish, spreading evenly. Cover and refrigerate overnight or at least a few hours.

Serve: Lift up sides of foil to remove from baking dish and transfer to cutting board. Cut into 16 square bars, and serve (Note 3).
NUTRITION
Makes 16 Servings
Amount Per Serving (1 bar):
| | |
| --- | --- |
| Calories 420 (66% from fat) |   |
| Total Fat 31g | 48% |
|    Saturated Fat 12g | 58% |
| Cholesterol 28mg | 9% |
| Sodium 180mg | 8% |
| Net Carb 30g |   |
| Total Carb 33.5g | 11% |
|    Dietary Fiber 3.5g | 14% |
|    Sugars 21g |   |
| Protein 8g |   |
PHOTOS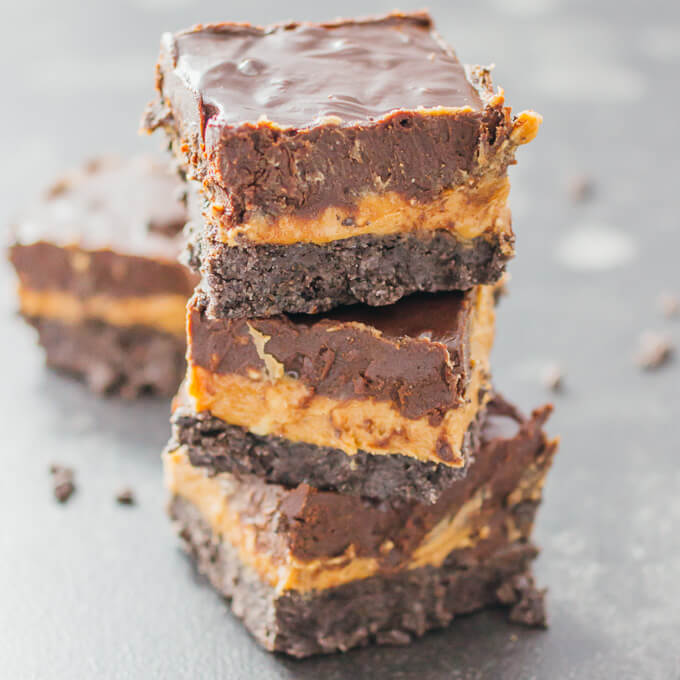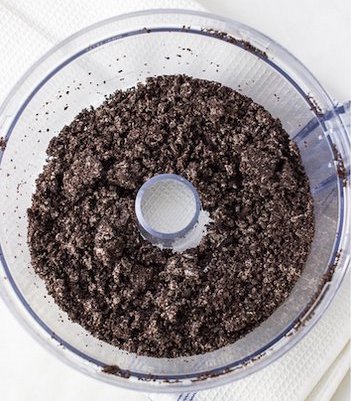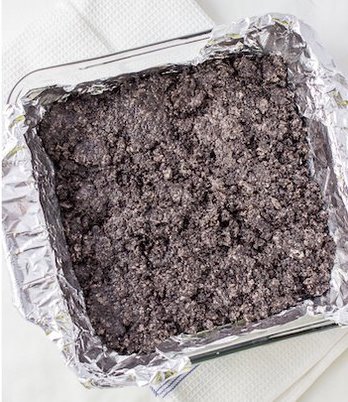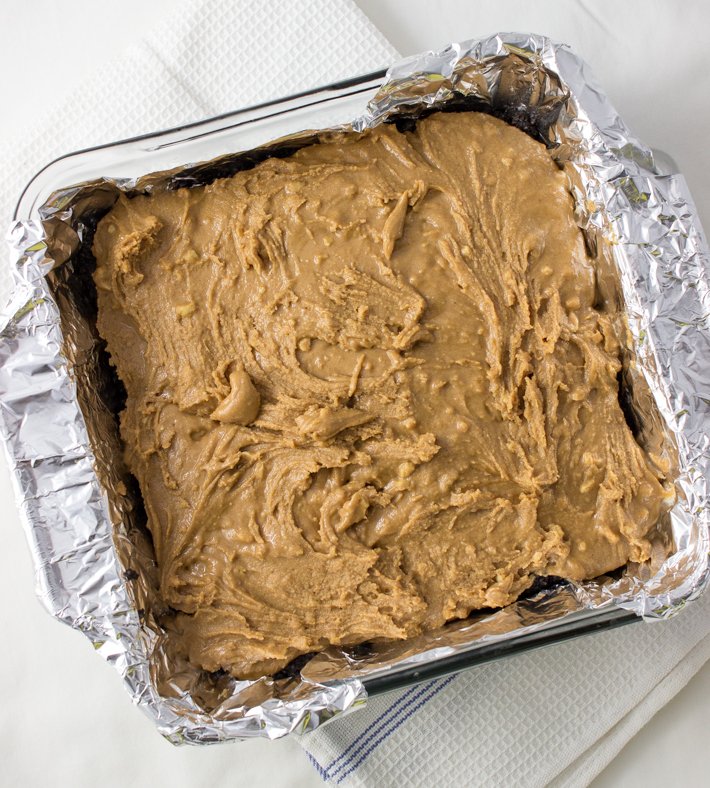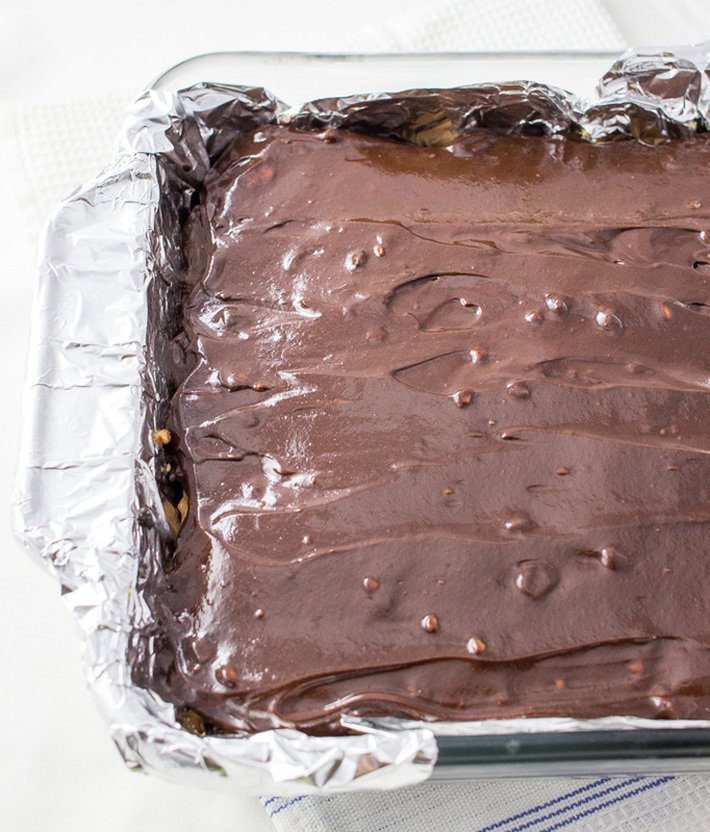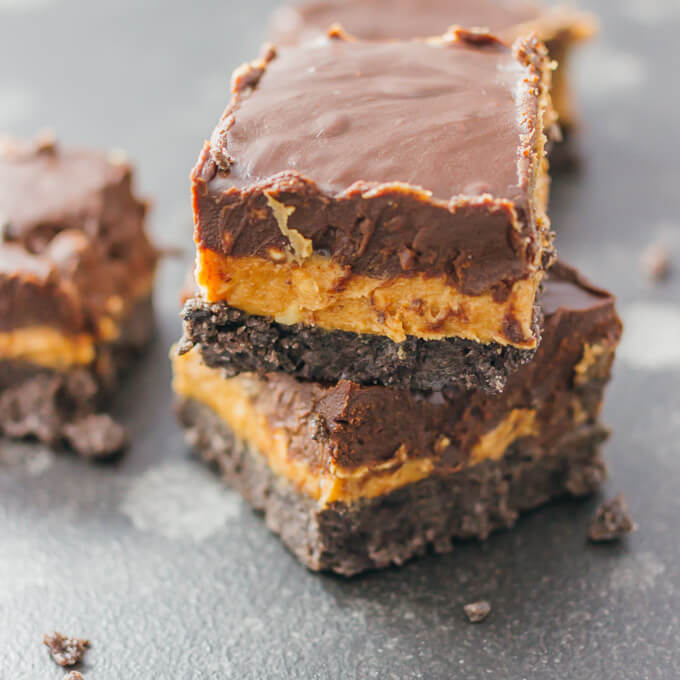 NOTES & TIPS
(1) Oreos. About 21 individual Oreo cookies. I use the classic type with two chocolate wafers sandwiching a white creme filling. Don't use the Golden variety or flavored cremes.
(2) Peanut Butter. About 12 ounces weight. I use crunchy salted peanut butter, without any special flavors or add-ins, and unsweetened. This is often referred to as "natural" peanut butter on package labels, and only peanuts and salt are listed on the ingredient label. There is typically some separation at room temperature, so stir up the jar of peanut butter before measuring out the amount to use. Creamy peanut butter is also fine to use.
(3) Serving / Storage. This dessert can be made a day ahead of time, and leftovers can be stored in a covered container in the refrigerator. Serve chilled.