Summary:
These no-bake Oreo peanut butter bars with chocolate chips are an easy summertime dessert with three delicious layers.
Looking for low carb recipes instead? Visit the Savory Tooth Homepage.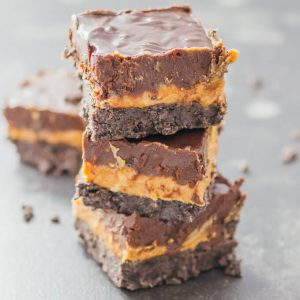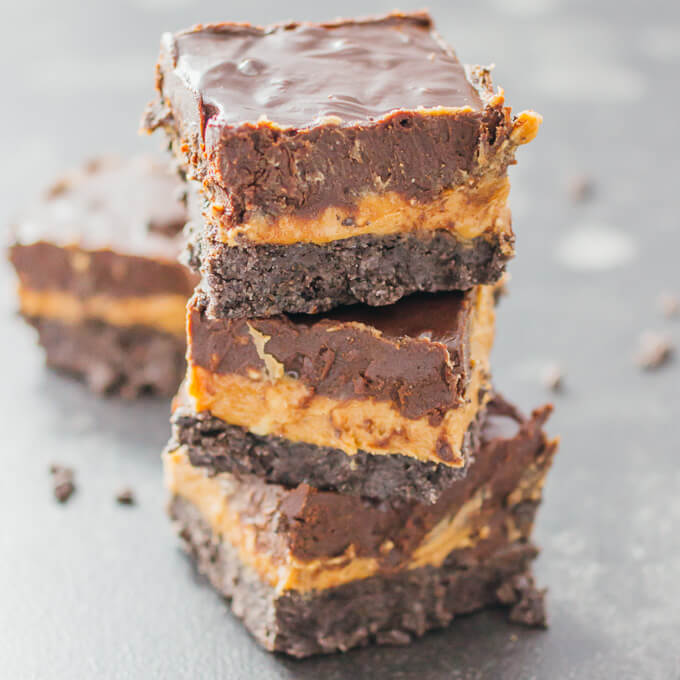 No-Bake Oreo Peanut Butter Bars with Chocolate Chips
INGREDIENTS
For the bottom Oreo crust:
13

ounce

package of whole Oreos

about 21 Oreo cookies

6

tablespoons

butter
For the middle peanut butter filling:
For the top chocolate topping:
INSTRUCTIONS
Make the Oreo crust

: Line an

8x8 inch baking dish

with foil and butter the sides and bottom. Add Oreos to a food processor and pulse until finely crushed. Using a large mixing bowl, melt butter in a microwave. Add crushed Oreos and mix well. Distribute over the baking dish, pressing it flat over the bottom of the baking dish. Place in the freezer while you work on the next step.

Make the peanut butter filling: Using a large mixing bowl, melt butter in a microwave. Add peanut butter and sugar. Mix well. Distribute the mixture over the crust. Place in the freezer again while you work on the next step.

Make the chocolate topping: Add chocolate chips and peanut butter to a large mixing bowl that is heatproof (like glass). Place heavy whipping cream in a small saucepan over medium-low heat, and bring to a simmer. Then pour the cream over the chocolate chips and peanut butter. Mix until completely smooth. Pour this chocolate mix over the filling in the baking dish, spreading evenly. Cover and refrigerate overnight or at least a few hours.

Serving: Lift up the sides of the foil to remove from the baking dish. Cut into 16 squares.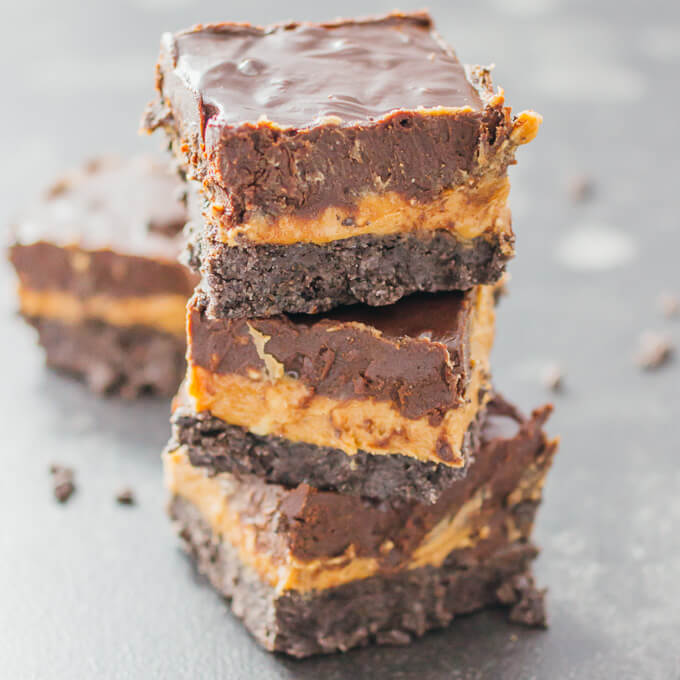 I don't make desserts often, but when I do, there's a good chance that I'm making these no-bake Oreo peanut butter bars. They have been a favorite of Mr. Savory Tooth's ever since I first started making them a few years ago, and it's not hard to see why he's constantly requesting them.
These bars have three rich layers: an Oreo bottom crust, a thick and creamy peanut butter middle layer, and a rich chocolate frosting top layer. Peanut butter is the star of this show, for sure; there's an entire pound of peanut butter used in this recipe. Both the chocolate and peanut butter layers are thick and smooth, and the Oreo crust is crumbly but holds together.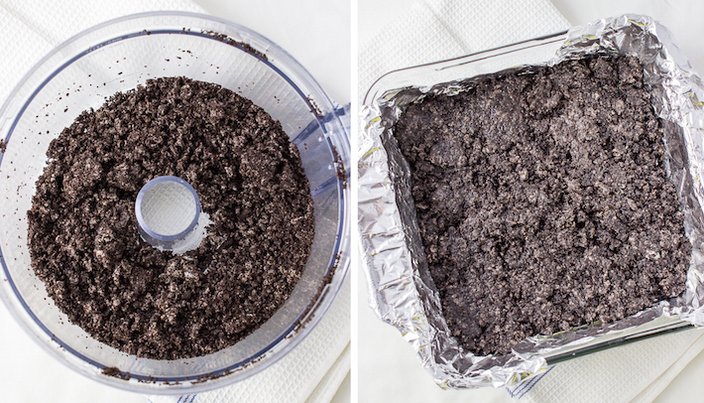 There are so many reasons why I love this Oreo peanut butter bars recipe, and here are my top three:
No-bake. No oven needed for this recipe, so it's perfect for those hot days when you don't feel like heating up your kitchen. All you need to do is assemble and mix ingredients for the three layers of this dessert, and you are done.
Only six ingredients. You only need a total of six ingredients to whip up this fabulous dessert. Most of the ingredients are probably things you already have at home.
No cream cheese. That's right, you don't need any cream cheese to make this dish. It's one less thing to put on your grocery shopping list.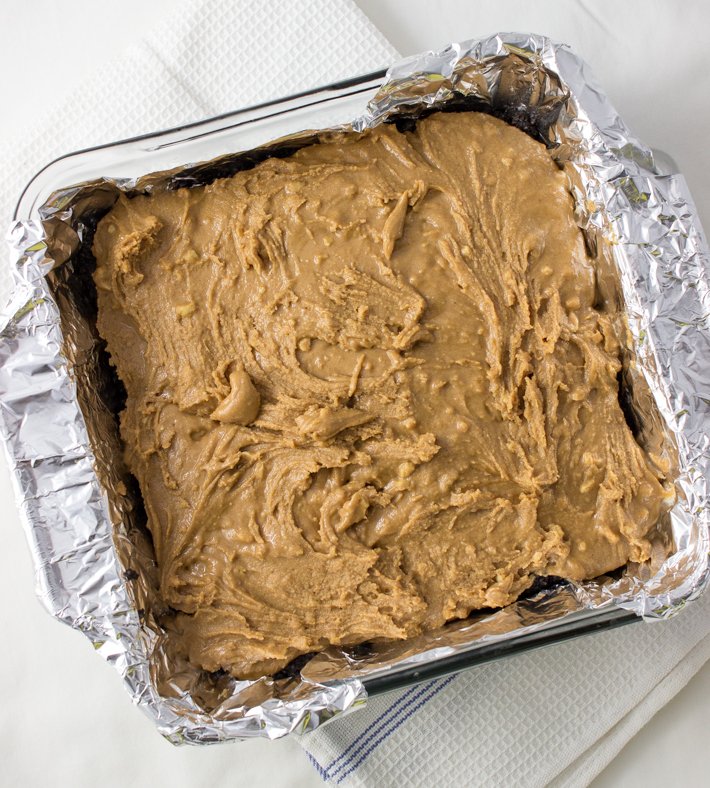 When I'm not making these Oreo peanut butter bars for Mr. Savory Tooth, I'm making them for a summer party get-together. Everyone loves this dessert and it's always a huge hit. Since they're cut into handy bars, people can easily grab one or two from a tray. You can make these bars the day before and refrigerate until ready to serve.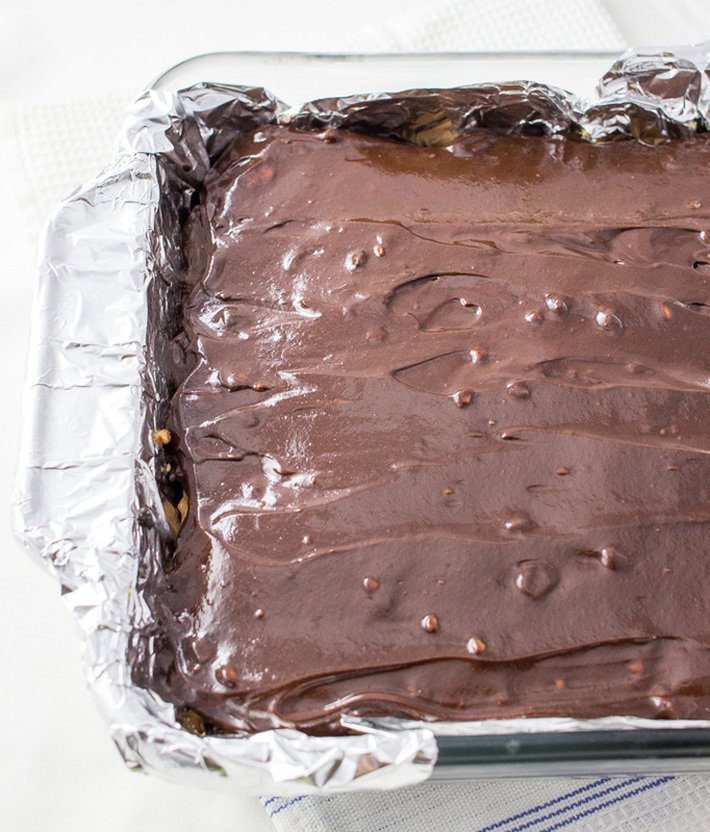 Along with these Oreo peanut butter bars, on really hot days I also love making these other no-cook dishes: Greek salad with avocado dressing, Southwest couscous salad, and broccoli salad with bacon and cranberries. Check out this comprehensive list for more ideas.